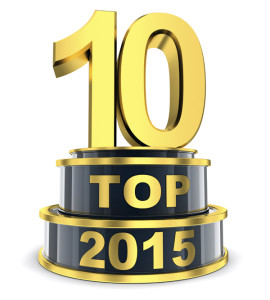 It was a huge year for Strata-gee.com in 2015 – thanks to all of our readers like you! Not only did we sign up a slew of new subscribers to our SYNCH e-newsletter – a big THANK YOU if you were one of them – but our average weekly page views continued to grow as well. Our "heat map" that graphically displays when readers are on our website shows that there are readers on our website every hour of every day – and every day of every week. But we get a blazing "hot" heat signature on Thursdays, when the SYNCH is blasted out to you, with the hotness continuing on into Fridays.
See more on our results from 2015…including the Top 10 stories of the year…
Our geographic coverage of the world continues to grow. In the 12-months of 2014, we drew readers from a surprising 139 countries. This year, our stats show us that we drew readers from an even more astonishing 165 countries. Wow! The good old U.S.of A., not surprisingly, drew the most readers, followed closely by Canada and the U.K. But we made huge gains in the rest of Europe, as well as Japan, India, Australia, China, South America, Russia, and more.
Anyway, enough about us….let's talk about the stories in 2015 you liked. A couple of major tech industry themes emerged in our reporting this year that seemed to really interest our readers. Because of the intense page views these topics drew, we continued to follow these stories as long as they continued to be interesting to you.
Key Themes and Top Stories
First, taking three spots in our Top 10 stories in 2015, the litigation between Sonos and D&M Holdings, originally filed in October 2014, really heated up this year. There was some serious back-and-forth slugging in what was just the first round of what is sure to be a long, multi-round fight. So far, Sonos appears to have the upper hand, but that certainly could change in 2016.
Second, the continued decline of the influence of Japan on our industry accelerated in 2015. We reported on the struggles of most of the major Japanese manufacturers all year long – and two of those stories – one on Sony and the other on Sharp – ranked in the top ten for 2015.
Third, while Nortek and Core Brands appear to have stabilized, two of our stories hit the Top 10, one about their AVC division (that includes Core Brands) and the other about the almost-merger with United Technologies.
Here are your Top Ten Stories of 2015:
| Rank |  Title |  Link | Comments |
| --- | --- | --- | --- |
|  #10T | With AVC Sales Declining & Losses Increasing, Did Nortek's CEO Signal a Change? | Link | #10 is a tie between this story from March, and our story on Jon Robbins rejoining HTSA earlier this month |
|  #10T | Jon Robbins Returns to Run HTSA | Link | This story just ran in early December…but it was HOT! |
|  #9 | D&M Holdings Loses Its First Big Battle in Legal War with Sonos | Link | D&M claimed Sonos' attorneys had a conflict of interest, the judge disagreed |
|  #8 | Why Would United Technologies Want to Acquire Nortek? | Link | We speculated on the forces driving these two conglomerates together. The deal eventually fell apart |
|  #7 | ELAC Returns to N. America w/New Speakers Designed by Andrew Jones | Link | We reported in May that Germany's ELAC was relaunching in the U.S. The big surprise is they snagged top designer Andrew Jones from Pioneer |
|  #6 | GoldenEar Assortment Grows with New Triton Five Towers & SuperSub XXL Subwoofer | Link | Strata-gee readers continue to be interested in Sandy Gross' affordable high-end speaker line |
|  #5 | D&M Fires Back-Asks Judge to Throw Out Sonos Lawsuit | Link | An early D&M effort to dismiss the lawsuit in February |
|  #4 | Sharp Officially Announces Its Exit from the Canada Market | Link | In March, Sharp pulled out of Canada. Shortly after that, the U.S. followed |
|  #3 | Tons of Turmoil at Thiel; Is There Yet Another New CEO? | Link | Venerable high-end audio brand Thiel continues to struggle under shifting management teams |
|  #2 | After Fighting Idea for Years, Sony is Ready to Dump TV, A/V, & Smartphone Businesses | Link | Sony CEO stops fighting the idea to sell off divisions, indicating a willingness to do so |
|  #1 | Sonos/D&M Lawsuit Takes a Surprising & Slightly Dark Turn | Link | D&M tells the court Sonos' lawyers used to be theirs. |
These stories are the Top 10 stories of 2015 because you made them the so. We selected these stories based on total page views, both from direct clicks on the SYNCH e-newsletter, and from web traffic and social media referrals.
This year, we limited the stories to those written in 2015. However, some of our stories are unique in that they continue to draw interest – and clicks – over the years.
A Special Mention
However, I would like to make one very special mention. If we had included stories written in previous years, one story from August 2014 would have come in at a remarkable #4 in 2015. Written by our good…and, sadly, departed…friend, Len Schneider, it was titled Dazed and Confused About Hi-Res Audio? Here's Help… Consider how remarkable this achievement is – in 2014, the year in which it was originally written and published, the story ranked #8. In a testament to how well-written the story is, and how important the topic is, this year, it came in at #4. If you haven't already read it, you should check it out. Many thousands of new readers still find it a compelling, contemporary story…and it currently carries more comments – which themselves are incredibly detailed and informative – than any other story. Well done my friend…well done…
And finally, if we had chosen to reveal the Top 20 stories of 2015, obituaries written for two prominent industry personalities would have shown up just outside the Top 10. This too, strikes us as a remarkable achievement. This is not, in our mind, due to anything special related to our prose – but rather to the prominence of these remarkable individuals…Tom Ishii and Len Schneider. And on these posts as well, a tremendous number of comments, many containing personal anecdotes that enrich the legacy of these folks.
So onward to 2016! Whenever we do one of these retrospectives, it leaves us wondering – what will next year bring?