GoldenEar Technology continues their methodical line expansion, further building on founder Sandy Gross' latest speaker design philosophies. For CES 2015, GoldenEar announces their new Triton Five Tower speakers and what looks to be a gut-rumbling, lease-breaking subwoofer with four 12-inch drivers and 1,600 watts of power.
Check out these new offerings from GoldenEar…
Founded by one of the industry's most well-known and well-respected speaker designers, Sandy Gross, GoldenEar has gone on to develop a stellar reputation for both its high performance products – and a high level of support for its largely specialty retail dealer network. Now the company is expanding its product portfolio to address more market- and price-segments.
To this end, GoldenEar has added the Triton Five to its popular line of tower speakers. A step-up over the previous Triton Seven, the Five is larger and features even deeper bass extension.
*Triton Five Towers* – passion driving design
Passionate about sound, GoldenEar tunes its systems to perform well in either a high-performance music listening system…as well as in a multi-speaker home theater with room-shaking effects. Years of experience allows company engineers to incorporate attractive design elements that have a hidden, but real, sonic function as well.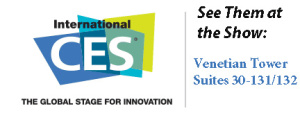 The Triton Five features  a cabinet design with a slight backward tilt that serves to better align the drivers for proper time-alignment of the signal as it reaches the listener's ear. Likewise, the cabinet design has four non-parallel surfaces that both look attractive, but help minimize the creation of internal waves that could have a negative impact.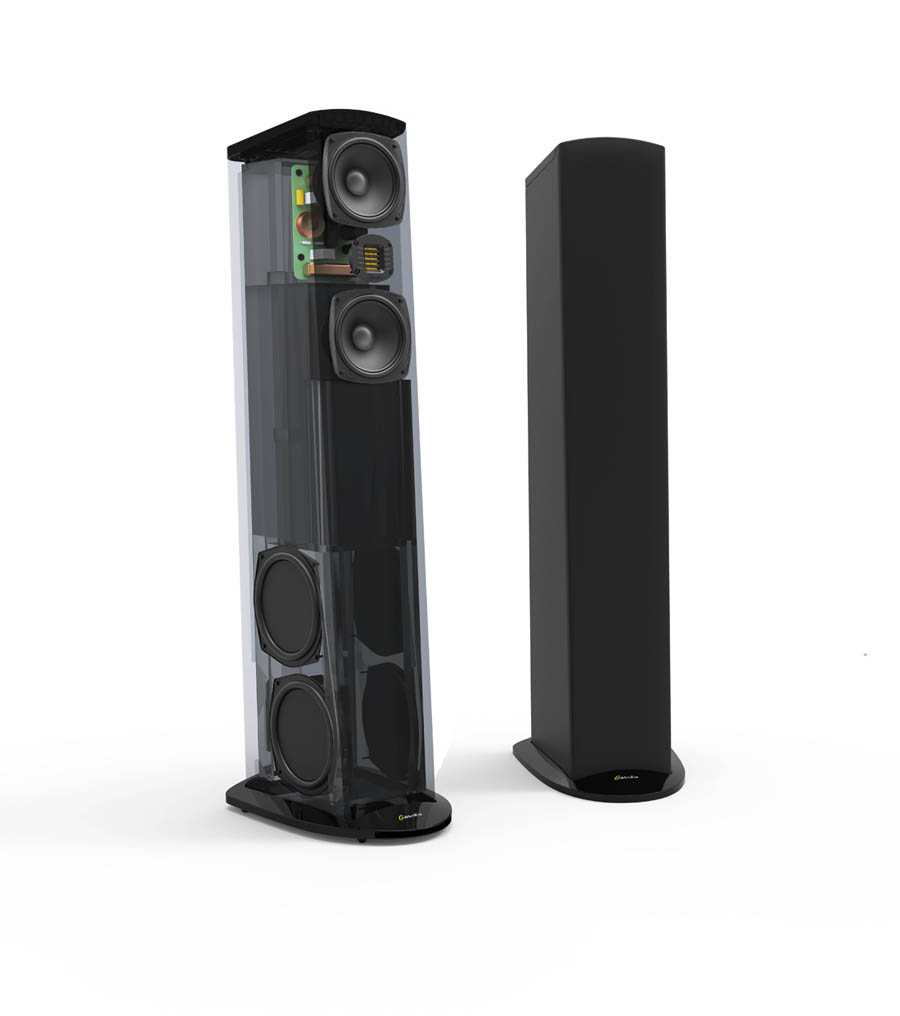 No diffraction zone…
Another GoldenEar trick is to use a narrow baffle. Again, this adds to an attractive almost minimalist look…that also helps to eliminate distortion inducing diffraction.
Like other GoldenEar models, the Five incorporates a High Velocity Folded Ribbon (HVFR) tweeter that the company says pressurizes the air, as opposed to pushing or pulling the wave like other designs. A D'Appolito Array of two high-definition 6″ bass/midrange drivers surround the HVFRs. The company says these midrange drivers have an exceptionally long-throw for high dynamic range.
Solid sub-bass section…
Finally, the Triton Five Towers feature four side-mounted 8″ sub-bass radiators. These are mounted two on each side in an inertially-balanced configuration.
GoldenEar's Triton Five Towers are priced at $999 MSRP each. The company says they will be available in March 2015.
GoldenEar's impressive *SuperSub XXL* – Prepare to be moved, literally
GoldenEar also is launching a new subwoofer called the SuperSub XXL that features a unique design, tremendous power rating, relatively compact dimensions and high performance. The company says many of the technologies implemented in this model are only recently developed.
In the SuperSub XXL, GoldenEar says the design goal was to develop a sub that accurately balances both the need to deliver room-shaking movie special effects…and a finely detailed musical performance. This is not as easy as you might think.
A matter of degrees – 360 of them…
To help achieve this goal, GoldenEar invented its patent-pending 360 degree dual-plane inertially balanced driver and sub-bass radiator topology. To this they added an advanced electronics package. It is a powerful combination.
GoldenEar starts with a thick and highly dense cabinet material called medite…to which the company adds substantial internal bracing. Cabinet vibration is a performance-killer in subs…and GoldenEar makes sure that can't happen in this SuperSub.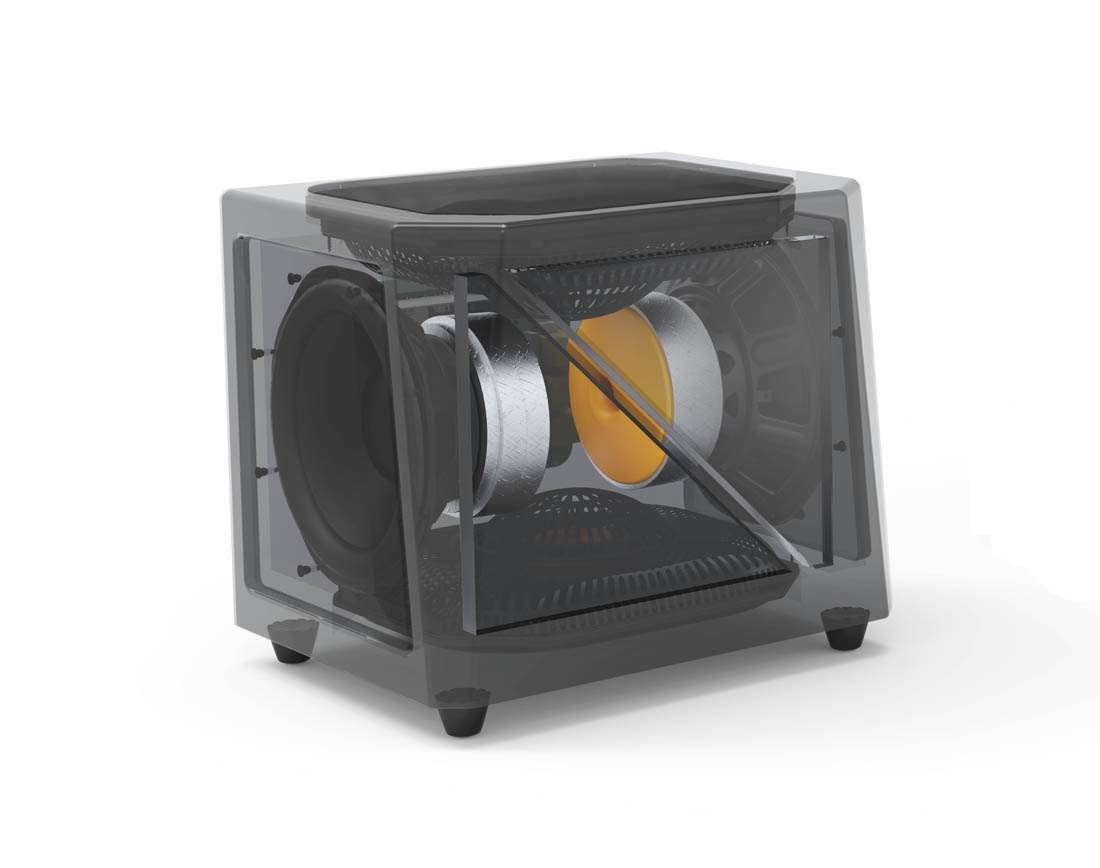 The driver's seat…
To this solid foundation, GoldenEar engineers add a powerful speaker component consisting of two 12″ long-throw active drivers that are inertially-balanced in the horizontal plane. Then the company adds two 12″ by 14″ planar infrasonic radiators, also inertially-balanced in the vertical plane. The goal? Optimizing the SuperSub to move air…not the cabinet.
GoldenEar doesn't skimp on power for this beast, offering a full 1,600 watts of Class D power. This amp was originally designed for their top-of-the-line Triton One Tower. Controlling the amplifier is  a 56-bit DSP device with 192kHz sampling rate. And you can rest assured that GoldenEar employed only the best components for all of the electronics employed.
The SuperSub XXL is expected to be available this Summer 2015. The company says the "projected" MSRP is $1,999.
Learn more about the GoldenEar line at: www.goldenear.com.