BREAKING NEWS
Hana to Stay On in Supportive Role

Jon Robbins, former President & CEO of now defunct Hi Fi House (Broomall, PA) and one of the first members of the Home Technology Specialists of America (HTSA), will become Managing Director of the organization later this month, taking control of an organization he helped build, Strata-gee.com has learned. Current HTSA managing director Bob Hana will stay on with the organization, with his activities focused more on marketing and operations, Robbins told us.
See more on this significant shift of control for HTSA…
Robbins, who for the last eighteen months has been the Enterprise Sales Director for Netsertive, will join HTSA to assume the Managing Director role in a full-time capacity later this month. However, Robbins has played a prominent role in HTSA's history for more than a decade-and-a-half both as an active member and a director over the years.
"I am returning to my roots, so to speak," Robbins told us in a brief telephone interview this morning. "In the last eighteen months I have learned so much – not about business, but about life…and people."
Returning to His Roots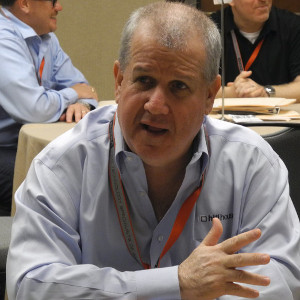 From 1975 to 2014, Robbins was the driving force behind a prominent and well respected specialty custom retailer in Broomall, a town just outside of Philadelphia, called Hi Fi House. Hi Fi House was an early member in HTSA and Robbins himself contributed a lot of time and energy to helping build that organization. Robbins closed Hi Fi House in 2014, moving on to join Netsertive, a digital marketing company, where he has worked for the last eighteen months.
Robbins expressed confidence that with HTSA he will be able to combine his business experience at Hi Fi House with an expanded perspective that he has gained over this last eighteen month period.
"My focus will be primarily on vendor and member relations," Robbins said. "And running events – that kind of thing."
Robbins sees a bright future for HTSA. "I think HTSA still has a very strong presence, and I look forward to helping move it forward."
Hitting the Road
Robbins expect to be doing a lot of travel initially and will be spending a lot of time in the organization's headquarters office in Chicago. But he also told us he expects to be spending a lot of time in Winston-Salem, NC – home of Nationwide, and in Atlanta at the Prime Time marketing center.
Robbins senses a tremendous opportunity as a result of the organization's recent partnership with Nationwide Marketing Group. In April of this year, the two organizations came together creating a new entity they call the Home Technology Specialists of Nationwide.
Firmly Convinced
"I am firmly convinced that some of the resources that Nationwide brings can be of huge support for HTSA members," Robbins said enthusiastically. "I want to really have a firm understanding as to the alliance…and how things work. It's a tremendous opportunity."
Hana has done a "spectacular job" in building a Chicago office and staff and will continue on with the organization, although in an apparently reduced role. Robbins told us that Hana has created a foundation for special needs children and this new arrangement at HTSA will afford him more time to work on that foundation. However, he will have marketing and operations responsibilities on an ongoing basis, Robbins told us.
To see more on HTSA, see: www.htsa.com.