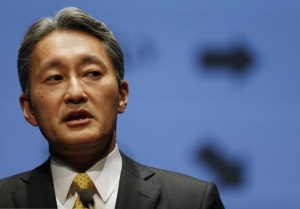 In a revealing presentation with the press yesterday in Japan, embattled Sony CEO Kazuo Hirai told the media that the company is finally ready to consider alternatives for its TV, A/V, and smartphone businesses, including exiting them. This is a stunning turnaround in strategy, not just for the inventor of the Trinitron picture tube, but for Hirai himself who had previously identified their TV and smartphone businesses as a core categories when he first took over as CEO in 2012.
See more on Sony's strategy to turn around their business…which has many skeptics…
The announcement that Sony is finally ready to consider selling off what was once considered the crown jewel of the company, their TV and AV businesses, was surprising enough…but not nearly their only surprise. Hirai told reporters that the company forecasts its operating profits will increase by more than 25-fold over the next three years. How will they accomplish this bit of magic?
That question gets to the heart of just what Sony's presentation was really all about – announcing its new corporate strategy. As had previously been guessed by many industry watchers – Sony made it official that they will focus their product strategy for growth on three key areas: sensors, videogames, and entertainment…a noted re-prioritization away from strictly hardware-centric businesses.
Is it 'all about the bass?'…
But wait! There's more! What will the company's new financial strategy be??? Will it be – all about the bass?
Nope…Sony has found a new religion – they will now worship profit over growth. Considering the fact that by the end of this fiscal year, the company will likely have booked its sixth net loss in seven years…this is probably a more sound strategy.
"The strategy starting from the next business year will be about generating profit and investing for growth," Hirai told reporters. Hirai also reportedly said that individual business units will be given greater autonomy.

Kazuo Hirai speaking to reporters in Japan yesterday
Promising big, really big, profits…later…
The company CEO went on to tell reporters that the company is forecasting an operating profit of no less than ¥500 billion ($4.2 billion) in the 2017/2018 fiscal year. As Reuters themselves pointed out, that would be an amazing [some would say unbelievable] increase over the expected operating earnings for this year of ¥20 billion.
The company also said it would provide a return on equity of at least 10%. Interestingly, this is a widely circulated and supported number mentioned by none other than Japan's Prime Minister Shinzo Abe as a benchmark of a successful company. A coincidence? We think not…
First 3-year plan failed…
Hirai, according to the Japan Times, has admitted that his first three-year plan – covering the period of fiscal 2012 to 2014, has in fact failed…with the company generating losses.
"The situation continues to be tough, but based on what we have done in the past three years, we will become a high-revenue firm that inspires customers with our products," Hirai told reporters.
Sony is in the midst of an absolutely wrenching reorganization. The company has already sold off its VAIO computer division…and previously spun off the TV business unit into a freestanding entity. Sony has also laid off thousands of employees worldwide.
Restructuring shows some promise…
Recently, the company saw profits rebound as a result of these restructuring efforts…even though it still says it will post a net loss for the year ending March 31st. And while many industry analysts question Sony's ongoing viability – and constantly changing strategic plans – investors in Japan are firmly behind it, with the price of Sony's stock rising more than 80% this year.
But as the Reuters reporter noted, the heyday of dominating business units like their Walkman and Trinitron franchises once had done, are clearly in its past. The company says that it will focus on expanding its PlayStation network and streaming music businesses for a brighter future. But is it too little…too late?
One thing is for sure, after losing money…lots of money ($6.6 billion)…in its TV division over the last ten years – the company is NOT looking there for profits.