BREAKING NEWS

Nortek, Inc. on Tuesday released their fourth quarter and full year results for fiscal year 2014. The company showed sales & profit growth for the quarter – although they booked a net loss for the year. But in a conference call with analysts to discuss the Q4 results, Nortek President and CEO Michael Clarke was questioned specifically about the Audio, Video & Control Solutions (AVC) segment – and he struggled to explain why the company stays committed to the business.
See more on Nortek's results…and on AVC's struggles…
Sales in the fourth quarter for Nortek came in at $636.8 million or 16% more than the $548.9 million booked for the same quarter last year. When excluding the impact of acquisitions and foreign exchange rates, net sales grew a more modest 6.3% to $583.6 million.
And profits in Q4 also showed good improvement. GAAP (generally accepted accounting principles) operating income increased almost 180% from $10.4 million last year to $29.1 million in 2014. Net earnings also showed big gains moving from a loss last year of $14.8 million to a profit in 2014 of $4.6 million.
Reaping the benefits of reorganization…
According to Nortek management, the improved operating earnings were a direct result of their major reorganization launched several quarters ago. The company consolidated and shifted manufacturing to a new company-owned facility in Mexico to reduce costs. Nortek also closed warehousing and outsourced their logistics to a third-party company.
In 2014 Nortek restructured their reporting divisions into five major segments. These segments are: Air Quality and Home Solutions Segment (AQH), Security and Control Solutions Segment (SCS), Ergonomic and Productivity Solutions Segment (ERG), Residential and Commercial HVAC Segment (RCH), and the Custom and Commercial Air Solutions Segment (CAS). In addition to this, in 2014 the company separated the AVC segment from the SCS segment and reported it separately – but materials never refer to it as a major segment.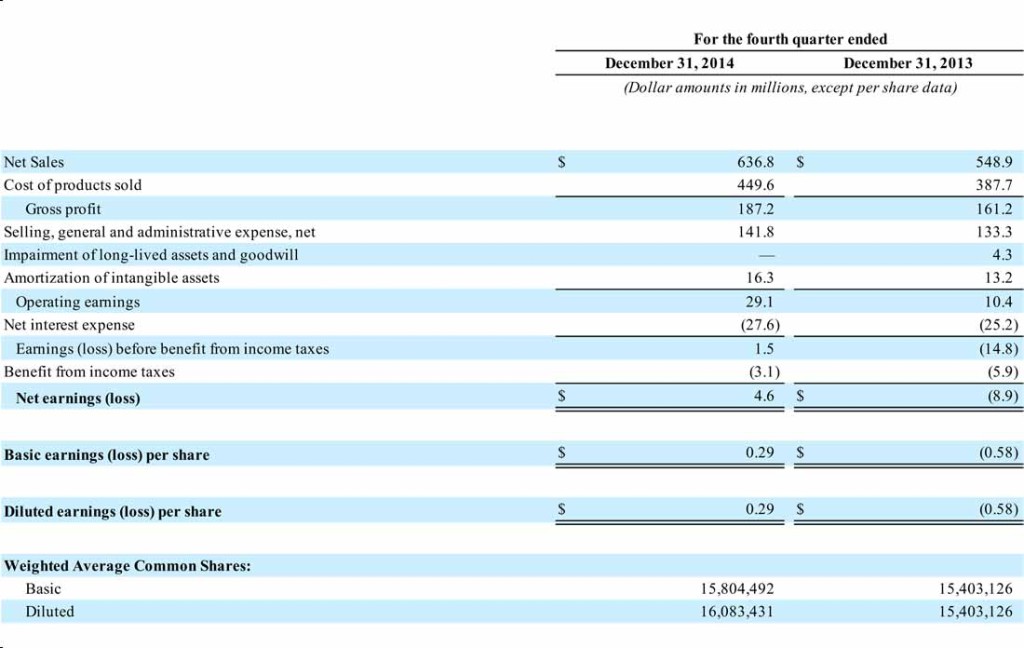 "Nortek closed 2014 with a solid fourth quarter, driven by strong top-line growth in our Security & Control Solutions (SCS) and RCH segments," Clarke said in a prepared statement that he reiterated on a conference call with analysts. "Our higher operating profit this quarter in part reflected the progress we have made on our operational improvement initiatives, particularly in the areas of sourcing and logistics as well as our major production move to Mexico in the RCH segment. These benefits were partially offset by the impact of some operational inefficiencies in our Custom & Commercial Air solutions segment as we transform that business."
Pleased with the improvement…
Then Clarke, in his only comment in prepared materials on the company's AVC segment performance – the segment most interesting to the custom integration channel as it includes formerly major brands such as Niles, Elan, SpeakerCraft, and Xantech – said: "We were also pleased with the improvement in the fourth-quarter operating results of our Audio, Video & Control solutions businesses, which reflected the strides we are making in the restructuring and repositioning of those businesses."
But you'd be hard-pressed to find any details about the AVC performance in the fourth quarter, as the press release from the company did not provide a segment breakdown – only an overall summary of results. Later, in a discussion of management expectations for 2015, of AVC Clarke said, "In addition, we expect operating performance in our AVC businesses to continue to stabilize in 2015."
Don't get excited…
Most Wall Street types don't get excited by statements like "will continue to stabilize," – they generally want to see growth. We dug through the Nortek materials to find out just what did happen with AVC in Q4 and, it would appear, the performance did improve…a little. According to a slide shown in the presentation to analysts, on a GAAP basis, AVC lost $0.1 million in Q4 2014…much less than the $4.6 million they lost in the same quarter last year.
The company preferred, however, to talk about "adjusted" EBITDA (earnings before income tax, depreciation, and amortization expenses). Using this adjusted analysis, AVC showed a small profit in Q4 of $1.3 million…up over the profit of $0.9 million in the period last year.
AVC losses deepen for the year…
But…that same slide also showed results for the full fiscal year, and here the AVC segment saw it's GAAP loss dive another $6.3 million, coming in at a loss of $19.2 million – or well beyond a loss of $12.9 million in fiscal 2013. And even with their "adjusted EBITDA," the full year showed a loss of $9.3 million…well off an adjusted profit last year of $5.8 million,.
It was in Nortek's 10-K annual report filed with the Securities and Exchange Commission, that we got a much fuller picture of how AVC is performing. But first, let's review Nortek's annual performance.
Fiscal 2014 results show a company still in transition…
When looking at fiscal 2014, we see in Nortek a company still in transition. While the top line continues to show growth, the company saw its net losses deepen.
Revenues for fiscal 2014 came in at $2.5 billion or 11.3% over the $2.3 billion in fiscal 2013. But operating earnings came in at $42.9 million or $45 million less than the $87.9 million in operating earnings booked the previous year. The company showed a net loss of $45.6 million, well beyond the net loss of $8.3 million for 2013.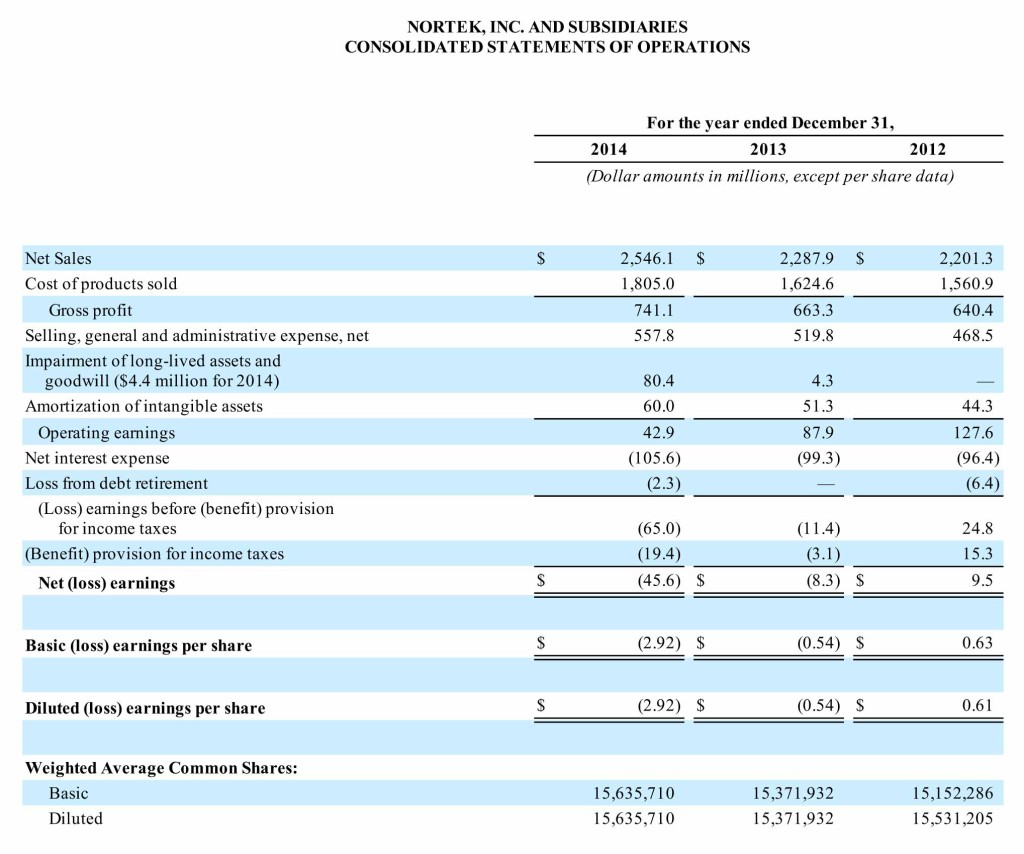 Write-down slams profits…
One factor slamming profits was an $80.4 million write-down in the value of the AVC brands – based on the decline in the value of the brands since they were originally acquired – that the company was forced to take in fiscal 2014. In looking at financial data provided by the company that breaks down performance by business segment, we see that AVC has continued to be the outlier – showing consistent declines in both revenues and profits (or more accurately, increases in losses).
Total revenues in fiscal 2014 for the AVC segment were $162.6 million. This figure is $17.1 million or 9.5% below the $179.7 million in 2013 AVC revenues. And, as we mentioned above, the segment lost $19.2 million in 2014.
Weakened demand for AVC products…
Nortek says that AVC is continuing to experience weakened demand  for their products largely because of "technology changes that affect certain product categories that the businesses compete in." Not only that, but AVC was impacted in 2014 by "sales discounts offered on certain legacy products and inefficiencies experienced in the combination of certain businesses as well as the shifting of logistics to a third party provider."
The company also said the AVC segment had "restructuring and transformation charges" of $3.2 million…as well as "inventory charges" of $2.6 million and "other severance costs" of $0.5 million in 2014.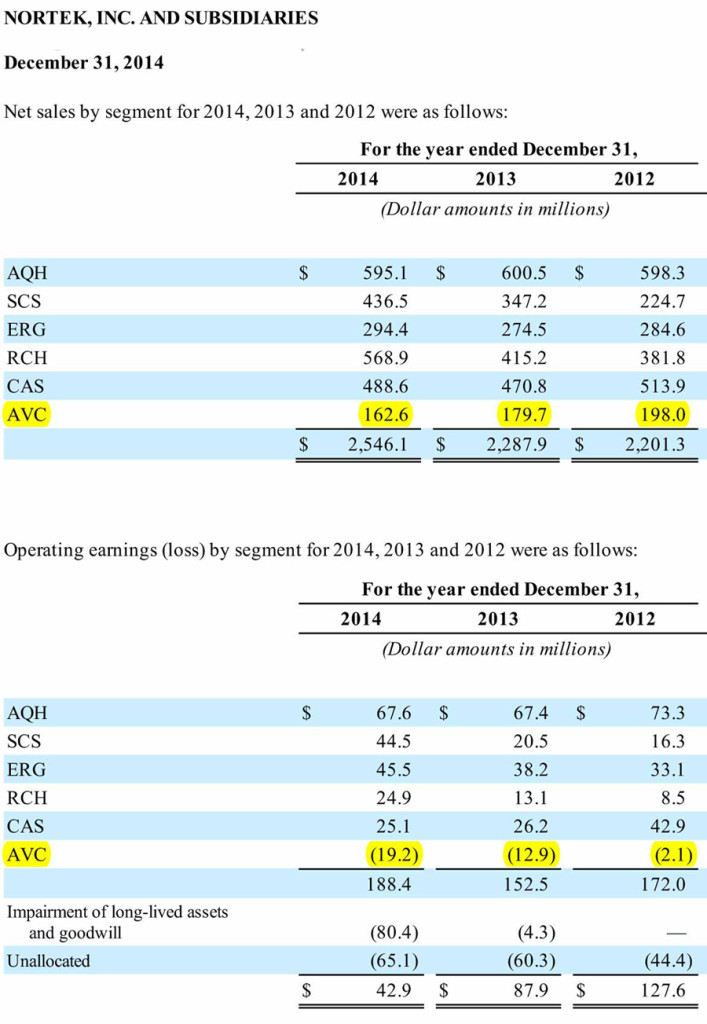 A long pause…
After a formal presentation to Wall Street analysts on their Q4 performance, the company opened up the call to questions. An analyst from Jeffries jumped in first with a question about the new production facility in Mexico. Then, after a couple of more questions, he said: "And just one last one from me, the AV segment turned profitable which is pretty encouraging. Is that going to be sustainable going forward? Do you still think there's more runway in terms of margin improvement? And lastly, is this business you kind of view as a core business over the long term?"
There was a fairly long pause…then Michael Clarke jumped in.
"Um…you know we…um…we believe that…we believe that…um…you know…that we've turned a corner…with that business," Clarke said, in a choppy, halting manner. "Ah…ah, I think that I mentioned earlier, we certainly haven't invested in that business for years. So some of the new products, we haven't really brought out for maybe ten years. So we brought maybe 30 or 40 new products. So I think, from that standpoint, the customers are liking it…they're really quite cool. We're having good feedback. It's a business that we've owned for a long time. Um…we've got no plans to do anything with it. We've put a new management team in place. Um…we've put a new IT system in…a new B-to-B system in there – we've really turned that operationally, and product, around."
What did he say?…
In past conference calls, Clarke has found himself questioned over and over again about AVC. When analysts pushed him to think about selling the division, Clarke would typically push back…saying they are focused on fixing the business. That was what we were expecting to happen here, but then, he surprised us.
"But like with any one of our businesses, you know, we'll look out…and what's best for that business – whether its with a Nortek or with somebody else – we constantly review that," Clarke said in a clear shift from his previous position. "But at the moment we've got no plans to do anything with it except keep doing what we're doing – turn it around and growing the thing."
Is Nortek's CEO signalling a change in posture relative to their AVC segment? We can't say for sure, but this was a different approach than we've heard him take in any previous conference call.
See more about Nortek at www.nortek-inc.com.