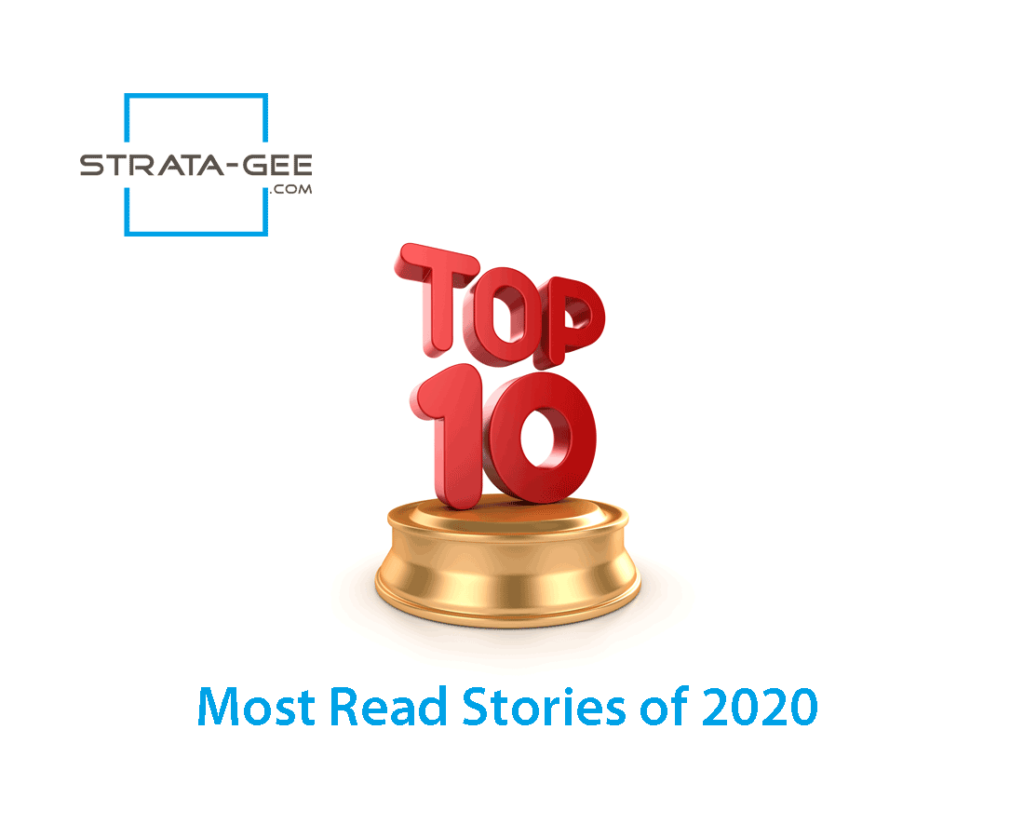 With 2020 rapidly disappearing into our rearview mirror, it's always good to take a moment during the holidays and reflect on the year that just transpired. A year is a long time and a lot happens.
Also, as a content creator it is good to look back at those stories that seemed to resonate with most readers as I seek to constantly refine my editorial targets to better match the interests of readers. One way I do that is to put together an end of year list of the Top Ten Most Read Stories. Let's look at those together – were these your favorites as well?
See 2020's Top Ten Most Read Strata-gee Stories…
As I compiled this year's Top 10 Stories post, I see it is EXACTLY one year to the day from when I did this last year as Reader's Choice: Top Ten Strata-gee Stories of 2019. Those stories covered some pretty major industry events, such as my inside look on why Control4 wanted to be acquired by SnapAV, Thiel Audio's final liquidation, the launch of B&W's new (and now pretty much failed) Formation line, the $75 million Bravas acquisition by private equity, Frank Sterns leaving Sony…and more. Will this year's list stack up?
The Major Events of 2020, as Told by Strata-gee Stories
Like last year, I am limiting this list to only those stories that emerged in 2020 – true stories from the wild and weird COVID-19 pandemic impacted year. This eliminates some stories from previous years that remain popular with readers, but are for subjects of the slightly more distant past.
Finally, no such ranking can be perfect and ranking stories based on page views can favor those stories that emerged earlier in the year and, hence, had more time to "soak." Having said that, you'll see in this year's ranking that some of the biggest stories emerged closer to the end of the year than the beginning.
Without Further Ado – Here are the Top Ten Most Read Strata-gee Stories in 2020
So let's get to it. The ranking will be presented David Letterman style in reverse order, starting at #10 and working our way to #1. Without scrolling down, can you guess the #1 top story of the year? You might be surprised!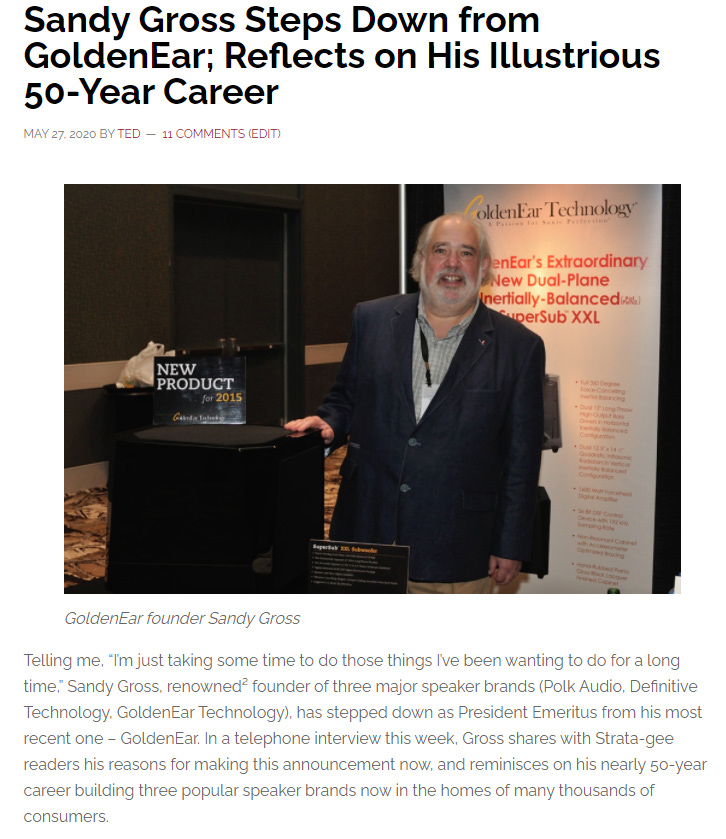 It is a rare breed that seeks to start a company from scratch. To pull that off, you need copious amounts of blood, sweat & tears – not to mention a healthy dose of smarts…and luck. Even more rare is that individual who seeks to start a business and ends up not only being a success, but creating an industry-building brand in the process. That is a person worth honoring.
Sandy Gross has done just that, and not just once…but three times. My post on his exit from GoldenEar was based on an interview with Gross who reminisced about his 50-year journey creating three iconic speaker brands. If you'd like to tangentially tap into his amazing mojo…this post is a good place to start.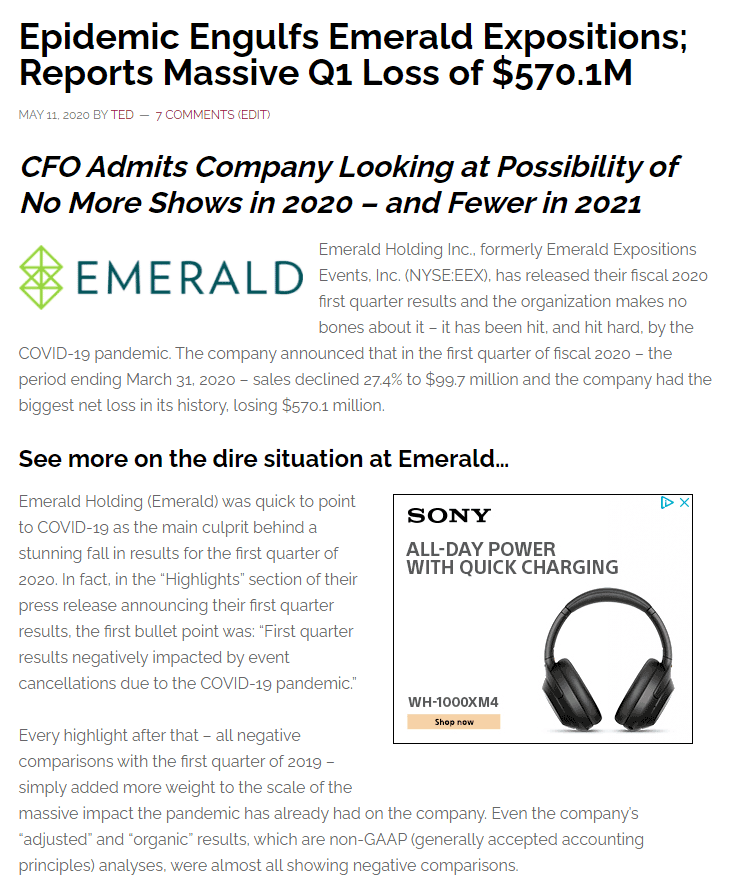 Of course, the SARS-CoV-2 pandemic, better known as COVID-19, touched on several stories throughout the year, but this was definitely one of the biggest. Posted in May, Emerald Expositions – owner of both the CEDIA Expo and certain EH Publishing media properties, such as CE Pro and Commercial Integrator – was almost instantly in trouble…deep trouble. I would go on to report later in the year that their reliable sugar daddy, Onex, would ultimately bail them out by providing a capital infusion and working out a full restructuring. But at the time of this post, it was not clear just how an exposition company like Emerald was going to survive their COVID infection.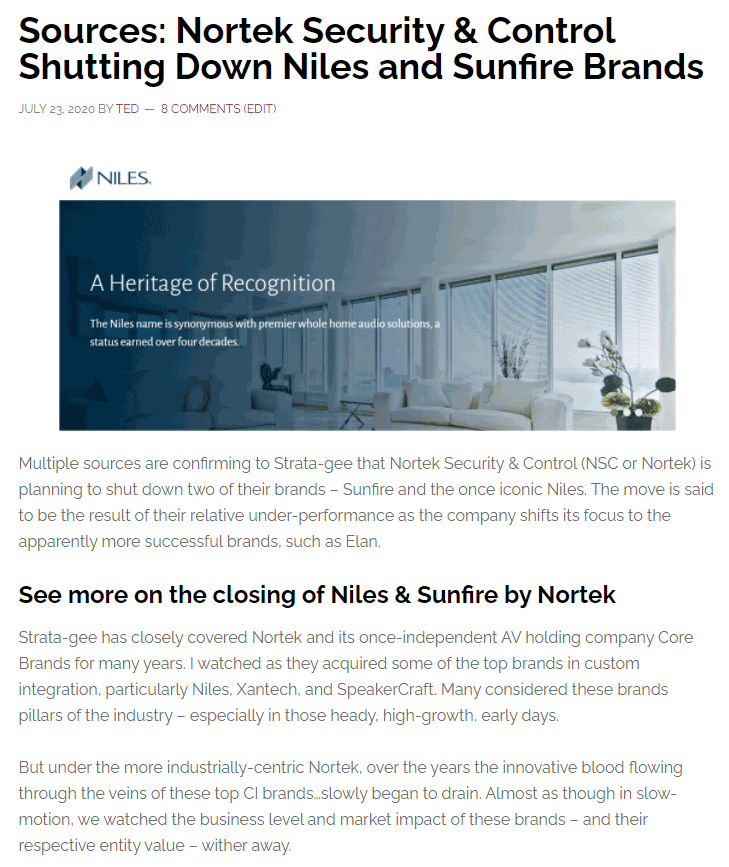 This story posted in July reported that Nortek was shutting down two of its stable of brands – Niles and Sunfire – both formerly popular with many dealers. In fact, many consider Niles one of the pillars of the entire custom integration industry. This post is just another in a long line of Strata-gee reporting on the struggles that Nortek had running a large portfolio of top brands.
See my thoughts on that sad situation here…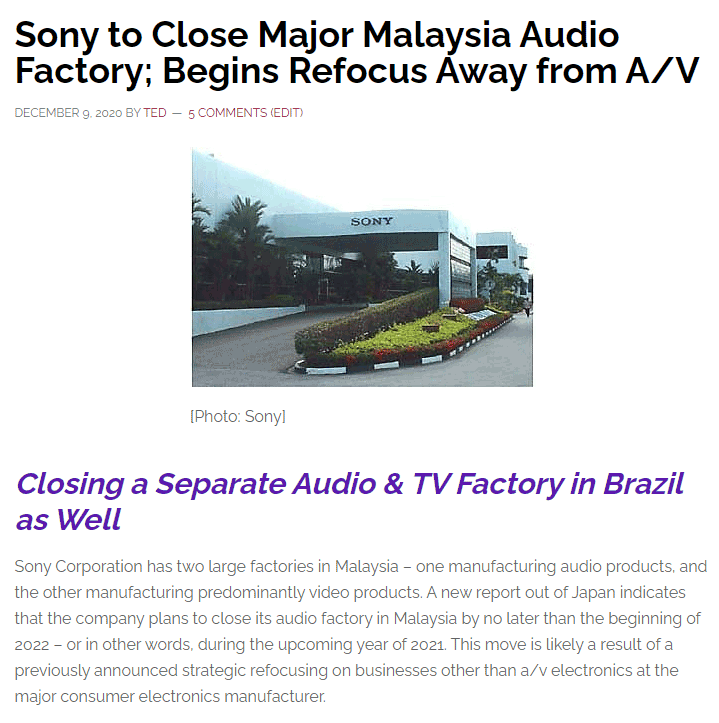 This story is growing fast. First posted earlier this month on December 9th, it is already the 7th most read story on Strata-gee for all of 2020. Had this story emerged earlier in the year, it might very well be #1 or #2.
The reason for Strata-gee reader interest in this story is clear – although the company has been pretty mum about it over here in the States, in Japan, Sony's management has made it clear that they will focus their resources on business segments other than A/V, which it intends to de-emphasize. But the A/V division is the one that basically built the Sony brand – and for that reason, it is big news.
See the post to understand the reasoning behind Sony Japan's thinking…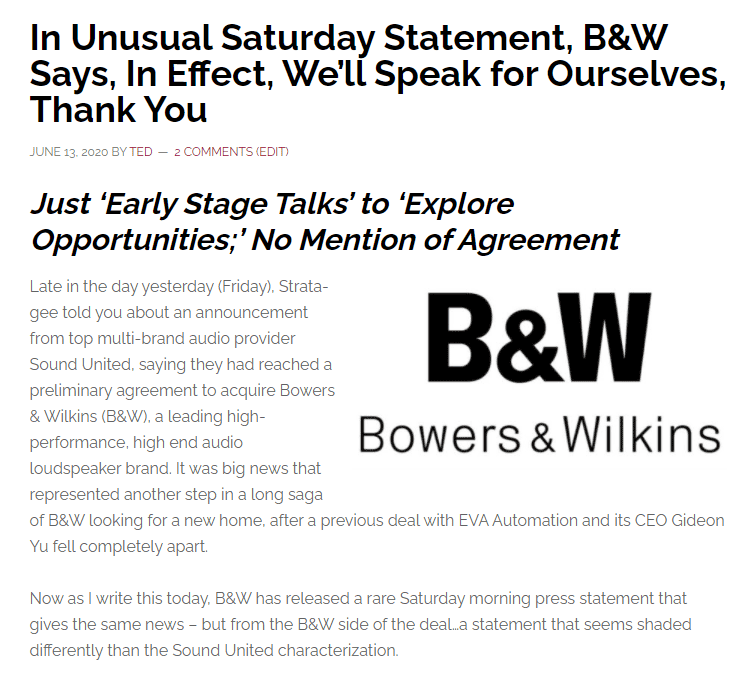 I am quite surprised at how interested Strata-gee readers remain on the plight of Bowers & Wilkins (B&W), hungerly consuming just about any reporting I come up with on the brand. This post is no exception. First posted in June, it came exactly one day after Sound United announced on a Friday that it was in preliminary talks to acquire B&W.
The British speaker giant put out a statement on Saturday, the very next day, recharacterizing the discussions as "early stage talks" simply designed to "explore opportunities."
I found this Saturday statement interesting, and so, apparently, did Strata-gee readers. See it here…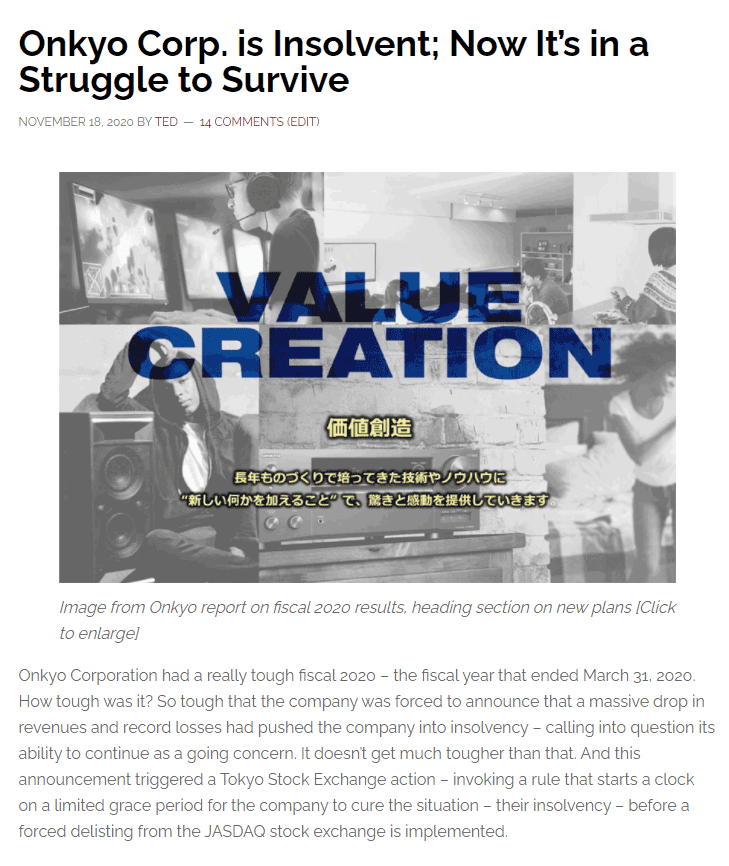 Now we're getting down to the nitty-gritty, the Top 5 Most Read Strata-gee Stories of 2020. At #5, we have a story that shocked many here in the U.S. – Onkyo Corp. reported to Japanese financial regulators that they were officially insolvent. Insolvency is a state of being where an individual or company does not have enough money on hand to pay their bills. It's serious, but can be survivable.
Once one of the most successful A/V receiver manufacturers in the world, the brand has seen its power diminish over the years for a variety of reasons. Now it must find a way to revive its fortunes…before it's too late.
First posted just last month in November, this story has rocketed to the top of Strata-gee's most read list. See more on it here…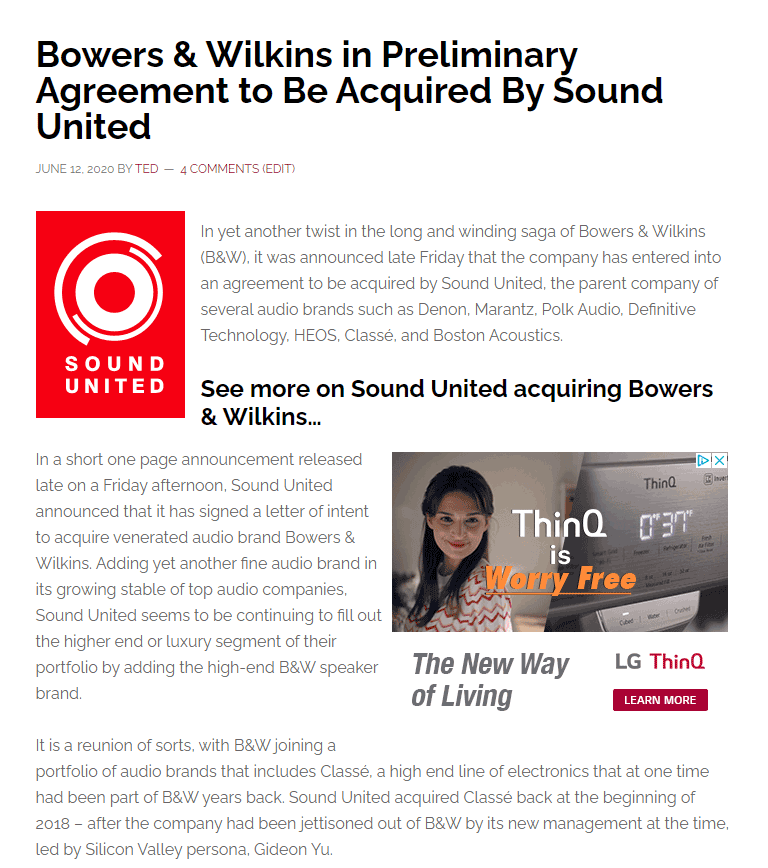 Here is the announcement by Sound United that I referred to in my comments about the #6 most read story above. Clearly, something in the way that Sound United presented the situation in their announcement discussed in this post had caused some discomfort at B&W. This announcement by Sound United represented a little extra drama – B&W was their first attempted acquisition after an attempt to acquire Onkyo fell apart.
We alerted readers to that situation in our report which you can read here…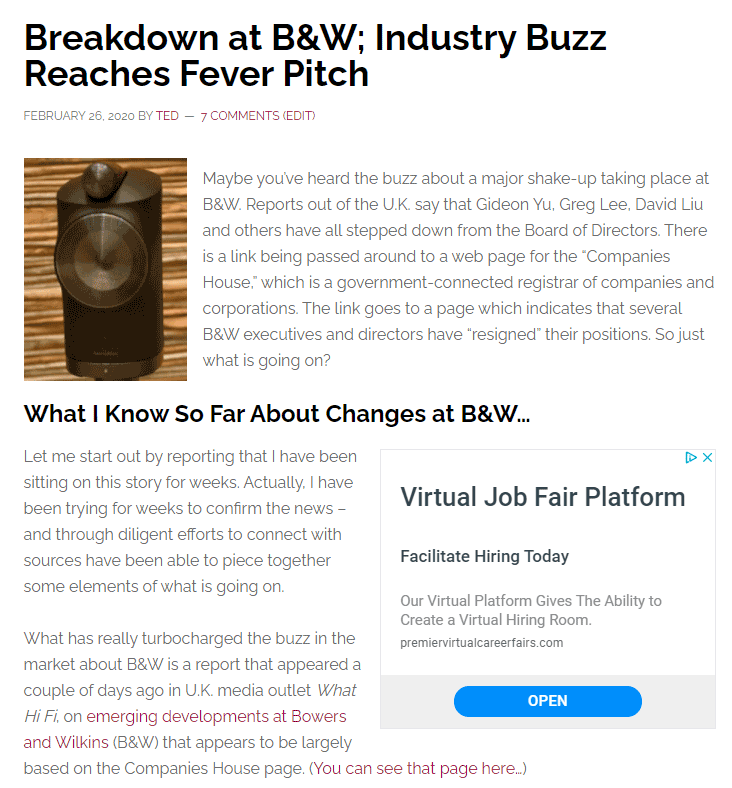 Yep…B&W again. This post goes all the way back to February. Remember then? COVID-19 was just getting started and we had no idea of just how bad it would get. Also at that time, the industry rumor mill had shifted into overdrive with lots of buzz about B&W. The word on the street was that top B&W executives had resigned, including Gideon Yu, CEO of EVA Automation, supposedly the owner of B&W. What the heck was going on?
This post was one of the first here in the U.S. to reveal some of what was happening in the background at that time. That story would further develop with the collapse of EVA, their exit from B&W, and the stage being set for B&W to go on to be acquired by Sound United.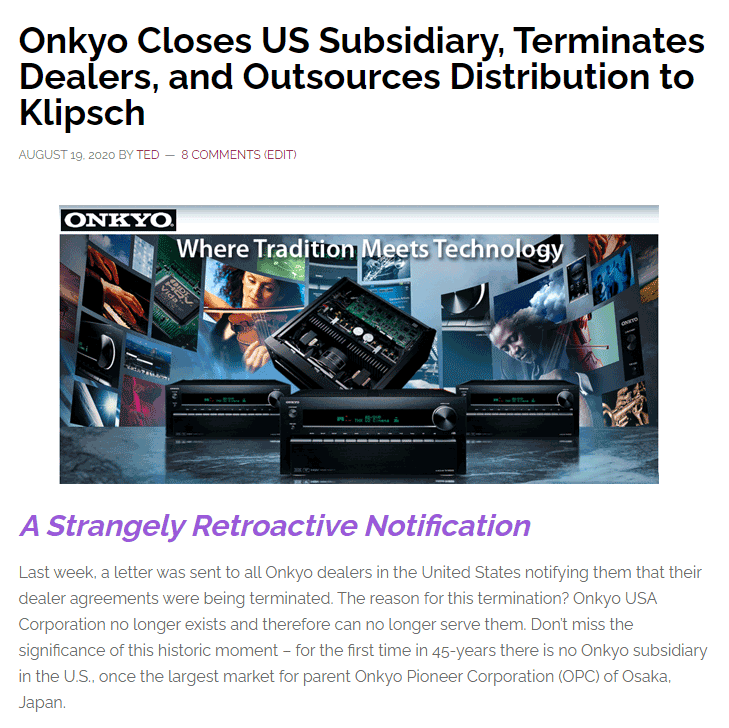 The penultimate post for 2020 was the first sign that big things were changing at Onkyo. This story informed readers that the company had closed down its Onkyo USA subsidiary, terminated all dealers (and sales representatives), and outsourced Onkyo distribution to Klipsch, a division of Voxx International.
I called this event an "historic moment," and I stand by that characterization. See the details of what I had uncovered at Onkyo…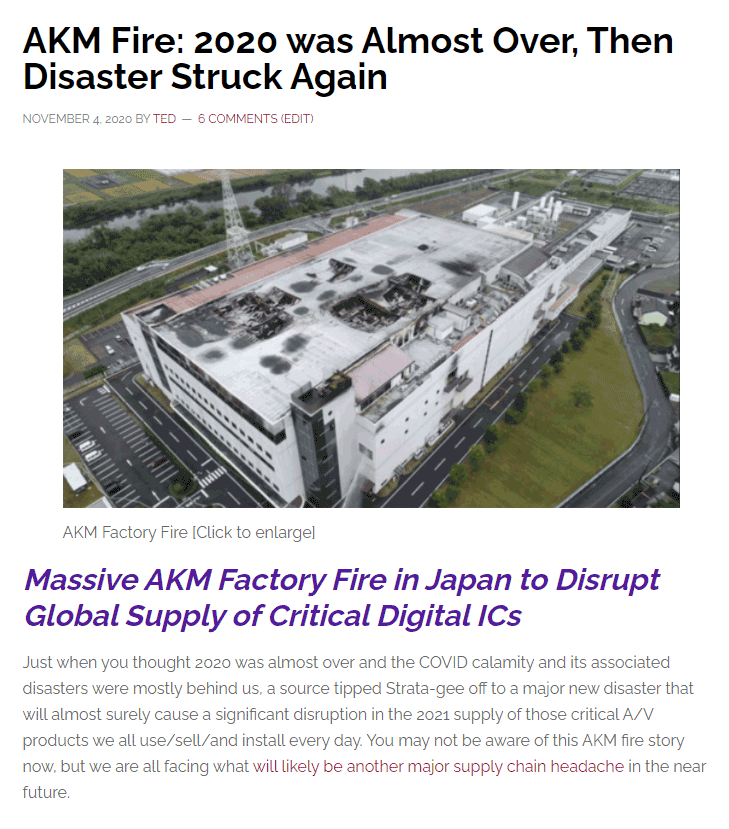 When I first received an anonymous tip about a factory fire in Japan – well before anything had been reported in any media – I wasn't so sure it was a big deal. However, as I began to investigate, I quickly realized it was a HUGE story. Due diligence was tough on this one, because most manufacturers – concerned about scaring their dealers and/or causing panic – did not want to talk about it.
I eventually was successful in discovering several critical facts behind this story – with a huge impact that is still playing out. Incidentally, I give a lot of credit to Strata-gee readers, who quickly come to recognize the AKM fire as a serious issue, as evidenced by the fact that this story, which first appeared just last month, zoomed to the top of the list of most read stories.
This story is a solid #1 by a wide margin over any other post. See it here…
What Was Your Favorite Strata-gee Story in 2020?
So there you have it – the Top Ten Strata-gee Stories of 2020. Did your favorite story make the list? Tell us what your favorite Strata-gee story was in 2020 in the Comments section below.