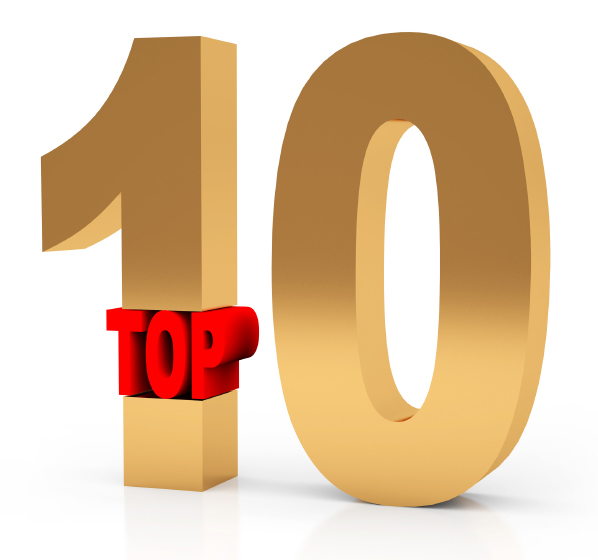 As we hurtle headlong into the a new decade – the 2020s – it's a good time to pause and take stock of some of the major events of our industry's recent history by ranking the Top 10 Strata-gee stories of 2019 based on total page views. This ranking shows just what stories drew the most attention of Strata-gee's eminently intelligent and inquisitive readers.
See which 2019 Strata-gee stories were tops with readers…
Note that for the ranking this year, we are taking a different approach than in the past. Previously, we included any and all stories that our readers hungrily devoured throughout the year…regardless of when that story was originally published. The fact is, those of us in electronic media benefit from what is often referred to as "the long tail" – or stories written in the past that continue to draw the interest of current or new readers.
Strata-gee has long benefitted from the long tail, as the underlying themes of many of our stories continue to ring true throughout the years. However, this year, I am limiting this annual ranking to only those stories that emerged in 2019. In this way, we see the stories that served to help define the year 2019…the last year of the decade of the 2010s.
It also should be noted that this ranking by page views is inherently skewed in favor of stories that emerged earlier in the year. Those earlier stories have had greater time to "soak" – drawing upon their longer tails…so to speak. So, for example, our #3 ranked story…"'Coming Soon' – B&W to Launch New 'Formation' Wireless Receivers & System," was published in February and has continued to draw readership all year long.
On the other hand, our #7 ranked story – "Frank Sterns Leaves Sony for Sound United," was published just days ago on December 19th and rocketed to #7 for the year. It is possible that over the same 11 month period of time, the Frank Sterns story could end up drawing more views…but this ranking is a snapshot in time and that time is now. So keep in mind, these are the stories of 2019 ranked in page view numbers generated in 2019.
With That Said, Here are the Top 10 Strata-gee Stories of 2019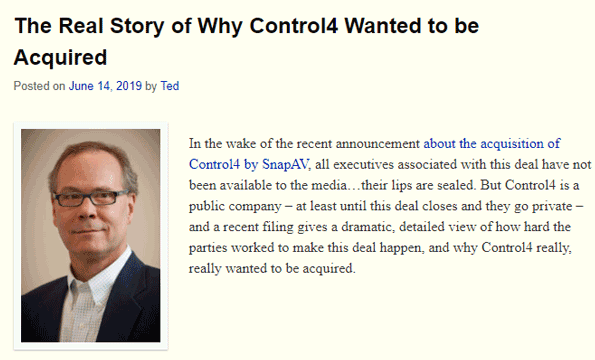 A strong #1 story with page view numbers well over the next closest article, this post generated a tremendous amount of buzz when it was published in May. While there are no comments attached to this story in the comments section beneath it on the website, I don't think I have had any other story that drew as many phone calls, emails, and shares around the internet as this one.
One reader posted on a Control4 enthusiast bulletin board that my article "should be made into a movie"!!
In this post, I dug deep and provided a blow-by-blow timeline into the wild series of events that led up to the acquisition of Control4 by SnapAV. It was a wild ride in which the deal was ON…then OFF…then ON again.
I also noted how Control4's official filings with the SEC contrasted with the way company executives portrayed their situation to people in the media…people like me. It all made for a fascinating read…
See: The Real Story of Why Control4 Wanted to be Acquired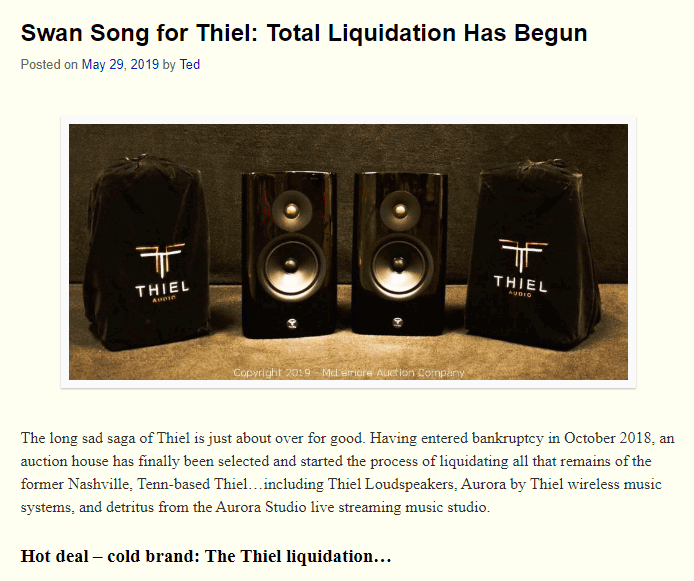 While #2 on this list of top 10 Strata-gee stories of 2019, this article from May on the liquidation of the remaining assets of Thiel was my last major report on the death and dismantling of a once-beloved audiophile brand. The last leg of my multi-year coverage of the long-and-winding-road that brought Thiel to this point, Strata-gee came to be viewed by many as the most authoritative voice on the plight of this once great audio brand – as evidenced by several general & business newspapers, blogs, and websites around the world quoting Strata-gee's Thiel posts…as well as linking to my extensive Thiel coverage.
Strata-gee's coverage is also generously quoted in Wikipedia in their entry on Thiel, driving page views of many of the Thiel posts to this day. In fact, Strata-gee has more references than any other single source in the reference listings of that entry. See Wikipedia Thiel Audio listing here…
This top rated post reveals details on the then-upcoming liquidation auction of any remaining Thiel speakers and other office and studio stuff. A large number of readers – in the high hundreds…to nearly a thousand – clicked through to the website of the auctioneer to view and perhaps participate in that auction.
Read – Swan Song for Thiel: Total Liquidation Has Begun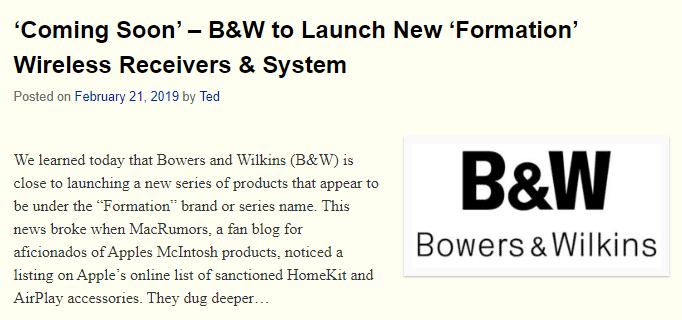 In this February story, Strata-gee succeeded in revealing many then-unknown details on an important – and long-rumored – upcoming launch from B&W…its first major launch since the company was acquired by Silicon Valley-based EVA Automation. It took some serious sleuthing from both the Apple McIntosh fan blog MacRumors…and yours truly. At that time, B&W had been impressively tight-lipped about a new super-secret project that was rumored to be revolutionary. No one seemed to know just what it was or what was special about it – or if they did know, they weren't talking.
From MacRumors I learned that B&W products showed up on an official Apple website of authorized AirPlay products bearing the Formation name. I further investigated and discovered a connection between EVA Automation – the new owner of B&W – and a consulting/investment company known as The Formation Group.
It was this digging and revelation of details on the upcoming product launch that propelled this story to the top of our Top 10 Strata-gee Stories of 2019.
Check out – 'Coming Soon' – B&W to Launch New 'Formation' Wireless Receivers & System…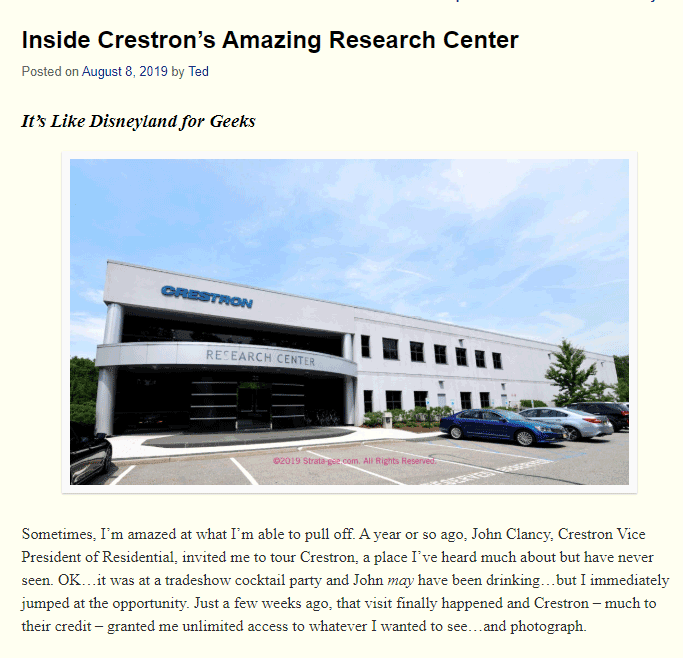 Crestron is a leading high-performance automation brand – if not THE leading high-performance automation brand – in both the commercial and residential spaces. However, unlike some of their competitors, they are rumored to possess incredible in-house design, engineering, and manufacturing capabilities that are unrivaled in the industry.
To find out, I contacted John Clancy at Crestron to find out if I could get a tour. Much to my surprise, he said yes and the result was this long post in August with a detailed description of what I saw during my tour of their Research Center… This post also included a copious number of photos from inside the center – which as part of our agreement, I was not restricted from taking any photo of anything I wished to capture (I reveal our "deal" to achieve this license from them in the story).
Taking readers right inside of Crestron's amazing Research Center caused them to eat up this story…as well as two others in a series of posts on Crestron's capabilities.
Check it out – Inside Crestron's Amazing Research Center…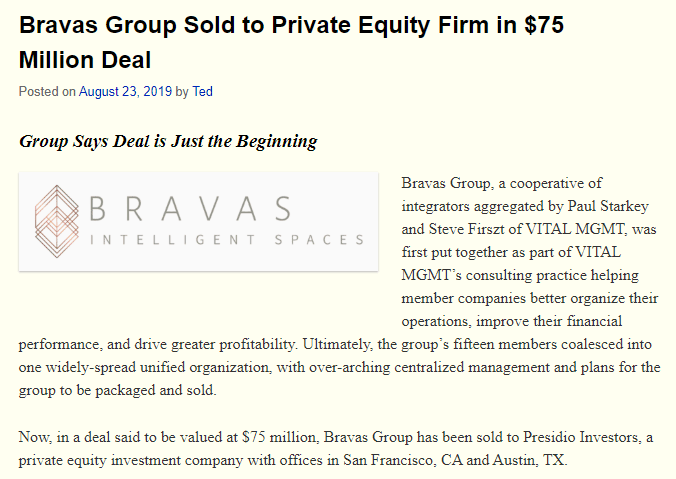 This story from August was big news, as the Bravas Group, once a loose consortium of geographically dispersed integrators, got their act together and formed a unified management structure and sold the whole kit and kaboodle to Presidio Investors, a private equity group.
Strata-gee got the scoop and broke this news to the industry – offering detailed information on the deal and insider information. I also researched the buyer, Presidio, who appears to have no technology experience.
As the post notes, no other integration group has been successful in the long run with this type of roll-up transaction…so this news surprised many in the industry. Readers were interested to know the deal and Strata-gee was for some time the only place to find it.
See all the details – Bravas Group Sold to Private Equity Firm in $75 Million Deal…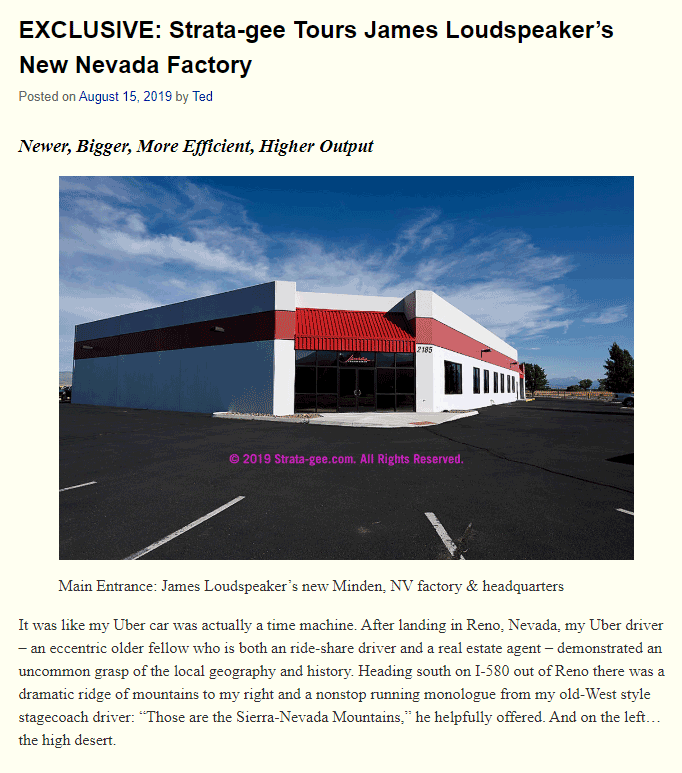 After many years in Napa Valley, California, James Loudspeaker moved to Minden, Nevada in a move that surprised me. I had toured James' previous facility and clearly, the company was rapidly growing…and rapidly outgrowing their old facilities.
Still, I had assumed they would stay somewhere in the same general area in California and was surprised when they moved to the wild and rugged Western Nevada. James offered me an exclusive opportunity to visit their new facility…and I jumped at it.
The result is this post – ironically also from August – in which I described my tour of their impressive new, larger, and even more future-expandable location. This post included a photo tour as well, so Strata-gee readers could "tour" their facility as well.
Little did I know at the time, that the company was in negotiation to be acquired by Sonance…something that would come out just one month later in September.
Check out James' impressive new factory – EXCLUSIVE: Strata-gee Tours James Loudspeaker's New Nevada Factory…
This story – posted literally just days ago – has shot up the charts thanks to the surprise news that Frank Sterns, a well-known and respected custom integration executive, was leaving Sony to join Sound United. I suspect the combination of his personal popularity, coupled with the surprise of his departure from Sony – caught the attention of Strata-gee readers.
Another contributing factor potentially stimulating interest in this story is the recent misfire of Sound United, whose acquisition of Onkyo Corporation's audio division fell apart just months after it was announced.
Normally, this time of year tends to be a slow news period. But this story has had a really fast start!
See – Frank Sterns Leaves Sony for Sound United…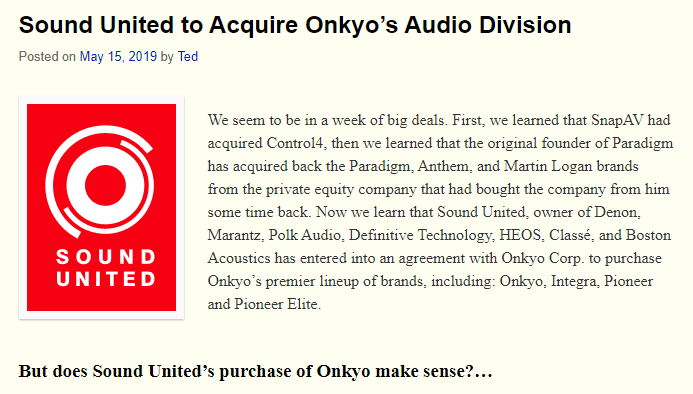 Here's another Sound United story, but this one is from May when they announced that they would be acquiring Onkyo Corporation's audio division. Strata-gee readers found this news rather shocking and that interest drove up the page views on this story.
As you can see in the teaser at the bottom of the paragraph above, we questioned from the beginning how this idea – that the owner of Denon, Marantz (and others) would buy Onkyo with the Onkyo, Integra, and Pioneer brands – made any sense. The company never articulated a logical justification or strategic plan for how they would market these various brands that compete with Sound United's existing brands in the marketplace.
See – Sound United to Acquire Onkyo's Audio Division…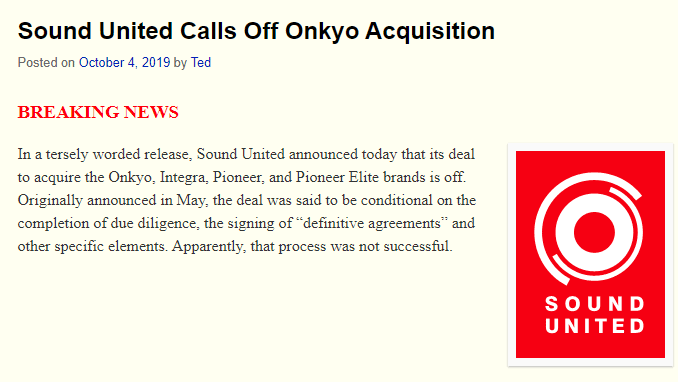 Just five months after their original announcement of the acquisition of Onkyo in May, Sound United reversed course and said the deal's off in October. Maybe they had a change of heart? Or somehow otherwise came to their senses? It's hard to know, Sound United is a pretty opaque organization.
Nonetheless, Strata-gee readers found this news interesting, pretty much as interesting as the original announcement.
Read – Sound United Calls Off Onkyo Acquisition…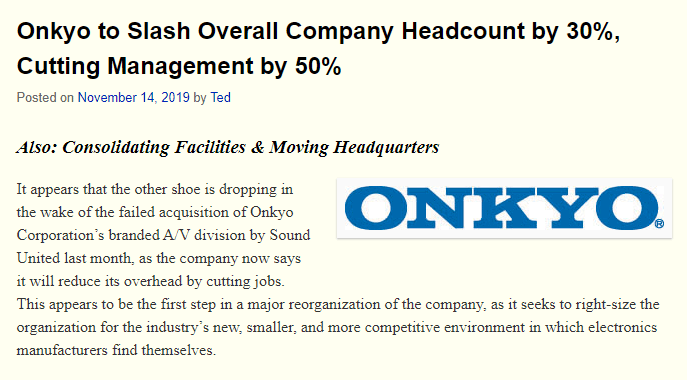 One thing seems pretty clear, Onkyo needed that deal to go through, because just one month after Sound United said it was pulling out, Onkyo announced a major restructuring that had it cutting its general staff by a third and its management staff by half. This was the second attempt to sell the company that fell apart – the first was an attempted deal with Gibson Guitar (eventually renamed Gibson Brands) that ended with Gibson falling into bankruptcy.
Strata-gee readers found this whole soap opera with Onkyo and Sound United fascinating and these stories all drew about the same level of readership.
See the whole story – Onkyo to Slash Overall Company Headcount by 30%, Cutting Management by 50%…
So There It Is
So there you have it, the top 10 Strata-gee stories of 2019. What do YOU think? Did Strata-gee readers have it right? Or are there other stories that you feel should have made it into the top ten?
Give us your thoughts in the Comment on This Post section below. What's YOUR vote for top story?