Newer, Bigger, More Efficient, Higher Output
It was like my Uber car was actually a time machine. After landing in Reno, Nevada, my Uber driver – an eccentric older fellow who is both a ride-share driver and a real estate agent – demonstrated an uncommon grasp of the local geography and history. Heading south on I-580 out of Reno there was a dramatic ridge of mountains to my right and a nonstop running monologue from my old-West style stagecoach driver: "Those are the Sierra-Nevada Mountains," he helpfully offered. And on the left…the high desert.
This was going to be an adventure…
I live in New Jersey, a densely populated state that is largely nothing but a series of cities – most called boroughs – that bump one up against the other to create a seemingly never-ending metro. But in Nevada, unless you count tumbleweeds, I didn't see a lot of people in the towns which were dozens of miles apart on my ride down the Nevada interstate.
After passing through Carson City (wasn't that in the old TV western Gunsmoke?) we turned on to state road 395, and for a while the scenery got even more rocky and desolate. As we began to approach Minden, we came upon several large cattle ranches with vast fenced-in grazing spaces – a big business here, my local historian informed me. Cattle, he added, and mining are both big Nevada businesses. "Did you ever see the show Bonanza," my driver asked. "That was set over that way, in the Virginia City area – just a few miles in that direction," he said pointing off to the left.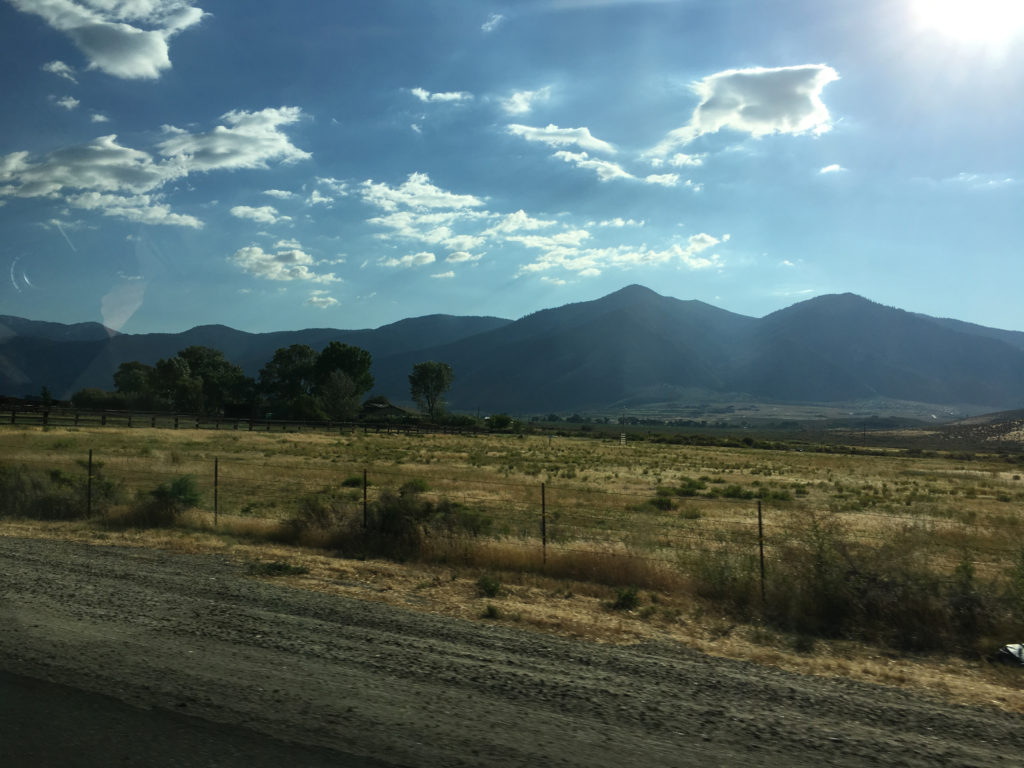 Saddle Up, We're Riding into the West
That was it…I felt like I was in the old west…desert, tumbleweeds, cattle ranches, people riding horses, signs for your local gun store. We came to a great valley – the Carson Valley, I was told – and there was the small town of Minden with 3,000 residents (2010 Census), established in 1906.
What the heck is James Loudspeaker doing in Minden, NV?

The next morning, both James Loudspeaker's CEO Mark Schafle and President Jay Wessell picked me up at the hotel, and we began the next phase of my adventure with a breakfast meeting at an airport coffee shop. James Loudspeaker is in an industrial park that is located on the property of the Minden/Tahoe Airport, which is a small airport for mostly single-engine, private consumer craft. Notably, the resort area of Lake Tahoe is just over the mountains from Minden, which is a nice plus to those living in this area, who may occasionally find themselves in need of some of the plush luxuries of life.
What's Different This Time?
Having toured James' older facility in Napa, CA back in 2016, my first question was obvious to me. You see, the previous manufacturing facility was in the heart of California wine country in Napa. Surrounded by gorgeous rolling hills of miles and miles of beautiful vineyards, what a shocking alternative to switch to the Nevada desert! So, why move to Nevada?
"The key factors in that move were that Nevada is a business-friendly state, where we could expand manufacturing – and get the help of the local government to do so. Another factor is the cost of living. You know when we moved to Napa, it was a very small community that was affordable. Now that's no longer the case. So all the younger engineers and employees that moved with us [to Nevada] – which was everyone except two people – gained the ability to buy homes and live a more comfortable life."

Mark Schafle, James Loudspeaker CEO
Rubbing Elbows with Google & Tesla
The main issue for James was that, thanks to rapid growth in their business over the last few years, they had run out of room in Napa. In looking for alternatives both in and out of California, it turns out that Nevada offers an aggressive outreach to businesses, including various incentives like low-cost loans and tax incentives, to relocate your business to Nevada. So on December 22, 2018, the company closed their Napa, CA facility…and on January 3, 2019, they opened their brand new Minden, NV factory and headquarters office.
Jay Wessell said that the government was so accommodating, that James Loudspeaker was invited to a ceremony with Nevada's Governor and Lieutenant Governor where they signed off on certain tax abatement programs. Among the recipients of this governmental largess – along with the James executives – were top executives from Google, Tesla, and a large health company.
Designed for Efficiency
The new factory and company headquarters was an opportunity to start fresh in a larger, better organized facility. Increasing sales had caused them to rapidly outgrow their Napa facility, so a move was mandated. The company planned for this moment, knowing that a larger building with more efficient layout would drive enhanced productivity and profitability.
To accomplish this efficiency, the factory floor was centralized in the building, surrounded by spaces dedicated to the inputs and outputs of their business. We first walk into a warehouse filled with items needed for manufacturing, such as cardboard boxes, speaker components, and more.
From Hodge-Podge to Organized
I couldn't help but notice how much cleaner and better organized everything looked here in Minden as compared to their previous facility. This was partly do to the fact that James Loudspeaker's former facility in Napa grew in stages, forcing them to graft new floorspace onto existing space and forcing a haphazard layout…rather than like here in Minden where the total layout was planned from the beginning.
There is a large doorway that separates the warehouse from the factory production floor. The first thing I noticed here was how much more space James' workers had on the production floor…or assembly area…which had been a much more cramped space in Napa. Here there was plenty of room.
If you look in the photo below, you'll see another large door on the other side of the production floor that leads to the fabrication shops, both metal and wood – as well as welding station, several painting and powder coating booths, and more.
Assembly Space, Production Engineering, & Test Lab
As you first walk through that giant door, on your left is a large work area which houses production engineering as well as an enclosed testing room used largely by Mike Park, the company's Chief Technical Officer. In this space, the company conducts critical testing and Park voices the speakers with his inimitable, handmade, testing board with multiple dials for tuning in crossover values.
In this testing space, Mike Park and the engineers run various James models through their paces, using a calibrated microphone connected to a computer. You can see several models waiting for testing set on the floor around the room in the photo below.
Production engineering is right on the main floor where production is taking place. That may seem like an obvious place to position it…but you'd be surprised how rare this is. In many factories, production engineers reside in cubicles buried somewhere back in an office section.
Four Large Production Lines
Seen below, we are standing right at the end of one of the four production lines in James Loudspeakers new factory. I was struck by how much better organized the production floor appeared to be. Workers had plenty of space to move around, or wheel carts of parts or products to their workspace, or collect more screws from bins lining the walls around the space. The worker seen below is assembling a soundbar.
Aside from the better organization, I couldn't help but be impressed by the expanded amount of room afforded the production floor. Each worker has much more space to accomplish his task than they had in Napa. This alone can reduce reworks of accidents from products banging into each other in too tight of a space.
Room has also been allocated for end of line testing. In the photo below is a testing booth where each speaker coming off the line is placed, connected to a computer, and has a frequency sweep applied to ensure everything is operating correctly and to specification.
End of the Line: Packaging for Shipping
Finally, there is a large work area where any final tasks are completed and the product is packaged for shipping. While I was there, the company was testing a new machine that creates custom foam inserts that will better protect the products in shipping. These machines are expensive, but the company is willing to make this kind of investments to continue to improve integrators' satisfaction by lowering shipping damage.
By the way, you can see the machine they are testing in the photo above – it is the gray/blue machine against the back wall, center/right in the image. If it passes the test, they will most likely order multiple units.
Fabulous Fabrication
From here we moved into the fabrication shops where the products are made in the first place. First up was the metal shop which is dramatically larger than in Napa. Most James Loudspeaker models are made of aircraft grade aluminum, so metal fabricating is an important function. Not only is this space visibly larger, but Fabricating Shop Manager Mark Schloesser said the company now has two large CNC computerized routers. In Napa, there was just one, so they have doubled their capacity.
The company has also added a special aluminum chop saw and Schloesser tells me that with more space and more machines – Minden has more capacity. (Follow links to my full slide show to see one of these machines in action.) This has allowed the company to shift production of some products from Mexico to Minden. How about that, a manufacturer shifting production to the U.S.!
The factory in Minden was in full swing during my visit, so I enjoyed watching the women and men of James at work. In the photo below, we see multiple soundbars being produced. Typical to James, which prides itself on its custom manufacturing capabilities, there are several different models being worked on here.
Wood Shop Features Improved Sawdust Handling
From here we moved on to the wood shop. This to my eyes appeared to be about the same size as Napa, but Schloesser said it was actually just slightly smaller. However, one thing that struck me right away…it was much, much cleaner. I mentioned this to Schloesser and he told me that the company had invested in and installed a much improved sawdust handling system.
While the company has more aluminum models, wood is still incredibly important to them. The company has invested in CNC computer-controlled routers here as well with the capability to produce incredibly precise output. This is demonstrated with the wood grills shown in the photo below.
Hydro Dip – Even More 'Custom' Custom Capability
James Loudspeaker prides itself on its custom capabilities. Long time Strata-gee readers may recall my article on custom "Steampunk"-style speakers the company created for a dealer's client. But for most projects, "custom" refers to paint color, with Schafle telling me during my last visit in Napa that the company could match any paint color a client could desire.
But the company has just taken a big leap into a new paint process that makes their custom painting…even more custom. The process is called Hydro Dip and it is a bit of a mind-blowing capability.
Handles More Complex Designs w/ a Photographic Look
Without getting into too much detail, the process involves picking just about any design desired which is printed on a special backing. This is then placed into a water tank, an "activator" is added, then a 3D object – say a speaker cabinet – is dipped into it, taking on the design. Sounds crazy…but it works.
Schloesser showed me several test examples of it, and it was amazing. Complex patterns transfer perfectly. The process can also mimic woodgrain, marble, chrome…even a bedazzled metallic look. See more examples of hydro dip by clicking the links to my full slideshow. This is a new capability (Schloesser's team was at the manufacturer's getting trained on it the day of my visit) so you may have to wait a bit before you add it to your orders.
Expanded Paint Department w/Large Powder Coating Booth
In the more traditional painting department, James has a new expanded powder coating capability. Not only is their booth larger, it utilizes a new filtration system that can actually recapture powder from the coating process that can be reused.
If you look closely at the photo above, what looks like smoke coming out of the paint gun is actually the powder coating. Much of that, but not all of it, will be coated on the box suspended at the middle of the image. The large cylindrical filters behind our coater will pull the unused powder out of the air which will be collected later for reused.
Engineering a Brighter Future
From this new and larger paint department, we moved on to Engineering. James has a total of 11 engineers – a lot for a company of this size. This includes 6 full time engineers, 3 interns…plus both Mike Park and Ted Telesky on their management team.
The new space devoted to engineering is sort of a mini-cubicle world with a semi-open office layout. The good news is that they are all in one place. In Napa, again because of space constraints, they were spread out into different spaces. Schafle said that by positioning them in their own engineering office, collaboration has definitely improved with real benefits to the company.
Dedicated Training Room
Finally, Schafle and James' new Marketing Director Vijita U.G. showed me the company's new dedicated training room. Schafle told me that they have a regular flow of dealers who come in for training on the company's extensive line. Perhaps more than some other brands, James must cover a lot of ground, including their customization capabilities
Takeaways on James Loudspeaker's New Facility
It was a long day at James Loudspeaker and there was a lot to look at. Although they've only been in Minden a few months and there were some signs of further unpacking and organization needed – clearly, the company was justifiably proud of their new headquarters and factory.
Everyone was upbeat and seemingly satisfied in their new space. Remarkably, with the exception of only two individuals, the entire company moved with James to Nevada. That in and of itself is a bit of a statement.
My key takeaways:
James Loudspeaker's new facility in Minden, NV is clearly substantially larger than their old facility in Napa
The company has further opportunity to expand onto adjacent land
Growing revenues was the prime motivation for the move
Perhaps the biggest benefit of the move was it provided them with the opportunity to design a more efficient layout from the beginning. This has driven productivity to new heights
Nevada has a lower cost of living, raising the living standards for all of the employees
Nevada's pro-business stature with various tax programs and lower cost of business has had an immediate effect of improving the company's bottom line
With lower costs, better business environment, higher standard of living, and room for expansion, James has made a long term commitment to Nevada
Learn more about James Loudspeaker by visiting: jamesloudspeaker.com.