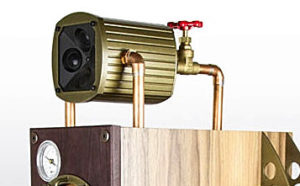 It was a fairly typical, if slightly larger than normal, system installation for Matt Durbahn of CDI Services in Denver, Colorado. The client was building a home in the countryside outside of Denver and the project called for a whole home automation solution with a media room, technology throughout the home, lighting, HVAC control, outdoor entertainment, security & surveillance, and all that goes with a system like this. Although fairly extensive, none of the client's requests were unusual.
But then the client asked for something NO ONE has ever asked Durbahn for before…and things just got a whole lot more interesting.
See what the client's crazy request was, and how the integrator pulled it off…
You don't have to go far out of Denver to discover rugged mountainous country and that certainly was true for the location of this installation project, which is in a small community a few dozen miles outside of Denver. When we say small, we mean small – with a local village population of only a few hundred people.
The client was building a new large home on a 35-acre parcel of land out in the rugged Colorado countryside. Durbahn was shown plans for the project in which included the home and other outbuildings that were collectively designed to look like a small mining community.There's even a section of the main house that looks as if an old mine shaft is constructed there.
A Mining Town Look
Why a mining town look? In an email exchange with the homeowner, he told us that the area "has a long history of mining and we wanted to pay homage to that history."
The old mining community look extended into the design of the interior as well, Durbahn told us.
"It's kind of an eclectic looking house," Durbahn said in a phone interview earlier this week. "He wanted the exterior to look like an old mine, and he's got that theme going throughout the house. The refrigerator doors [for example] are copper with big galvanized pipe door handles…and he's got that look running throughout the house."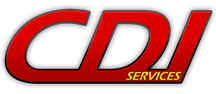 Durbahn went over requirements for the system with the homeowner and all was in order until they got to the media room, where the client requested a full-blown 7.2-channel home theater system.  The home theater, it turns out, was an important feature to the homeowner and he requested that CDI have the theater – and particularly the front speaker systems – be the focal point of the room. And since the design of the whole house hearkened back to when mining was prevalent in the area in the 1800s, it seemed logical that the physical design of the speakers should reflect that look.
The Centerpiece of the Room
So the client requested that Durbahn use speakers with a Steampunk design. Steampunk? The concept of Steampunk comes out of the world of science fiction, in which fantastical machines are imagined using rather wild looking 19th-century steam technology, rather than more modern tech. Consequently, Steampunk items have an 1800s look to them.
As Wikipedia puts it: "…Steampunk works are often set in an alternative history of the 19th century's British Victorian era or American 'Wild West,' in a post-apocalyptic future during which steam power has maintained mainstream usage…"
Can You Make It Steampunk?

So yes, the request was for a Steampunk design – which the client figured would integrate nicely into a generally rugged-looking interior design of the home, which featured large expanses of gorgeous wood and industrial galvanized pipe accents.
What's an integrator to do? OK…right…I'll just pull out my handy-dandy Steampunk speaker catalog and get a set ordered right away.
For many integrators, this request would force them into the uncomfortable position of having to try and talk the client out of what he wants, because no Steampunk speakers exist. And the logical assumption is that they would be way too expensive to have custom built.
Ever Heard of Steampunk? No…
But CDI's Durbahn confidently responded to his client, "So we're like, yeah…that's no problem." You see, CDI has partnered with a speaker manufacturer – James Loudspeaker – that not only accommodates this kind of special request…they actually thrive on it.
"I just called Mark at James Loudspeaker and told him we've got a guy that would like some custom speakers made," said Durbahn, recalling his initial call on the project to James Loudspeaker CEO Mark Schafle. "This is the price range we'd like to be in and he wants them to be Steampunk. Have you ever heard of that?"

Schafle's honest reply was, "No."
So the design team at James Loudspeaker set about researching Steampunk, and coming up with a one-off speaker design for CDI's project.
In an email, James Loudspeaker told us: "We received a call from a dealer who had a client who was into Steampunk, small and large. We were asked to design and manufacture a speaker that would fully provide the Steampunk experience. So this loudspeaker was the result."
Had to Look Right and Sound Great
While the customer was primarily looking for an industrial or cosmetic product design that would fit into the overall home style, Durbahn knew that the product had to sound as good as it looked because the speakers were to be the centerpiece of the entire system. For space and design considerations, Durbahn asked James to work with a tower design, with subwoofers built into the base of the speakers. While this would require a fairly large bottom box to the towers, it would eliminate the need for floorspace devoted to separate subwoofers in the room.
"Technically, we used the driver configuration from a James Loudspeaker QX530 for the 80Hz to 22kHz range and a 2 x 10″ subwoofer section," the company told us.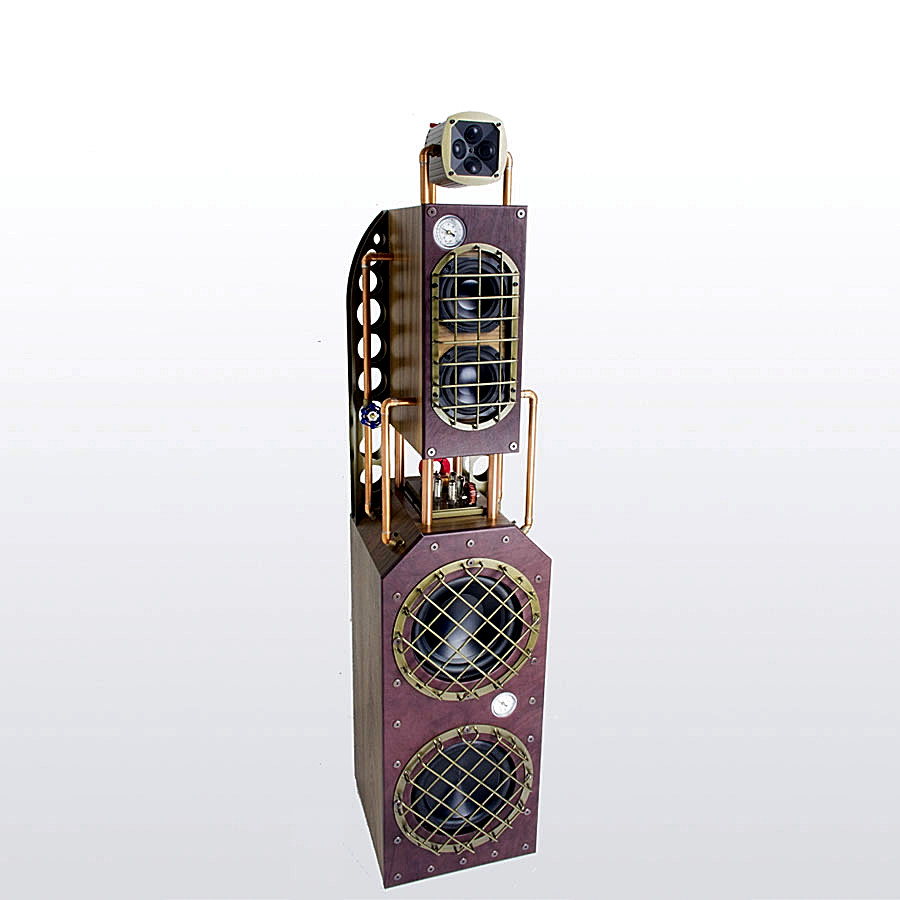 Speaker Specs
The QX530 features a quad tweeter array with four ¾″ aluminum dome tweeters in a 22.5° offset array for improved dispersion. James employed two 5¼″ high excursion aluminum woofers that the company says are flat down to 68Hz. This driver configuration offers high power handling capability with low distortion, a combination of attributes appreciated by audiophiles.
To fill out the remaining channels of the 7.2-channel system, Durbahn added a James Loudspeaker center speaker under the display and mounted a full complement of James Loudspeaker in-ceilings for the surround and rear speakers. In a separate living room, which features a 75″ flat-panel television, Durbahn installed a custom James center speaker that matched the TV's width, and an in-wall subwoofer, as well.
The tweeters in this design were pulled out of the main box to put in a separate section, which Chris Doehla, Acoustical Engineer for James Loudspeaker said was an idea "just to make it look more Steampunk-ish."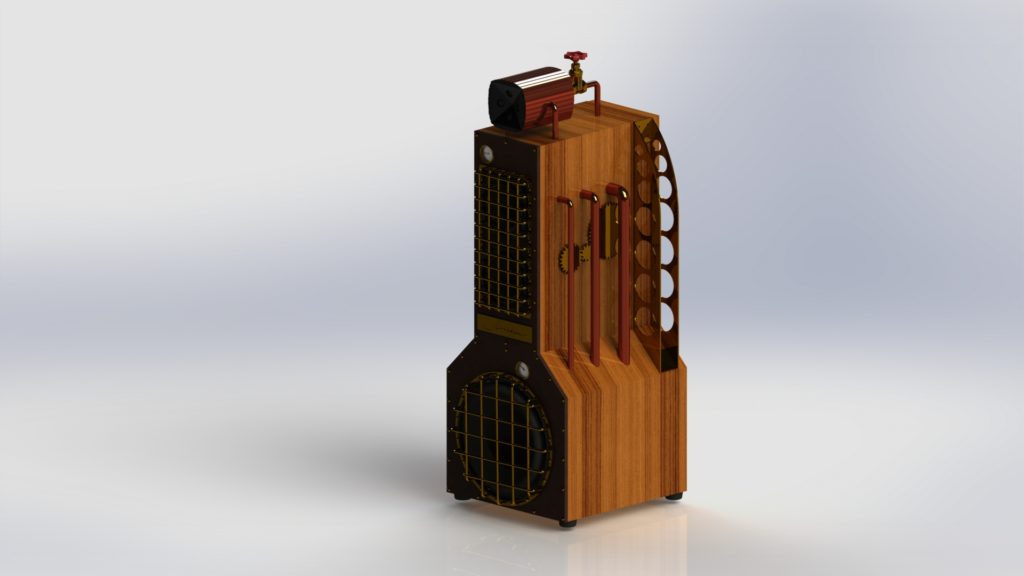 Steampunk-ish
"The idea started with me thinking it would be cool to have a tweeter in like an old-school looking glass/telescope on top of the speaker enclosure," Doehla said. "Steampunk is all about using industrial age inspired technology, so I figured one of those old telescopes would be a cool feature."
With this modular speaker design, the company decided on a bi-amplified configuration with the subwoofers driven by their own dedicated amplifier. Running wires between the modules, though, at first seemed like a challenge.
"Since steampunk is based on the idea of steam power, we decided that copper piping would be a cool way to both outfit the speaker for the steampunk theme, as well as provide the structure and technical aspects we requires." [And hide the wire between the modules.]
How to Make a Speaker Look Steampunk
But James went further than just the copper tubing to add a steampunk feel to the design. The subwoofer section "was modeled to look like a steam drum and then elongated" to make space for the second subwoofer.
"We added a leather cover for the baffle with some brass-headed decorative screws," Doehla said. "We decided that a walnut veneered MDF would give it a more antique-ish and steam-warped look. We added pressure gauges that would move back and forth as the drivers changed the pressure in each cabinet. We added some fins to the side that looked somewhat like a heat sink so we made them from aluminum and powder coated them in a brass color."
An impressive level of thought by James' engineers went into this Steampunk design. But they really outdid themselves when they went so far as to even create a fake tube amplifier.
A [Fake] Tube Amplifier
"Once we separated the two cabinets, we had this empty space between them," Doehla said. "Mark and I started looking at some different things to put here like transformers or maybe some relay switches, but while I was looking at components, I stumbled across used vacuum tubes and thought that [fake] tube amps would be a perfect addition."
So was James Loudspeaker successful in meeting the client's expectation as far as the steampunk look? And, by the way, how do they sound?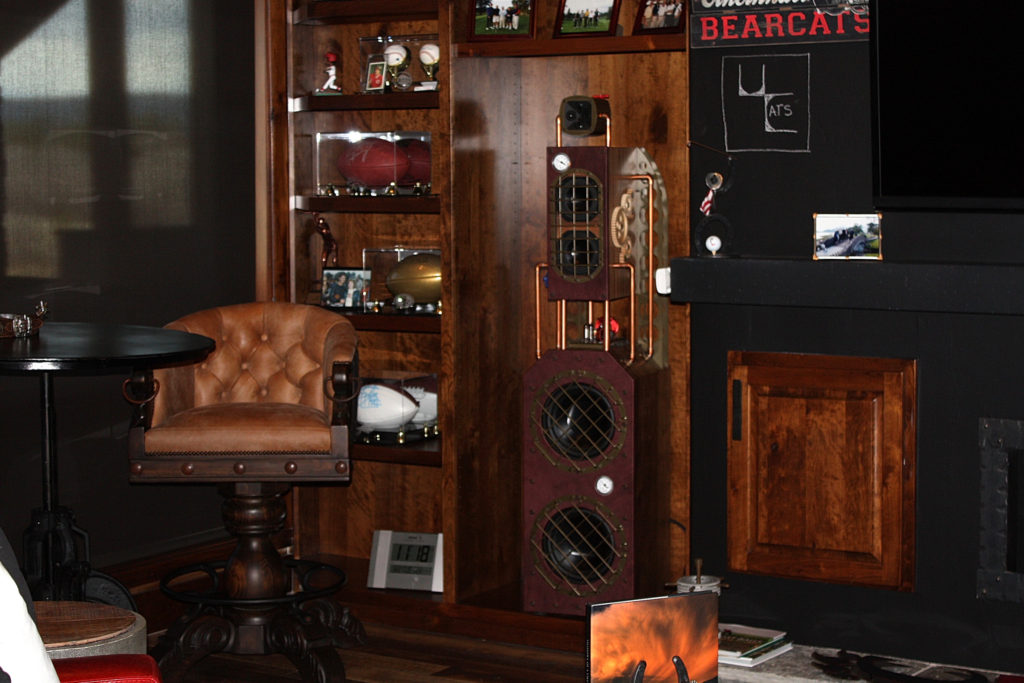 A 'Work of Art'
"The speakers EXCEEDED expectations in every possible way," the client told us. "First the sound is absolutely incredible. That was a top priority and they knocked it [out of] the park. The design well exceeded expectations. It had the feel we were looking for – but what impressed us most was the attention to every little detail to authenticate the design." [Emphasis added by the client.]
Durbahn enthusiastically agreed, "They sound phenomenal…"
We'll give the last word to the client, who of these Steampunk speakers from James Loudspeaker said: "…nothing was overlooked to bring the final product to a stunning artistic work of art."
Learn more about James Loudspeaker at: www.jamesloudspeaker.com.
To find out more about CDI Services in Denver, be sure to visit: www.cdidenver.com.