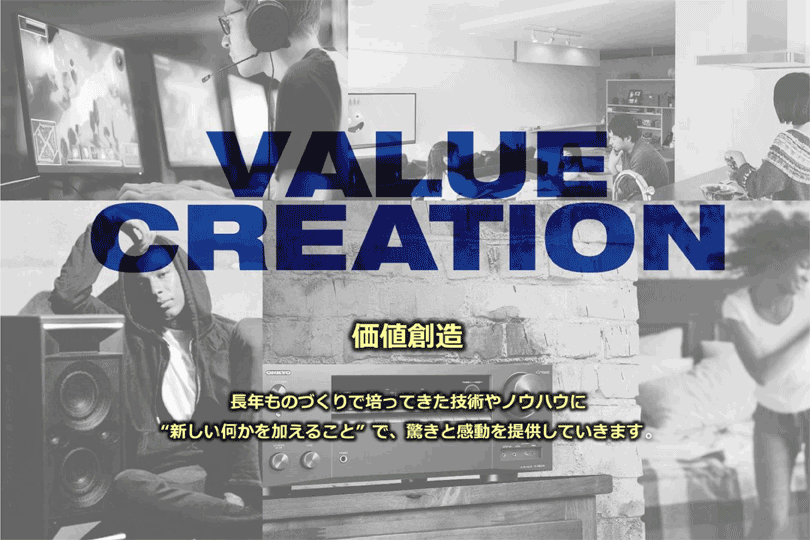 Onkyo Corporation had a really tough fiscal 2020 – the fiscal year that ended March 31, 2020. How tough was it? So tough that the company was forced to announce that a massive drop in revenues and record losses had pushed the company into insolvency – calling into question its ability to continue as a going concern. It doesn't get much tougher than that. And this announcement triggered a Tokyo Stock Exchange action – invoking a rule that starts a clock on a limited grace period for the company to cure the situation – their insolvency – before a forced delisting from the JASDAQ stock exchange is implemented.
So what happens now with Onkyo?
The company blamed several variables, including COVID-19, for their dismal results in the fiscal year, both for its impact on its sales channels…and for the fact that it forced them to close operations down (by local government order) including some of their large factory facilities, such as the one they own in Malaysia, as well as elsewhere. Yet, as the company noted, during this period of forced closing, their costs – such as heavy debt payments – continued to roll on, despite the fact that the revenue spigot had been shut off.
In reporting their fiscal 2020 results, Onkyo said that their global revenues dropped precipitously, coming in at just $200.4 million or 49.3% lower than revenues of $395 million in fiscal 2019. The company booked a record net loss for the year of $90.8 million, as compared to a small profit in 2019 of $306,000. It was truly a dramatic shift in fortune.
A Longer Term Problem Beyond COVID
But for Onkyo, COVID is truly only part of the story. In fact, for years now the company has seen its fortunes decline – losing money every year since 2013 (in terms of ordinary profits). The industry had turned, and in 2012 the company owners began a concerted effort to find a buyer for the business.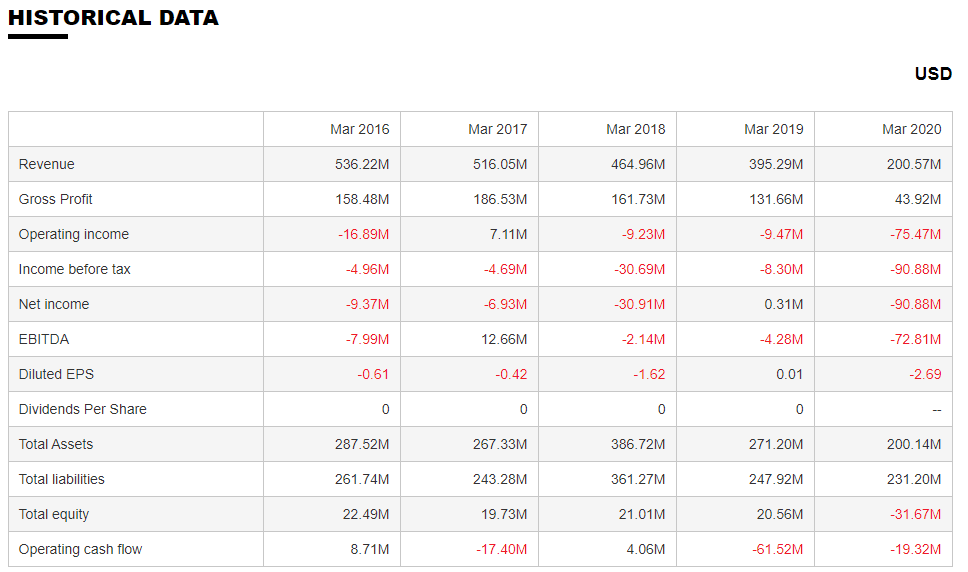 The global economy in the current consolidated fiscal year continued to recover moderately in the United States and Japan against the backdrop of improved employment environment and strong personal consumption, but [not in] the financial and capital markets due to prolonged trade friction between the United States and China. In addition to the effects of the above, political and economic uncertainties in China and Europe, and the spread of new coronavirus infections at the end of the fiscal year, there are many major slowdown factors in the global economy."

From Onkyo document: Message of final accounts for March 2020 (machine translation)
Onkyo Thought Gibson Guitar was the Answer; It Wasn't
But finding buyers, was no easy task. Finally, in 2012, the company thought they had found an answer. Onkyo had discovered a company in a tangentially related business, the musical instrument business, that wanted to expand into consumer electronics. So Onkyo Corp. and Gibson Guitar struck a deal that had the company selling control of Onkyo USA to Gibson, who took an ownership interest in Onkyo Corp. as well. Unfortunately, instead of being the savior that Onkyo was searching for, and after six years of hard work, in 2018 Gibson fell into bankruptcy, forcing the partners to quickly sever their ties.
Onkyo began entering into a series of deals, including a global brand deal with TCL and selling off their European operations – at one time the most profitable part of the company. Then the company turned around the very next year and in May 2019 signed a deal with Sound United to sell them the audio division. Alas, just five months later in October, Sound United pulled the plug on the deal, due to certain unspecified conditions not being met.

Onkyo is Insolvent, Not Bankrupt
There was a rumor going around that Onkyo was in bankruptcy, but that rumor is false – at least as of the time of this writing. The company has not filed for bankruptcy protection. Insolvency is not bankruptcy – insolvency is a state of being unable to pay bills, where an individual or a business finds itself in a situation where it does not have the cash or the assets to pay their debts or liabilities.
In fact, website Investopedia defines insolvency as:
Insolvency is a type of financial distress, meaning the financial state in which a person or entity is no longer able to pay the bills or other obligations. The IRS states that a person is insolvent when the total liabilities exceed total assets."

Investopedia, 'Insolvency'
The Difference Between Insolvency and Bankruptcy
In various filings, Onkyo admitted it had not been able to pay its regular business debts in a timely manner during the 2020 fiscal year and had been in discussion with various debt holders to negotiate an adjustment of terms or to otherwise put together plans in order to relieve the situation. The company's financial filings also make this status clear, as total liabilities exceed total assets – showing a negative total equity for the first time in the company's history.
So insolvency is a state of being; while bankruptcy is an action taken to address a situation…such as insolvency. But bankruptcy is not the ONLY solution to insolvency, other options exist. For example, those in insolvency can renegotiate the terms of their debt such that it makes it easier for them to stay current on their payments. Keep in mind that what debtholders want is to be paid, and if they have to agree to, for example, extend out the time in order to get paid, this is often preferable to other options, such as court actions.
CHART – In the charts above, you can graphically see the difference between the last two fiscal years. Note that the data above is shown cumulatively, but the bars are clearly larger in 2019 and profits, while not growing much, are at least stable. In 2020, the sales bars are much smaller and profits are clearly nosediving – especially the purple line for net profits.
From Wikipedia on Insolvency…
The principal focus of modern insolvency legislation and business debt restructuring practices no longer rests on the liquidation and elimination of insolvent entities but on the remodeling of the financial and organizational structure of debtors experiencing financial distress so as to permit the rehabilitation and continuation of their business. This is known as business turnaround or business recovery. Implementing a business turnaround may take many forms, including keep and restructure, sale as a going concern, or wind-down and exit."

Wikipedia.org, Entry on "Insolvency"
Onkyo Launches Three-Pronged Turnaround Attack Plan
Onkyo is clearly in a "keep and restructure" mode and has announced aggressive plans to get their situation back under control. In essence, there are three prongs to their plan:
Restructure Capital – The company has engaged in a comprehensive recapitalization plan that includes issuing and selling stock, issuing and selling stock acquisition rights (SARs), and implementing something they call STEP (STraight Equity issue Program) which is basically a debt/equity swap program. In essence the company exchanges equity or stock shares to retire corporate bonds. When the bonds are initially issued, the company gets an influx of cash which can be used for operating purposes or to pay off other debt. Rather than retire the bonds, the company instead swaps stock for the bonds. Onkyo has a group of five major investors they are working with on this program which promises to rebuild their capital structure, lower debt, and provide operating capital. There is, however, a dilution of the equitable value of their stock with these programs as an unavoidable side effect.
Cut Costs & Control Cash – The company has engaged in an aggressive cost reduction program to help improve capitalization, including layoffs to cut staff levels, selling off land/buildings, selling off stocks owned by the company, and more. They have also closed their overseas operations and outsourced distribution in Europe and in the U.S. (in partnership with Voxx/Klipsch). Onkyo is also now taking advantage of asset based lending (ABL) and factoring to more flexibly raise cash. They say they have presented their plans to suppliers and lenders – including new payment schedules and financing plans – and have received commitments of support from them.
Refocusing on Driving Growth – Onkyo has completely revamped their company. This includes their decision to recommit to their AV business – they are no longer looking for a buyer. In fact, the company says that it will make AV a key "pillar" of their plans going forward, saying they have key strengths here that will help drive profits. Their three major business units that will drive growth are: AV, Digital Life, and the OEM business (which the company recently reentered.)
But…Will It Work?
Each of these categories are discussed at length in various financial filings and deserve far more attention than I can give them here. But the company's plans are richly detailed and well thought-out, as portrayed in their many filings in Japan.
But…will Onkyo's plan work? So it's still a little early to say with any degree of certainty whether company management will be able to pull off this turnaround. But in further research, I have found some interesting clues that suggest that something is indeed happening there – at least to a small degree – to indicate some positive, if early, movement.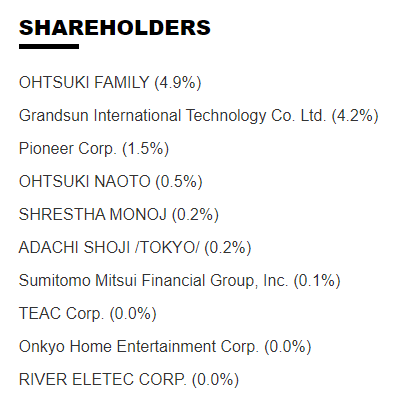 Timing is Tough, But the Clock is Ticking
So before I explain what I found, let's take a moment to discuss the timing of all of these events and disclosures in order to add some context. Onkyo's fiscal year closing, like many Japanese companies, is at the end of March. Typically, the company compiles and publishes their results sometime in mid-May.
However, this year, due to COVID shutdowns in that hot time period of March, April & May, the company announced they would be forced to delay their reporting of the previous fiscal year's results. Their final reporting took place at the very end of July, with many additional reports released subsequent to that initial disclosure in July.
While Still Early, There is Some Cause for Optimism
What's interesting is that, by the time they released their fiscal 2020 report, the company was already through their first fiscal quarter (April-June) and into their second fiscal quarter (July-September) for fiscal 2021. So keep in mind that, even as we sit here today in November, the company has really only started to execute on these plans.
Even so, there is some cause for company managers to have some optimism. The best way for me to show this is with the graph shown below. The numbers on this graph are in Japanese yen, and the basic unit is million yen. This data is taken from a document showing fiscal highlights from the first quarter.
FY21/Q1 Sales Declined Sharply, But What About Profits?
What we see on the left hand side of this graph is that Q1 Sales continued to decline…to a distressing degree. Keep in mind, that this particular reading of their results is from the April-June quarter, which was the height of the impact of COVID shutdowns. Sales in the current 2021 fiscal year (blue bar) came in at 1.662 billion yen ($16 million), down more than 73% as compared to sales of 6.171 billion yen ($59.3 million) in the same quarter in 2020 (gray bar).
That is certainly a bit of a shocking sales result…but take a deep breath and then take a look to the graph on the right, Q1 Operating Profit. Even in the face of a 70+% sales decline, operating profits actually improved noticeably. In fact, Onkyo managed to cut their loss by almost 7½%, a significant amount. This shows the company has radically improved its operating leverage – or roughly the ability to capture more profits from sales. Imagine the difference that could make when sales begin to recover.
Remember That 'Grace Period'?
In looking at the second quarter, this effect is still seen, but not quite as pronounced, as costs also increased with the restart of operations. So I chose Q1 for this analysis because it more clearly demonstrates what is possible for the company. Still there is a long road ahead for them.
But remember that Tokyo Stock Exchange "grace period" I mentioned at the beginning of this article? Onkyo has until March 31, 2021 to cure their insolvency – or they will be delisted and dropped from the exchange.
They have four more months to pull off this turnaround…