Gibson Guitar Becomes Exclusive U.S. Distributor of Onkyo & Integra Brands
<January 18, 2012> As one of a select (and very small) group of reporters invited to a hastily-arranged private audience with the CEO's of both Gibson Guitar Corp. and Onkyo Corp. to discuss their recently announced strategic alliance, I was intrigued. The interview was held on a custom Gibson tour bus literally and figuratively…as the Gibson CEO clearly drove the discussion.

Scheduled for late on the second day of CES, I had to race back to the location of the bus at the Las Vegas Convention Center (LVCC) from a late afternoon appointment at the Venetian. It is very hard to "race back" when you're relying on an over-stuffed CES shuttle bus fighting roads choked with convention traffic to get between the two venues.

Trailers, trucks, tents, & turmoil…
As any of the 2012 CES attendee can attest, the weather during the show was spectacular– skies were typically sunny to partly cloudy, with temperatures consistently in the low 60s during the day. As I hurried off the Venetian shuttle towards the large parking lot in from of the LVCC, dodging an eclectic mix of trailers, trucks, tents, and turmoil,  it was getting characteristically desert evening-cool with the sun already below the horizon offering a spectacular display of reds, oranges, and purple hues brushed across the sky announcing the approach of night.

Ground level was already getting dark-ish and I worried that I may have a problem finding the Gibson bus. I needn't have worried, the large Gibson tour bus dominated the front of the lot and was clearly identifiable with a giant, "Gibson" logo on the side. While this part of the lot was the farthest point away from the convention center, it was clearly visible from the roadway.
Greeted with luxury…
When we entered the tour bus, we climbed a series of steps leading us past the drivers cab and into the living area. There we were greeted with luxury customized surroundings featuring various art and graphics which, along with a large Gibson music poster with the Gibson logo, consisted of a wide selection of music-themed graphics, posters, pictures and other knick-knacks.
We were "parked" in what was obviously a travelling "living room" just ahead of a galley section. This living room featured two fairly large leather sofas that faced each other on either side of the bus, with a walkway between. Gibson personnel suggested we take a seat and relax as the hosts of this event had not yet arrived (had I known that I could have saved a couple of huffs and puffs as I run-walked to try to arrive on time for the meeting.)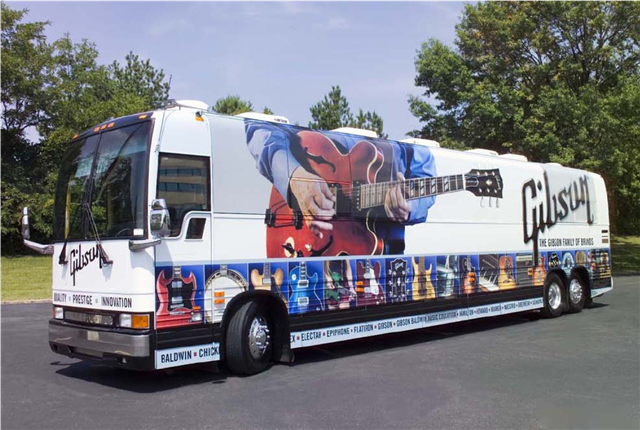 The entourage arrives…
I was with a group of three other reporters and the four of us chit-chatted as we waited. Finally, a few minutes later, a large entourage consisting of assorted Japanese and American executives arrived – including our interview subjects. Gibson PR people put the reporters on one sofa while Hiroshi Nakano (Executive Vice President, Chief Operating Officer of Onkyo Corporation), Munenori Otsuki (President, Chief Executive Officer, Onkyo Corporation), and Henry Juszkiewicz (Chairman, Chief Executive Officer, Gibson Guitar Corporation) were seated across from us on the other sofa.
The positioning left me knee-to-knee with Gibson's CEO. I would soon learn that this was fortuitous placement, as Juszkiewicz (pronounced like jess-ka-wits) did most of the talking and answered most of the questions.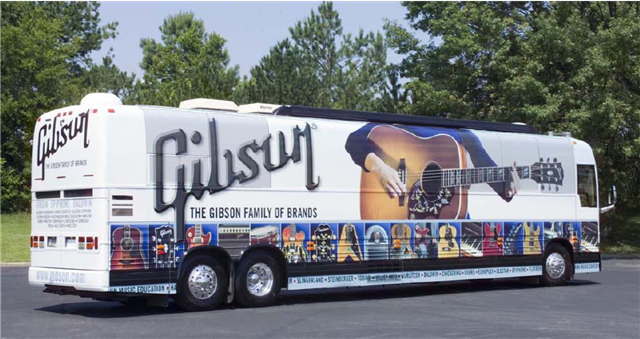 Why?…
There was no formal presentation by the companies, we were simply invited to start asking questions. After a long pause, the first question one of the reporters blurted out – and a question that was not adequately addressed by either company's press releases announcing the development – was a simple "why?"
As Juszkiewicz started to respond, I remember thinking that he was older than I expected. I realized this was a ridiculous thought. Having played as a professional musician for a portion of my career, spending a lot of time around Fender and Gibson guitars, I assumed the guy running a company that provided legendary rock-and-roll guitars would be some young and hip rocker!
A mergers and acquisition specialist…
According to his bio, Juszkiewicz was just that during his college years – playing in a variety of rock bands…on a Gibson guitar, of course. Now 58-years-old and well past college, it was quite clear he is a pretty serious businessman. Post college, Juszkiewicz got involved in mergers and acquisitions as part of a investment company. This experience allowed him and two of his colleagues to formulate the purchase of Gibson which was said to be on the verge of bankruptcy when the deal went down in 1986.
Juszkiewicz spoke slowly and deliberately in a low monotone…yet he came off as a pretty smooth talker. Otsuki, on the other hand seemed content to let the Gibson CEO handle most of the questions and generally was quiet, letting Juszkiewicz's points stand unmodified by an Onkyo-perspective.
The second Otsuki…
Munenori Otsuki is one of two sons of Naoto Otsuki, the powerful Japanese entrepreneur who purchased Onkyo from Toshiba back in the early-1990's. He is the second Otsuki to directly run Onkyo (third if you count his father) as Munenori's brother Tokihisa led Onkyo USA during the mid-1990's before returning to Japan to run the parent company. Tokihisa Otsuki remains on Onkyo's board of directors.
Only when I addressed Munenori Otsuki with a direct question, did he offer his, or I should say, Onkyo's perspective. And when he spoke, it became very clear that he understood everything that was being said, answering my query with what, I have to say, was a pretty smart  and strategic answer. More on that later…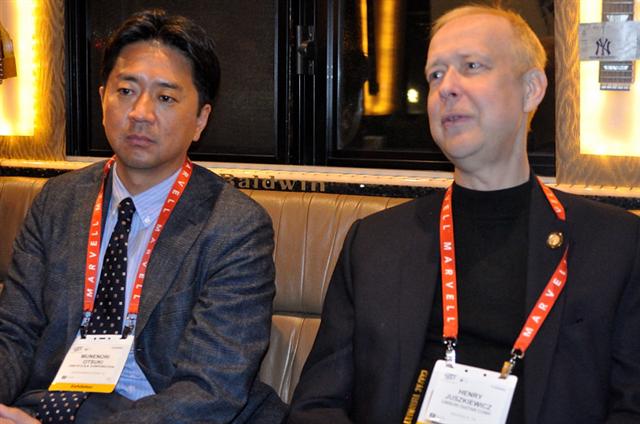 I had an advantage…
It become obvious (to me anyway) that I had a distinct advantage over the other reporters as a result of my stint at Onkyo USA. [DISCLOSURE: for those of you who don't know, I worked at Onkyo for 14 years leaving in 1999 as VP of Sales and Marketing.]
So back to that first question – Why? Juszkiewicz jumped in saying that Gibson has been looking at business expansion opportunities into the consumer electronics area for a long time. Juszkiewicz noted that Gibson has been a member of the Consumer Electronics Association (CEA) for several years and he serves on its industry leaders board.  The inference was that these efforts were undertaken, at least in part, to more directly study the consumer electronics business.
A sweet-sounding opportunity…
Juszkiewicz went on to explain that the CE industry is substantially larger the musical instrument (MI) market and so it represents a great opportunity for  Gibson. Market data bears this point out. Once a fundamental part of everyone's basic education, trends in society have taken the emphasis off of the necessity of an individual learning how to play a musical instrument.
The mature MI industry sales were already in a long term decline before the 2009 recession hit. And as you might suspect, the recession and subsequent economic stagnation has only added more fuel to the fire of MI industry decline. All of which contributed to Gibson's desire to search for related businesses to target to help fuel their growth.
"Onkyo has great people who are on the same wavelength, ultimately, as Gibson." Juszkiewicz said.
Great brand, great products…
At times, it appeared that Juszkiewicz was carefully selecting his words and it is safe to say that the reporters were receiving a carefully constructed portrait of what this association might be. Still, the Gibson CEO continually expressed a high regard for Onkyo, which he called a "…great brand with great products."
After several minutes of listening to Juszkiewicz explain Gibson's motivations, I wanted to hear from Onkyo. I directly addressed Otsuki saying that we were getting a picture of the benefits of this strategic relationship for Gibson, but could he give us some idea of what some of the benefits Onkyo perceived would come from this association.
What does Onkyo think?…
Without hesitation…and without the use of an interpreter…Otsuki spoke of how Onkyo had come to feel that there was a better way to handle the process of delivering great audio products to the market. They believe that for the creative elements of the process, a musical instrument company like Gibson, was just better equipped to add value with a fresh perspective.
"Music should be created by musical instrument maker [Gibson]," Otsuki told me."Onkyo should take care of the digital area."
Otsuki spoke of the focus that Onkyo is putting on the digital side of the process as they produce products and applications that embrace all that the digital world offers. These new digital applications include the need to address the complexity of incorporating the various operating environments such as Windows, Android, iOS into consumer products.  This is where Onkyo wants to focus their efforts – and represents the value that they will add to the partnership.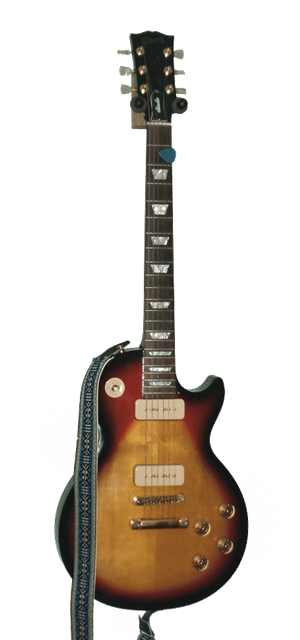 Results in the U.S. have been problemmatical…
Both executives readily admitted that Onkyo's business in the U.S. was problematical. Otsuki told us that Onkyo USA has really only been successful in the A/V receiver product category. They are hoping that this new association will help them to expand beyond this area.
There are three elements to the strategic partnership between Gibson and Onkyo: 1) A mutual financial investment with each partner taking a seat on the other's board of directors; 2) The creation of a sourcing office in Hong Kong charged with expanding both companies into new product categories; and 3) Gibson investing additional funds to take a 51% – or controlling – interest in Onkyo USA.
Why buy Onkyo USA?…
When I asked  Juszkiewicz  why Gibson chose to make the added investment to take control of Onkyo USA – Juszkiewicz said that "Well, we're in the USA." He went on to reinforce something that Otsuki had mentioned.
"Onkyo in  Europe has leading market share," Juszkiewicz said. "However, Onkyo in the U.S. has not done as well."
Gibson believes that the key  failure of Onkyo USA has been weak marketing.
"I myself have owned some Onkyo products and they were great, but I didn't know why they were great," Juszkiewicz exclaimed. "That is just poor marketing."
I then asked Juszkiewicz if Gibson will be taking control of both the Onkyo and Integra brands. He bristled at my use of the word "control" and sought to soften it by saying that Onkyo is a great brand with great products and great people.
More opportunity than takeover…
Juszkiewicz suggested that the situation was less about a takeover for control, but rather an opportunity in that Gibson will actually be able to dramatically enhance Onkyo USA with better marketing and support – particularly, customer service. Juszkiewicz spoke with obvious pride about Gibson's 24/7 customer service support team which, it seems, will be a dramatic upgrade over what Onkyo now offers.
We then turned to the Hong Kong initiative asking just what products the companies planned to source.  Juszkiewicz declined to specify just exactly what types of products they will pursue, saying that was yet to be decided. Instead, he said the companies will set up a "skunk works" operation.
Creating a "Skunk Works"…
The concept of skunk works comes out of an initiative back during World War II when the military asked Lockheed to quickly come up with a new jet fighter to counter a Nazi secret weapon. Knowing that the typical process of developing a new plane can take years, a small band of engineers was created to operate independently and given special privileges to assist in the quick development of a new fighter.
Dubbed "Skunk Works" based on a concept from a popular cartoon at the time, the group was separated from their usual offices, staff, and operated with a high degree of secrecy. Thanks to relaxed rules and regulations, ample funding, and freedom from typical management interference – the Skunk Works produced a working design in one month – a record. Skunk Works are noted for their efficiency and creativity – with a bit of rebel image thrown in for good measure.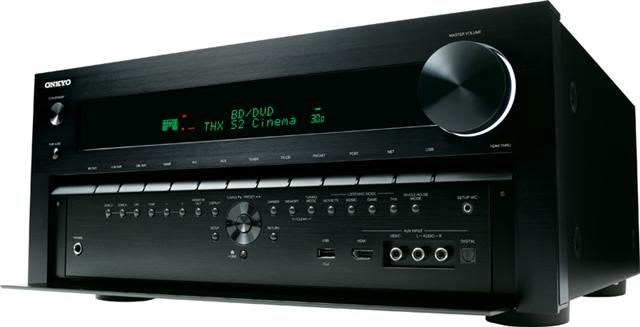 By its very nature, Skunk Works operations operate outside of the normal control and management functions of companies, so Juszkiewicz suggested that they don't even know what types of products will come from that initiative yet. All he would say is that the Hong Kong Skunk Works office is expected to produce "innovative new ideas that are radical." Later in the meeting,  Juszkiewicz added that one of the areas that they are planning to address is headphones.
Maybe the biggest surprise…
But perhaps the biggest surprise from this meeting with reporters was the speed with which the CEOs are projecting that this deal will be closed. Juszkiewicz told us that the definitive agreement between the two partners "should be completed within the next week or two."
Since Onkyo is a public company in Japan, the partners were asked about necessary regulatory approval by various agencies in Japan. Even here, Juszkiewicz suggested – and Onkyo executives agreed – the whole deal could be wrapped up before the end of January.

Mixed message on merger…
On this issue of the partner's plans for rationalizing facilities and functions, reporters received a bit of a mixed message. On the one hand, Juszkiewicz talked about the added muscle that Gibson brings to the partnership, mentioning a research and development facility in Hamburg, Germany, and warehouses in California. Not only that, but thanks to their recent acquisition of Stanton, they also bring added facilities in Nashville and Shanghai.
When pushed on this issue of the pursuit of efficiencies such as sharing back-office functions, Juszkiewicz seemed to shift direction talking about how the two companies operate in two distinctly different markets saying that the "channels are very different."  When I asked him if he envisioned merging the channels by, for example, selling Gibson products to Onkyo dealers or by selling Onkyo products to Gibson dealers – Juszkiewicz responded without hesitation that "on major accounts there will be some sharing."
"We'll sell Onkyo products in Gibson's major accounts," Juszkiewicz said.
Juszkiewicz summed up the meeting by suggesting that they perceive that the biggest benefit of this new partnership will be Gibson's major focus on marketing. When another reporter pointed out that Gibson's experience was more in the Pro market rather that the consumer products market, Juszkiewicz suggested that was a simple issue for the internal organizations to address.
A dark cloud…
Gibson Guitar is now (or shortly will be) the exclusive U.S. distributor of Onkyo- and Integra-branded products. This appears to be one of key elements – if not the major motivation – driving Gibson to pursue this deal. Yes, there will be a sourcing office in Hong Kong, and yes there is a mutual investment to tighten the partnership. But the focus really appears to be Nashville-based Gibson's confidence that they will be able to dramatically improve Onkyo's U.S. marketing, driving sales and profits to new heights.
There is a bit of a dark cloud hanging over Gibson Guitar. The company has been raided twice by armed U.S. agents – once in 2009 and again in August 2011. The government is investigating the company on its procurement of rare protected woods imported from Madagascar and India and has suggested that the company may have violated the Lacy Act "which makes it unlawful to import wood that was exported illegally under another country's laws" according to a report in the New York Times.
Possible criminal indictments…
In the most recent case, an affidavit given in support of the raid suggested that the documentation accompanying the shipment appear to be falsified to disguise the true nature of the material, and its ultimate importer (Gibson). Several media reports say the government is considering criminal indictments against one or more Gibson officials – although no such indictments have been issued at this time.
The company denies any wrongdoing and has others associated with the wood industry supporting it in its battle with the U.S. government. In fact, elements of the Tea Party have even held rallys in support of Gibson Guitar, inflamed by government interference in a private enterprise's business.
Financial matters…
Also somewhat confusing is what appears to be the seemingly small amount money that is associated with this transaction. According to information on the Japan Stock market website representing filings by the company, Onkyo has issued a private placement of shares with Gibson Guitar Corp. expected to yield about $11 million. This amount is said to get Gibson a 17.2% equity stake in Onkyo Corp.
In addition to this, the company is said to have sold Gibson a 51% stake in Onkyo USA for $8.9 million. How this value was determined was not revealed, but the transaction was dated January 4, 2012.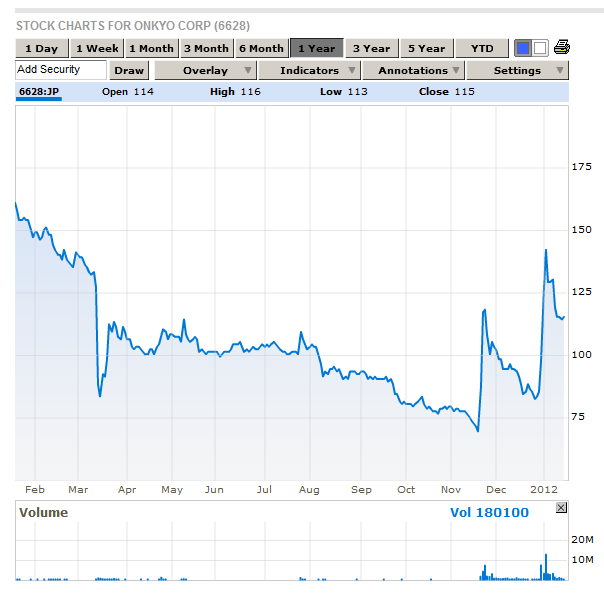 When this partnership was first announced, Onkyo's stock jumped up rather dramatically hitting a 52-week high of 175 yen. Now however, the stock price has settled back down closing recently at around 114 yen.
Perhaps…
It remains to be seen whether Gibson's lack of experience in the consumer electronics market helps them or hurts them. Certainly the A/V market is changing rapidly and dramatically. And as many have found, trying to do business today the way you did years ago doesn't work anymore.
Perhaps the fresh perspective that Gibson will inject into Onkyo's business is just what it needs.
Perhaps.