A Strangely Retroactive Notification
Last week, a letter was sent to all Onkyo dealers in the United States notifying them that their dealer agreements were being terminated. The reason for this termination? Onkyo USA Corporation no longer exists and therefore can no longer serve them. Don't miss the significance of this historic moment – for the first time in 45-years there is no Onkyo subsidiary in the U.S., once the largest market for parent Onkyo Pioneer Corporation (OPC) of Osaka, Japan.
See more about this turn of events at Onkyo…
The letter that dealers received was dated August 12, 2020 and signed by Jason Sausto, CEO of Onkyo U.S.A. Corporation. The tone was surprisingly perfunctory with no flowery historical reminiscing. Instead it simply dispensed with any of the usual introductory niceties and got right down to business.
Strata-gee has obtained a copy of the letter in which Sausto told dealers that Onkyo "has made the strategic decision to change the way it goes to market in the Americas for Products." With this decision, he wrote, "OPC terminated Onkyo U.S.A. Corporation (OUSA) as a sales, marketing and distribution agent and distributors in the Americas." This termination of Onkyo U.S.A., he noted, was effective on July 29, 2020.
Onkyo U.S.A. Closed Down
Sausto went on to tell dealers that OUSA sold all of their remaining parts and products to the new distributor, 11 Trading Company, LLC (11 TC) – a new entity set up by Voxx under their Klipsch subsidiary. He reassured dealers that both OPC and 11 TC would honor product warranties.
As has been widely reported, on July 30th, Voxx Corporation, parent company of Klipsch, announced that they had cut a deal for an "expanded alliance" with Onkyo, giving them exclusive rights to distribute their Onkyo, Integra, Pioneer, and Pioneer Elite brands in the United States. The genesis of this alliance was said to have been when, some months earlier, Onkyo became the Klipsch distributor in Japan.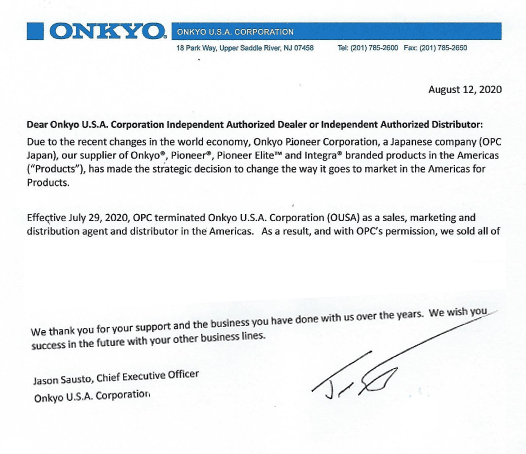 Last week, Voxx announced a restructuring to create 11 Trading Company to distribute the Onkyo brands. 11 Trading Company is part of Klipsch, and the company is preparing for their introduction of Onkyo products. According to various sources, Klipsch executives are promising dealers that a large order of Onkyo and Pioneer products are "on the water."
'Therefore, Our Agreement With Your Company Must…End'
The 6-paragraph letter from Sausto was a fairly long one, for letters of this nature. However, its message was powerful: "Therefore, our agreement with your company must, of necessity, end and you should look to 11 TC for all warranty and return issues and for customer support for your end users."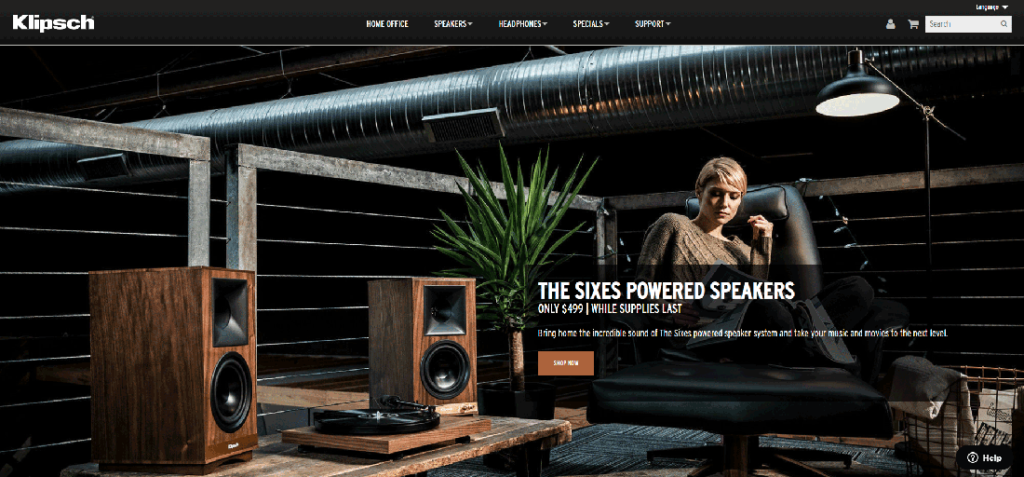 Those authorized dealers and authorized dealers [sic] appointed by 11TC cannot and will not be serviced or supplied by OUSA in the future. Instead, we have been advised by OPC Japan and 11 TC that 11 TC will deal directly or through its own sales representatives with such businesses as it may determine on its own to sell its Products. OUSA has no control over who 11 TC may appoint as its sales representatives, authorized distributors or authorized dealers in the Americas. If you wish to deal with 11 TC, you will need to contact 11 TC directly."

Jason Sausto, CEO of Onkyo U.S.A. Corporation [Emphasis as in original document]
A Perplexing Termination Notice; Effectively, an Instant Termination
There is something a little perplexing about this termination notice. Sausto informs dealers that their termination as a dealer takes effect at the end of August: "The termination date will be effective August 31, 2020, or such later date as may be applicable to our relationship with you under any subsisting signed agreement that we have with you or as may be otherwise required under applicable law." [Emphasis is shown as in original document.]
It is common practice in this industry that dealer contracts have a thirty day notice period, which means that for thirty days after notice, you are still an Onkyo dealer and retain to all the rights and privileges that designation affords. But that letter wasn't received by dealers until August 12 (or later), so that was in effect, little more than two weeks notice. Perhaps Onkyo dealer agreements are different than is common in the industry.
On top of this issue, in that letter, dealers were told that there are no products or parts available for them to purchase. Furthermore, the company can take no orders for them or otherwise service their needs. So, in effect, they are instantly terminated…as there are no meaningful rights and privileges of an Onkyo dealer at the time of that letter.
Onkyo Sales Representation Force Terminated as Well
Although Sausto only addresses it indirectly, it appears that all existing Onkyo/Pioneer sales representative firms were also terminated. He even mentions Onkyo distributors as being cut. I have learned that Klipsch has begun the process of interviewing folks for the new management team – so clearly, this deal must have come together quickly. Normally, I would expect a public company like Voxx, which has been involved in other acquisitions, to have a business plan and team ready to put in place by the time a deal like this is announced.
However, perhaps the company feels it has time to put the the now horribly broken sales channel back in place while waiting for their inventory to arrive. But for the moment, things are in disarray.
Dealers Received a Letter from Klipsch as Well; Criteria for Re-Authorization Not Specified
Onkyo dealers have also received a letter from Klipsch, titled "Dear Onkyo Distributors and Dealers…" This letter carries no date and is signed by Vice President of Sales Tommy Jacobs. Shorter and sweeter than Sausto's kiss-off, Jacobs invites Onkyo dealers to "…begin the application process…" by sending 11 TC their Onkyo account number, as well as certain contact information.
What Jacobs does not say is just exactly what are the criteria a dealer needs to adhere to in order to become an authorized Onkyo/Pioneer dealer by 11 TC? The letter does not guarantee authorization…but neither does it threaten non-authorization…at least, not overtly. It just leaves that as an open question.
However, dear, valued dealer…"We will respond to your application as quickly as possible…"
What are Onkyo Dealers Saying?
What are dealers telling me? For the most part, the few I've spoken with tell me they are taking a wait and see attitude. There has been a lot of frustration in the Onkyo dealer community, as the company has essentially had little to no inventory since the deal with Sound United fell apart.
Once a highly reliable partner, dealers tell me they gave up relying on Onkyo a long time ago. Some dealers blame Onkyo U.S.A. for the issues of late. So they'll wait to see what approach Klipsch comes up with.
Don't Miss the Significance of This Historic Moment

However, I would suggest that you don't miss the significance of this sequence of events. As I pointed out in my recent report on the new Klipsch reorganization in preparation for distributing Onkyo/Pioneer – Onkyo Pioneer Corporation has seen their global revenues drop almost 50%. Some of this is COVID-19 related, but their declines began well before the pandemic ever existed.
Now Onkyo Pioneer Corportion is restructuring their company, and closing their U.S. subsidiary is one step in that process. But it is an important step. The company is receding from controlling their own distribution network, and contracting it out to other independent companies. Those companies will become responsible for all sales and marketing policies and execution.
From Dealing with Onkyo, To Dealing with Klipsch… About Onkyo
Prior to this moment – check that, prior to their relationship in 2012 with Gibson Guitar – Onkyo U.S.A. had been a wholly owned subsidiary. This means that U.S. dealers were, by extension, dealing with the company that designs, creates, manufactures, markets, and sells the brand's product line.
Now, they'll be dealing with an independent third party…one step removed from Onkyo. There is certainly the chance that this could be a positive step…assuming the strength and professionalism of the distributor. But it could also present a new set of issues.
When Onkyo U.S.A. was a wholly-owned subsidiary of the parent company, it was clear that the Onkyo brand was their most important consideration…in fact it was the sum total of what they were all about. Yet the new distributor, Klipsch, has made it clear where their priorities lay. Says Paul Jacobs, President & CEO of Premium Audio Company: "Klipsch remains our flagship brand…"
Learn more about Klipsch by visiting: klipsch.com.