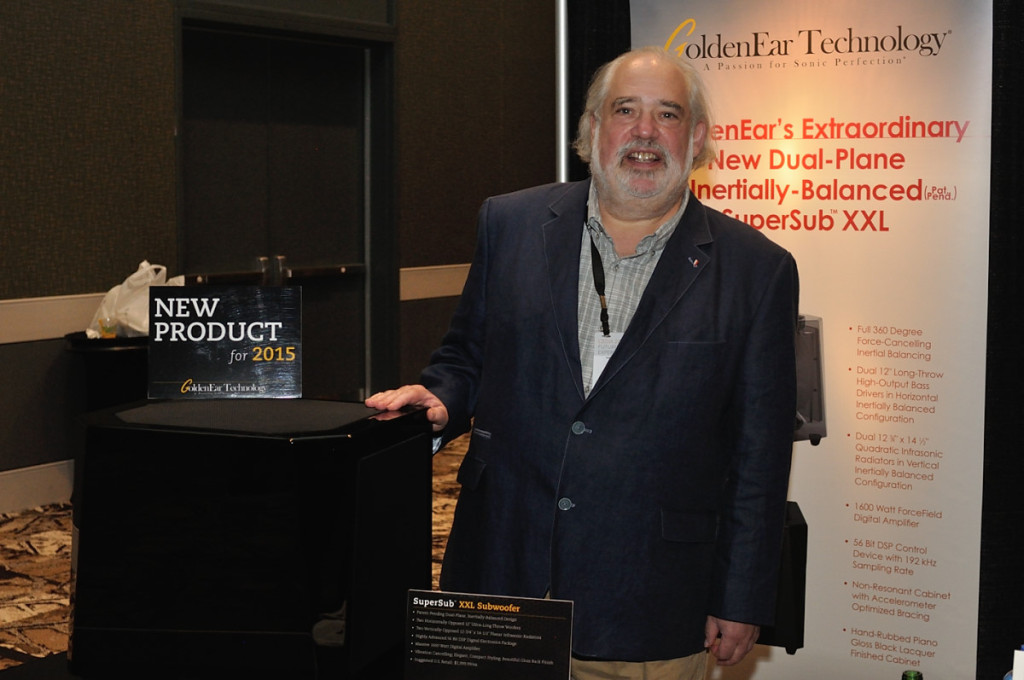 Telling me, "I'm just taking some time to do those things I've been wanting to do for a long time," Sandy Gross, renowned² founder of three major speaker brands (Polk Audio, Definitive Technology, GoldenEar Technology), has stepped down as President Emeritus from his most recent one – GoldenEar. In a telephone interview this week, Gross shares with Strata-gee readers his reasons for making this announcement now, and reminisces on his nearly 50-year career building three popular speaker brands now in the homes of many thousands of consumers.
See more on the resignation of Sandy Gross…
Just a few short months ago in January, GoldenEar had been sold by Sandy Gross to AudioQuest founder Bill Low. While the specifics of that agreement were never revealed, it is normal for there to be a one- or two-year transition period where the leader of the acquired company stays on board to facilitate a smooth transition.
On some occasions, that leader may actually become an employee of the acquiring company and stay involved for an even longer period of time. So when I heard this news, I wasn't so much surprised that Sandy Gross was leaving AudioQuest/GoldenEar, but was quite startled it was happening so quickly.
Please Stay in Touch
In a letter addressed: "To all my friends and colleagues," Gross announced his decision, saying that his career of almost 50-years "has been a blessing and a blast." The short, three paragraph letter did not specifically say why he had come to this decision – but it did seek to dispel any rumors of an issue with the new owner, Bill Low.
"Working with Bill and all of the people at AudioQuest has been great and I have enjoyed it very much. However, the world has changed and I have decided to step down from my position as President Emeritus of GoldenEar and take a little time off to pursue all my many interests."

Sandy Gross, May 27, 2020 letter "To all my friends and colleagues"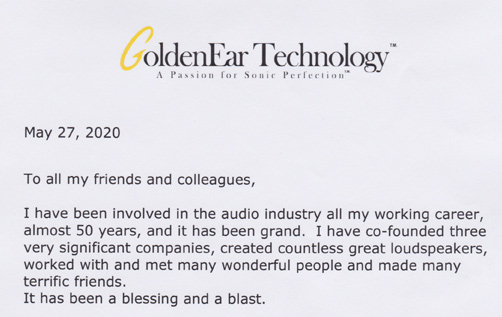 Closing with a hearty "thanks," Gross signs off with what I suspect is a sincere request to those that received it to "Please stay in touch!"
Still, Gross' letter seemed to leave a lot unsaid. He did say that in the wake of the AudioQuest acquisition, "…it had been my intention to stay on and continue with my life's work, involvement in product design, sales and marketing." But then…"However, the world has changed and I have decided to step down…"
What Does He Mean by 'The World Has Changed'?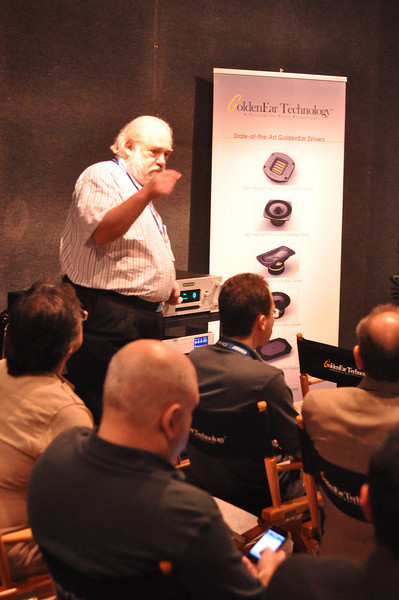 The abruptness of his exit suggested, to my mind at least, that there might be something more behind it. What exactly did Gross mean by "the world has changed?" Was that a reference to the coronavirus pandemic? Was there some darker issue – such as an illness, or conflict, or some other factor?
I reached out to Sandy Gross to see if he would be willing to share some more thoughts on just what was going on – perhaps to add some detail on the motivation for him to take this step now. Fortunately, he graciously agreed and granted me a big share of his time…and his thinking.
While he said that the letter pretty much summed up his thinking, he admitted that it was a series of variables that came together to convince him that the time was right to step back from the grind of business and focus on some of his other personal interests.
Was COVID-19 the Reason?
Was his comment that "the world has changed" a reference to COVID-19? Was that the reason he decided to take this step at this time?
"No, it's just…I guess…a life's decision," Gross said. "I mean Anne (his wife) and I are fine."
Later in our discussion, we would revisit COVID-19, or rather, this new world of self-isolation or quarantining and the way it has fundamentally changed how we are all going about our business. But for now, he added that he's not getting any younger, and he had come to the realization that "…maybe it's time."
Retirement? 'It's Hard to Say'
But when I came right out and asked him directly if this was his official "retirement," Sandy hesitated. "It's hard to say. I don't have any specific plans. At this point, I kind of just wanted to kick back."
While he went on to say that his wife Anne had recently retired, he's not entirely sure that the word "retirement" is the best description for his current status. What he is sure about is that, thanks to COVID-19, he is travelling a lot less and has had a lot more time to think about the future.
Sandy also told me that he has had – much like many of us, I'm sure – many projects centered around various interests in his life, that have gone unattended while he was so involved in his business life. Now, he says, it seems like a good time to pay some attention to these other interests.
Not Working on Another Speaker Brand
One thing Gross assured me is that he is NOT preparing to launch yet another speaker brand. Although he has been accused many times of being a serial entrepreneur, at this point in his life, he is interested in pursuing more personal, non-business projects.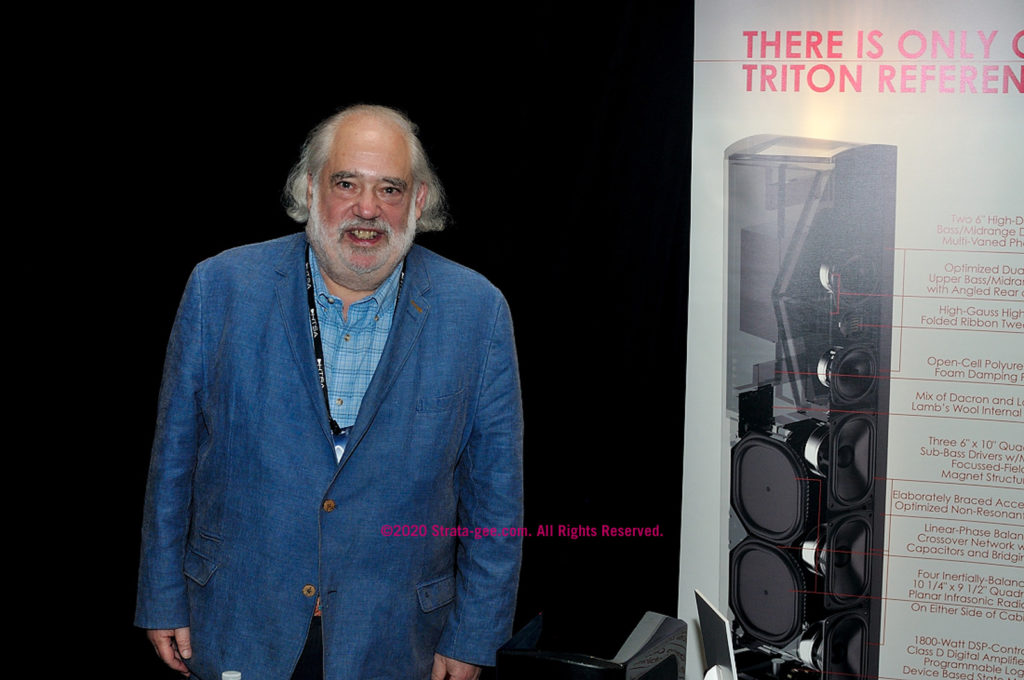 For example, he pointed to his love of art, as expressed in a significant art collection, that is sorely in need of organizing and cataloging. "There's really nobody else other than me who can do that," Gross said with a sigh. Yet with the pressures of business, the almost constant travel, and the significant scale of that project (his art collection is said to be a substantial one) he has had no time to begin such an activity.
'I Haven't Sat on That Deck for Five Years'
Furthermore, the audio guru went on to note that the constant business travel, has kept him away from his home, a beautiful house on a large, multi-acre wooded property. And attached to his home is a large deck with a gorgeous view overlooking the woods and pool, "And I haven't sat on that deck for five years," he said.
"You know, I'd like to sleep late, wake up in the morning…pour myself a couple of shots of espresso, go out on the deck and relax. Maybe I'd make a call or two…and listen to some music. I love music, I have a couple of hundred LPs that I never get to listen to."

Sandy Gross
How It All Got Started
Not only has he always had a deep love of music, but he also was, as he put it, "a crazed audiophile." Reflecting back on his college days at Johns Hopkins University, Gross said that in his room where he was living at the time ("It really was a people pile"), he had assembled a significant audio system with a pair of Tannoy 15″ Gold speakers in giant acoustic labyrinths in the front, Marantz 9 power amps in the front, 12″ Tannoy's in the back, a Marantz 8B, an EV Quad Decoder and a Marantz 7C preamp…all in his college bedroom.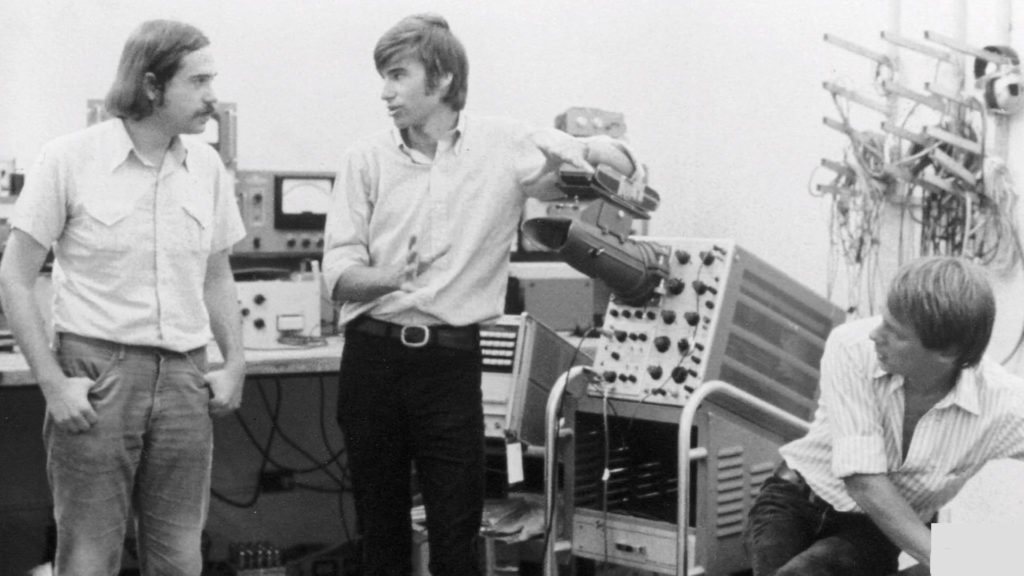 He went to Johns Hopkins intending to study engineering. But at that time, the engineering program at Johns Hopkins was centered more around theoretical physics, which was less interesting for Sandy. He ended up studying behavioral science and in the early 1970s, after meeting Matt Polk and George Klopfer, the three graduated from the university and went on to found Polk Audio…the first step in what would go on to become his illustrious career.
"We weren't really trained to do anything," Sandy laughed, referring to their college degrees. "And we went on to found Polk Audio in a garage. Now, fifty years later…here we are!"
A Detour to Lala Land & Hollywood – The Road to Definitive Technology
Sandy's career, like many of ours, was not a linear path. Telling me – with a chuckle – that when he left Polk Audio in 1988, "That was my mid-life crisis." He decided, he said, that he wanted to go to Hollywood and make movies. Wait…what?!?
Not so strange, maybe – after all, he loved music, theater, movies…in other words, entertainment. Also, Film was one of his majors in college and he always dreamed that when he became successful in business, he would go on to make movies.
So he moved to California, "I bought a little house on Westwanda, up Benedict Canyon." The film business, Sandy tells me, "…is a crazy, crazy business." Crazier than audio? "Oh…much crazier!" he exclaimed.
Short Stint as a Movie Producer
He ultimately met two guys involved with 21st Century Film Corp. and worked with them on a couple of films that were "in development." One of those, titled "Deep in the Heart," with actors Jason Patric, Robin Wright, and Juliette Binoche signed on to appear, showed a lot of promise. And who was the executive producer of that film? Our very own Sandy Gross…or, should I say, Sanford Gross as it appeared in a Variety ad for the film.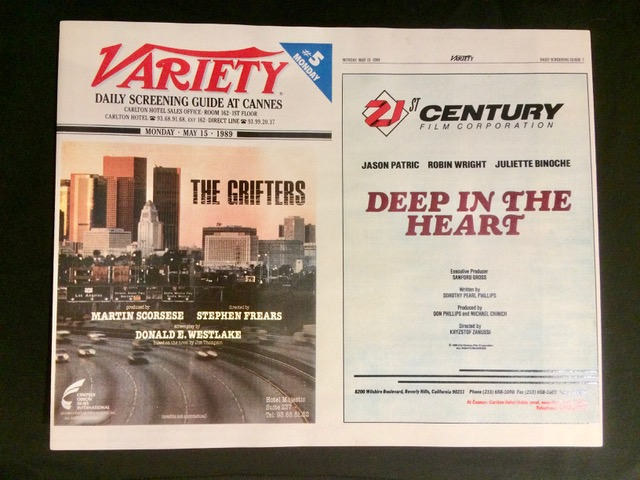 That film ended up never being made, but Sandy learned a lot about how money is made and lost on films in development. In this case, a set of circumstances caused them to lose their director – the famous Polish director Krzysztof Zanussi – and ultimately forced the project to be canceled.
After a few projects fell through, Sandy was satisfied he was over his Hollywood fascination and headed "back to reality," returning to Baltimore. It was time to move on to his next successful venture – the 1990 formation of Definitive Technology.
A Satisfying Reflection on a Long Career
In reflecting on the last fifty years, Sandy said he takes great satisfaction in being directly involved in creating speaker products that are being enjoyed by many thousands of consumers today. Not only that, but he tells me how good it feels to hear how the fruits of his labor have been otherwise meaningful and even inspirational to people throughout the audio industry.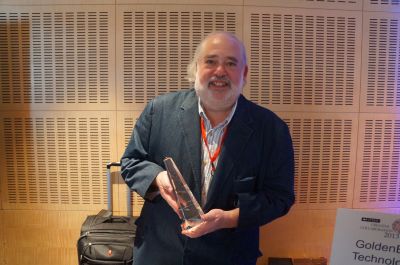 He told me several stories about top industry people – including a well known editor of an audio enthusiast magazine – who discovered high performance audio when he bought a pair of Polk Audio speakers, for example. He also told me about a speaker designer who told him he was inspired to join the industry, thanks to past Polk Audio marketing.
When a Career Transforms into a Legacy
It was clear that Sandy takes great satisfaction from stories such as these. And it is exactly stories like these that transform a career…into a legacy.
In my conversation with Sandy, he sounded wistful, content, and ready to slow down. Business these days is not getting any easier and we have yet to see the long term effect of COVID-19, or how quickly and easily business will return to normal.
I suspect that these issues were part of the calculus in this timing. So maybe it is time for Sandy Gross to "stop and smell the roses." However, I should note that when he announced his departure from Definitive Technology, he called it a retirement.
One year later¹…he launched GoldenEar.
---
CORRECTIONS
¹ – 05-27-2020, 2:20pm – corrected from "A few years later"
² – 05-27-2020, 3:50PM – corrected "renown" to renowned