I can't say this news from Onkyo Home Entertainment comes as much of a surprise. And based on conversations I've had with many of you over the last week or so, my reference a couple of weeks back to the growing romance between Onkyo and Voxx was clearly a wink-nod signal that I saw this coming. Onkyo has signed a preliminary agreement to sell their largest, but not their only, remaining division – the home audio/video division – to a partnership consisting of Sharp Corp. and Voxx Intl. The deal includes the Onkyo, Integra, Pioneer, and Pioneer Elite brands.
But after the abject failure of three previous attempts to sell the troubled company, will this deal actually close? See my thoughts…
Will deal between Onkyo and VOXX/Sharp close?
So yesterday (Monday), Voxx International Corporation (NASDAQ: VOXX) announced that they had entered into a Letter of Intent (LoI) to acquire the "Home Audio/Video" business of Onkyo Home Entertainment Corporation. Their announcement also noted that they would be partnering with Japan's Sharp Corporation in this acquisition. The potential acquiring partners "have been granted exclusivity while discussions are under way." This means that Onkyo can't shop around for other potential buyers during this process with VOXX/Sharp.
In addition to that Letter of Intent with Onkyo, VOXX says the acquiring partners have also signed a "Binding Agreement" to move forward with the proposed transaction…keeping the alliance intact for the purposes of this acquisition. So the actors in this little drama are all cast and committed…IF this deal goes forward.
Given Onkyo's history in deals such as this…I'm afraid that's a pretty big "if."
Things are Moving Fast, Could This be a 'Shotgun Wedding'?
The deal with VOXX/Sharp (Sharp/VOXX?) will only be fully consummated with the signature of a "Definitive Agreement" by May 20, 2021. Assuming such an agreement is successfully reached, then the deal will be contingent on a ratification vote by Onkyo shareholders, currently scheduled for June 25, 2021.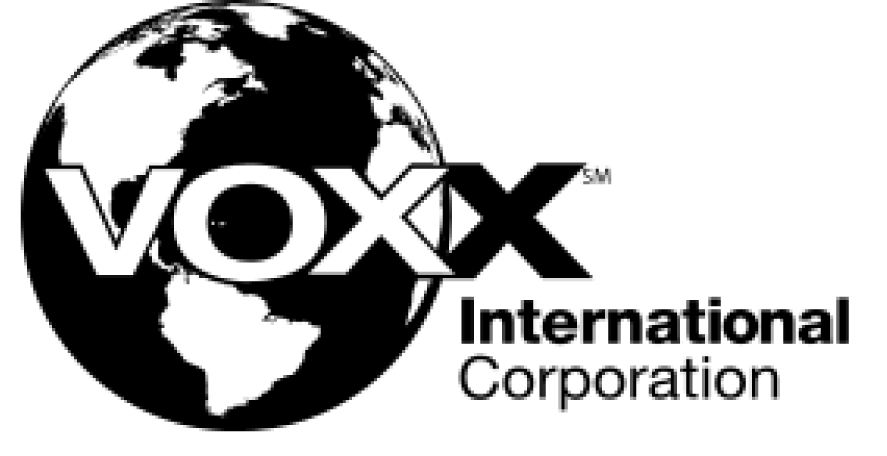 These dates are incredibly quick for a transaction like this…kind of like a shotgun wedding! Why such a short window to get a deal done? The pressure is on Onkyo to get something done before they are delisted by the Tokyo Stock Exchange (TSE) for violating exchange rules by carrying a negative net worth. This official delisting is expected to happen at or near the end of July.
For the past two years, we've worked well with the Onkyo team, expanding our relationship, and most important, serving the needs of our customers. It is our hope that we can reach an agreement shortly as they have strong brands, and through our Premium Audio Group, led by the Klipsch management team, we have widespread distribution and a global infrastructure to support our growth."

Pat Lavelle, VOXX International Corporation President and CEO
Deal Only Covers Onkyo's Home A/V Business Segment
It is interesting that this deal only includes the company's home audio business and none of its other ventures. Recently, for example, the company said it intended to reinvigorate its dormant OEM manufacturing business. At one time, OEM was as large as their branded business, but was wound down several years ago.
The thing is, their home audio segment is the majority of the company's business. According to the Nikkei, home audio represents 53% of total company revenues. It's not clear how they will replace that lost revenue – or if they'll even attempt to replace that lost revenue. Perhaps they'll choose to shrink the company down – but I'm not sure how viable such a small company would be.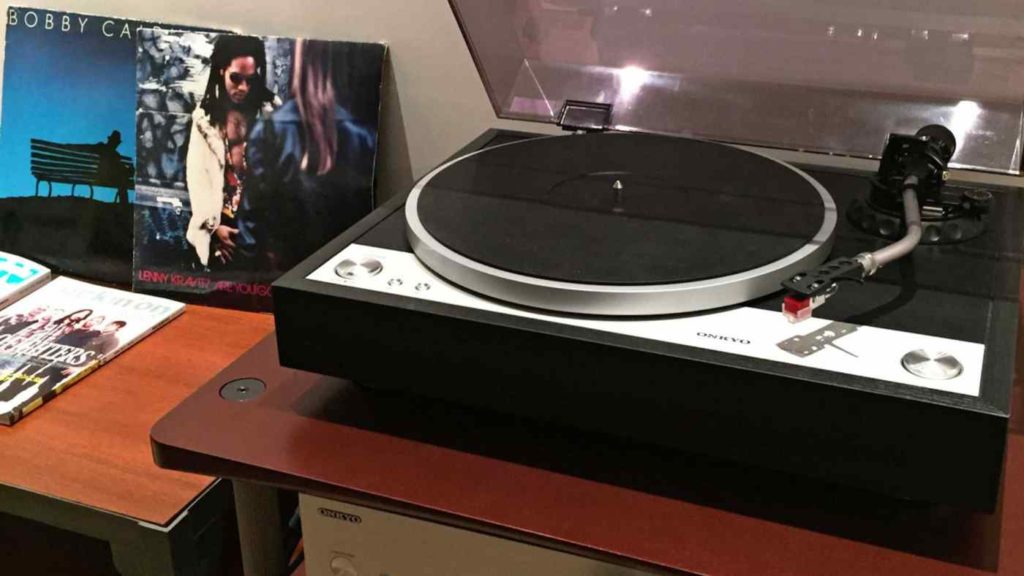 I am hardly the only one to express some skepticism about the deal's chance of consummation. An article by the Nikkei in Japan titled "Audio brand Onkyo weighs last-ditch sale of core business" carries this harsher sub-heading: "Japanese company has tried and failed before to cash out of home entertainment." Calling this announcement "…its latest attempt to avert a financial collapse, Japan's troubled Onkyo Home Entertainment has again reached for the option of selling its core business."
First Attempt to Sell the Company – Gibson Guitar
For almost nine years now, the owners behind Onkyo have been trying to unload the company. Their first attempt, which Strata-gee covered extensively, was a deal with Gibson Guitar, led at the time by CEO Henry Juszkiewicz. This deal was a surprise announcement leading up to the 2012 Consumer Electronics Show. I actually had the opportunity to participate in a press gaggle on the Gibson Guitar tour bus with Juszkiewicz and Onkyo CEO and President Munenori Otsuki.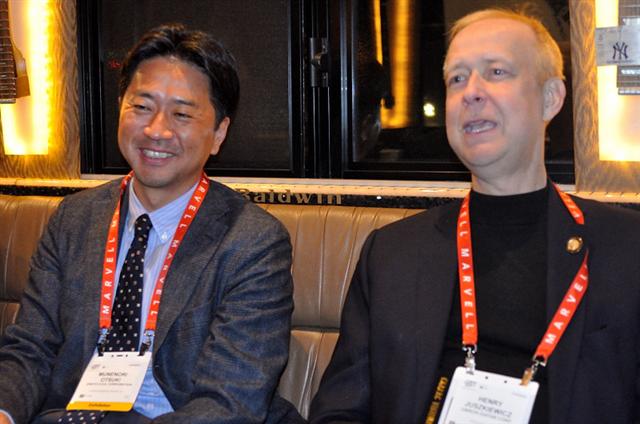 That relationship lasted six years and Gibson's Juszkiewicz expanded the partnership by buying a controlling interest in Teac. The triumvirate cooperated on various product development projects, as well as distribution agreements around the globe. But it all came crashing down after Gibson made the questionable decision to buy Philips' large and struggling accessory division WOOX – a move that began a downward spiral for Gibson, ultimately forcing them into bankruptcy in 2018.
Second Attempt to Sell the Company – Sound United
About a year after the collapse of Gibson Guitar (then known as Gibson Brands), Onkyo began a new potential partnership dance with another date, Sound United. In some ways, the prospect of this deal made much more sense than one with Gibson Guitar, which had no experience in consumer electronics. Sound United, owner of Denon and Marantz, as well as many speaker brands, knew the consumer electronics business very well.
But in other ways, this deal made absolutely no sense. No one at Sound United ever articulated a cogent and cohesive merchandising strategy for one company offering multiple brands chasing the same customer and competing with each other. Onkyo's Onkyo brand directly conflicts with Sound United's Denon brand, and their Integra brand competed directly with Marantz. Unless there was a signficant reengineering planned to better differentiate the brands with a more finely tuned marketing plan – the company would double their overhead for about the same amount of sales.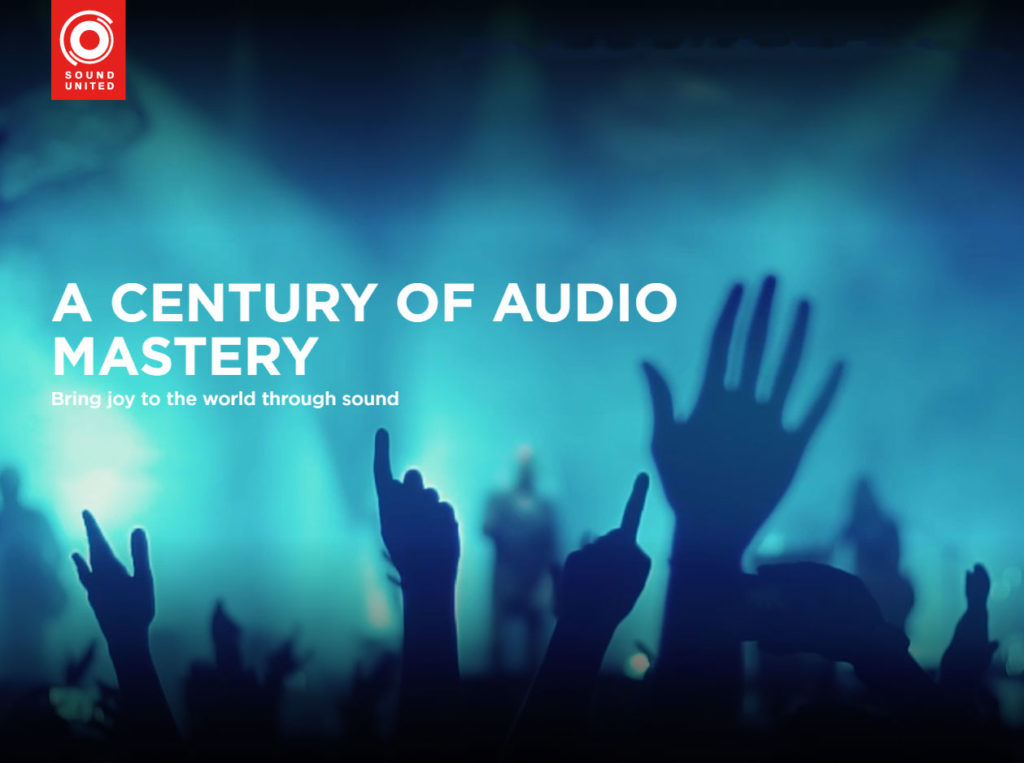 But no worries, in less than five months, Sound United called off the deal altogether. This thrust Onkyo back into turmoil, as they sought out a new partner again.
By the way, according to the Nikkei, Onkyo was offered to Sound United for ¥8 billion…or just a little over US$73 million at today's rate. You can see how that must have made Sound United salivate – it's a bargain price for a brand group that not that long ago was generating over $536 million in global revenue.
Third Attempt to Sell the Company – PE Investors EVO Fund
The third effort to sell Onkyo was to offer increasing ownership in the company to a group of private equity funds, both global and focused in Asia. EVO Fund – a global private equity group – was the major player. This plan was carefully assembled and was largely a debt-for-equity strategy in which the investing funds would funnel money to Onkyo in the form of a loan that would either be paid back with interest…or more likely paid off in Onkyo company stock.
I describe the arrangement in more detail here… There were to be twelve separate transactions arranged and the program would run over several months. But before the entire program was completed, EVO apparently got cold feet and backed out of the deal.
Even though Onkyo had made a lot of very positive progress in cutting their overhead and improving their ability to leverage the generation of profits, the loss of the funding from EVO caused the company to slip again into a negative net worth and violate the rules of the TSE. The Exchange put Onkyo on notice and began the process of planning for the delisting of the company's stock. And this is what has brought us to where we are today.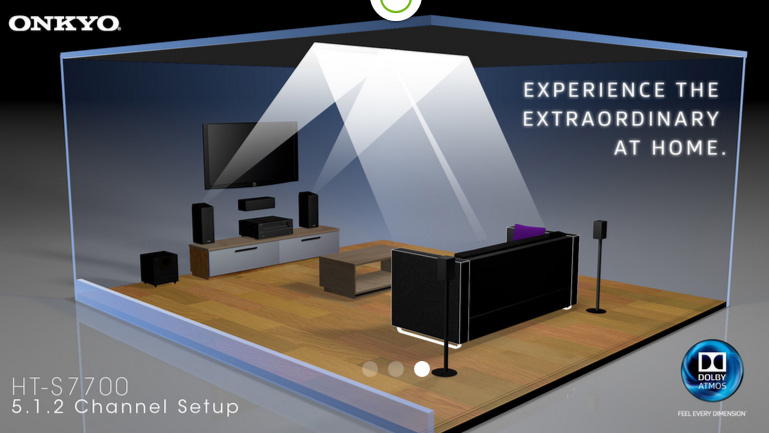 Just One More Thing…Clearing a Path to a Deal
In reality, I suspect that this time, Onkyo will close on this deal. They have learned from their past experience. How so, you ask? Well for one, Onkyo is not waiting for the final negotiation of a definitive agreement before they begin taking the actions necessary to satisfy conditions likely demanded by VOXX/Sharp.
For example, when the company chose to close down their subsidiary in Europe – known as Pioneer Onkyo Europe (POE) and outsource sales to European distributor Aqipa – they did not shut down their European office. Instead, they decided to repurpose POE to become their sales operations for the newly revived OEM division. Now, I've learned that at the end of April, the company has decided to fully close that office. In a filing, they offered this explanation: "From the perspective of improving the efficiency of the Group, we have decided to dissolve and liquidate the subsidiary."
Not only that, but Onkyo was embroiled in litigation surrounding their decision to close down Onkyo Europe and outsource distribution. That litigation was vexing, dragging on over a long time and a headache. Now, the company has announced that they have settled that litigation for about ¥2.5 million (about $23,000).
Sounds to me like the decks are being cleared or streamlined to get a deal done with VOXX/Sharp…now.
Learn more about Onkyo by visiting: onkyousa.com.