Last month, we reported on the pre-launch of a new brand…the rather boldly named AudioXperts – founded by well-known industry veteran, Eli Harary and the team of sales, marketing, engineering, and product specialists he assembled. This pre-launch announcement was then followed-up by an official launch at a press event in Manhattan on Tuesday of this week. For a lot of reasons, this was a notable event – not the least of which is that there are very few new companies launching in the current incredibly difficult industry environment. But this "birth of a brand" also – for a number of reasons – set a very high bar for expectations related to its launch, which drew a substantial press contingent.
Did AudioXperts live up to their "exceeding expectations" tag line?…
Set at a fairly well-known and historically significant French restaurant in Manhattan known as La Grenouille, it was clear from the invitation that the press was going to be treated to an upscale experience. As we waited for the presentation to begin, members of the press were treated to fine wine, delicious hors d'oeuvres , soft music, and the grandeur of a wood-paneled room whose walls were lined with solid-wood nooks filled with wine bottles like a fine wine cellar.
When told the presentation was about to begin, the press moved quickly and with great expectations to the space set-up for the formal meeting. Why were expectations so high? Well, first is the name AudioXperts. If you're going to designate yourself as an audio expert…and you're making a presentation to industry press – who all consider themselves to be audio experts – you better be prepared to leap over the high bar you've set.
Exceeding the expectations you set…
Also, when your tag line is "exceeding expectations," you want to be sure you deliver – because the jaded industry press has seen it all…and expects a lot. But way more than the company name and the tag line, there were real reasons to expect this announcement to be above and beyond the norm.
First is the pedigree of the major players. President Eli Harary has spent several decades in high profile roles in the specialty audio realm. The owner of a prominent high-end specialty audio retailer in Beverly Hills, California, Harary cut his teeth on serving the highly-compensated, highly-demanding luxury consumer. From there, Harary joined the Harman Consumer Group first at JBL, eventually moving to the higher-end Infinity brand.
Team player…
In 2006, Harary moved to D&M Holdings with a prominent role in their effort to turn the Boston Acoustics division around. After six years with D&M, Harary struck out on his own. launching a consulting company. Harary clearly knows products, knows the market, and knows how to bring products to market.
The team that Harary has assembled is made up largely of ex-Harman and ex-Boston Acoustics folks – that is, with one exception. John Fischback's background is as a recording engineer and record producer. For AudioXperts, he has the title of Director of Product Voicing.
100 years…
Banners placed around the venue proclaimed that AudioXperts features an experienced team, with "over 100 years of combined experience and passion" – helping to feed the raised expectations of the media attending this event. So was AudioXperts successful in "exceeding expectations?"
Yes…and no…but mostly yes. Harary started his presentation by explaining why he chose to start the company…and why he started it now.
Why start a company and why now?…
"Well, the first thing is, I'm too young to retire," Harary said, eliciting chuckles from the press. "So it was kind of a good idea to do something that I felt really the marketplace needed."
Quickly getting a little more serious, and after mentioning his stints at Harman and Boston Acoustics, Harary added:
During the difficulties of 2008, it sort of became clear to me that there was something really missing in the marketplace. We had retailers that were struggling to stay in business – trying to sell products that were being sold in mass retailers. And kind of that initial passion that we all started with in this industry seemed to be missing.
A passion for luxury…
Harary went on to say that in surveying the market, it was hard to find products that these specialty dealers could become passionate about. At the same time, Harary continued, in analyzing the consumer market – "clearly, from our point of view, there was clearly a market segment of product that was not available to luxury consumers."
In further describing the results of their market survey, Harary told the press that they discovered that luxury brand sales are "skyrocketing." For example, he said, Mercedes Benz's sales are up 25% in the U.S. "So somebody is buying expensive automobiles."
Limited number of luxury audio products…
Other examples of success in the luxury market included Hermes (sales up 21%) and Saks Fifth Avenue (+6.1%). But the luxury buyer has a "limited number of products serving" from which to choose, Harary said. Mentioning B&O and B&W, which Harary called "wonderful products and wonderful product companies," he went on to say that however this is a pretty limited number of players for a growing market.
"So AudioXperts is really – our job is to look into market and understand that consumer – that particular consumer – and to design and to develop and to invent products that we think will serve that consumer better…so that they can enjoy their entertainment," Harary proclaimed. "And that they can enjoy their entertainment in a way that is consistent with their lifestyle."
Putting a finer point on it, Harary said, "Our target audience is really customers that like to own and enjoy and appreciate the luxury brand experience."
AudioXperts wants to make sure their customers are well taken care of. And in this desire, they are carefully selecting the dealers that they are partnering with. Also, to reassure customers that they are serious about offering a superior experience, AudioXperts products will carry a two-year over-the-counter exchange program for any defective products…along with a five-year parts-and-labor product warranty.
Products that have to perform…perfectly…
Interestingly, Harary sought to distinguish their target market from other audio brands who also target the luxury buyer. Saying that offering their customers "good quality sound" does not mean that they are targeting the audiophile buyer.
"If you go into a Mercedes Benz dealership, you don't go in and ask the sales guy how much horsepower the car's got," Harary said. "You buy a Mercedes Benz expecting that its got enough horsepower to do whatever you want it to do. And our job is the same thing when it comes to the performance of our products. Our products have to perform…perfectly."
Dealers of better products for better customers…
The dealers that have, so far, signed up to be part of the AudioXpert experience include Bob and Ron's World Wide Stereo, Bjorn's, ListenUp, and Crutchfield. These are dealers, Harary added, that "know how to present better products to better customers."
In response to a reporter's question, Harary indicated that he believed there to be about 70 or so dealers in the U.S. representing around 110-120 locations that have the capabilities necessary to be successful with the line. In Europe, Harary believes that there are approximately 1,000 or so capable dealers.The company has no plans to sell their products to any of the buying groups, even though some of their initial dealers are involved with these organizations.
Online sales, but limited…
The press seemed quite curious about the company's distribution plans and this discussion went on for quite a while. Will there be online sales – he was asked. Yes, "but very, very limited online sales"…and only with partners who meet their criteria.
Will AudioXperts be selling their products on their website? Yes, Harary told the group – but "we have a very unusual policy" in the U.S. –  the company plans to give the profit from their online sales to those dealers that are in the market of any customer who buys through the AudioXperts website.
Does the company have a Universal Pricing Program (UPP) setting the prices on their products, we asked. No, Harary said…if they pick the right partners and build the business slowly – there is no need for a formal UPP.
Products to eliminate confusion, chaos & clutter…
Most consumers, Harary told reporters, are forced to deal with "confusion, chaos, and clutter." As he spoke, the slide on the screen showed a A/V receiver, a rat's nest of cables, and a crowded home theater installation that was fairly representative of a mainstream system. The solution to this mess is the first product introduced to the group – 4TV.
The company was quick to point out – and reminded us repeatedly – that 4TV is NOT a sound bar. Rather, AudioXperts calls 4TV a audio entertainment console. Designed to fit under the consumer's display, 4TV offers a full surround process, amplifier, and speaker system.
Not a sound bar…
Similar in concept to the recently introduced SpeakerCraft Protegé…the 4TV is physically larger, more elegantly designed, and significantly more expensive. The unit is so slim and unobtrusive…it almost disappears under the TV.
Built-in to the 4TV is a simple…yet extremely useful feature – it swivels. Noting that Samsung's new high end models have eliminated the swivel base, I can tell you that in the Green household, the ability to swivel is used almost every day.
A simple touch puts you in control…
Controls on top of the 4TV are capacitive touch controls that are lit when you move your hand in their vicinity, and go dark after a few seconds. AudioXperts made much ado about their smoked glass and aluminum design. To my eyes, it had a good fit and finish – but was not particularly striking in the way – for example – Apple products tend to forge new design territory and stand out as a result.
4TV incorporates Dolby Digital and DTS surround decoding for movie listening. In addition to this, the company has included "listening modes" to configure the unit for music, movie, or what they call enhanced-dialogue situations.
Seamless streaming…
AudioXperts also incorporated Apple AirPort Express (pending Apple certification, we were told) as well as Bluetooth streaming capability to allow consumers to stream their favorite content from their smartphones or tablets through the system. And, as is becoming more popular with higher quality products, the CSR aptX codec has been incorporated with the Bluetooth for best performance quality.
There are two models of 4TV – the 2112 and 5122. We were first shown the 2112 or what qualifies as the entry level model for AudioXperts. The 2112 includes four speaker drivers they call HART – a patent pending design this is a long-throw driver design to handle dynamic material. There are also two 20mm dome tweeters built-in.
It's got a lot of HART…
We were not given a lot of information about the specifics of the HART design, but I asked if this driver was exclusive to AudioXperts. What I was told was that this driver was developed in partnership with an outside engineering company and that it is patent-pending. To me this answer sounds like it may mean that these drivers are not exclusive to AudioXperts…but we can't say for sure.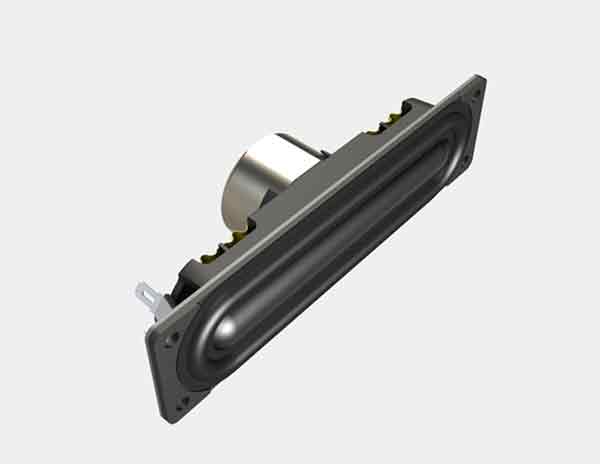 The 2112 uses a "virtual surround" technology to simulate the surround speakers. Interestingly, the derivation of the technology used to create this virtual surround was not really made clear to us – even after a couple members of the media pressed company officials about it. What I can tell you is that it is not a Dolby technology…it may be an SRS or some other virtual surround technology.
Packs a punch…
Incredibly, the 2112 packs a powerful punch – 200 watts RMS of total system power, 350 watts of peak power. With an MSRP of $1,999.99, the 2112 4TV is clearly not targeted at the "Joe lunchbox" crowd.
Stepping up to the 5122 gives you a pretty significant upgrade to a full 5.1 surround system with six HART drivers and three 25mm dome tweeters for full left/center/right configuration across the front of the unit. Mounted on the side of the unit in what appeared to be an angled configuration are another four HART drivers (two on each side) acting as built-in di-pole surround speakers.
Wireless subwoofer for simplicity…
Also included with the system is a wireless surround subwoofer which itself incorporates eight of the HART drivers creating the low-end bass and room-shaking special effects. Why wireless? Simple…to make it simple – for the consumer.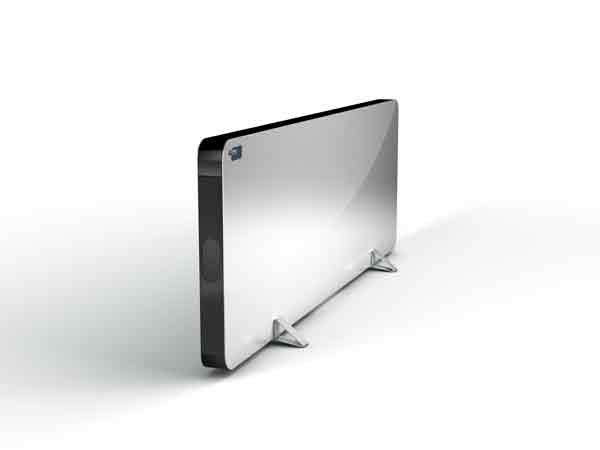 The 5122 includes 500 watts RMS of total system power – 800 watts peak which should be more than enough for just about any room environment. The company has set an MSRP of $3,999.99.
Our impression?…
In general, we were favorably impressed with 4TV. However, I found it slightly amusing/annoying that the demo did not go seamlessly for a system designed to be simple and easy to use. In demoing both the 2112 and 5122, AudioXpert's Kent Maxson had trouble getting the systems to properly select and start the scenes they were trying to play. Now this may be issues with the ancillary equipment employed, or a jittery presenter, or just the demo gods having their fun (we've ALL been there). But no matter what the reason – it provided a degree of irony as it tended to counter the claim of a simple system.
From a design perspective, I would say upon close inspection, the fit and finish was good…maybe even great. The touch controls seemed to work well and looked cool. Even so, I wouldn't call the design striking or ground-breaking and, that being the case, I was a little disappointed. Perhaps, however, that was the company's goal – offer consumers a system with unobtrusive elegance. Somehow, I had expected something slightly more dramatic.
What I can say…and I can't…
And finally, sound-wise, I would have to say that 4TV was competent…maybe even good. I would say that I was pleasantly entertained during the demos. But what I can't say is that I was "blown away." Keep in mind, we were in a huge room with dozens of members of the media crowded around. The section of the hall where the 4TV systems were set-up was more than two-stories tall. It is impossible…without a more critical listening session in a more controlled environment…to say with certainty just how good these products are.
But I can say that, given the conditions and the variables presented by the room…at least the sound was good and competitive. I look forward to another opportunity to more closely test and audition the unit.
Meet the attractive EVA…
AudioXperts also showed a line of compact wireless systems they call EVA – an acronym for environmental audio. Small, dock-based systems, EVA is one of a burgeoning class of systems that are designed to create room-centric systems that you can either directly connect your iPhone with a dock…or stream content through via AirPlay or Bluetooth (with CSR aptX codec) technologies.
EVA products all incorporated a very attractive design constructed out of environmentally-friendly materials such as bamboo wood, woven wool, and even starch-based plastic. In fact, the company says that over 60% of  the construction of each EVO product is made of environmentally sustainable materials.
Wood controls…
One of the features that seem to catch the attention of many members of the press was the use of touch sensitive controls blended right in with the bamboo wood design. It not only looked cool, but they even worked.
The dock is made out of a bent-wood bamboo construction and can be separated from the unit for more flexibility. Currently the company offers two colors: a brown and a red. According to Director of Marketing & Communications Jeff Litcofsky, the company is testing the idea of adding a third color…possibly a white version.
Don't be alarmed, wait…be alarmed…
The SCR400 Dock Clock/Radio with Bluetooth, features a 15-watt RMS amplifier, 4-inch full-range driver, FM tuner with 8-presets, FM/DAB+ tuner with 8-presets, dual alarm clock with snooze bar, bamboo-encased remote, and more. The SCR400 has an MSRP of $499.99.
The SPS300 is a compact music system without the clock features. Like the SCR400, the SPS300 features a 15-watt RMS amplifier and a 4-inch full-range driver. MSRP on the SPS300 is $399.99.
Both of the above units can be expanded to full stereo operation by adding either the AC250 or PS200 channel speakers listed at $349.99 and $299.99 respectively.
Our reaction to the EVA line? I did not get a chance to critically listen to these models but found their design to be very pleasing to the eye. I was, however, surprised to learn that the background music we had been listening to in the very large venue we were in was, in fact, being provided by one of the EVA models.
Getting on the AudioXperts train…
One thing I was very pleased to see is that AudioXperts has built what appears to be a solid package of training materials to be provided to their dealers. This is often an oversight with new companies who rush to get products out at all costs – deeming support materials as less important, to be taken care of "later."
AudioXperts recognizes that their new approach requires an abundant amount of support to ensure dealers are successful with the line. Training will include some product and feature videos as well as an interactive brochure. Smartly, their training materials will include section test questions to ensure the salesperson is comprehending the material.
Unequivocally impressed…
I can't comment on the video because their demo – inexplicably – didn't work. However, we did get a look at the interactive brochure and here, I can say I was unequivocally impressed. The few screens we were shown featured high quality graphics and detailed explanations. The company says that their training is based on the three "S's" – Simple to use, Style, and Sound quality.
We requested samples of the training materials, but these materials were not available by the time this post was written.
AudioXperts is a serious company with a fresh take on how to design products, and how to go to market. By targeting the luxury market, and offering specialty dealers products that will only be sold through their channel – AudioXperts just may succeed in carving out a new…and under-served…niche.
For more information on AudioXperts and their products, see: www.audioxperts.com.