<December 28, 2011> The Custom Electronic Design & Installation Association (CEDIA) held its annual Membership Meeting through a webinar on Tuesday with a total of 76 attendees including CEDIA members, press, and others. The meeting, conducted by CEDIA Board of Directors Chairman Randy Stearns, was remarkable both in terms of what was presented…and what wasn't.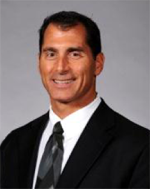 Stearns, owner of Alameda, CA-based Engineered Environments and CEDIA's chairman for the last year, read from a tightly-scripted presentation in a subliminally soothing, deep monotone voice as he described – in broad brush strokes – what was undoubtedly one of the most challenging years experienced by the organization. The agenda, Stearns told the group, contained five items:
Introduce the 2012 Board of Directors and Executive Committee
Offer a Financial Report
Discuss 2011 highlights
Reveal 2012 Key Initiatives and Direction
Offer some results from the organization's latest research on the custom installation industry
Where's the beef?…
This was a beefy agenda…or so we thought. However, Stearns offered only top level observations – or what we often refer to as the view "from 30,000 feet" and the whole presentation, including a Q & A session with attendees was over in less than thirty minutes. Most facts were offered with little or no supporting explanation or evidence…leaving way too much unsaid.
Executive Committee…
CEDIA's 2012 Executive Committee includes Larry Pexton of Triad Speakers [Vice Chairman], Gordon van Zuiden of cyberManor [Treasurer], Buzz Delano of Delano Associates [Secretary], and Randy Stearns. Perhaps as a nod to the new focus on internationalization, the new Board Chairman is Federico Bausone of Multisistemas BVC, S.A. de C.V.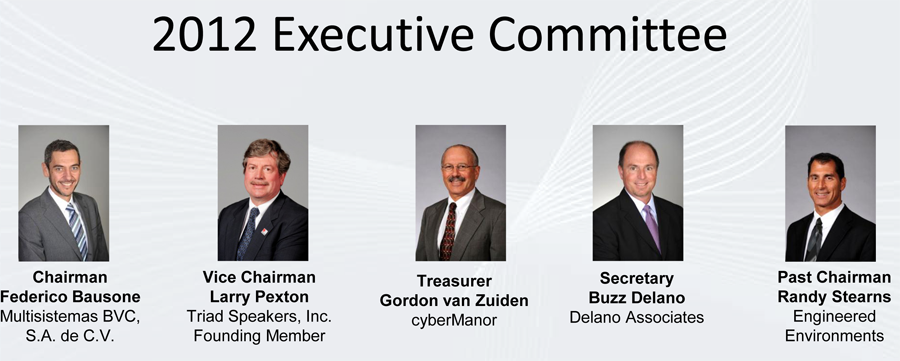 Board of Directors…
The 2012 Board of Directors consists of: Bill Skaer of Eric Grundelman's Cool AV; Peter Shipp of ZIO Group, LLC; Dennis Erskine of Erskine Group, Inc.; John Stiernberg of Stiernberg Consulting; Michael Creeden of M&R Digital Innovations, Inc.; Mark Hoffenberg of AudioVisions; Richard Milson of Milson Technologies, Inc.; and Seth Rubenstein of Ihji, Inc.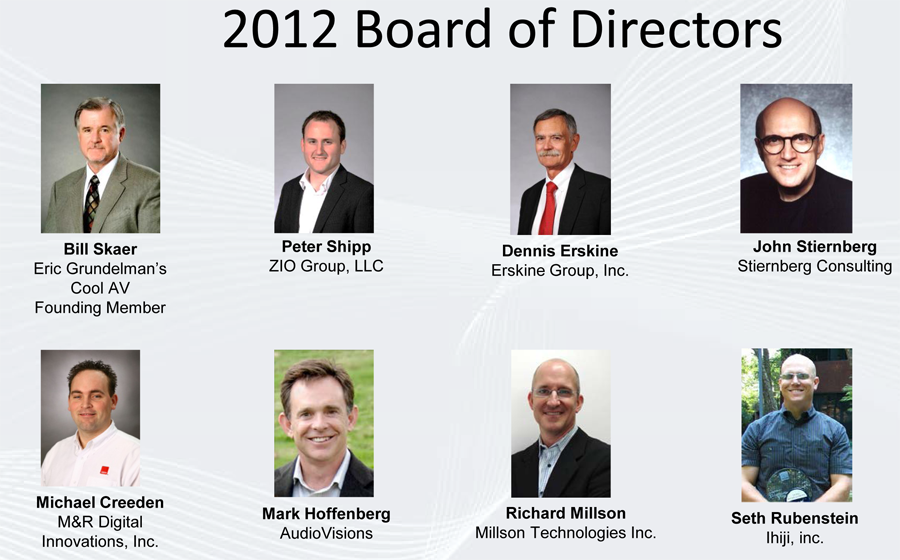 The organization has suffered…
In reporting on the organization's financial health, Stearns acknowledged that the organization had "suffered due to the recession." In 2010 CEDIA experienced a drop in membership and in Expo revenues. However, Stearns reassured webinar attendees, CEDIA's "2011 staff" did a "terrific job of adjusting expenses" in response to the lower revenue realization and, as a result, the trade group will actually show a "small net gain for 2011."
Although the overall membership numbers declined this year, Stearns mentioned that 252 new members joined the organization this year. Stearns also mentioned that membership retention actually improved by 5% this year.
Retention reward…
82% of CEDIA members renewed their membership this year as opposed to 77% the year before, VP of Operations Casey Keller told us in a separate telephone interview. Keller also confirmed that overall membership did decline this year.
Rounding out his discussion on the organization's financial health, Stearns also pointed to growth in international revenues as helping the cause this year. Stearns said that their ISE show brought in $1.5 million in revenues and that overall, international revenues were up 7%.
Cash is safe?…
Finally, Stearns sought to reassure members that they need not be concerned about the organization's cash reserves. These reserves are parked in safe investments, Stearns maintained. More financial detail will be released in April 2012.
It appeared as though Stearns was seeking to address rumors and discussions around the industry that the organization was cash-strapped. More than one industry executive raised this specter to the ALERT's editor. Various initiatives appeared to suggest that CEDIA was trying to address critical financial or cash issues.
Expo exhibitors must pay sooner…
For example, one source told us that CEDIA had changed its payment schedule for Expo booth space – accelerating payments in what looked like a need for cash. The source claimed that the move was not appreciated by – and has generated controversy among – some Expo exhibitors.
We asked Keller if in fact the Expo payment schedule had been recently changed and she confirmed that this was the case. In years past, exhibitors submitted incremental payments for their booth rental space with payments due in January, May, and July. For 2012, the schedule has been changed such that these payments are now due November, February, and May.
Better handling of marketing…& cancellations…
Keller told us that the move was made to allow CEDIA to "better report who will be exhibiting" at Expo in the marketing materials created to promote the event. She also said that the new booth space payment schedule allows CEDIA to better address the issue of cancellations – the sooner they are aware of cancellations, the more efficiently they can move to resell the space.
When asked about the allegation of cash flow management issues this past year, Keller declined to comment and referred us to Don Gilpin, a longtime CEDIA executive who is stepping up to a more active role in the wake of the exit of CEO Utz Baldwin who recently left the organization. We reached out to Gilpin but did not receive an answer by press time.
New 2012 strategic plan…
Another 2011 accomplishment that Stearns mentioned was the senior staff and board's ratification of a new strategic plan for 2012. This new plan, he said, will help the organization remain more relevant in the changing technological environment the industry is moving through.
First off, Stearns noted that 20% of this year's Expo attendees were first time attendees. He suggested that this indicates a healthy industry growth and should be encouraging.
Second, CEDIA, in 2012, is going global, Stearns told webinar attendees. The organization has already been deeply involved in normalizing standard operating procedures with its overseas operations.
Third, CEDIA is revamping its educational content and delivery in a move that he suggested will contemporize their efforts. Content, Stearns said, will move from a theory-based information to practice-based usable material.
Fourth, the organization has hired a sales team specifically for the purpose of increasing revenues. In the past, Stearns said that the trade group waited for revenues to come to them. CEDIA has decided to take a "more proactive approach." The goal? Increase the trade group's revenue base.
Finally, Stearns noted the launch of a new research department at CEDIA as a major accomplishment. Expected to help CEDIA and its members navigate the rough seas of the custom installation market – in the past, no other research organization has consistently covered the channels providing data necessary to make good decisions.
But wait! There's more!…
In a quick, bonus round, Stearns also highlighted: CEDIA's legislative influence (14 states, 300 bills, 987 members benefited); industry outreach initiatives (3,300 architects, builders, interior designers, and remodelers); brand awareness building (over 200 million media impressions – not counting the ALERT); workforce development initiatives (130 industry-specific educational "opportunities"); and the delivery of three data-rich research reports for members.
In a somewhat redundant summary of CEDIA's plans for 2012, Stearns made these additional points:
CEDIA will create business opportunities for ESC (electronic systems contractors)
They will launch a new consumer portal with tons of content on equipment and information…AND a finder for their local CEDIA installer to build consumer awareness
CEDIA will engage in a significant transformation of education with much more online dissemination
CEDIA will help develop and nurture a trained workforce
CEDIA will be the ultimate voice of authority
And finally, CEDIA will be The resource for all industry stakeholders
Research results…
Stearns closed his presentation by reviewing some of the top line data from CEDIA's recently completed market research. [See summary slide from presentation, below] We won't go into detail as most of this was already covered. For those who missed the initial release of CEDIA's data, see our report At Long Last, CEDIA Releases Findings at the link here…
Utz? Utz who?…
Not directly addressed by the Chairman in his presentation to members was any information specific to the recent incident of former CEO Utz Baldwin exiting the organization. Believed to have been deeply involved in creating the strategic plan, no credit was extended to him during the presentation.
Surprisingly, Stearns seemed a little flustered and stumbled a little when one of the attendees asked about whether CEDIA planned to name a replacement for Baldwin. Saying that the situation was still "new", Stearns said no decision has been made. Stearns went on to say that a consultant has been retained to assist the Board in addressing staffing issues but that no decision has been made. He did not name the consultant.
The webinar format forced questions to be typed in with CEDIA selecting which questions to be posed by an unnamed moderator to Stearns to answer for the group. It is not known if others questioned the Utz Baldwin situation, although a compound question posed by the ALERT's editor was only partially answered in a return direct text…not to the group as a whole.
CEDIA said that the recording of their membership presentation will be made available to all interested parties some time next week, so watch www.cedia.net for a further announcement.