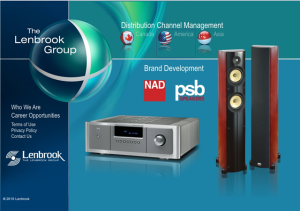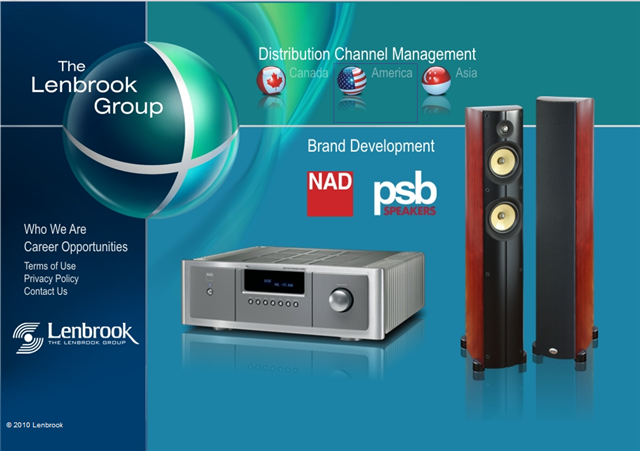 <June 1, 2011> Lenbrook America Corporation President and CEO Dean Miller began with an apology. In a May 20th email communication with BEACON editor Ted Green, Miller apologized for his lack of responsiveness, saying that until he read last month's BEACON he was unaware that attempts had been made by its editors to contact him. Miller, it seems, was on an aggressive two-week spin through Europe to attend a Tivoli event in Italy, a Munich high-end show in Germany, and finally a Lenbrook International distributor show.
See more on our interview with Lenbrook's Dean Miller…
Mentioned in the article that Miller was referring to was the fact that the  BEACON had made multiple attempts to contact Miller to get his comment on the story that broke in last month's BEACON on Lenbrook's decision to terminate its sales manager, its public relations representative, and its entire U.S. force of independent sales representatives. [See: Lenbrook Lunacy? Or Crazy Like a Fox? Market Reacts to Recent Moves]
An interview was arranged and a few days later, Miller, still in Europe, called the BEACON's offices to answer questions about the recent aggressive moves by the company here in the United States. Lenbrook, a Pickering, Ontario diversified company has its U.S. operations based in Sharon, MA…but Miller says he is working out of a West Coast office for the foreseeable future.
Simmering annoyance…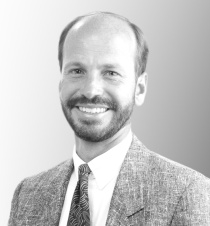 The interview lasted for about 45 minutes and for most of the time, Miller was calm, poised, and thoughtful as he responded to questions about the criticism he has received since the company chose to take their sales process from a large network of independent specialty reps to a smaller direct sales force.
Still at times there appeared to be simmering, just below the surface, a significant annoyance with how he had been portrayed by press reports following the announcement of Lenbrook's change in direction. Miller made sure he had the opportunity to address a couple of what he felt were significant misconceptions in the coverage taking place while he was out of the country.
Miller started by reviewing his long history in the industry, including starting many years ago in a Chicago-area Hi Fi specialty store. Then in 1980, Miller did his first stint at Nakamichi. In 1990, he took over as President of Bang & Olufsen, a position he held for eight years.
A detour…
After B&O, Miller took a significant detour, taking over as President of Rolls Royce and Bentley…an assignment that lasted only one year. This period, Miller refers to as a mix of "the best of everything" and "the worst of everything."
From here Miller returned to Nakamichi for a second, three-year stint. At this point in time, Nakamichi was owned by a large Chinese conglomerate and Miller characterized the experience as "interesting."
After the second round at Nakamichi, Miller then moved on to become President of AudioQuest, a high end cable manufacturer and distributor. Miller stayed on as President of AudioQuest for nine years.
Lenbrook link…
At many of the steps in his career – Nakamichi, B&O, AudioQuest – Lenbrook was the Canadian distributor for that brand. It was through this association that Miller came to know the Simmonds family, the founders and owners of Lenbrook. Miller had come to develop a deep appreciation of the Simmonds and this relationship led to the opportunity for Miller to take over their U.S. operations this past March.
When asked if his impression of Lenbrook had changed since he joined them, Miller was quick to respond.
The biggest surprise…
"The first biggest surprise is that they were much bigger than I had thought they were," Miller said. "They have 110 employees in Toronto."
Miller said the company is a great company to work for and that this was signified by the fact that they have a very low turnover. This low turnover translates into an highly experienced staff, ready to handle anything.
"The back office functionality for the U.S. market is handled by the company up in Toronto," Miller told us. "They have a dozen capable people in Toronto dedicated specifically for the U.S. market."
The company's office in Boston, Miller told us, was largely a "sales office."
Not a lot going on…
Miller said that for the last several years in the U.S. market there just "wasn't a lot going on" with the various Lenbrook brands. Sales were largely flat and there just didn't seem to be any direction to where their business was heading.
Still, Miller said, "the company has great potential."
When asked his impression of why the company's U.S. business didn't seem to have any particular direction, Miller said that it was largely a sign of an industry in transition.
Dramatic changes…
"The specialty distribution network has changed dramatically," Miller said. "The landscape has come down to Best Buy…and then everybody else."
And in the "everybody else" category is where custom installation falls. But custom installation brings a new set of challenges for manufacturers as well.
"Thanks to custom installation, the number of units has dropped dramatically," Miller told us.
200 people asking the same question…
We asked Miller where he saw specialty going. He chuckled and mentioned that he is with 200 people from around the world discussing that very topic right now. Everyone, he said, says the same thing – the world has changed dramatically.
But Miller says it is clear to him that "specialty segments and value-added services will continue to exist." Categories such as entertainment A/V, whole house security, lighting, and motorized drapery won't go away…but they will continue to change.
"These businesses will exist, but they will consolidate and fracture and create new opportunities," Miller offered optimistically.
Misconceptions…
It was clear that Miller was making a case for changing market trends justifying the need for sales & marketing restructurings, such as the recent move made by Lenbrook. But Miller got a little testy when discussing some of the things that have been said about him over the last few weeks…or the "misconceptions," as he called them.
"Nakamichi was always sold through independent sales representatives during my tenure," Miller protested. When Nakamichi went direct, it wasn't during his watch.
Taking Nakamichi direct – not!…
Miller was countering the comment, made by many of the independent sales reps, that he had taken Nakamichi direct. This comment was widely reported by media outlets and is simply not true according to Miller.
Another comment circulating about Miller is that he is somehow anti-independent rep. Also not true, Miller proclaims. He has worked with many independent reps and is quite friendly with them…including a strong relationship with Ray Wright, the director of the Independent Professional Representatives Organization (IPRO).
Autopilot terminations…
Miller also took great exception to those who suggest that he just automatically terminates independent sales representatives and replaces them with factory direct reps. To hear some put it, it is just some automatic thing Miller does. Not so, Miller told us. There are situations where an independent sales representative organization makes sense…and situations where a direct force makes sense. Each manufacturer's situation is different and has to be determined based on the variables unique to them.
For example, Miller said, while he was at B&O, the U.S. market was but one of 13 subsidiaries. The company made a corporate decision to shift their emphasis to sales through company-owned retail stores and away from servicing the market through independent specialty retail stores. That being the case, it just didn't make sense to keep on a national rep force when non-company owned stores were no longer a priority.
Knee-jerk reaction…
Not only was the decision to terminate the rep force not just some knee-jerk reaction…Miller says that for many of the reps, he was able to swap Marantz for their B&O line…which given the relative trajectory of those businesses was likely a better deal for them.
And for those who point to his decision at AudioQuest, Miller, who at times sounded a little defensive, pointed out that he didn't own the company. A decision was made, based on changing market conditions, that moving to a direct sales force would be beneficial to the company. And the results, Miller noted, clearly showed that the company benefitted from the move.
Three key factors…
And for Lenbrook brands NAD and PSB, Miller says that this was a matter of great consideration – not some pre-ordained decision…but a thoughtful plan. According to Miller, there were three factors driving the decision to take Lenbrook sales direct.
Firstly, Miller said that the reality of today's market is that the industry has changed dramatically, and simply taking the  same approach was not likely to yield improved results. Clearly, in Lenbrook's mind, the company had to make substantive changes to the way it went to market to improve sales and profitability.
Secondly, over the last couple of years (pre-dating his involvement) the company had gone through a fairly dramatic distribution restructuring, eliminating those dealers who were not strong with Lenbrook lines in sales or support. This had the effect of providing greater focus from those dealers who were most supportive of the Lenbrook brands. It also had the effect of dramatically reducing the number of dealers they were working with. This reality will no doubt facilitate the move to direct sales.
Thirdly, Miller says the company is in the process of launching an exciting roster of all-new products that he says "embrace the digital revolution." While Miller declined to provide the BEACON any details or specifics on this new line, he would only say that  the line will feature "high value-to-channel products."
Specific circumstances…
These variables, Miller says, suggest a direct approach will be the best approach for Lenbrook. But Miller emphasizes that this is because of a very specific set circumstances.
"I am not at all anti-rep," Miller railed. He went on to say that he could imagine multiple scenarios where he would employ a national sales force of independent sales reps. But none of these scenarios reflect the situation in which he currently finds himself.
Miller recognizes that the company has its work cut out for it.
It's time to perform…
"NAD and PSB are performance brands…they'd better be better than the competition," Miller said. "Everything else…from support, training, programs, terms, and inventory management…we will simply have to do better than the competition."
Still, Miller is confident, noting that AudioQuest came in first among cable suppliers on Inside Track's Supplier Loyalty Test, after they went direct.
It will be a challenge for Lenbrook which is transitioning from something like 17 rep firms with around 80 sales reps to four direct reps and two rep firms the company is retaining because, Miller says, they "produced extraordinarily."
"In today's world you have to produce," Miller told us.
We agree…in today's world you have to produce…whether you're a rep, or a company president.
RELATED STORIES:
Lenbrook Lunacy? Or Crazy Like a Fox? Market Reacts to Recent Moves
Have Tech Industry Trends Rendered Reps Irrelevant?