One Rep Stands Up for Specialty
<May 12, 2011> The specialty market is reacting to the announcement last week that Lenbrook America has hired Dean Miller as President/CEO and will dismiss its sales representative network, its sales manager, and take the sales process direct hiring regional sales managers. And at least one of the affected representatives, Peter Dyroff of Jarmac, went public with his reaction, sending a letter to all Jarmac dealers that has virtually gone "viral" throughout the specialty industry.
The specialty formula…
The Beacon spoke to several industry executives, including Dyroff, to learn their reaction to the surprising move by long time specialty champion Lenbrook. Lenbrook America which distributes NAD electronics and PSB loudspeakers in the United States has long been a durable niche player in the mid- to upper-segment of the specialty market.
In many ways, NAD embodied the specialty ethos of a significant tier of the consumer electronics business. Not a prime manufacturer, companies like NAD never really had the hottest product with the most features and the lowest price. Rather, the company survived by building products with unique features, with a higher quality story, pitched by an enthusiastic specialty retailer who purchased the products from his independent sales representative.
Although this formula was a rather common one pursued by a whole group of second-tier brands – NAD was perhaps the most effective at building a large, high-quality supportive network of sales representatives and specialty retailers. Some of the most respected rep firms and retailers were proud NAD supporters.
Creating evangelists…
NAD garnered greater loyalty from dealers by pursuing a limited distribution sales model, offering higher profit margins, committing to training dealers' salespeople, and getting good reviews from specialty electronics magazines. NAD sales reps, and floor salespeople were more like evangelists than salespeople.
"It took a lot of work to get NAD established," one executive told me. NAD really collaborated with their reps and dealers, he said, to incrementally improve the line year after year. This created tremendous buy-in by all of the parties involved and helped put the brand on the map
But, he said, "The specialty business as we used to know it…has gone away."
Specialty as we know it is gone…
This was a common theme amongst the industry denizens with which we spoke. Most criticized the move by Lenbrook…some lightly – some vigorously…but many would then go on to say that with the dramatic shift in the specialty industry, it remains to be seen what would be the impact on Lenbrook over the long run.
Many pointed out that the NAD line over the years had vacillated between being strong and being weak. Reliability had also vacillated between dependability and not. But through it all, the loyal sales representatives and dealers did their best to help the company through its "peaks and valleys." And many of those we spoke to said that NAD was the "one company we could rely upon to return the loyalty." That is…until now.
Of DNA and ambassadors…
"NAD has lost their DNA," said one observer. "The DNA that has held them together for so long is family and loyalty."
"A loyal rep force and loyal dealer force push the line even when it's not a great line," he added.
And this industry executive who is not a rep, noted this about NAD's rep force:
"The reps have been more than reps – they been ambassadors really for NAD to the market."
Many of those we spoke with parsed their initial comments carefully with several saying that this issue was not so much WHAT NAD had done, but HOW they had done it. One told us that he understood that the specialty business has changed, but to fire the sales manager, fire all of the sales reps, fire the public relations guy all at the same time with nothing more than a standard notice…is too much.
"Who is going to carry the NAD torch," one executive asked. "Who is going to share the story…the legend really…of NAD?"
How'd that work out?…
Many turned their ire on Dean Miller saying that taking companies direct is what he does…with, they allege…little forethought.
"Dean took Nakamichi direct, he took AudioQuest direct," one rep told us. "Did anyone [at Lenbrook] ask how that worked out for those companies?"
Another told us that he had been representing the line for years, through thick and thin, "then one morning we get a call and it's 30 days." The "30 days" is a reference to the standard representative contract with 30 days notice of termination. There was clearly a sense of bitterness as the company gave no added recognition with a longer notice or some other accommodation.
No emotional investment…
"Dealers are irate," the rep told me. "There is just no trust there anymore."
"NAD is a specialty line that is best sold by someone with an emotional investment to tell the story," the rep told me. "They won't get that in the big box stores or online."
Jolt from Jarmac…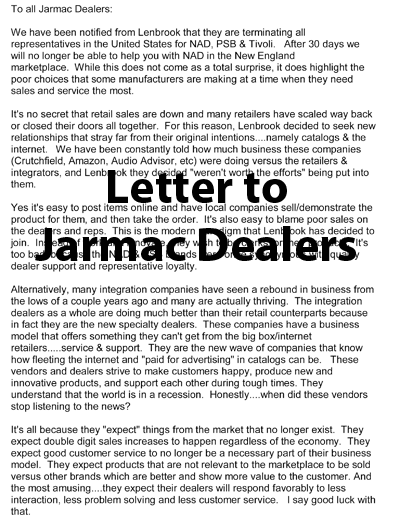 To all Jarmac DealersBut perhaps the response that has drawn the biggest reaction is the letter circulated by Peter Dyroff of the Jarmac Group. Dyroff, like many of the NAD reps has had the line for many years. We asked Dyroff what motivated him to write a letter than so eloquently articulated what he felt was a huge mistake being made by Lenbrook.
"The decision [to terminate reps] didn't surprise me," Dyroff told us. "The way they did it…did."
Not rep friendly…
When word had leaked out that the company would be hiring Dean Miller, "We knew he wasn't rep friendly" Dyroff said. "But to just toss us aside like that didn't seem right."
"You know about this [30 day termination clause] as a rep – but there are certain manufacturers you trust and Lenbrook was that."
In the wake of the termination, Dyroff felt like he wanted to write a letter to more fully explain to dealers what was going on. But concerns about political ramifications caused him to pause before doing so.
"Then I just decided that it was the right thing to do," Dyroff told us.
The letter has become something of an underground hit, rapidly spreading across the country and the industry in almost a viral manner. Perhaps driving its popularity is the direct, honest, from-the-heart language Dyroff employed to make his points.
"We have been notified from Lenbrook that they are terminating all representative in the United States for NAD, PSB & Tivoli," the letter starts. Adding, "After 30 days we will no longer be able to help you with NAD in the New England marketplace."
Poor choices…
"While this does not come as a total surprise, it does highlight the poor choices that some manufacturers are making at a time when they need sales and service the most," Dyroff's letter said.
The Jarmac letter can get a little raw in spots.
It's no secret that retail sales are down and many retailers have scaled way back or closed their doors altogether. For this reason, Lenbrook decided to seek new relationships that stray far from their original intentions…namely catalogs & the Internet. We have been constantly told how much business these companies (Crutchfield, Amazon, Audio Advisor, etc) were doing versus the retailers & integrators, and Lenbrook they [sic] decided "weren't worth the efforts" being put into them.
The new specialty dealers…
Dyroff went on to note that "integration dealers as a whole are doing much better than their retail counterparts because in fact they are the new specialty dealers. These companies have a business model that offers something they can't get from the big box/internet retailers…service & support."
"Honestly," the letter asks, "when did these vendors stop listening to the news?"
Dyroff goes on to answer the rhetorical questions himself. He says manufacturers "expect double digit sales increases to happen regardless of the economy."
Most amusing…
"They expect products that are not relevant to the marketplace to be sold versus other brands which are better and show more value to the customer," Dyroff wrote. "And most amusing…they expect their dealers will respond favorably to less interaction, less problem solving and less customer service."
"I say good luck with that."
Jarmac Designs…
Dyroff also reminds dealers how Jarmac is working harder than ever to help its dealers grow through the creation of Jarmac Design. Jarmac Design is a division that "meets with Architects and Designers to introduce, teach and connect them to our products and most importantly to our dealers."
Dyroff's letter, reprinted with permission here, ends with an earnest pitch for independent sales reps.
"Independent representatives (when done properly) offer a high quality level of sales, service and support that no manufacturer direct salesperson can match and we do it less expensively than a direct sales force."
We are your partners…
Then in an emotional pitch, Dyroff adds, "We are there for you because we are your partners. We believe in your business and we live your business, which is why we are good for each other."
This letter, while a little emotional at points, placed in writing what many verbalized to us privately. There was a lot of hand-wringing over the state of the specialty channel in our discussions. Many decried the constant drumbeat of specialty brands abandoning their specialty roots to sell out to mass merchants, catalogers, or online sales.
Dyroff, stood up to be counted and in the process is becoming a hero to some.
"Let the manufacturers [who abandon specialty] live and die by those decisions."
Dyroff's letter, reprinted with permission, can be read in its entirety here.