In Touch of Irony Mother Nature, or Rather Mother Internet, Reminds Us Who's in Charge
LWith great fanfare, Crestron kicked off their annual festival of all things Crestron – Crestron Masters 2021 – with a keynote address titled "Innovation Fuels Us." And in a bit of irony, Mother Nature, or should I sway Mother Internet, reminded us all of who's in charge by causing the program to suddenly stop at about five minutes in. About fifteen minutes or so later, the program started again and, save for a couple of stutters later, attendees were entertained with an impressively professional and compelling pre-recorded video presentation that celebrated Crestron's history of innovation and set the tone for the week of education and conversation to come.
See more on the Crestron 'Innovation Fuels Us' keynote
This was not a keynote presentation in the traditional sense – that is, one speech by one particularly special presenter. Rather, in this case Crestron devised a 90-minute program covering several highlighted elements of the event with multiple presenters, such as company heavyweights Ranjan Singh (Executive VP Product and Technology) and Brad Hintze (Executive VP, Global Marketing), as well as guests from Microsoft, Zoom, and Samsung. They even chatted with an integrator who worked with the Jet Propulsion Lab (JPL) and NASA on the Mars rover project.
With tight scripting, compelling visuals, and new clues as to the company's new priorities – the Innovations Fuels Us keynote was a fascinating glimpse of what Crestron believes will power their – and their partners – business for the near-term future and beyond. For Crestron partners, it was equal parts inspiration, information, and excitement.
Their Goals for the Day…And…Landing Rovers on Mars
At Crestron we are driven to create products and experiences for businesses and homes. And we know, like us, you too are fueled by bringing ideas to life – often in ways never done before. From meeting places…to distributing audio and video all over the globe…to smart home…and even landing rovers on Mars – today is all about those innovations we enable and create together."

Brad Hintze, Crestron Executive VP, Global Marketing
Hintze laid out the goals for the day: "Today, we'll speak with our key partners about what we're doing together to bring you new opportunities. We'll highlight some of the innovative projects you have built. And we'll introduce new Crestron products and capabilities."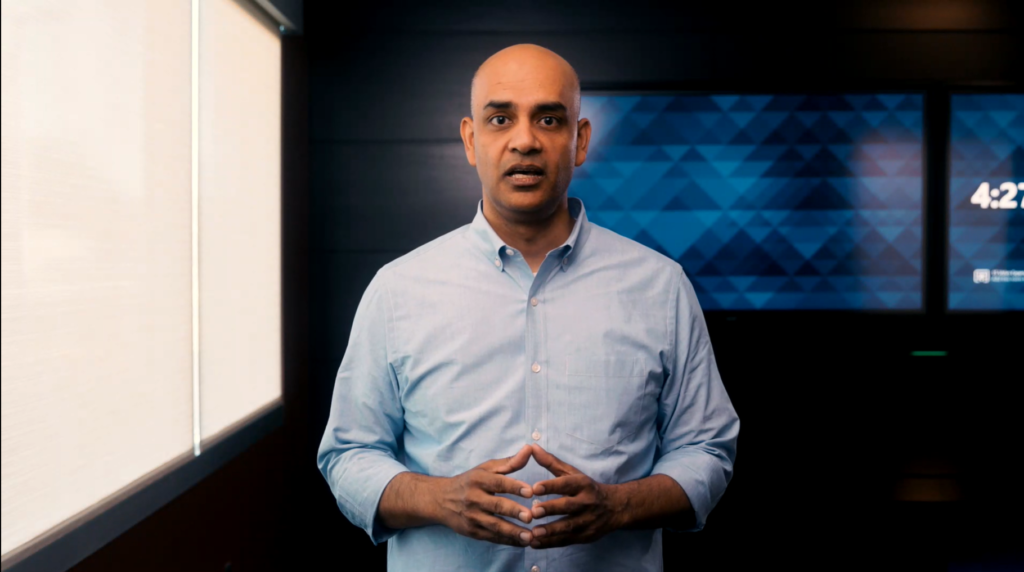 The Four Pillars of Crestron Product Innovation
Innovation, Ranjan Singh declared, is the domain of Crestron employees, partners, and customers. They "passionately" believe that, he said.
Crestron has developed four pillars upon which their product innovation is set, according to the product and technology VP. These four pillars are (the highlights are mine):
Creating the best technology experience for end users
Building platforms that offer long term value and growth
Scalable deployment, management, and support that is securely delivered through the cloud
Using data to provide actionable insights that inform decisions
Pay Particular Attention to the Power of Platforms
Singh put a particular emphasis on platforms, which* he described as superior to a collection of disconnected or unrelated products. "We invest in product platforms, rather than one-off products. Platforms give you the best return on your investment – continually evolving and giving you new capabilities over time," Singh stressed.
He noted that Crestron has four strategic platforms that drive their business: 1) Crestron Flex, their video collaboration and room technology platform; 2) DM NVX, their digital media content distribution platform; 3) XIO Cloud, their cloud-based monitoring and management platform; and 4) Crestron Home, their Smart Home platform. Central to these platforms for integrators, Singh said, is remote monitoring and management – which includes self-healing and recovery capabilities. But Crestron is going further, Singh says, by developing APIs and new integration capabilities into their cloud platform so integrators can build their "own pane of glass."
"We look forward to our continued partnership. We are inspired by the way you use our products, and your input helps us shape and fuel our product innovations," Singh concluded.
The New Reality of 'Hybrid Work'
Brad Hintze took over to discuss what would emerge as one of the central themes of the entire keynote – the new reality of hybrid work. Hintze noted that there is a lot of speculation by many that predict "the end of office life." However, Crestron believes that neither a mass return to central offices…nor a permanent stay in the home as remote workers…is the future. Rather, they have gazed into their crystal ball and see a future of hybrid work – with some returning to the office, while others will remain remotely working either permanently, or on some type of rotating basis.
Crestron is hardly alone in this thought as many believe that some form of hybrid team deployment – with a mix of in-office and remote workers – is the new way to configure work forces. Some companies are even planning flexible permanent/temporary workspaces with rotating workers. But this plan presents its own challenge. IF you believe, as Crestron clearly does, that effective interpersonal team collaboration is the key to success – how do you hold effective meetings that creates the environment to drive true collaboration between those employees who are in the office, and those employees working remotely?
Does Microsoft Have the Answer?
"No one has studied the future of work more than our longtime partner, Microsoft," Hintze said. "I recently sat down with the head of Microsoft Teams devices to talk about what we've learned, and what we should look forward to."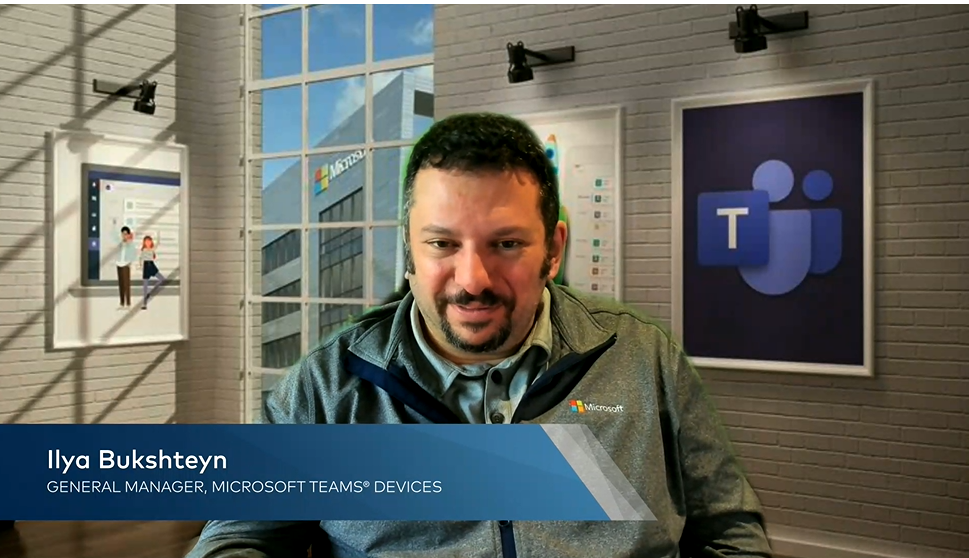 And with that, Microsoft's Ilya Bukshteyn, their General Manager of Microsoft Teams devices, joined the conversation. Bukshteyn says that their research shows that for meetings to be effective, everyone – decision makers or key collaborators – needs to be able to see and hear each other "equitably." But pre-pandemic, he said, only about 10-15% of all meeting room spaces were video-enabled. Now, some of the major corporations that Microsoft interfaces with are telling him that want 40-60-100% of their spaces video-enabled to facilitate meeting participants, no matter where they are in the world.
15,000 Meeting Spaces Now Need New Gear; So Do Key Employees' Home Offices
He says this feedback mirrors Microsoft's experience. With 15,000 meeting rooms worldwide, Microsoft had been planning to add video capability in about half of them before that pandemic hit. "That plan has now changed," he told Hintze. Microsoft now wants all of their meeting spaces to have video conferencing capability.
Bukshteyn also noted that he believes that company's will end up taking the additional step of outfitting key employees homes with a great home office kit – which he said is the new gourmet cafeteria – both for a better experience for the user and an easier, more uniform cross company collaboration platform. So the employee and IT both benefit from this type of standardization.
Flex Line Expands by Adding Phones to 'Flex' Its Communications Muscle
One epiphany that hit Microsoft from surveying their customers is that businesses want dedicated collaborative devices so that meetings don't rely on everyone getting on their laptops. Mostly, meeting participants prefer to use their personal devices for note taking, or otherwise textually chatting with other meeting participants.
Crestron agrees with that assessment and as a result is expanding their Flex platform. Flex now offers a deeper, native integration with Microsoft Teams to become that dedicated second device. Flex is the perfect tool for this purpose, according to Ranjan Singh, who says that Flex has three unique characteristics the make it the best platform for this use. First, Flex can easily go into any room, from the smallest huddle space, to the largest conference room. Singh adds that Flex soon will natively integrate with the Android operating system, which makes it usable with any "room OS."
Second, Crestron has now launched a dedicated Flex phones for Microsoft Teams users. This dedicated secondary device adds calendars and contacts access, freeing up users' laptops. And third, Flex is the only room systems platform that natively integrates all of the technology in the modern workplace.
"You can easily integrate Flex** with the broader ecosystem of enterprise technology to unlock new and interesting use cases," Singh said. "Crestron Flex even helped NASA land the rover on Mars through an innovative integration with our digital media platform."
Crestron's Role in the Mars Mission
From there the program segued into a discussion with Tony Caraffa of Amplified Design, an integrator who had a major project with the Jet Propulsion Laboratory (JPL) to outfit NASA's Mars control space. We learned that he chose Crestron's DM-NVX video distribution system for this mission critical, ah, mission.
While Crestron may not have directly put the Mars rover on the planet, they certainly did help all of NASA and the world to find out about it, as those video images were definitely distributed via the DM-NVX. Also, we learned that Crestron Flex – actually the commercial version of that which is called Crestron Mercury – was used all throughout the entire 45-room complex that is a new multi-mission space. The Mars mission is but the first of what will be several missions using the same space.
So apparently Crestron technology is rocket science!
Platform Upgrades
Ranjan Singh then took a few minutes to update attendees on two more of their platforms – Digital Media and XiO Cloud. Since the launch of the DM-NVX video distribution system, Crestron has steadily upgraded and expanded the line. Singh talked about some new features being added to NVX, including one that caught my ear, support for HDR+ and Dolby Vision high dynamic range video standards. But there were many more new capabilities beyond that.
He also spoke at length about their XiO Cloud support and management solution. Here too, the company continues to expand the capabilities for integrators to facilitate system deployment, management and monitoring.
The company also noted several medical, government, and sports organization (Green Bay Packers, for one) that rely on a range of Crestron technologies for their ease of use, capabilities, and security. Crestron is one of a few companies certified to provide products to government installations.
The Most Interesting Platform Upgrade (To Me): Crestron Home
I'm not going to lie to you…I was skeptical when Crestron announced Crestron Home a couple of years ago. I still remember when the company made the then shocking decision to pull out of CEDIA Expo 2016. It seemed a repudiation of everything that CEDIA and the residential integration community stood for. As I researched my coverage then, I learned that Crestron's business was far and away mostly centered in the commercial space. Residential was little more than an afterthought with minimal meaning and impact for them. Sort of like the 80/20 rule in reverse.
But since then the company brought John Clancy on board and began devoting significant financial and engineering resources to the division – slowly…surely…I have become a believer. I now firmly believe that Crestron is completely committed to the residential space. In fact, I suspect they'd like to replicate the success that they've had in the commercial space and become a dominant platform in the residential space as well.
New Crestron Home Strategy, Drive Scale to Become the Dominant Player
Not only that, but the company is operating in a wholly new manner – pursuing partnerships, like the one with former enemy Lutron and the more recently announced partnership with Origin Acoustics. In fact, the speed with which they are pursuing partnerships is almost dizzying. This is not at all like the Crestron of the past – with its walled garden matrix systems and not-invented-here attitude.
It is refreshing…and we heard more of it at Crestron Masters.
Singh told attendees that Crestron seeks to change the way its products are used and deployed in the home. He noted that there have been a lot of changes in the smart home market over the last decade – but the biggest change, Singh said pointedly, is in the "experience demanded by the consumer." And the customer experience is Crestron's intense focus – "front and center in our minds at all times."
Embracing an Open System Concept
To help drive that experience, the company is willing to take a fresh and more open approach, such as embracing and leveraging "the power and speed of native iOS and Android applications." They also want to help integrators to quickly deploy Crestron Home systems. They even want to enable consumers to be able to customize elements of their homes' system themselves! This would be heresy at the old Crestron… Meet the new Crestron!
Is this change real? Ranjan Singh said this:
To make the Crestron Home system more open, they are expanding the ecosystem of products that natively integrate with Home. New partnerships have been created with residential wellness brand Delos, lighting kingpin Lutron, voice control specialist Josh.ai, Amazon Alexa, and many, many more.
The company has also driven a surprising level of Home product and capabilities development as well. In the last twelve months, there have been no less than ten major updates in Crestron Home. Just recently we learned about how their new NAX audio-over-IP system integrates with Home, and they just announced an attractive, colorful thermostat.
The company is planning more development in Home, including creating new systems that will help their dealers scale with Home deployment, and to effectively develop, deploy, manage, and monitor customer systems.
This is definitely not your father's Crestron!
New Partnerships Extends Crestron's Influence Throughout the Industry
I already mentioned that Crestron is partnered with Microsoft, yielding deep native integration of Microsoft Teams in their various collaborative products. But beyond that, based on what I heard from Brad Hintze's interview with Microsoft's Bukshteyn, I'd say the partners may be working on an even deeper partnership on other products, both in the commercial space, as well as the residential space.
At this event, I heard for the first time that the company has also partnered with Samsung, who is integrating their XiO technology in select displays. Samsung VP of Product Marketing Mark Guiroz spoke to attendees about the partnership. Samsung, he said, had to figure out during the 2020 year of COVID, how to reach out to customers remotely, "without losing the personal touch," he said. Samsung's teams, like all companies, "worked remotely and collaborated virtually."
Now, as the world slowly begins to regain its footing, your customers, employees, and stakeholders will have a new set of expectations. They will demand more personalized experiences that blend the physical and digital worlds. They will seek out new tools that bring greater flexibility and collaboration to their workplace, wherever that might be. And they will blend work and life seamlessly to maximize every moment and opportunity

Mark Guiroz, Samsung VP of Product Marketing
XiO Cloud Embedded in Samsung Displays; An Opportunity 'To Make an Immediate Impact'
Of course, he sees Samsung at the forefront of this transformation. But it is true that Samsung's business displays now have Crestron's XiO connectivity embedded natively. "We are really excited about this partnership," he added. With people beginning to return to their physical company offices, Guiroz believes that there is a real opportunity for Samsung and Crestron "to make an immediate impact." Expectations for how meetings will change favor the approach that Crestron, Samsung, Zoom, and Microsoft have, and will continue to create.
Zoom also spoke at the "Innovation Fuels Us" keynote. Jeff Smith, the company's Head of Zoom Rooms (yes, that is*** his title) told attendees that they share Crestron's vision of the changing nature of collaboration in a hybrid work world and the new tools that will be needed to drive team interactions in this scenario. Smith said in the presentation that "…we have heavy reliance on our partners like Crestron to build solutions that are fit for purpose in all those different physical spaces…" where collaboration will take place in the near future.
Crestron Masters is All About Education
Very few companies are as dedicated to education as is Crestron. I saw their Crestron University facility when I toured their headquarters. And Crestron Masters is the mac Daddy of their educational initiatives. An annual event, here is where Crestron dealers get to receive their training and certifications that can drive their personal technology careers.
Normally an in-person event, thanks to COVID, the last two versions have been virtual. Still, enthusiasm seems to still run high at these events. This year, according to President and CEO Randy Klein, 2,800 people have registered to take classes. And more than 5,000 people showed up to the Innovation Fuels Us keynote presentation. There are over 50 courses being presented during the week, with 100 presenters participating. It is a big venture.
I myself took a few classes and I'll share those experiences with you in another post. But I'll say this, it is hard not to be impressed with an event the scale of Crestron Masters 2021. In the classes I took, each had at least 150-200 (or more) "students." That is an impressive level of participation considering the total number of classes taking place at any one time.
See more on Crestron by visiting: crestron.com.
---
CORRECTIONS
* Fixed a typo from "we" to "which"
** Fixed typo – added initial capitalization on Flex
*** Fixed typo – added missing word "is"