When two power players decide to create something new together, the result could potentially shake the earth and be felt by all in the industry – especially by their competitors. Such was the first thought that came to mind when I learned that Crestron Electronics and Origin Acoustics – one, a home automation and integrated systems Jedi Master…and the other, a leading brand in premium architectural audio solutions – came together to create a new line of residential audio products under the Crestron brand.
Learn more about this Crestron/Origin partnership…
The announcement of these two major players working together on a new line of residential audio products is big news indeed. And it suggests to me that Crestron is getting really serious about driving the vector of their residential business success to an even greater upward tilt.
Working with Origin, Creston is creating a whole new line of architectural and landscape speakers. It's an impressive line-up in two series of products: Reference (the base level tier) and Ultimate (high performance tier). And all of these products are designed for optimal performance with Crestron's new DM NAX matrix/amplifier and streaming music player, a key part of this new residential architectural audio lineup.
Audio-Over-IP and Full Integration with Crestron Home
This new matrix/amplifier offers high-performance audio-over-IP and – of course – native integration with the company's remarkable Crestron Home solution. Crestron plausibly suggests that with the DM NAX a much tighter integration of entertainment into today's smart home is achieved.
I'll talk more about the DM NAX in a moment. But first, let's talk about speakers.
New High Performance Residential Speakers
Crestron's new Reference series speakers, created as part of their partnership with Origin Acoustics, includes in-ceiling, in-wall, and landscape models. Features in this product tier include Origin's popular (and patented) silk tweeters and their glass fiber drivers designed for low distortion reproduction.
The new step-up Ultimate series, which also includes in-ceiling, in-wall, and landscape models, adds marine-grade models as well. The Ultimate series – which the company says is engineered to offer "the best available performance" – includes features such as carbon-fiber components and ceramic-coated aluminum tweeters "that optimize sound accuracy."
The residential line of architectural and landscape speakers and high performance audio distribution system offer a no compromise solution that scales across project sizes to deliver an unmatched home entertainment experience. By partnering with Origin Acoustics, we were able [to] combine our expertise to fill an exceptional need in the market with an extraordinary new series of audio products."

John Clancy
Crestron DigitalMedia NAX is the Key
The key to this whole new residential audio solution, however, just might be Crestron's new DM NAX matrix/amplifier and streaming solution. The DM NAX builds upon the company's incredibly popular and battle-tested NVX video-over-IP system that Strata-gee first told you about back in 2017. The company's NVX ("V" for video) product has been a huge success for the company and it offers a superlative foundation for this new NAX ("A" for audio) matrix/amplifier audio-over-IP solution.
Origin Acoustics is excited about the potential that the Crestron architectural speaker line and the partnership unlock for us as a brand. Our goal, since the inception of Origin Acoustics, was to build the world's finest architectural loudspeakers. The new alliance is complimentary as Origin's heritage in audio, leadership in innovative and labor-saving loudspeaker design, and Crestron's ingenuity and technological innovation in whole house automation."

Nick Berry, CEO of Origin Acoustics
Better Smart Home Integration AND Great Audio
The company says it has discovered a gap in the market for an audio solution that can fully integrate into a smart home platform AND "provide both high-resolution and high-output audio for even the most discerning audiophile." The NAX enables native streaming from today's top providers (such as Spotify) and fully integrates into the popular Crestron Home system.
With Crestron Home, users get full visibility and control of their audio on mobile devices, touch screens, remotes, keypads, and voice-activated devices.
The new NAX is a 2RU, easy-to-install solution that elegantly interfaces control, streaming services, switching, and amplification for an all-in-one audio solution.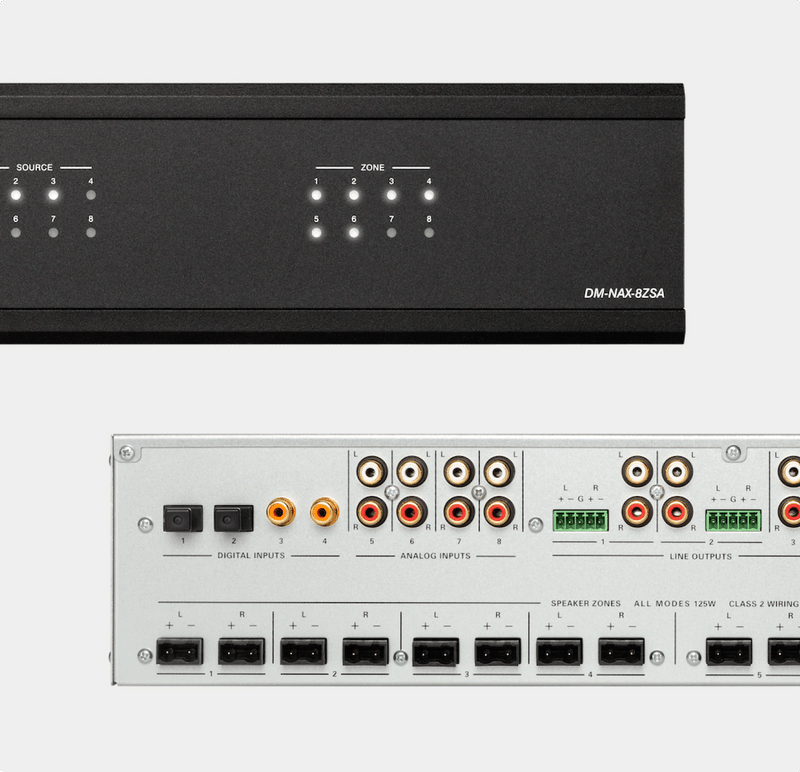 Crestron NAX…
is a highly scalable AES67 audio-over-IP distribution system
supports hundreds of sources to as many as 256 stereo zones (512 channels in total)
provides a dedicated stream to each zone, rather than just one or two streams to a whole home
delivers 150 watts/channel, 500 watts in bridged mode
features ultra low noise and distortion
has DSP built-in to optimize the output for Crestron Residential Speakers
comes with line-level outputs and voltage triggers to feed other amplifiers
has Casting Services: Spotify Connect, AirPlay 2.0
has Streaming¹ Services: Pandora, Sirius XM, iHeartRadio, Amazon Voice Service (more to be added after launch)
When Crestron Residential Speakers and DM NAX are Shipping
The company says their new Crestron Residential Speaker line, made by Origin Acoustics, will ship in April. The Crestron DM NAX line will follow shortly thereafter, shipping in early June. No pricing was provided in the announcement.
Learn more about the new Crestron's Residential Speaker line at this link…
And get more details on the new Crestron NAX audio-over-IP solution at this link…
Finally, see more on Origin Acoustics, including their wide assortment of available products at originacoustics.com.
---
CORRECTIONS
#1 – 03/08/2021, 9:45am – Originally published as "generic" – company says this was an unintentional error in their materials. Corrected to "Streaming." Also added advisory text "(more to be added after launch)" based on new info from company