BREAKING NEWS

After receiving several urgent communications from multiple sources, Strata-gee.com has confirmed that Crestron Electronics – for years the single largest exhibitor at CEDIA's Expo – has informed the trade association that it will not participate in the upcoming 2016 event. Crestron, a long supporter of both CEDIA and the Expo, has always maintained a huge presence, with an upfront positioning right at the entry, thanks to the many priority points it has earned over the years. Now, CEDIA is fast at work finding a replacement.
See more on this surprising turn of events…
"Planet Crestron" is how one source described the manufacturer's presence at the CEDIA Expo – a huge, front row, multi-level booth presenting the entire Crestron line of products. And Crestron has an extensive line. For years now, it has been a symbiotic relationship between Creston, the largest manufacturer of integration products, and CEDIA, the industry's largest exposition for custom integration solutions.
That apparently is no longer the case…at least for this year.
CEDIA Confirms the News
We contacted Vincent Bruno, who last September was appointed as the new Chief Executive Officer (CEO) of CEDIA, for confirmation of what we were hearing from our sources. [Note: we also reached out multiple times to Crestron, but they failed to return our calls prior to the publication of this post.] Ironically, prior to joining CEDIA, Bruno was Marketing Director for Crestron.
Bruno calmly confirmed what our sources had been telling us. And with his characteristic level, confident demeanor, he went on to explain the situation.
"We thanked Crestron for their past support," Bruno said, without skipping a beat. "We also asked them to reconsider their decision."
Why Crestron Exited
When we asked the reason Crestron gave for their exit, all Bruno would say is that CEDIA and Crestron have recently had a series of discussions on some philosophical differences between them. Crestron, Bruno suggested, says it is really focused on promoting their brand in a luxury marketing environment. CEDIA addresses the luxury category, but also adopts a wider focus that goes beyond just luxury.
"So the deal is simple," Bruno said, warming up to the topic. "It is my job that wherever home technology is professionally installed – whether it's in super-yachts, or fully integrated homes, or one bedroom apartments – that we have to support those installers and distributors and manufacturers, no matter what level of the market they operate in…to be profitable."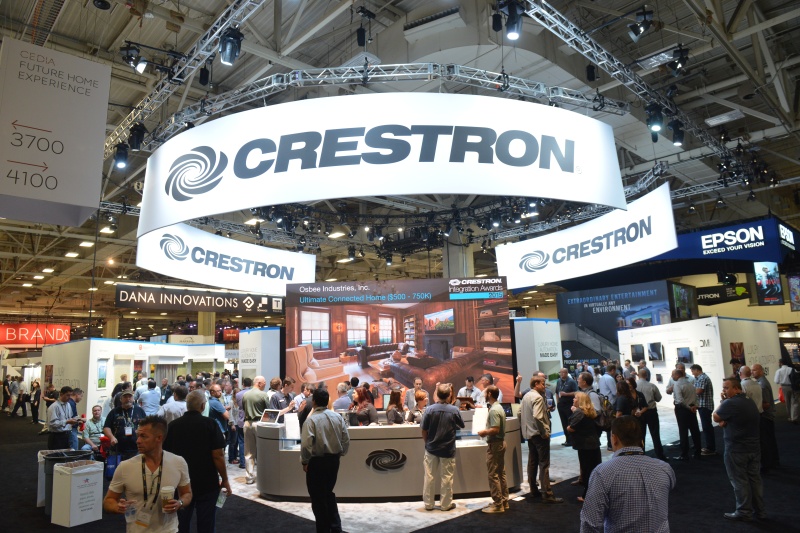 Bad Blood?
We asked Bruno if this decision represented some form of bad blood stemming from his exit out of Crestron. Not at all, he assured us: "Randy [Klein, President & CEO of Crestron] has been very gracious with me [about his departure from the company]," Bruno said.
It is hard to ignore the amazing coincidence of the timing of this decision by Crestron to pull out of the show – in the wake of it's former Marketing Director joining CEDIA as its CEO. However, until we hear differently from Crestron, that's what Bruno says it is…coincidence.
"So, we're not going to be slowed down by Crestron or by anybody else," Bruno said with conviction. "What we're going to do, is we're going to sell out our show floor. And, I have asked Crestron to reconsider their decision, because our show serves as a gathering point for the entire channel – and it is the physical presence that reinforces the industry."
Competitors May Benefit
Bruno makes a good point…Crestron exiting the show could be interpreted in ways the manufacturer never intended. Crestron dealers, for example, in their absence will be left to peruse competitive brands during Expo. And certainly, their competitors at Expo will be able to shine much brighter with the Crestron klieg lights darkened.
It is hard to not see the significance of Crestron's decision. In 2007, CEDIA honored Crestron founder George Feldstein with a Lifetime Achievement Award and the partnership between the company and the trade group never seemed stronger. Now, there's a big hole on the floor to fill.
"I WILL sell out, every square foot of exhibit space," Bruno promised, in a tone of voice heavy with conviction.
What do you think about Crestron leaving the Expo? Leave your thoughts in the "Comment on this Post" section below.