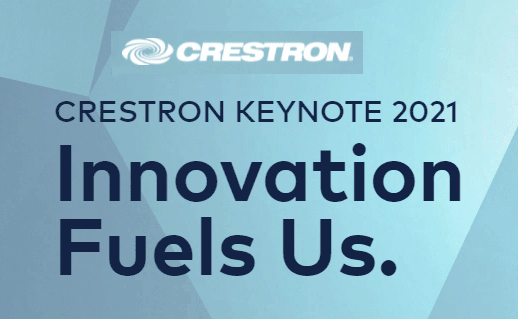 Next week is the latest incarnation of the Crestron Masters Week, in this case Crestron Masters Week 2021. These events are incredibly popular with the company's integration dealers and offer a wide variety of intensive training sessions that deal with real issues in the real world. Set to run April 27 – April 30, the buzz of anticipation is building…
But this year, something is different…and that something is pretty big!
See what is different this year from Crestron…
What's different this year is their kick-off keynote presentation, titled Innovation Fuels Us, will be streamed live and fully open to the public. I'm quite anxious to see this presentation. I was very impressed with the content and the production quality of the company's Crestron NEXT series last year – and this will likely be as good as that…if not even better.
Although the company's marketing department has always been good at communicating company news to the greater overall market generally, and to their network of dealers and integrators specifically – it seems to me that they've raised their game lately. While many in the industry were stymied with endless, mind-numbing, uncreative Zoom meetings, Crestron stepped up their efforts launching more effective presentations. And thanks to their deeper partnerships with Zoom and Microsoft, they even delivered more effective Zoom and Teams meetings.
Setting Expectations High
I appreciate that extra effort to deliver a better presentation. Of course, they have set my expectations pretty high for this new event…so we'll see what evolves.
Crestron says that in the case of this year's Innovation Fuels Us keynote presentation, they will "lay out the company's plans to continue innovating solutions for the modern workplace and home." While this kind of comment from many company's would be your typical corporate-speak mumbo-jumbo, I have evidence that Crestron is different in this regard.
Sharing Technology & Product Strategies
At their Crestron NEXT event, Ranjan Singh, Executive VP of Product and Technology revealed to integrators what trends they were following that would almost likely influence their future product plans. It was a refreshingly direct and honest perspective, as I reported at the time.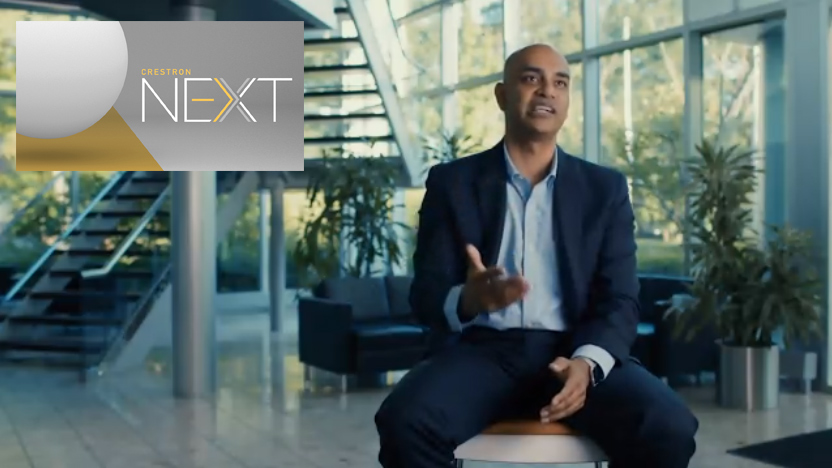 Probably one of my favorite presentations was actually the closing presentation – where Ranjan Singh, Crestron's Executive VP of Product and Technology summed up the key points of the last two days…and more importantly…offered some details on trends to watch today that will drive the future in a presentation titled "Future Innovations, Next & Beyond." This is the kind of smart insight that most integrators never get to hear."

From: At Crestron NEXT, the Company Reveals Trends Driving the Future
The company says that the keynote this year features top Crestron executives who will be joined by leaders from their "key strategic partners" – you know, little-known companies like Microsoft, Zoom, and Samsung – to offer insights on market conditions and opportunities they see ahead. Attendees of this seminal event will come away with a clearer view of Crestron's strategies and product developments for workplace technology, content distribution, remote cloud management, smart home systems, and more.
If You're a Crestron Integrator, You Want to be a Crestron Master
Crestron's respected Crestron Masters training is a leading multi-level technology education program in the industry. While this program has been around as an in-person event for years, thanks to COVID-19 the company has developed a program that uses what they call an "enhanced hybrid" system of learning which includes online content – and interactivity.
Crestron product experts, CTI instructors, Technical Directors, and Diamond Master Programmers will provide those participating students with extensive education and insights on the latest Crestron products and techniques. The company says that this year's program has an expanded agenda of offerings – not only for Certified Programmers and Technology Architects, but also a new track for Master Sales Associates (MSA) in either the commercial or residential space.
Register TODAY! Event is Next Week
You must participate at Crestron Masters events to maintain your certification and advancement to Silver, Gold, Platinum, and Diamond Certified Master levels. Registration is open NOW for both the Innovations Fuel Us Keynote event (at this link) and for the Masters event (at this link). Download a full list of courses at the link here to plan your experience.
Learn more about Crestron by visiting: crestron.com.