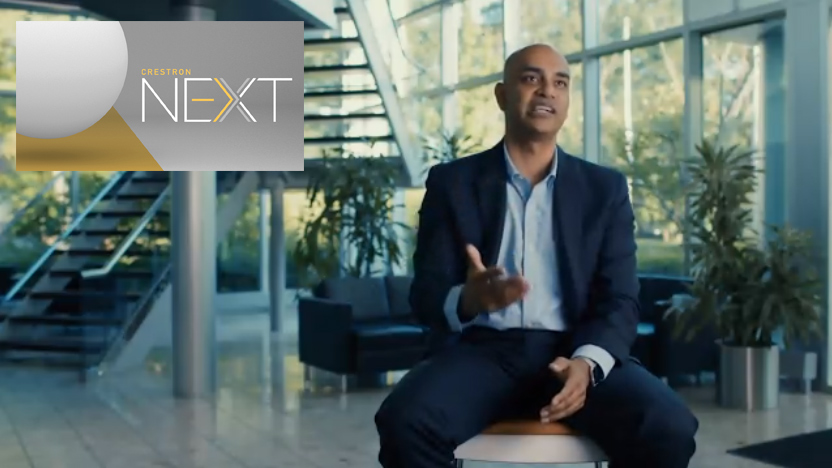 As previously reported by Strata-gee, the Crestron NEXT event of two weeks ago was a remarkable accomplishment for one company to pull off. With a full two-day agenda – Crestron NEXT offered lots of great content, such as its perspective on the tech business today, seminars on their key current tech products, and more importantly, advice on where things are going tomorrow.
Probably one of my favorite presentations was actually the closing presentation – where Ranjan Singh, Crestron's Executive VP of Product and Technology summed up the key points of the last two days…and more importantly…offered some details on trends to watch today that will drive the future in a presentation titled "Future Innovations, Next & Beyond." This is the kind of smart insight that most integrators never get to hear.
See Crestron's trends driving the future…
"So there are two forms of innovation: one is, create something brand new…the other is also incremental innovation – delivering incremental value out of things they have already invested in, is a great form of innovation. And Crestron has a rich history of doing both," said Crestron's Singh kicking off the final formal presentation at Crestron NEXT 2020.
Crestron, a large billion dollar company, prides itself on being responsive to the markets they serve. It's a prodigious innovator developing, according to their prepared presentation, between 250-300 new products every year. Many of these products result from conversations with their customers, but often the new products delivered from those conversations provide new capabilities that the customers didn't even know they needed.
Delivering the Modern Workplace Experience
Before Singh revealed the trends the company is closely monitoring and digesting for future product development, he reviewed some of the major themes that had been discussed over the previous two days of Crestron NEXT. Some of those themes that were revealed during multiple presentations, served to define areas in which the company intends to continue to innovate.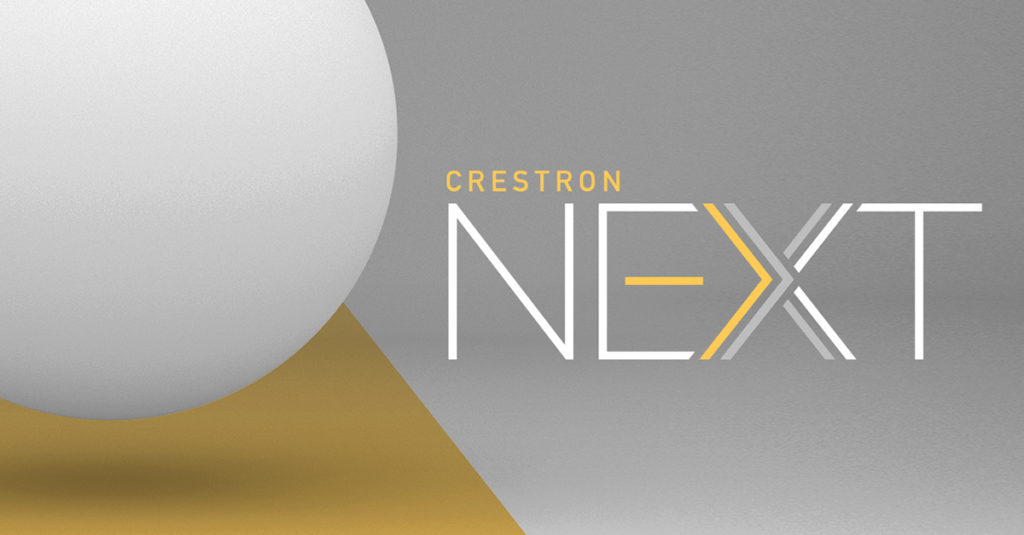 The first theme the company presented at the event, especially obvious in the age of COVID-19, was "Delivering the Modern Workplace Experience." Yes, the concept of the workplace has changed dramatically lately to include a corporate office space, a remote home office space, and even the kitchen table. To deliver on this new and more flexible experience, the company, Singh said, is thinking about the workflow of end-users and bringing a consistent experience across the "rooms," enabling all devices for collaboration so that no matter which device an employee or person is using, they are able to experience it consistently throughout the building. Also, the company brings solutions to deploy, monitor, and manage those solutions at scale.
End-User Experience in Post-COVID World
The company is also thinking about the end user experience in this "post-COVID-19 world." This experience must be secure, he said, and must deliver the kind of "experience that one would expect" with touchless room control and wireless connectivity.
Singh also noted that the company has made several upgrades to digital media and its popular DM NVX line. These upgrades "increase the ROI that customers are able to get from our products." I will be reporting more on their DM NVX upgrades in a separate post.
A 'Plethora' of Devices and Solutions
Video collaboration technology is growing at a rapid pace, Singh noted. And Crestron has risen to the occasion, offering a "plethora" (a favorite word of Singh's that he used multiple times) of devices and solutions that embrace a wide range of system standards – "allowing the standardization of rooms," the Crestron EVP noted. The company he says, offers choices – Microsoft Teams or Zoom…Android or Windows…to fit into any environment and enable that standardization.
For their commercial business, Singh noted that Crestron subscription services have also evolved, thanks to their XIO Cloud capabilities. As part of this, the company has enabled managed services that help commercial customers be more efficient with plans designed to meet their specific needs – paying only for those services they use.
Crestron's Recent Advances in Residential
Singh seemed equally excited about the company's recent advances in the residential side of their business. The company has launched Crestron Home "Extensions" which allow their partners (such as BHS and wellness king Delos, for example) to create their own custom user interface inside the Crestron Home app for its Home operating system.
The Crestron Executive VP went on to hail their newly announced agreement – which he characterized as a "close partnership" – with Delos which "will deliver the ultimate well-home environment." He announced that Delos will create a Crestron Home extension that imports indoor air quality scores. He added that Crestron is embedding DARWIN app – Delos' home wellness control system interface app – into their touchscreens "to allow a deeper dive into our key well-being metrics."
Finally, Singh noted that "when we think about residential, we don't typically think about work." But in today's pandemic impacted world, that has all changed, and Crestron, thanks to their extensive experience and technology in unified communication and conferencing, jumped in to help with their Mercury Mini home conferencing product in a smaller footprint. "It's a great addition to any desk," Singh added.
The Key Trends Influencing Crestron's Future R&D
Showing a screen of various companies and organizations offering their vision for well into the future – all the way out to 2050 – Singh said Crestron has "more humble aspirations" as we've seen how "literally overnight" the pandemic changed everything. So Crestron is focused more tightly on the next two-to-three years.
With that, he called out the key trends that the company feels will influence future innovation:
Software as a Service – Singh noted the incredibly rapid deployment of more and more Zoom and Team Rooms, a trend they believe will continue to grow at an accelerated pace. Crestron likes to think of all of their devices as a hardware platform upon which they will deliver more and more value via software through the cloud – most likely on a SaaS basis. Subscription will likely "become the dominant way in which customers would like to consume these services," he added.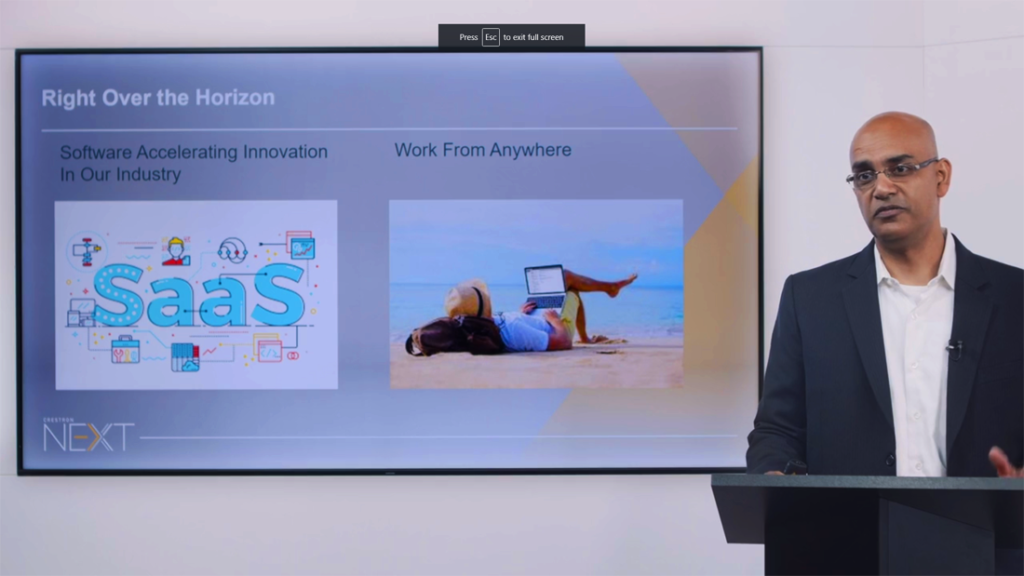 Work From Anywhere – Crestron sees a new work environment today in which companies are structured for working from the office, a hybrid work environment, and/or working remotely from home. What, he wondered rhetorically, "will really change in the Work from Anywhere notion?" And how will Crestron deliver solutions for that enable work from anywhere, but still deliver a collaborative and participative experience in any meeting? This WFA phenomenon is an area the company will be further studying.
Network for End-to-End Infrastructure – Video "has already been riding on a CAT5 cable for some time," Singh said. "Speakers and amplifiers are probably next to be IP-enabled," he predicted. Noting the dramatic growth in demand for network delivery, he suggested that Crestron needs to take innovation to the next level, including driving costs down to help organizations, institutions, and universities accommodate that growth.
Endpoint Security is a Must – Crestron believes that endpoint security will become a key concern. This point, Crestron's EVP noted, is especially true in corporate environments. In a cloud based delivery model, he suggested, every endpoint becomes a potential security risk. This being the case, he predicts we'll see a greater effort to ensure security for all IoT devices and endpoints.
What Crestron Said about 8K Video
Further Down the Line – Showing a picture of the well known technology adoption curve, Singh said Crestron is thinking about 8K video – "Yes," he added for emphasis, "8K video." As a technology, 8K will take much time to develop, as did 4K and other technologies took. However, he said that users have come to determine that 1080p is good enough for video conferencing.
So what does that mean for 8K and its adoption, he asked rhetorically. "Is it a niche application…or will it become more prevalent," Singh mused. That, he noted, is something we have to think about.
Wireless Infrastructure in the Room – Singh noted that today, RF and Wi-Fi are prevalent…and there's plenty of wires and cables strung about. Crestron, he said, is interested in seeing how they can deliver that room experience with an all -wireless infrastructure. "It simplifies the deployment [and] it lowers the cost of ownership," he said in summing up the benefits of the idea.
Crestron NEXT: A Useful Look at Today, An Exciting Glimpse of the Future
With that, Crestron wrapped up their Crestron NEXT event, a useful look at the tech of today, with a glimpse of where the company sees itself going in the future. I found the company's willingness to reveal the trends they are studying for future product development to be unusual in a public forum – and very helpful for their integrator partners. Well done!
For more details on Crestron and its extensive product line, visit: crestron.com.