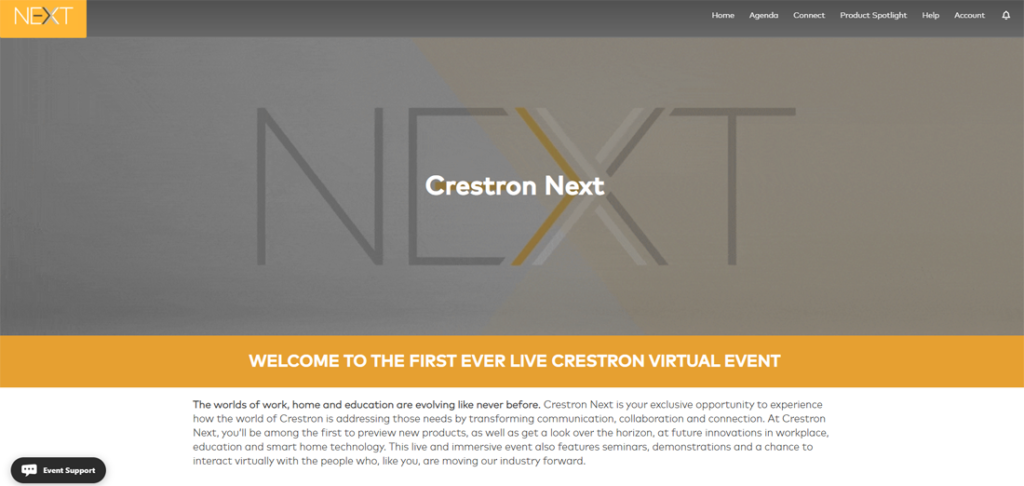 I don't know about you, but at this point in our pandemic-impacted new normal, I'm getting a little Zoomed out. Do you know what I mean? So when I learned that there would be two big virtual events in one week (CEDIA Expo Virtual and Crestron NEXT), it didn't exactly extract a big WOO-HOO from me.
So how do virtual event promoters rise above the morass of brain-addled ambivalence from the many industry denizens overloaded by Zoom meetings? They deliver truly motivating content that shakes the attendees out of their Zoom-induced comas. I'm pleased to report that Crestron NEXT has delivered on the promise of offering truly interesting and impactful content for integrators, at their first ever online, virtual integrator conference.
See my overview of Crestron NEXT…
Don't get me wrong, if either of these events had been live I wouldn't have even been there. So I appreciate the opportunity to attend both events and stay safe at the same time. And with both events being virtual, I was able to be in two places at once…sort of. It was a lot of content to try and consume.
Having said that, for the most part, virtual events show a great propensity to be little more than a boring series of PowerPoint slideshows with monotonous narrations electronically implanted into my somnambulant brain. On top of that – both of these events are a first for their respective organizations. That fact alone usually means lots of kinks and time-delaying hiccups.
Crestron NEXT: A Pleasant Surprise
In that regard, Crestron NEXT has been a pleasant surprise. I attended its opening day on Tuesday and all day on Wednesday. While I can't say it has run flawlessly, it has definitely been near-flawless…quite an accomplishment for a first-time event.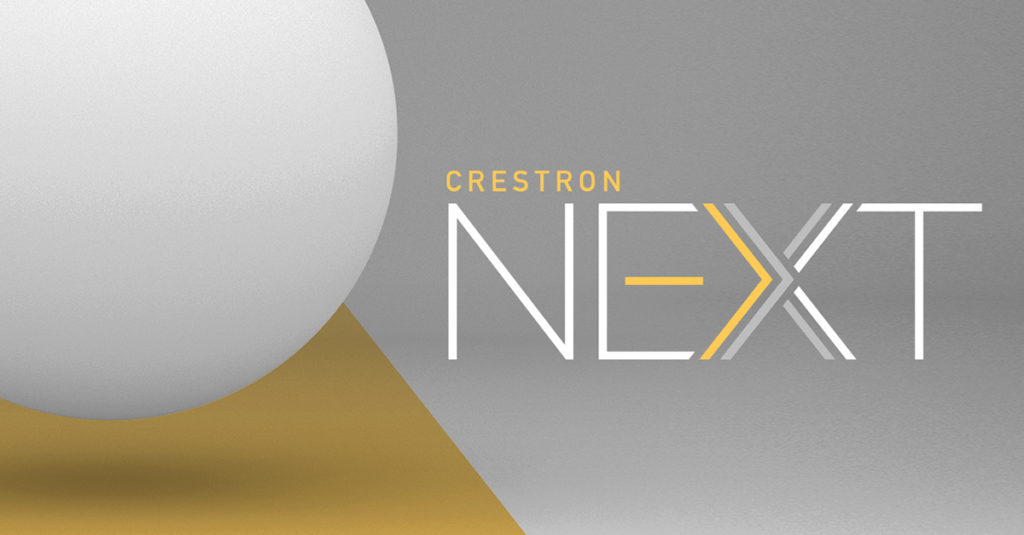 Crestron has done a nice job of mixing prerecorded presentations (with very good production values by the way) with live follow up question-and-answer sessions. They delivered a lot of content – much of it extremely technical for their integrator community – but have even mixed in a comedian and magician (I kid you not) – for a lighter break in between sessions.
Not Just Products, Trends & Strategy Too
Perhaps most importantly, they shared their outlook on the way that business as we knew it is being transformed today into something that will be quite different tomorrow. They even held a session where they identified the trends they are watching that will influence their research and development initiatives over the next several years. This kind of strategic insight is typically reserved exclusively for a manufacturer's biggest customers…in other words, not the kind of info often shared with most integrators. Kudos to Crestron for that.
As far as the Crestron NEXT virtual event – I give a lot of extra points to Crestron as they did a good job of holding to their schedule like clockwork. I also liked their interface, which to me seemed quite intuitive – and made it easy to locate the information you were searching for. Whether you needed the time of the next event, or to review which events you signed up for, or were looking for product cut sheets to download – it all was easy to find and access on the screen.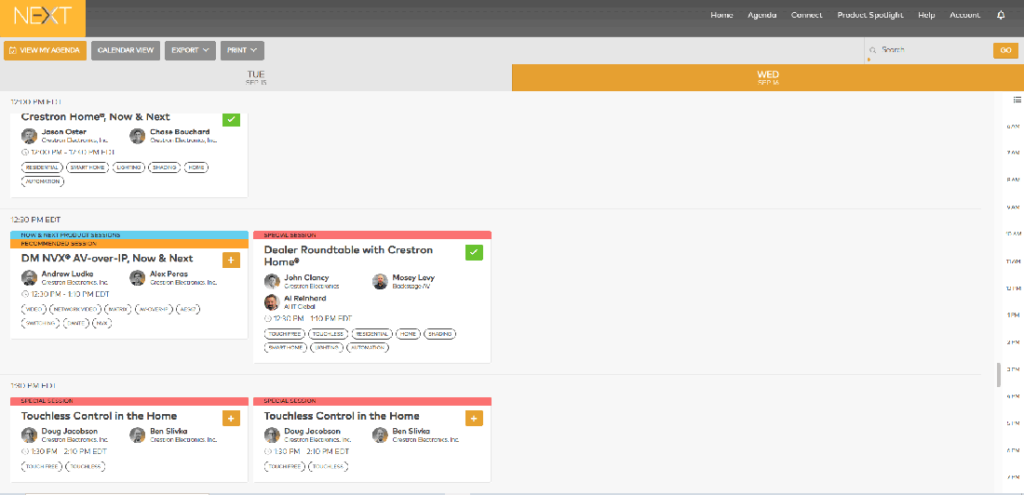 A Comprehensive Range of Topics
Crestron NEXT presented the world of Crestron, both commercial and residential, with carefully crafted presentations. Here's a sample of the topics of a few of their sessions:
Crestron Digital Media, Now and Next
What's Next in the Modern Workplace
Home Conferencing, Now and Next
Crestron Flex Unified Communications, Now and Next
DM NVX AV-over-IP Residential, Now and Next
What's Next in the Modern Classroom
Room Scheduling, Now and Next
And many more…
In addition to these prepared presentations, the event also had several roundtables and discussions on key topics. But most of the sessions consisted of a pre-taped video presentation, that was followed up by a live question-and-answer session. The Q&A was usually conducted by someone who was not in the presentation. I would have preferred that the Q&A had included the participants, much as Emerald Expo did at the CEDIA Expo Virtual event.
Sessions Repeated at Different Times Making It Easy to Fit Into Everyone's Schedule
Sessions were repeated at different times throughout the two days, greatly facilitating the ability for attendees to work their preferred sessions into their schedule. Still, this was a challenge as the event crossed over with sessions at CEDIA Expo Virtual.
I attended several of their sessions including the keynote presentation, Home Conferencing, Now & Next; DM NVX AV-over-IP Residential; Dealer Roundtable with Crestron Home; Crestron Audio Solutions; Future Innovations, Next & Beyond; and dipped into a few others. There was a lot of really high quality content presented, along with interesting discussions and Q&A's.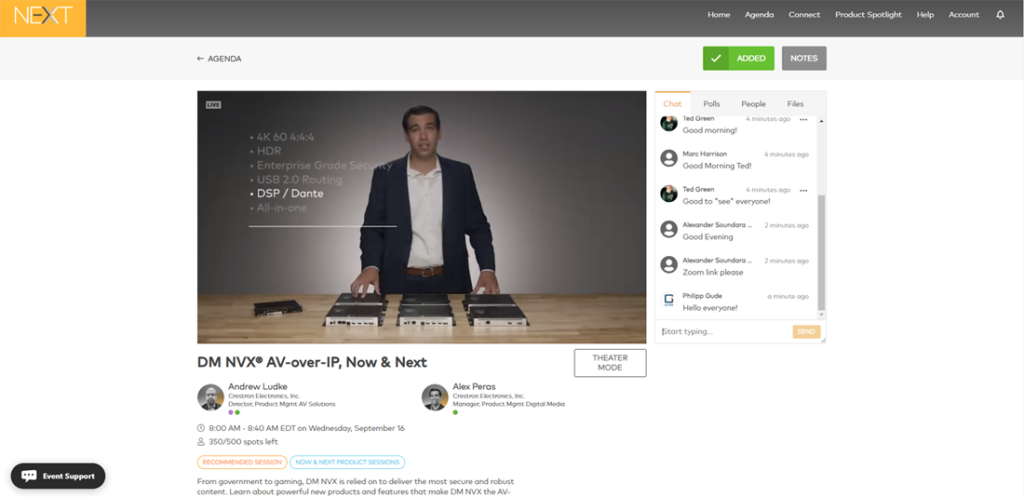 Attendee In-Session Dashboards were Key
The attendee dashboard (see screenshot above) offered a wealth of information…such as, how many people are attending, the name, title & photo of each presenter, a countdown to the presentation link availability and then another shorter countdown to the beginning of the presentation. This allowed ample time for everyone to get to where they needed to be, while keeping everyone on track for beginning and end times.
Also in each session's dashboard there was an always active chat box (unlike at CEDIA Expo Virtual where chat boxes were disabled) where a Crestron person was monitoring to answer questions in real time and to queue questions for the presenters during the Q&A session. Also, attendees had tab access to polls, the names of all attendees, and files to download specific to that session. This dashboard was far superior to the standard Zoom interface used in the CEDIA Expo Virtual presentations.
Each Session Attended by Hundreds of Integrators
Most sessions I attended had at least two hundred+ integrator attendees, some had several hundred. I did not see any session attended by under 100 integrators (although, for the record, I did not visit all of them).
Many sessions had a very active Q&A session following the presentation, often with deeply detailed questions surrounding compatibility issues, connection questions, etc. Creston had members of their technical teams handle those questions.
Overall, this was an excellent event and those integrators who took the time to attend were rewarded with a rich assortment of product or category specific sessions that were often deeply specific and offered many cues as to the direction of those categories in the future.
Or, in other words, what's NEXT.
See more on Crestron by visiting: www.crestron.com.