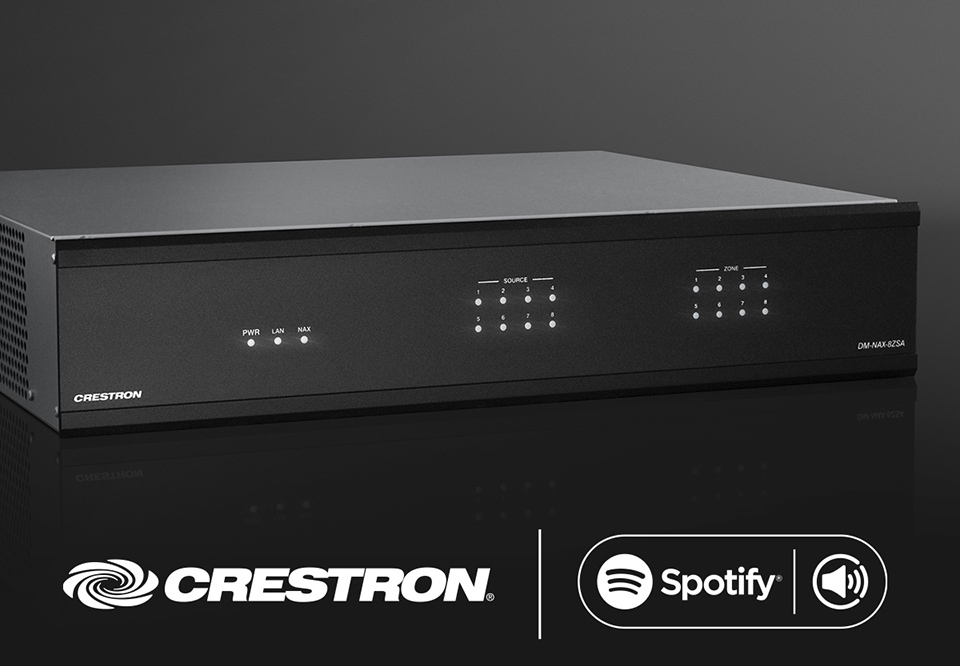 Crestron Electronics, Inc. (Crestron) announced today a firmware update that adds Spotify Connect to its growing selection of streaming music services available through its recently-launched DM NAX 8-Zone Network Streaming Amplifier. With Spotify Connect in the DM NAX's firmware, users get "an elevated music experience" the company says, with control available directly through the Spotify music service or via any Crestron interface.
Learn more about Spotify Connect on Crestron DM NAX
Crestron continues to expand and upgrade its Crestron Home line with enhancements such as this, by incorporating Spotify Connect into the DM NAX 8-Zone Streaming Amplifier via a simple firmware update. The Crestron Home system strives to strike a balance between flexibility and features, without sacrificing user convenience and ease of operation.
By making Spotify Connect resident on the DM NAX amp, users are able to stream their favorite music from their Spotify library directly from the amp – freeing them from needing to stream via their mobile device. This brings more flexibility to the system…with added convenience and ease of operation.
The Most Popular Service on a Popular System; What's Not to Like?
Spotify Connect can quickly and easily switch from listening via headphones to streaming to any room throughout the home. Users remain in full control, operating the service from "any mobile, tablet, or computer using the Spotify app," the company says.
Spotify Connect is a fantastic addition to the Crestron DM NAX lineup and residential dealers will be excited to offer customers unmatched control from the Spotify app directly to a Crestron multiroom audio system.

Ekin Binal, Crestron Director of Audio Solutions
More Than Simply Adding Music, Adding Even More Usability
In their announcement, the company notes that this integration of Spotify Connect with the DM NAX amp really adds a lot to any Crestron Home system. In particular, they say it adds "a suite of unique features that improve the streaming experience throughout the home." Not only can users easily access playback controls for Spotify via the Crestron Home app on mobile, tablets, or system devices, but they can also simply add a new zone to their stream for a seamless transition from one space to another.
End users can also launch multiple streaming sessions throughout a home via synching personal accounts. This would allow them to, say, play music from one person's account in the kitchen, while another person listens to a podcast in their den or home office.
The firmware release that enables all of this is available now. For more details on the DM NAX or any of Crestron's products, visit www.crestron.com. To specifically see all the details on the Crestron Home system, go to www.crestron.com/home.