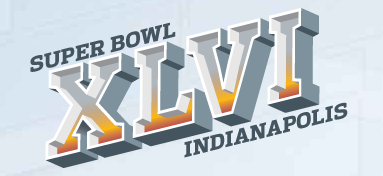 <February 8, 2012> The Super Bowl for us this year was a doubly exciting event. Why? Well first, the New York Football Giants, our favorite NFL team, was one of the participants. And if you didn't hear – the Giants WON!!! Secondly, as marketers, we look forward to the advertisements, as this event has come to have "super" meaning to the advertising industry as well.
Big brands, and those that want to be, pull out all of the stops to grab the greatest share possible of the 222 million eyeballs (111 million viewers) – the biggest TV event of the year. Ever since the iconic Apple Computer "1984" commercial caused such a big stir (it only ran once), companies have spent huge amounts of money employing big-name Hollywood directors, top stars, and top screenwriters to produce clever, sexy, and funny ads.
Coppin' a buzz…
At issue is an opportunity to derive the greatest benefit possible of the "buzz" of the event and stimulate millions of "water cooler" conversations that only serve to keep your brand top of mind with the masses. However, the methods taken to make ads heartfelt, funny, and sexy often can backfire…turning them into controversial, stupid, and sexist – or just plain dumb.
A couple of interesting themes emerged this year – car companies were back big time. After a recession-related hiatus over the last couple of years, Detroit was back in full force with ads by Chevy, Ford, and Chrysler. Also, International automobile companies were quite visible with ads from Kia, Hyundai, Honda, Toyota, Audi, Lexus, VW, BMW, Fiat, Acura, and Cadillac. Many of these companies ran multiple ads of different models…or the same model with a different creative treatment.
And automotive-related ads were also prominent. Companies such as Bridgestone Tire, and Cars.com sought to capitalize on the resurgence of the auto industry as well.
Also prominent were a series of advertisements for upcoming Hollywood blockbuster (they hope) movies such as GI Joe, Borat the Dictator, Transformers, the Avengers, Act of Valor, Star Wars in 3D, Dr. Suess the Lorax, John Carter, and Safe House. It was interesting to note, though, that these were competing with advertisements for TV shows that demonstrated an impressively high production value and capitalized on Hollywood names also. There were multiple runs for the new TV show "Smash" that we were told was "executive produced by Steven Spielberg"…as well as glitzy ads for "The Voice" and "Awake."
High stakes…
The stakes were high – each 30-seconds cost the advertiser about $3.5 million. And the cost to create the ads can reach the moon as well. Although there is no reliable way to know for sure, industry experts estimate the cost to produce a competitive Super Bowl advertisement is around $500,000 for a 30-second spot. The higher the star fire-power, the higher the production cost.
This year, however, Super Bowl advertising was a real disappointment. Clearly, Super Bowl ads are getting "formulaic." Back again, unfortunately, was the mind-numbing and some would say insulting GoDaddy.com ads with scantily clad women. Several surveys rated the GoDaddy.com "body painting" advertisement to be the worst ad of the event – congratulations GoDaddy.com – you've outdone yourselves and hit an all-new low.
Of monkeys and babies…
Also back this year were the CareerBuilder.com monkeys – a past hit. This year, it just looks like a weak echo of previous versions. And post-Super Bowl news reported that animal activists PETA and Anjelica Huston are targeting CareerBuilder.com for cruelty to animals.
And E*trade ran their ubiquitous talking baby ad schtick again. This year's version featured the talkin baby advising a new father as they gaze on a group of newborns in a hospital's nursery…it was really quite forgettable. The twist at the end is when the E*trade baby sees another baby – a friend of his we are led to believe – who when asked what he's doing amongst the newborns inside the nursery, replies "speed dating." Not even a single chuckle within our Super Bowl group.
Yes, our industry was represented…
The consumer electronics industry was represented with commercials from Motorola (Droid Razr), Best Buy (mobile phones), Kinect (for the XBox360), and Samsung (Galaxy Note). The innovation Motorola presented to heavy music beat was the availability of new colors for the Droid Razr – an enjoyable if not particularly memorable commercial.
Best Buy introduced us to some modern inventors with a slightly humorous twist showing the inventors of Word with Friends shown on an airplane with a stewardess looking on disapprovingly. But Best Buy was pitching their cell phone department with every phone from every manufacturer and with every plan.
Perhaps the most amusing of the bunch, in a bit of a sarcastic way, was the advertisement for the Samsung Note. With a production designed to mimic the hit show "Glee," the ad shows groups of young people getting really, really excited about the Galaxy Note's hot new feature – a stylus…er, pen in Samsung-speak. They sing…they dance…they can barely contain their glee at the thought of using a stylus on their Galaxy.
We remain unconvinced that going back to a stylus will really be so enthralling that customers will begin singing and dancing in stores across America after buying their Galaxy Notes. [ See the Samsung Super Bowl ad here or click on the picture above. ]
So which ads did we like?
Doritos – There were two different Super Bowl ads from Doritos which were the result of a fan-contest. One featured a baby that was slingshot-up to grab a bag of Doritos from an annoying kid.
But the one we preferred – even though it was based on a slightly distasteful concept of a missing pet – featured a large dog that a man saw was burying a cat collar (a missing cat flyer was posted on the tree above). The dog then bribes the human with a bag of Doritos with sticky note telling him that he didn't see nothing. [ See the Doritos Super Bowl ad here or click the photo below. ]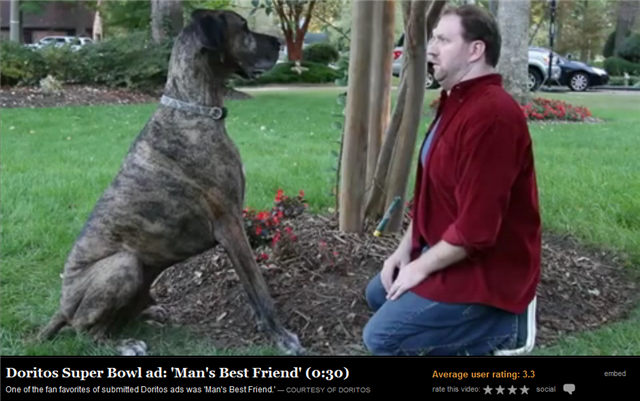 Honda CR-V – Starring Matthew Broderick, this advertisement (one version of which was almost 2 1/2 minutes long) played on the classic movie Ferris Bueller's Day Off. Clever and well produced, there was enough story line and sight gags to keep your attention. [ See the Honda Super Bowl Ad here or click on the image below. ]
Volkswagon – Called the Dog Strikes Back, this ad also featured an interesting story line about a dog that has gotten too fat to get out its own doggy door. The dog puts itself on a diet and a rigorous training campaign. At the end we see him run out his door and along the road with a new slim-design VW beetle driving by. Clever, tells a story, gets your attention. [ See the VW Super Bowl Ad here. ]
Chevrolet Silverado – Can an ad about the post-apocalypse be humorous? Yes, and Chevy shows us how in this ad in which a man wakes up in the cab of his Silverado and drives through the devastation to meet another group of men. "Where's Dave," he asks. Dave, it seems didn't make it – Dave drove a Ford. Although the ad breaks a cardinal rule of never mentioning a competitor, this was done for comic-effect. After the Super Bowl, Ford was suitably upset with Chevy. Mission accomplished. [ See the Chevy Super Bowl Ad here. ]
Acura NSX – Ok, we really debated about including this advertisement. Why? Because it is about a product that is not even going to be on the market until 2015. Still, this ad features Jerry Seinfeld trying to bribe the guy who is number one on the wait list. After a series of humorous bribe attempts, Jerry loses out to his arch rival – Jay Leno. [ See theAcura Super Bowl Ad here. ]
Chrysler – This ad – called "It's Halftime, America" caught the attention of everyone at our Super Bowl party. Super high production values, extremely well-written script and featuring popular American movie star Clint Eastwood, this 2-minute long ad talked about the struggles Americans are going through and how Detroit has lived to fight another day. [ See the Chrysler Super Bowl Ad here or click on the image below. ]
Since the Super Bowl, this ad has gone on to be a bit of a political football in its own right. Several Republicans came out and said the ad was an attempt to "pay back" the Obama administration for bailing out Detroit. However, Eastwood – a Republican himself – said that he felt that the script expressed a good sentiment and anyway, he's no friend of Obama. If you haven't seen it, check it out – it tops most experts…and our…list of the best ads from the Super Bowl.
See more on the Super Bowl Ads here: www.superbowl-commercials.org.