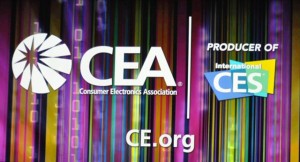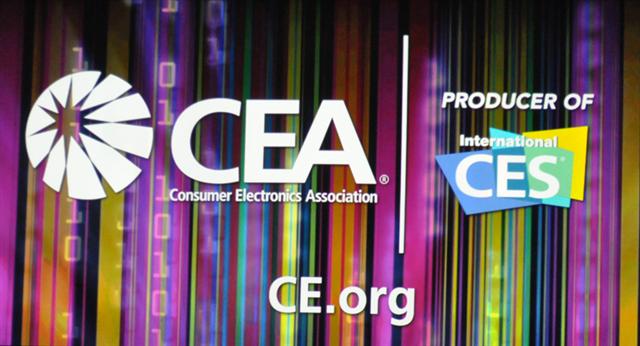 As most strata-GEE.com readers know, we conduct two short but insightful surveys every year. One survey is on readers' intentions and plans for attending September's CEDIA Expo. And the other covers the industry's largest trade show – the International Consumer Electronics Show held every January in Las Vegas, NV – set to kick off next week on January 8th.
Conducted every year in December, our CES Survey has fallen into a fairly predictable response pattern. But this year something changed…something big…delivering us a huge SHOCK!
There is no question that the CES is the largest show in our industry. Last year, the Consumer Electronics Association (CEA) announced that the 2012 event drew 153,000 attendees – a record for this show. There were more than 3,100 exhibitors and the show promoter sold more than 1.861 million square feet of exhibit space.
These are big and impressive numbers. CEA says that more than 20,000 new products were launched in January 2012 and CEA crowed about companies such as Mercedes, Wal-Mart, Ford, eBay, Google, and Facebook attended the event.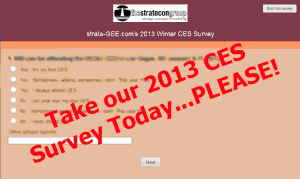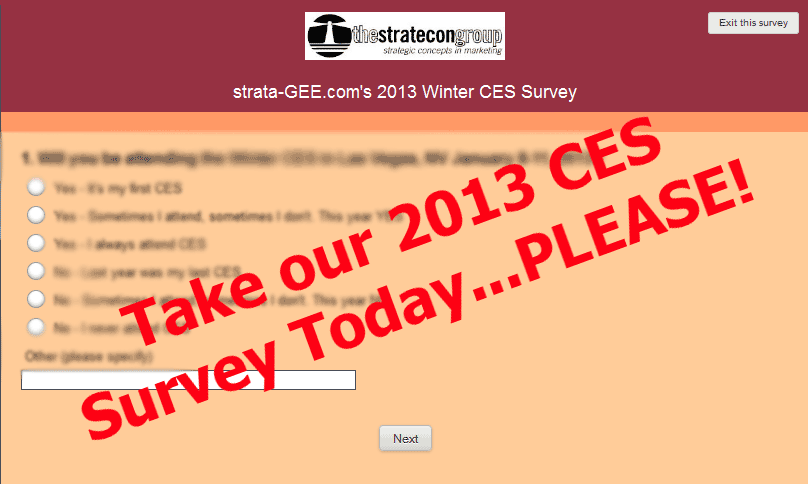 Still, as we have sought out input from many participating in the industry – we keep hearing from various executives who have decided NOT to attend anymore. Some of these executives have attended CES for decades…and almost rue the fact that they have no need to go there anymore.
In many cases, this input has come from those who participate on the specialty side of the business. We have heard many complaints about the show's declining support of specialty. Others question whether the show has just shifted from an electronics-focused industry into some form of bizarre bazaar.
Surprising statistic…
One surprising statistic from the CES held here in the U.S. last January – the CEA says that more than 34,000 of the 153,000 attendees were overseas or international attendees. For exhibitors doing business globally, this is undoubtedly a huge plus. But for U.S. attendees – this is not necessarily a positive trend.
The show has also broadened its scope to include white goods exhibitors as well as several large automotive industry exhibitors. It is unclear just how these businesses are related to electronics – to us this seems a tangential at best.
But all of this may suggest the rather dramatic changes we detected this year in the strata-GEE.com 2013 CES Survey. So let's get to those results:
First, a word of warning…
As usual, we must start by warning you to take these results with a grain of salt. The sample size this year, like every year, is below the threshold considered by many marketing statisticians as sufficient to produce highly accurate data.
Also, keep in mind that there is a built-in bias to surveys like this. Try as mightily as we do to encourage participation from those who are attending, as well as those who ARE NOT attending – surveys like this are almost always more heavily represented by participants who plan on attending the shows.
Finally, keep in mind that strata-GEE.com is a marketing/management blog that has a high percentage of readers who come from executive management of manufacturing and what we call the "infrastructure" of the industry – sales reps, and distributors. This reality tends to sway the responses to specific questions.
We conducted the survey in a manner very consistent with how it has been done in the past. This year, however, we were dealt a result that shocked us…so much so that we scrambled to seek out anything that may have had an undue influence. Keep reading to see this year's results…and this years shock.
Simple start: Are you attending?…
As in past surveys, respondents were heavily weighted toward those who plan on attending. But this year, the results changed rather dramatically. This year, 52.6% of the respondents said yes, they always attend CES. Another 31.6% said that sometimes they don't go to CES, but this year they would be attending.
That puts the total of respondents who are attending CES at 84.2% – a huge jump over the 72% who said last year they would attend CES. Does this mean a big jump in attendance at CES? Keep reading…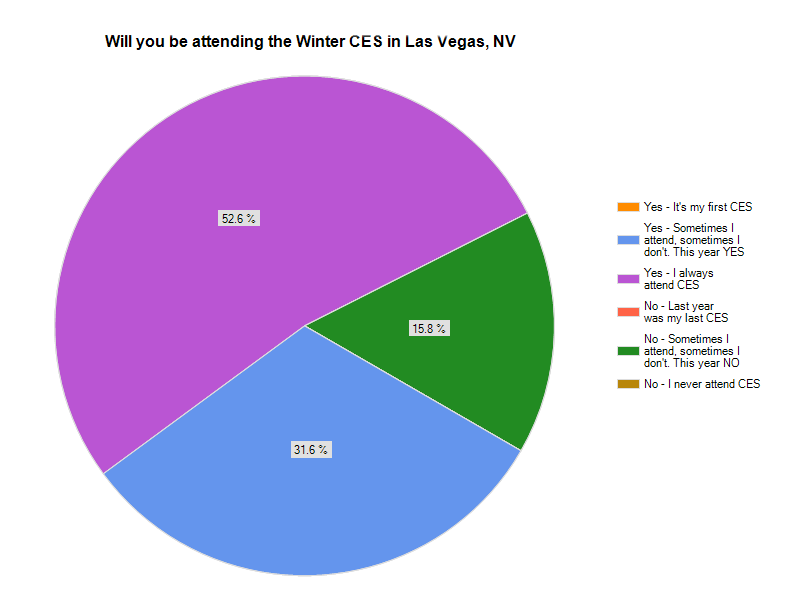 Last year, 28% of the survey respondents said that they would not be attending CES. This year, only 15.8% of those taking the survey indicated that they would not attend…a significant decline.
There are three categories of answers for both those who are attending, and those who aren't. In the case of those who are planning to skip the show, the three categories are: 1) No-Last year was my last CES; 2)No-Sometimes I attend, sometimes I don't. This year NO; and, 3)No-I never attend CES.
Last year, we received feedback in each of these categories. But this year, those respondents who indicated that they are not attending, all selected the second option saying sometimes they do and sometimes they don't, but this year they will be passing it by.
Type of attendee…
Next we ask the respondents who indicated they are attending CES to identify what type of business they are. We offered – and received – such a variety of responses, that we are only showing the top five results. Next year, we will likely redesign the survey as the variety of categories is a little too confusing.
This year, like last year, the largest group of respondents identified themselves as "Manufacturer/Brand." However, because we broke those categories out as both exhibitors/non-exhibitors, this year's chart shows the PR/Marketing/Consultant or other Service Agency as the largest category at 25%.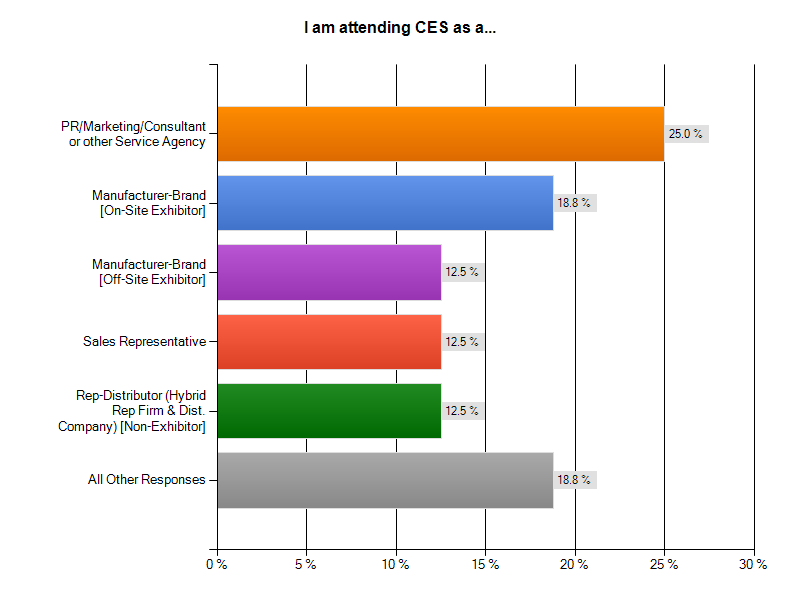 Following this breakdown, exhibiting manufacturers came in second at 18.8% with off-site manufacturers third at 12.5% of respondents. After manufacturers came Sales Representatives followed by Rep-Distributors with both of these categories representing 12.5% of the total.
As happened last year, installers/integrators and retailers were very under-represented. We suspect that there may have been a couple of factors at play. About a third of the subscribers to our ALERT newsletter are installer/integrators/retailers. Many installer/integrators have indicated to us that they lean much more on CEDIA than they do CES.
And our retail readers tend to be more specialty-oriented (although not exclusively so). Many of them have also indicated to us that CES is not as much of a draw as it has been in the past. Another factor that may skew our results is that we are conducting this survey during the month of December – a very busy time for retailers. In any event, those brands displaying at CES would – we're pretty sure – prefer us to be able to report a higher retailer/dealer attendance.
Why you go to CES…
For those attending CES, we offer a range of reasons for attending and ask respondents to select those statements that most match their reason for attending. On this question, respondents are allowed to offer multiple answers so that we can rank the answers to see all, or most, of the attendees priorities.
This year, we are showing all of the responses ranked from most prevalent reason to attend CES – to the least prevalent reason. Like last year, the biggest reason attendees say that they are going to CES is "To meet with my existing vendors-suppliers/dealers-customers" with fully 75% of respondents selecting this statement. Last year, that statement was selected by almost 80% of respondents.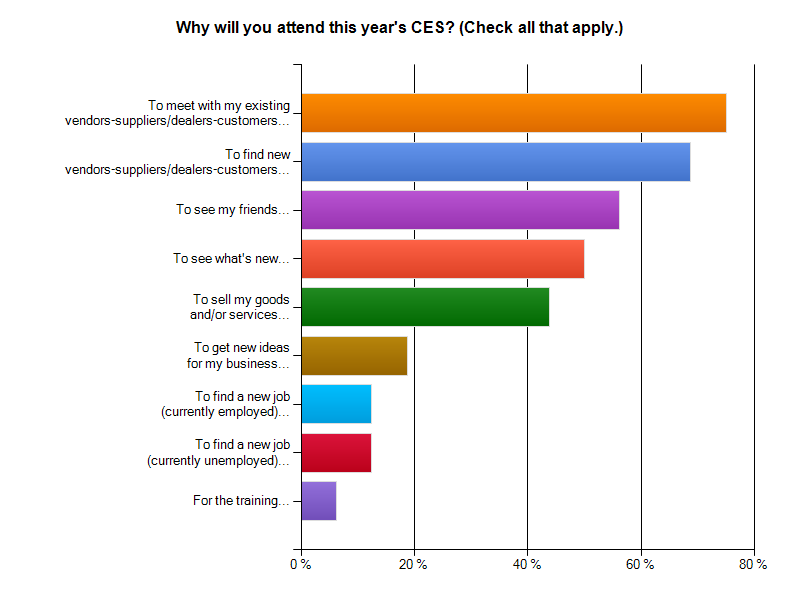 The statement "To find new vendors-suppliers/dealers-customers" received the second highest indication, selected by 68.8% of the survey respondents as compared with 72% who said so last year.
But in a significant change from last year where 24.1% of respondents indicated that a motivation to go to the show was "To see my friends"…this year, that response actually came in third with fully 53.6% or well more than half of all respondents indicating so. Last year, this statement was a relatively distant fifth rank! Curious…
Last year, no respondents said they went to CES for the training. This year, although training still came in last place, at least 6.3% of the respondents proactively selected this statement.
And finally, for those no-shows, why aren't they going?…
We noted last year, that although we had offered six separate statements defining why respondents said they were NOT going to CES…respondents only offered three reasons. This year – the CES passersby only offered two reasons for skipping.
This fact evenly split their responses at 50%/50% between: "I can't afford to spend the money to attend" and "I don't need to attend to see new products-I can get this info elsewhere."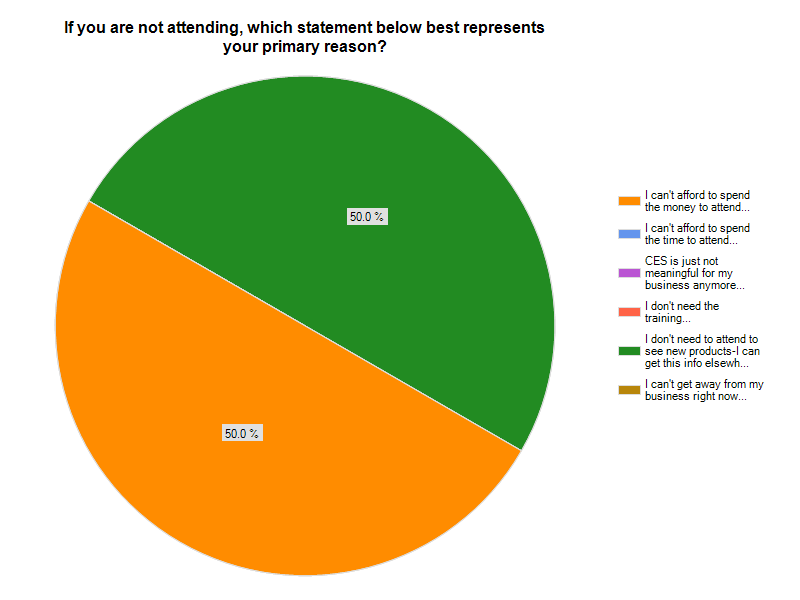 In 2012, the number one reason for NOT going to CES was "CES is just not meaningful for my business anymore." This year, not a single respondent selected that answer.
We did, however, receive one write-in answer from a respondent who said that "Lack of large manufacturers – too much [sic] Chinese booths" was the reason he/she was not attending CES.
Please, tell us how you REALLY feel…
We then served up two open-ended questions, seeking a more qualitative response. As was true in the past, we got a fair amount of participation on these questions – the first of which was "How important is the CES to you and your business?"
As is usually the case, we got a wide range of responses. This year, respondents seemed a little more conflicted than in the past.
About a fourth (25%) of the write-in answers seemed to suggest that CES is still an important event. However, about half of those who said CES was important suggested that this was only true because of the international attendance – a topic that apparently annoyed others who were not engaged on a global scale.
Comments supporting the importance of CES included: "very – good opportunity to release and market new products" – "International business continues to be our raison d'etre for CES" – "Although I wouldn't consider important to my business, it is an important trade event and definitely worth attending" – "Very important" – and – "Fairly important – it's a good opportunity to catch up with clients and meet potential new ones."
But more than 60% of the responses seemed to exhibit a kind of ambivalence, with respondents apparently conflicted over the event.
Comments included: "5 out of 10" – "Moderately" – "not very" – "questionable" – "only if there is real information from many vendors there" – "It's a primary interaction for International business, and moderately important for domestic" – "It's mostly about relationship. We could probably get the work accomplished in the office" – and – "Less so now…Still a good place to build momentum to carry through the year. Requires prep ahead of time to set up the targeted conversations/preparations in advance."
Finally, it was clear that CES was not important to those not attending…or attending under duress. Comments suggesting this included: "i wish it would go away Come back in June in Chicago" – "I go because my vendors expect to see us, and to use us to man their booths. We do not have any dealers attending, and the information and training provided by the vendors is awful" – and – "Could be important if I were going to be there."
How to improve?…
Finally, we offered respondents the opportunity to tell the CEA how they can improve CES to make it more meaningful. Here again, we received a wide range of responses…some more serious than others.
Some seemed mystified, or felt the challenges were not specific to CES. Comments included: "??" – and – "revive the economy."
Others seemed to feel that consolidation was the key. Comments included: "combine all shows in our industry" – "absorb Cedia, so we would only need to go to one show a year" – "shrink it" – and – "Get rid of the end user and figure out how to bring back the CI vendors."
Some seemed to feel that show had lost focus. Comments included: "Court the smaller A/V vendors as they did in the past" – "focus on specific segments…the show is too diverse and too big" – and –  "Narrow focus back to CE, specifically more A/V. The inclusion of office products, games, computers, and furniture has spread the show out too far (geographically). I'd prefer 50% of the attendance in 50% of the venues with 100% specificity to A/V business."
And then there were those comments that are difficult to categorize, such as: "get the big players to attend again" – "help manage the press flow!!!" – and – "Not gouge me so badly on the hotels and expenses to be there."
Finally, one respondent seemed to feel that the CEA was not the issue. Rather, their comment seems to suggest that results from CES are a matter of personal responsibility: "How important CES is to me and my business depends entirely on me. CEA sets the stage and it['s] up to participants to perform on it."
The biggest shock (clue?) of them all…
After crunching all the numbers and really reviewing the data, we must report that one number caught us off-guard…shocked us really. While those who participated contributed to a very high degree with a completion rate – those who answered all the questions – reaching more than 84%.
But the number of respondents from last years survey dropped by more than 50%! We were so shocked that we scrambled to see if we screwed up somewhere. We poured over all of our processes re-checking everything.
We promoted the survey just as much this year as we did last year – CHECK! Our subscriber mailing list (to which we directly mail the ALERT with the survey) was not only as large as last year, it was larger – CHECK! We tested…and then retested…the survey software to make sure it was continually receiving input from respondents – CHECK!
After all this we were left scratching our heads. As you may recall, our CEDIA survey just a few short months ago, had seen its participation almost double using the same processes and systems. Is this just a co-incidence? Or could this be the most honest indication of a declining CES attendance?
Or is it just a fluke?