As more research continues to emerge on consumer utilization of voice-controlled devices, it becomes clear that there are still impediments to end-users utilizing their voice-control capabilities regularly, according to research by Social Lens. A separate study by Nielsen reaffirms what Strata-gee has previously reported, that people use smart speakers more for listening to music, than for any other task…including voice-control of their home automation solutions.
See more on this pair of new studies on voice-controlled smart speakers…
Market watcher eMarketer reports that a new study by Social Lens Research, a market research company, offers a deep dive into the issue of how owners of voice-controlled smart devices choose to use their device's voice control capabilities. The study shows that, while progress has been made, there is still only a small minority of smart device owners taking advantage of the device's voice-control capabilities on a regular, daily basis. Why is that?
According to Social Lens, fully 70% of all Internet users have at some time tried out voice control on a smart device of some sort, such as smartphone or smart speaker. But when asked how many of them use the voice-control capabilities on a regular daily basis, that number drops down to only about a third of that group. Keep in mind that this group is a sub-set of the overall population.
Only About a Third of Respondents Use Voice Commands Daily
In other words, fully two-thirds of users who own smart devices do not use the voice-control capability on a daily basis. When drilling down to find out why – more than half of this group (55%) identified privacy concerns as the top reason for why they choose to not use voice-control capability daily. Aside from this, another 36% said they don't use voice-control daily because it is often inaccurate.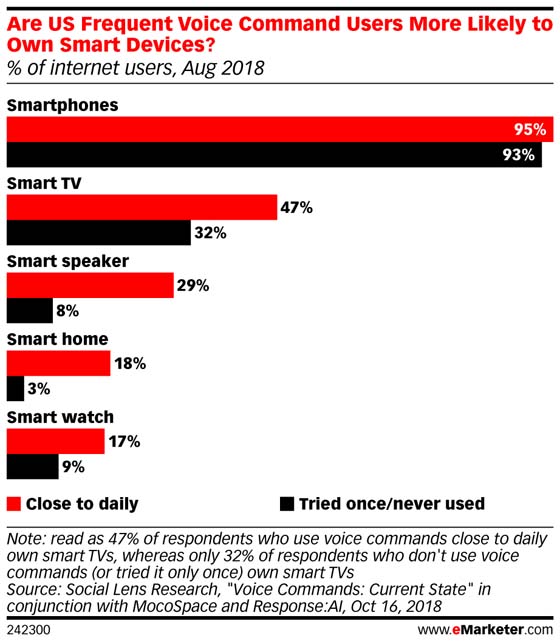 Interestingly, Social Lens reports that those complaining about inaccuracies varied by the type of device on which they were attempting to use voice control. The lowest ranked device? Tablets, respondents say, have the worst performance in terms of accuracy in executing voice commands.
How Do Survey Respondents Say They Use Voice Commands?
So how do users say they use voice commands on their devices?
Getting directions – 63%
Making a phone call – 60%
Listening to music – 56%
The study noted that when it came to using their device for commerce purposes, people tended to phrase questions more generically or commonly, as more specific requests tended to result in an inaccurate response. So when it comes to using voice commands for commerce, what are the most common uses?
Finding the nearest store – 40%
Asking for store hours – 32%
Looking for a new product – 25%
Comparing pricing – 16%
Purchasing a new product – only 10%
Do Respondents Use Voice Commands to Repurchase Items?
The study also noted one other interesting result related to using voice commands for commerce – in the case of repurchasing a product, a task that seems perfect for voice command, actually had the lowest overall response rate – only 8%. What's up with that?
We leave you with one final thought…eMarketer noted a separate study by Loup Ventures where researchers tested each of the major voice platforms for their skill and accuracy in facilitating commerce-related activities. Their findings are likely to surprise you (they surprised me)!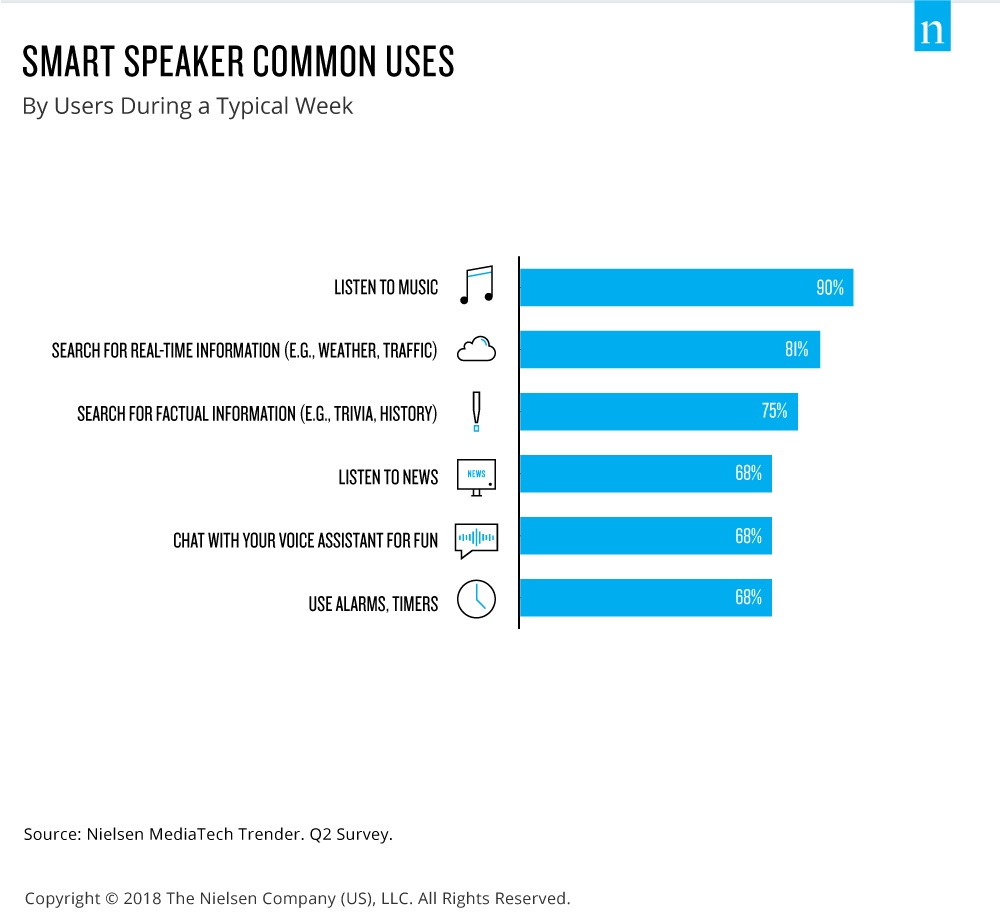 Which Voice Platform is Most Accurate for Shopping Purposes? Not Who You Think!
Google Assistant outperformed all of the other platforms handily, accurate 77% of the time. This was followed by…surprise…Siri, accurate 60% of the time. What about AMAZON-friggin' ALEXA? Researchers found that Alexa was accurate only 44% of the time. At the bottom of this pile is Microsoft's Cortana, which was accurate only 20% of the time.
This, to me, seems like quite an upset, given the fact that Amazon is not only a major leader in the voice control category…it is also the largest e-commerce player in the U.S. Seems like they still have some work to do on their Alexa interface…at least for use in commerce.
See more of eMarketer's reports by visiting: www.emarketer.com.