We live in a time rich in options for ways to connect with and consume content. If I asked you to pick which source was the number one method that adults aged 18 and older use to consume content today, which would you choose: Smartphone? Tablet? PC? TV connected device? TV? AM/FM radio?
If you picked that last option, AM/FM radio, you would be correct! Fully 93% of all adults use an AM/FM radio to consume content on a weekly basis. Surprised? Hold on to your hat…that's just one of the many surprising results in new research study from The Nielsen Company that says we are now in an audio resurgence.
See more on this surprising study on the resurgence of audio with today's consumer…
"Audio plays a central role in the daily lives of hundreds of millions of consumers," said Brad Kelly, a managing director with Nielsen in text accompanying their latest study titled Audio Today 2018 – How America Listens. "Broadcast radio specifically continues to profoundly enrich the lives of listeners and create value for advertisers. Each week, more Americans tune into AM/FM radio (93%) than watch television, or use smartphones, tablets or computers."
Kelly goes on to note that new types of content, such as streaming and podcasts, have not only increased the types of content we are listening to, but also the ways we listen across various device. In effect, these technology trends have served to usher in a new era of audio content consumption.
270 Million Americans Can't Be Wrong
OK, before you go all bleary-eyed…let me throw another one at you: 270 million Americans aged 6+ listen to radio each week. That is darn close, about 82%, of everyone in the country of 324 million people. Have I got your attention now?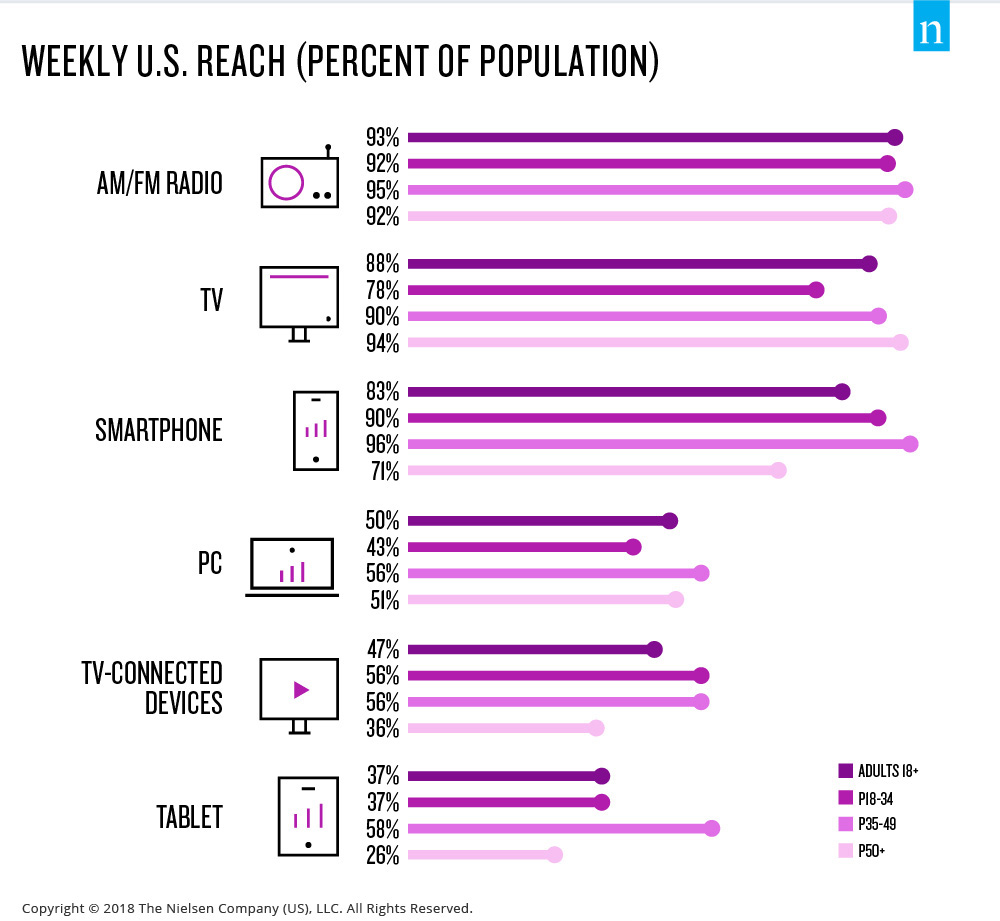 Nielsen notes that in today's "harried, time-starved world" compelling content, such as audio news or entertainment, lend themselves to the multi-tasking reality of our daily lives. Whether you are at work, or in the car, in the office, on the road, heading to the store, or whatever – audio is our first choice for a companion.
Streaming & Podcasts Grow Audio Listening
The survey notes that areas of growth for audio include streaming and podcasts. Notes Nielsen, "When considering today's expanding audio landscape, it's impossible to ignore podcasts. With a huge number of podcasts covering every imaginable subject and interest, it comes as no surprise that over 30 million Americans watch, listen or download a podcast every month."
In breaking down the data relative to podcasts, it is clear that the ready availability of smartphones is driving consumption. All forms of media sources reported increases in those consuming podcasts over the three-year period from 2014 – 2017. But while most were up a few percentage points, the use of a smartphone to listen to podcasts grew an impressive 157%!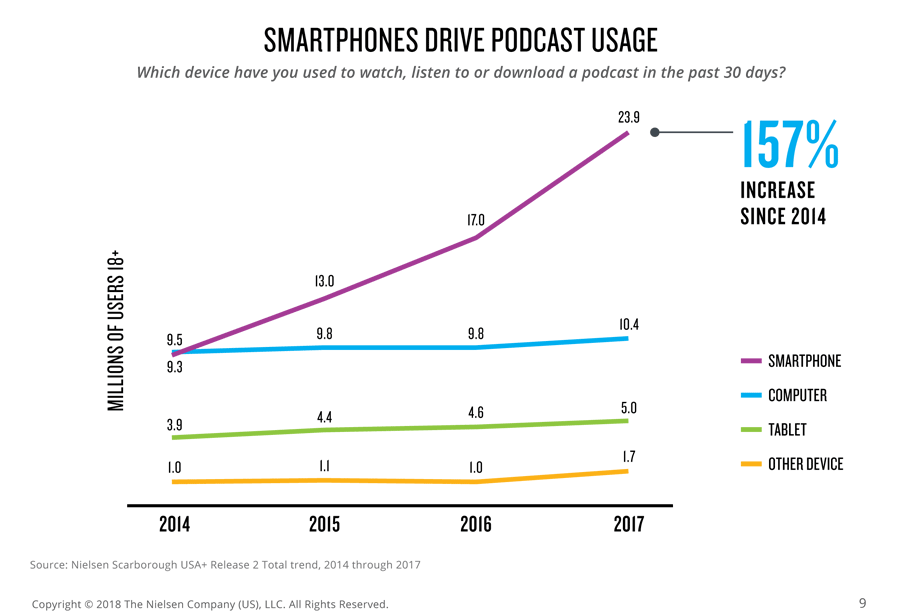 Results Challenge Conventional Wisdom
The results of this study truly challenge conventional thinking. For years, those of us in the A/V business have been taught that we live in a video-driven consumer market. But this study shows that reality may be changing.
But hey, we serve both the "A" and the "V" – so that is good news for most of us indeed.
Learn more about the various studies that Nielsen conducts by visiting: www.nielsen.com.