The Home Technology Specialists of America (HTSA) on Tuesday announced their top vendor awards for 2013. These awards were handed out at their Fall 2013 dealer conference held last week and included a special Lifetime Achievement Award.
See who earned top honors from the national dealer group below…
According to the group, the vendor awards are for those vendors "who have demonstrated commitment to member growth through the development of cutting-edge products and technologies, exemplary business practices, and unyielding service and support for HTSA members." While these awards are handed out annually, this year included a special recognition that is not always a part of the ceremony – a Lifetime Achievement Award that the group says is "one of its most coveted honors."
The Lifetime Achievement Award was presented to Sandy Gross, founder of GoldenEar Technology. GoldenEar was honored by HTSA for two fundamental reasons. First, the group noted that GoldenEar manufactures high performance products that are dependable and affordable solutions that help members grow their businesses.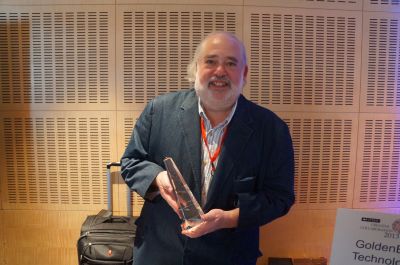 But beyond that, GoldenEar was praised for their heavy involvement in helping HTSA members grow their businesses in other ways as well. The group's announcement noted GoldenEar's involvement in "cooperative marketing campaigns" as well as "driving new opportunities" that benefit its members.
"Sandy has been an incredible driving force across our industry," said Bob Hana, managing director of HTSA. "His commitment to his craft has resulted in a wealth of products and applications our members have utilized to further grow their businesses."
The group awarded Vendor of the Year for 2013 to Control4. The group's announcement noted Control4's efforts at supporting them with lead generation and technical training. Control4 was also lauded for its collaboration in digital marketing and advertising campaigns.
Most Supportive Vendor of the Year was awarded to URC. In explaining why URC received this award, the group noted its superior technical support and overall industry knowledge. URC was also said to have contributed "best practices" in marketing to the group.'
Noah Kaplan of Leon Speakers was awarded Innovator of the Year for his company's "inspired product, sales and marketing contributions."
In addition to these awards, the group handed out a series of awards for technical achievements. These special awards include:
Technology Innovation – BlueSound (Lenbrook)
Technology Innovation – SmartView Video Tiling (Savant Systems)
Best Audio Product – Soundtrack System (Paradigm)
Best Video Product – XBR65-X850A (Sony)
Best Integration Product – Triathlon Shades (Lutron)
Finally, the group offers a special award that it calls the HTSA Person of the Year to honor "one individual that has greatly exceeded their role within the organization, providing immeasurable support, fresh business ideas and promoting a collaborative spirit amongst members and vendors." This year, the HTSA Person of the Year is Ari Supran, CEO of Dana Innovations.
To learn more about the HTSA, visit: www.htsa.com.