Emerald Expositions announced today that CEDIA Expo Virtual drew 7,600 trade professional registrations for their three day run from September 15-17, 2020. Although this figure is less than half the attendance at the live, in-person version, Emerald considers it a great success as an all-virtual event.
See more on the results for CEDIA Expo Virtual
A press release from Emerald Expositions revealed data on the performance of their first-ever, all-virtual CEDIA Expo that they call the CEDIA Expo Virtual Experience. Most of the numbers Emerald gave out were rounded numbers – as has been their policy ever since they purchased the event from CEDIA, the trade organization, in 2017.
CEDIA Expo Virtual offered 110 virtual booths, 80 CEDIA education courses, 18 TechTalk panel discussions, and 4 keynote presentations – a lot of content. Over the three days of CEDIA Expo Virtual, a total of 7,600 trade professionals registered for the event. I want to emphasize that these are REGISTRATIONS…not ATTENDEES. According to the wording of the release, "High Registrants and Retention Rates Prove Digital Trade Show Model a Success."
What's the Normal Result?
To put this number in perspective, the normal, in-person CEDIA Expo typically draws around 20,000 attendees. The biggest attendance ever in the history of the Expo event was in 2007 when 29,000 attendees showed up.
Emerald also noted that there were a total of 110 virtual exhibitors in virtual booths. As I previously reported, a virtual booth is really just a special web page. However, depending on the enthusiasm of the exhibitor – there could be a live attendant monitoring the page with whom you could instantly interact with.
How Many Booths, Now & in The Past?
I can confirm the number of exhibitors, as I counted them myself in the event dashboard. I did not, however, actually visit all 110 "booths."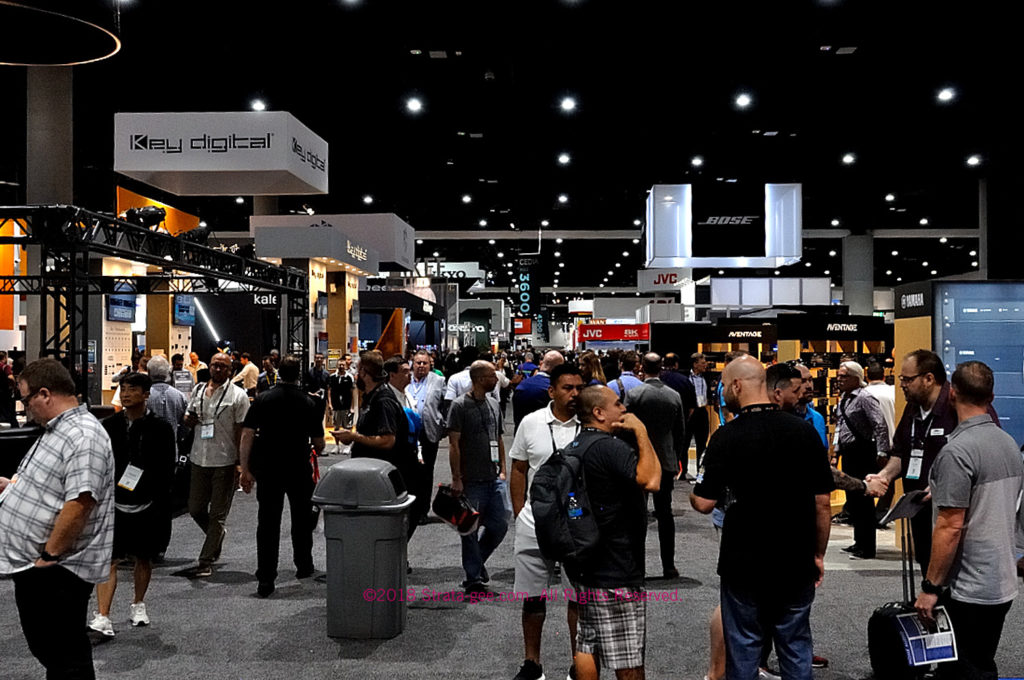 Here again, in past live Expo events, the show typically had around 500 exhibitors. In any given year, a hundred or so of them were brand new to the event. The biggest show, according to my records (CEDIA did not always report number of exhibitors) was 2006, when the trade group reported a total of 600 exhibitors.
Not an Apples-to-Apples Comparison
But none of these past results are meaningful to consider, because it would not represent an apples-to-apples comparison. In those years, there was no COVID-19 forcing us all to huddle in our homes with laws and ordinances preventing us from congregating in masses in a convention hall…even if we wanted to.
So given that this was an all online virtual event, these numbers sound respectable. But because Emerald mostly just released registration numbers, we DO NOT KNOW how many people actually attended.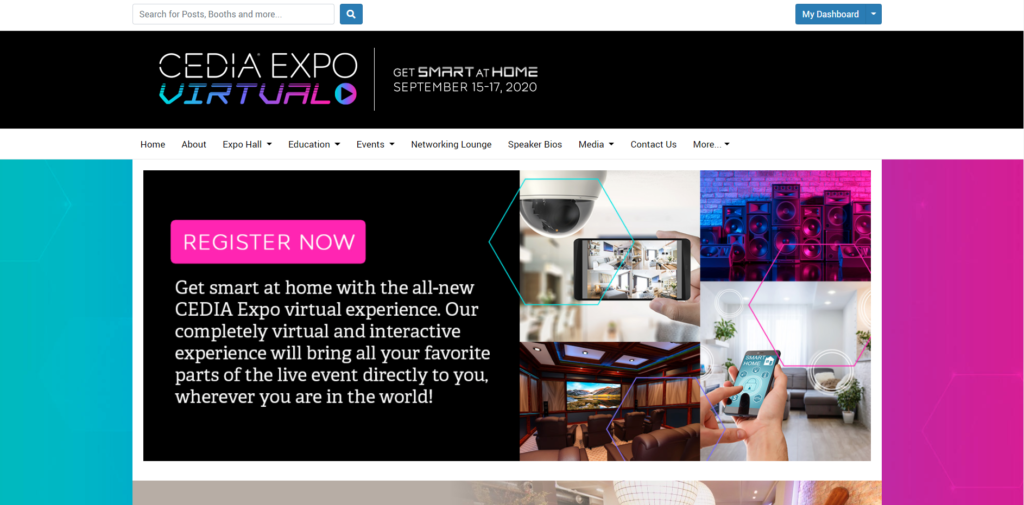 The Difference Between 'Registration' and 'Attendance'
According to a past CEDIA (not Emerald) executive, the actual number of attendees at Expos in the past were about 20% lower than total number of registrations. Applying that typical discount rate would mean an actual attendance of around 6,000 integrators and other trade related folks from around the world.
Of course, in the case of a virtual event – I would guess that this discount would actually be higher. It is certainly easy to register for online events, as it is also easy for your daily activities to interrupt the event. It is also extremely easy to actually not show up at a virtual event in the first place.
The Official Numbers from Emerald
In any event, as is common with Emerald, it is hard to decipher the data released, as they are often misleading…or poorly defined (if defined at all). But here are the numbers they officially released…
7,600 registrants
235 media registrants
110 virtual exhibitor booths
161,740 exhibitor booth views
14,288 virtual panel discussion OR program registrations
2,000 international registrants from 100 countries
Of these six categories of results, only two – the number of virtual booths and the number of booth views – are based on actual results. The other four numbers are all based on registrations…not attendance.
How Many Signed Up for CEDIA Education?
Remember those 80 educational programs that CEDIA (the trade association) put on during this event? I looked to see how many integrators signed up for and took these classes. According to a report by CE Pro, that number is hidden in the "14,288 virtual panel discussion or program registrations." So once again, we have no idea how many integrators took advantage of CEDIA education. Hmmmmm…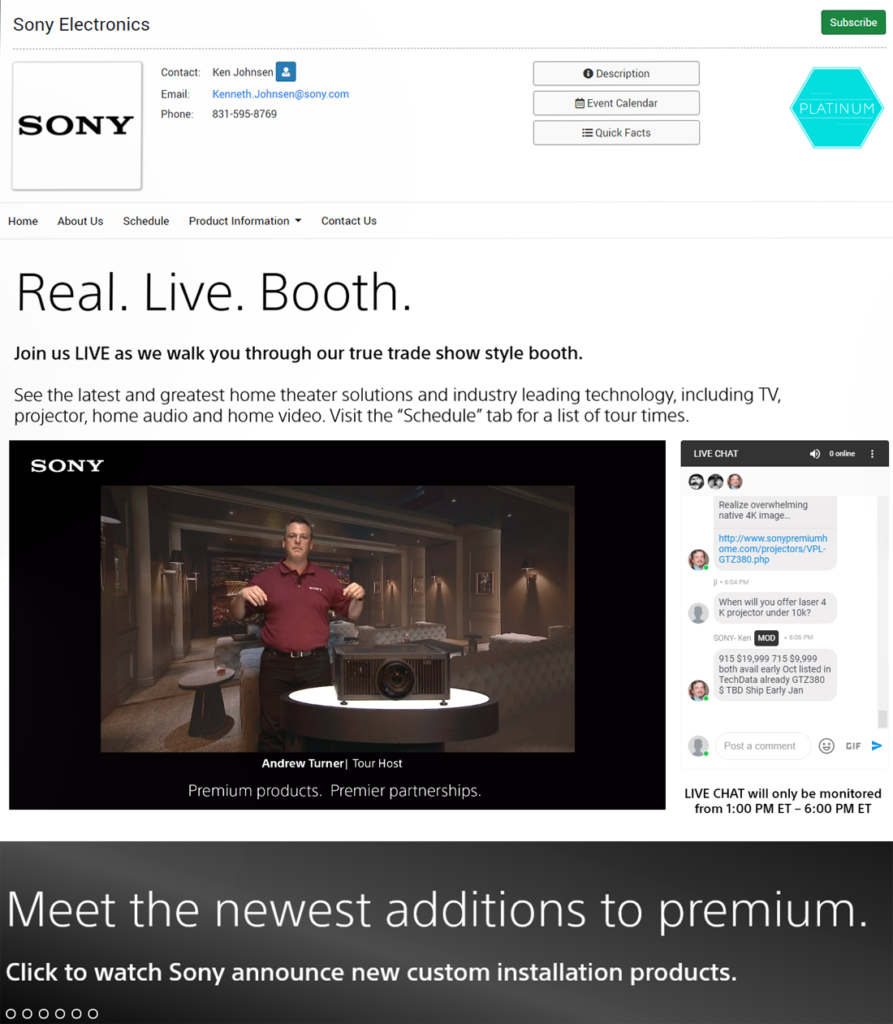 Emerald also says that 49% of registrants had not attended any CEDIA Expos in the last three years. Is this a good thing – suggesting the virtual format is drawing fresh blood? Or is it a bad thing – drawing people who are not committed to the industry and only have a casual interest? There is no way to tell what this means.
Which Sessions Were the Most Popular?
The exposition company also notes that 48% of registrants have "a job title of President/Owner/Partner/CEO." Sounds impressive, but even trunk slammers can hold all of these titles…so is it truly representative of our trade?
As far as which panels were most popular, again Emerald only gives us registration numbers, not actual attendance. But the top three sessions were: #1-TechBites with 511 registrants, #2-Rise of the Home Office (375 registrants) and #3-the Power of Light (324 registrants).
Virtual CEDIA was a valuable interactive resource that enabled Savant to present important educational content and new product information to thousands of attendees. Looking at the amazing number of both exhibitors and attendees who participated in Virtual CEDIA, we are proud to be part of a strong community that has constructively banded together in the face of challenging times."

Angela Larson, Savant Senior VP of Customer Operations
We Don't Really Know How Successful It Was
So while we can't truly judge just how successful the event actually was, I think it is safe to say it was better than I expected. Leading up to that event, integrators were telling me that they were "Zoomed out" with so many vendor and industry oriented Zoom presentations from March through August. They suggested that a three day Zoom event was just not attractive to them.
On top of this, many integrators are very busy right now, as clients beef up existing systems for the new work-from-home/learn-from-home world of COVID. But clearly, some number of integrators showed up.
Crestron NEXT Released Actual Attendance Numbers
Last point – compare the registration numbers shown by Emerald with the attendance numbers released by Crestron for their Crestron NEXT event. Crestron said on social media that they had 14,000 registered AND 10,000 attendees at Crestron NEXT. They also said that attendees came from a total of 108 countries.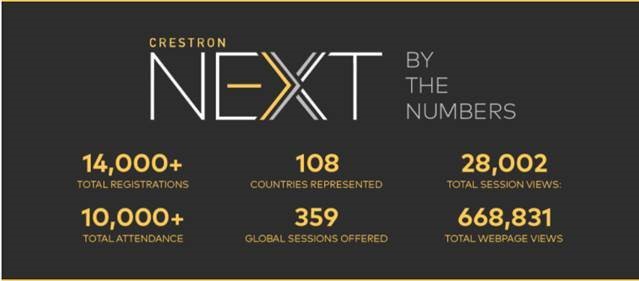 Finally, Crestron says total attendance at their seminars came to 28,000. Those numbers are truly impressive for a virtual event – also the company's first such event ever.
Wish Emerald & CEDIA Were This Transparent
I do wish we could get this kind of transparency from Emerald Expositions and CEDIA. It would go a long way in establishing greater trust with their community.
However, let me say that both of these events were better than expected and worthwhile to attend. I voraciously consumed content at both of them.
To see more from Emerald, visit: emeraldx.com.
Learn more about Crestron NEXT at: crestron.com.