CEDIA Expo Virtual was almost exclusively an online media event…rather than a real, in-person trade show. I know…duh! Yes, I knew this logically, but it hadn't really hit me viscerally until I actually attended the event. But what that means for Emerald Exposition is that their expertise in fielding large scale, B2B, in-person events really doesn't apply here. And that fact forced them to rely exclusively on CE Pro for almost the entire event, including content strategy, seminar production, and show performance.
See more of my thoughts on this CEproDIA Expo Virtual overview…
As I writhe this, the CEDIA Expo Virtual wraps up today, after a largely successful run over two days this week, with a third media preview day. I have to say, it all came off better than I anticipated, with many bright spots…and only a couple of clunkers.
In fact, if I hadn't had something to compare it against, I would have been quite satisfied with the whole experience. But, I did have another event to compare it against – the Crestron NEXT virtual conference – and it was clear to me that Crestron's combination of superior (web) venue, strong base of better quality content, and better overall event strategy made it the hands down winner.
There Was Much to Like about CEDIA Expo Virtual
Still, there was much to like with the CEDIA Expo Virtual event as CE Pro did a good job of putting together an agenda that met the primary considerations of the day. While it is true that the sessions I participated in did not break a lot of new ground – many of the them did a decent job of presenting a solid foundation of important information for integrators to know.
I did not participate in any of the official CEDIA education, so I have no comment there. But I did participate in several other group information sessions, including keynotes, Tech Talks, and CEDIA Sessions.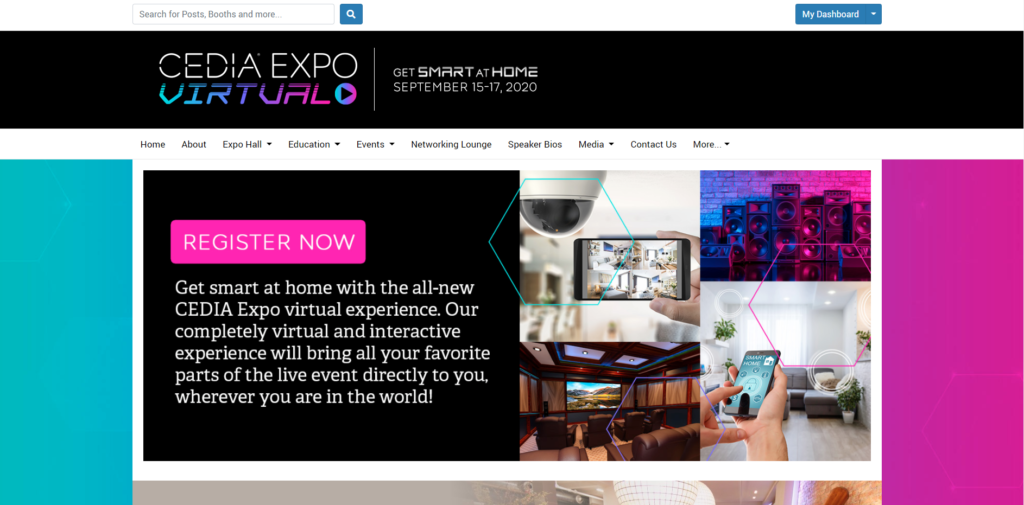 Sessions I attended:
KEYNOTE…Building Brands to Shift Industries: Today, Tomorrow, the Future (with Linzie Boyd)
KEYNOTE…Economic, Societal, and Consumer Trends for the 21st Century Mindset: In Conversation with Linzie Boyd and Darren Shirlaw
KEYNOTE…State of the Industry: Planning and Budgeting for COVID-19 Effects in 2021
KEYNOTE…Industry Outlook: Buying Groups Weigh In On Challenges and Opportunities
TECH TALK…The Power of Light
SESSION…Wellness Solutions for the New Normal, Featuring DELOS
TECH TALK…Clash of the Illuminators
TECH TALK…Rise of the Home Office
SESSION…TechBites & Virtual Happy Hour
SESSION…Loop Into Wellness
Manufacturer's Virtual 'Booths'
I also perused several of the manufacturers "booths," which were essentially specialized web pages. Basically, each booth included full contact info for the company at the top of the page. Then below this were several resources…could be a video, could be a catalog, could be an image, could be a brochure…all downloadable by those visiting the booth. They also could include sign-ups to their training sessions or any other Expo presentations in which they were participating.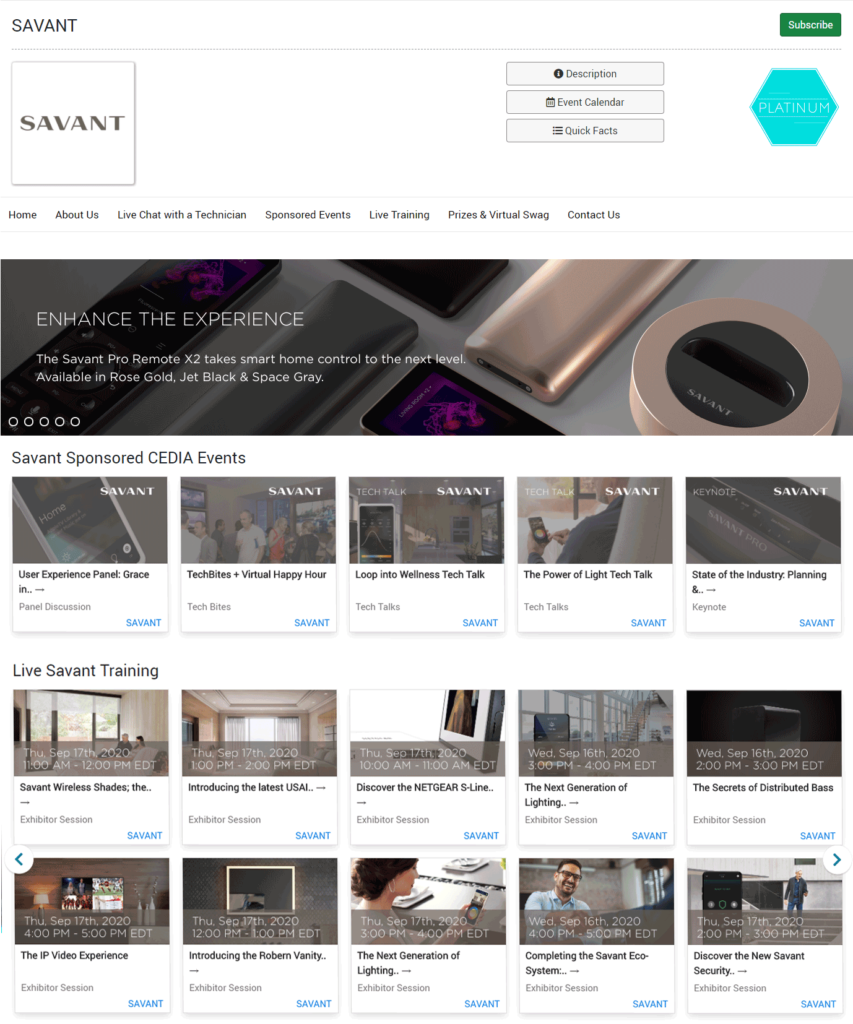 Manufacturers' booths included live chat, so attendees could gain quick access to a company representative to get answers to any questions they may have. Some manufacturers put more thought into the design of their page than others did. But they contained a consistent set of basic information.
Sony Wins Strata-gee's 'Best in Show' Award for 'Live' Virtual Booth Design
Perhaps the most talked about booth was Sony's. Sony cleverly embraced the concept of a virtual booth space and upped the ante by adding a live streaming video booth tour. Their virtual booth had a fairly large video box centered on their page for their presentation. The company had a camera crew set up in their San Diego headquarters, and their representatives conducted regular live video tours of the Sony lineup in their virtual booth set up there.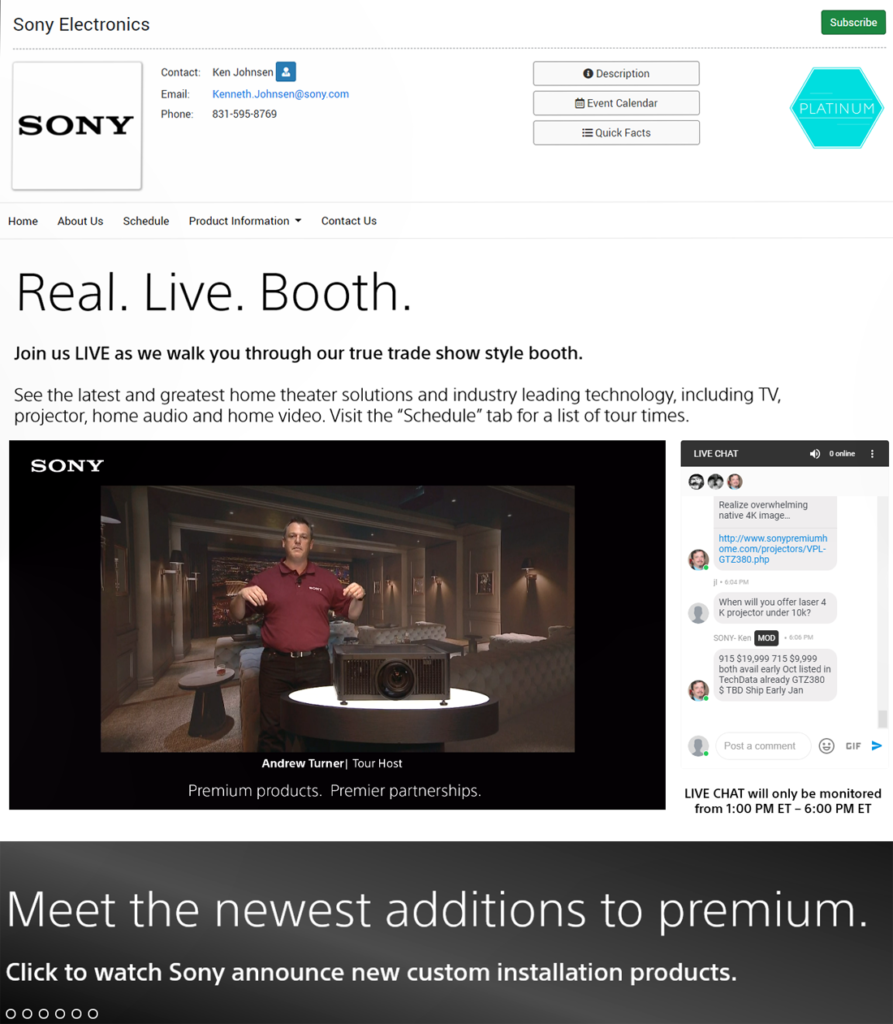 It was clever, it worked well, and it was the closest thing to bridging the gap between a virtual event and a live event at the show. Their presenters looked right into the camera, which made it feel as though they were talking to you directly. Sony also had a team member monitoring the chat box and feeding any questions that popped up there directly to the presenter for a live answer. Kudos to Sony!
OK…Strata-gee doesn't actually have a Best in Show award. But if we did, Sony would be our honoree this year.
Attendee Experience Similar To, But Not Quite to the Same Level As, Crestron NEXT
As far as the attendee experience, it was similar to Crestron's but not nearly as professional or intuitive. Basically, the attendee dashboard was a set of buttons representing different available activities for attendees. On my dashboard were buttons for Press Conference, Press Releases, Bookmarks, Forums, Calendar, Expo Hall, Events, Sessions, and Virtual Swag.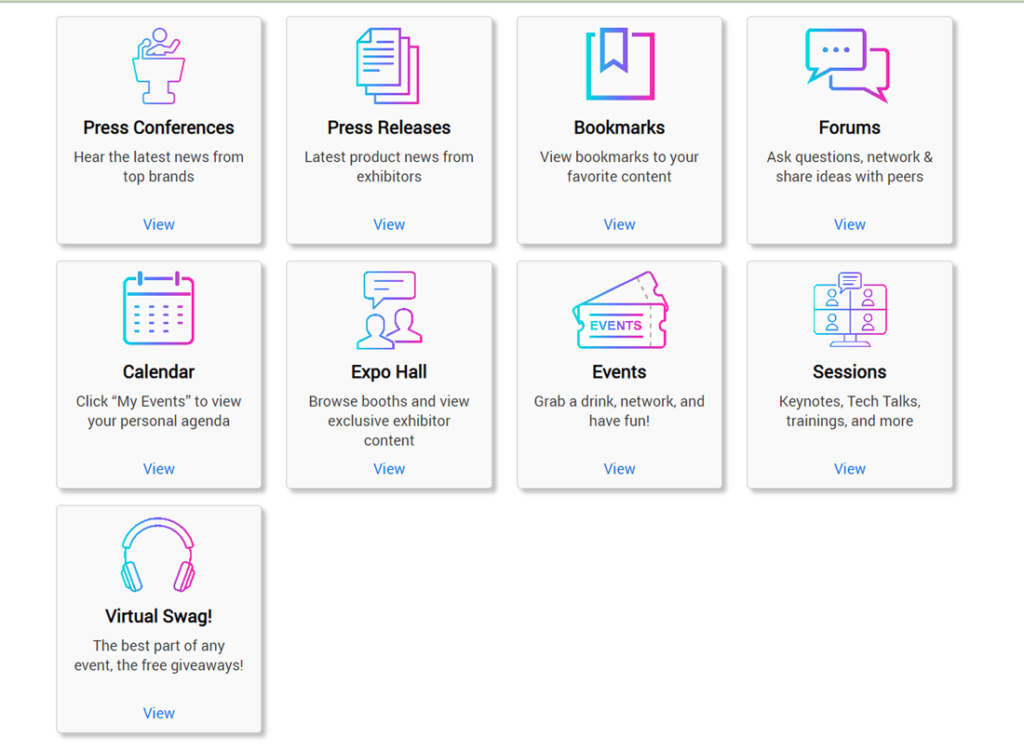 Since I was registered as media, the categories were mostly geared for my immediate needs. I don't know if those not registered as media saw the exact same dashboard that I did. Of all of these buttons, the one that turned out to be the most useful for me was the Calendar button, which contained the sessions for which I had registered and had direct links to that event.
No Session Dashboard for Attendees, Just Standard Zoom Screen
As far as the dashboard presented to attendees in the sessions, there really was none beyond the standard Zoom screen. Click over to compare that to the amazing amount of info on the session dashboard at the Crestron NEXT event…and you'll notice a big difference.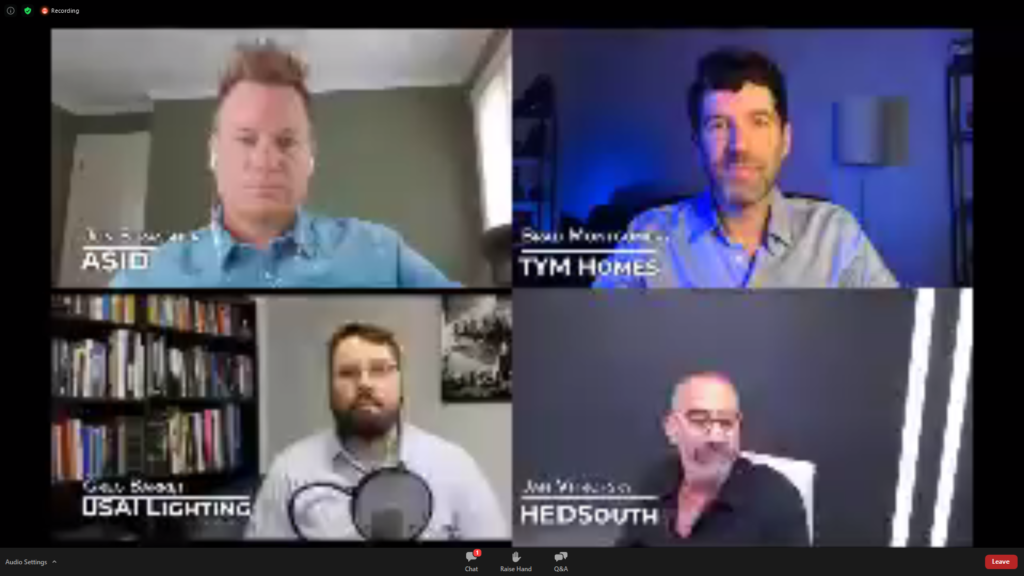 I should also note the dearth of information on the CEDIA Expo Virtual screens. Nowhere could I see the number of attendees…presenter and roundtable participants were generally introduced at the beginning, but after that their names and titles were not shown…I could not see the names of all of the attendees….and there were no immediately available direct downloads of info related to the discussion. Also, in all of the sessions I viewed, the chat box had been disabled – apparently only reserved for a CEDIA person to prompt people to ask questions.
Q&A Sessions Were Generally Quiet
Question-and-answer sessions after the presentations were generally quiet at CEDIA Expo Virtual, at least in my sessions. Usually, there were only one or two questions…although some presenters shared answers to "common questions" they had apparently prepared to help fill the time. Some sessions had no questions at all, despite persistent pleas from a CEDIA moderator in the one-way chat box.
Finally, I should mention that I preferred the way that Crestron NEXT handled presenting the schedule. By showing the entire schedule and then allowing you to build your schedule separately with your selected sessions – for me – seemed more intuitive. After using the CEDIA dashboard for a while, I did become more comfortable with it, but that took some time.
Standard Zoom Sessions Could Not Compete with Professionally Recorded Ones at Crestron NEXT
The presentations at Crestron NEXT had all been professionally recorded with pro-grade cameras and microphones – the visual and audio quality was excellent. Most of the CEDIA seminars had been previously prerecorded over a standard Zoom session relying totally on each participant's own camera and microphone. The quality of the Crestron sessions were obviously superior with better images and clearer audio quality.
Finally, I mentioned at the beginning of this overview that there were a "couple of clunkers." During the entire Crestron NEXT event there had been a couple of instances of momentary visual and audio interruptions, although the system recovered quickly. However, during CEDIA I hit two major fails – one more important than the other.
A Couple of Big Oops at CEDIA Expo Virtual
The first fail was one of their keynote presentations – one sponsored by Savant and Access Networks – called State of the Industry: Planning and Budgeting for COVID-19 Effects in 2021. That session was barely a couple of minutes in when the screen froze…and then went black. I reached out to the event tech support and discovered that we would have to wait for them to post it later…a total fail at the scheduled time.
The second one was less important, but a clunker nonetheless. It occurred at the end of the event during the CE Pro All-Star Band. After a couple of songs, the video dropped out. After waiting a few minutes I clicked away, so I can't say if they were able to get it going again. What an ironic way to end a tech event…
Despite some of the disappointing elements I've pointed out, all-in-all I have to say that the event was a well-run and worthwhile event – better than I had expected. I wish they had run some of the key sessions more than once so that I could better fit them into my schedule during the event – but you and I can access recordings of those sessions between now and the end of the year to catch up with them later.
See more about CEDIA by visiting: cedia.net.