New research into what frustrates consumers when shopping in a retail store may give us a clue as to why brick-and-mortar retail is struggling – while online retailers are growing. Market research firm Capgemini asked consumers what they thought was a simple question that would elicit a simple answer. Little did they know that shoppers were only too happy to list the multiple reasons why they are frustrated with the retail shopping experience today.
See this latest research showing where retail is "dropping the ball"…
The data has been pretty clear over the last five years or so – more and more people are choosing to shop online, rather than in a traditional retail store. Perhaps you think this is because they simply find a lower price online. But from the looks of this latest research, a part of the motivator – perhaps a big part – for consumers to move their shopping online is the miserable brick-and-mortar retail shopping experience.
As it turns out, there are many things that retailers are doing that just are not appreciated by consumers. Researchers were quick to learn that consumers had many complaints…not just one. But leading the list of complaints at number one – 71% of consumers say it is just too "difficult to compare products." That's right…they want to compare products to make an informed choice.
Long Lines a No-No
At number two, the next biggest frustration when shopping retail is "long lines at checkout counters," which was mentioned by 66% or two-thirds of the consumers surveyed. Once you've made up your mind, you just want to check out and get out of there. Instead, understaffed retailers are forcing consumers to stand in line for what they deem to be far too long a period of time.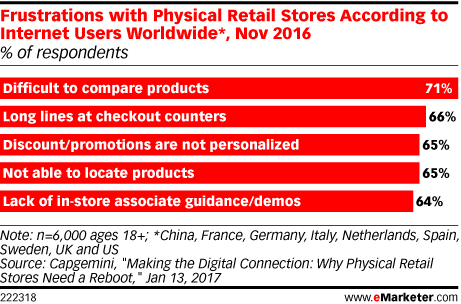 Tied for number three on the list of consumer frustrations with retail shopping, 65% of the survey respondents pointed to "discount promotions are not personalized" as an issue. Another 65% said that another problem is that they are "not able to locate products." Ironically, personalized discount promotions are something that shoppers are used to receiving from online merchants. Apparently, they expect brick-and-mortar retailers to offer the same amenity.
Can't Find It, Can't Buy It
But we understand the "not able to locate products" complaint. We have said for some time now that retailers should hand out maps. In fact, certain retailers like Home Depot have apps with detailed store maps for each location.
Finally, only 1% below third place tie at number five, 64% of consumers say that they are frustrated by the "lack of in-store associate guidance/demos." As retailers have struggled to keep costs under control, the lower staffing levels and lack of store associate training have combined to greatly frustrate consumers.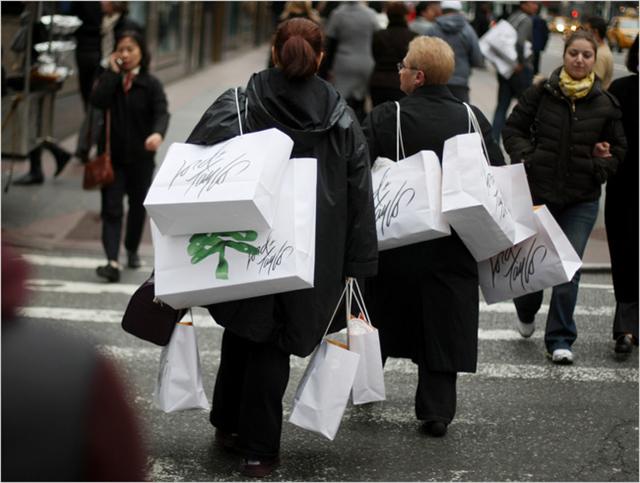 But Wait, There's More
Capgemini noted that beyond these top complaints, consumers had more demands for what they expected retailers to offer them. For example, three-fourths of consumers expect retail stores to offer them the ability to check on product availability before they go to the store. Nearly the same number of consumers expect retailers to offer them same-day delivery for products purchased in-store.
Check out these points and more by visiting www.emarketer.com.