Survey Shows Concern about Smart Device Security is Global

New research from Irdeto, a digital platform security firm, shows that a wide majority of consumers around the world are deeply concerned about the security of IoT (Internet of Things) devices. While the rollout of IoT devices continues to balloon, consumers are telling researchers that they are worried these devices are prone to destructive hacking.
See more on this latest research…
There's no disputing that the IoT market continues to expand at an exponential pace. Especially with the advent of smarter daily use consumer appliances, such as refrigerators and washers…consumers lives are getting smarter…and connected in multiple ways.
A recent estimate from Gartner and reported by eMarketer shows that worldwide, more than 8.3 billion IoT devices were in use by the end of 2017. This rate will continue to grow to more then 11.2 billion this year…and fully 20.4 billion units by 2020, just two short years from now. And according to Gartner, the vast majority of those 20.4 billion devices in 2020 – fully 12.9 billion – will be consumer segment devices.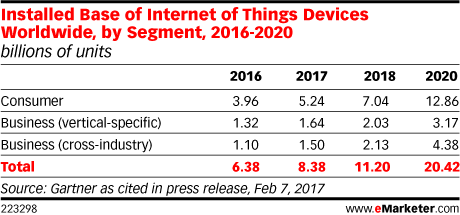 But at the same time, the media is replete with disturbing stories of massive security breaches and huge hack attacks – some of which impact tens of millions of consumers. New data seems to suggest that consumers are connecting the dots between these two events, causing them to become highly concerned about device security.
In the back half of 2017, Irdeto polled consumers who are regular internet users in countries around the world, including Brazil, China, Germany, India, the UK and the U.S. The goal was to determine how they felt about IoT devices. The bottom line? Almost seven out of ten consumers (69%) are worried that their smart devices "susceptible to hacking."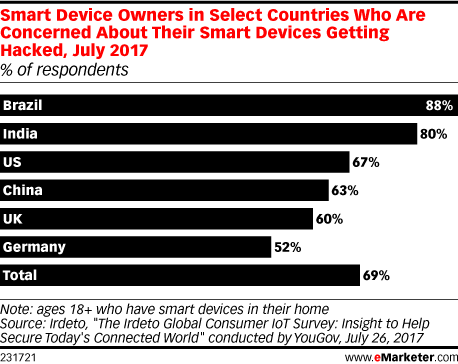 Consumers in Brazil and India were the most concerned, with 88% and 80% respectively responding so in the survey. The U.S. was close to the survey average at 67%…still more than two out of three consumers expressing concerns about the security of their devices.
And who is the consumer looking to in terms of the responsibility for the security of IoT devices. As many as 90% of the respondents say it's up to manufacturers to put strong security features in smart devices "to stave off incursions by criminals."
Let the sellers beware…
See more research at: www.emarketer.com.