In news sure to send a chill through the backbone of every luxury retailer and manufacturer of every luxury product – electronics included – eMarketer is reporting that new research makes it clear that Affluents, loosely defined as those with household incomes over $100,000, are now shopping online in increasing numbers. Up until now, online shopping was predominantly the domain of the mass consumer, with Affluents preferring gorgeous showrooms laden luxury appointments and knowledgeable, well-dressed and poised staff who cheerfully kowtow to them. Not any more…
Learn more about this latest research on Affluents, likely the target end-user for many of us…
Market research firm eMarketer has released a new report called The Luxury Consumer: Shoppers Lead Brands to Digital Channels. The report looked at several new surveys that indicate that the luxury industry, which up to now has generally avoided (or ignored) digital or online channels for their luxury products, must reconsider its strategy.
The reason is simple – like it or not, Affluents…the primary consumers of luxury items…are rapidly adopting the Internet for their shopping and purchasing of luxury goods. Luxury brands and companies that ignore this trend – do so at their own risk.
Conventional wisdom turned on its head…
The conventional wisdom has for decades held that Affluents shopping for luxury products strongly gravitated to visiting luxury retailers to both research and purchase these goods. For many of them, the thinking went, shopping was an integral part of the luxury shopping experience. Affluents want to see, feel, hear their options. They want attractive, knowledgeable, and helpful sales staff to carefully explain the options…in a language Affluents can understand.
The more exclusive the retailer, the better. We personally knew of specialty electronics dealers who maintained fully stocked wine cellars and a broad assortment of cigars at their stores – strictly to provide their affluent customer with the various accouterments they tended to prefer to augment their shopping experience.
Luxury industry must rethink their strategy…
But new developments suggest that the industry must rethink their strategy for attracting the luxury customer. This is because research has uncovered dramatically changing trends amongst the very Affluents they seek to attract.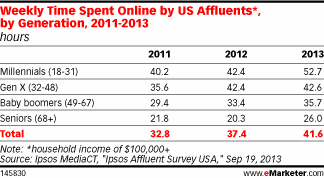 First, research has discovered that Affluents are spending an increasing amount of time online. According to a survey by Ipsos MediaCT, affluents spent an average of 32.8 hours online in 2011. But that has grown to 41.6 hours per week online – more than a 25% increase – in just 24 months. (See table on the right)
"These aren't the idle rich," Skip Brand, CEO of Martini Media, a digital agency specializing in luxury marketing told eMarketer. "These are people who use online resources to save time. And they will spend money to save time."
Spending time…and money…online…
Martini Media says Affluent aren't just spending time online…they are spending money too. According to the researcher, online purchases on luxury sites were 20% higher in Q2 2013 as compared to the year earlier quarter.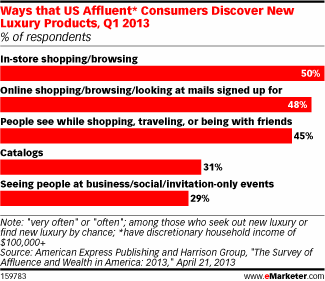 Other research tends to support the theory that Affluents are turning to the digital domain to research their purchases. In new data from American Express Publishing collected in conjunction with the Harrison Group, nearly as many Affluents said they discovered new luxury items online versus shopping in a luxury retailer (48% vs. 50%, see graph at left).
However, one report – from the Luxury Institute – gives luxury retailers some cause for optimism. In research conducted by the Luxury Institute of the purchasing habits of U.S. Internet users with incomes over $150,000, 48% of survey respondents searched for information on luxury fashion items online – but only about a quarter of them actually purchased the item online.
To learn more about eMarketer, see: www.emarketer.com.