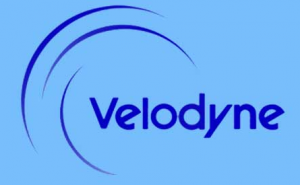 <August 2, 2011> Velodyne Acoustics, Inc. (Velodyne) surprised many in the industry last week by summarily dismissing their independent sales representative force and announcing that they would begin selling Velodyne subwoofers direct to consumers via a new online ecommerce website. The webstore was already open by the time some of the sales representatives received their termination notice.
In a letter to their sales representatives, Velodyne said it was "making a number of changes to our business roadmap" in order to "be competitive in the marketplace" and to "operate efficiently." Velodyne is, the letter says reassuringly, "making every effort to balance business priorities with the respectful treatment of our representatives."
It's terminal…
But then the letter goes on to say that "we are terminating our relationship with all of our representatives" dropping the boom on Velodyne reps, some of whom have represented the line for decades. Reps were given the standard 30-days notice and will continue to receive commissions through the end of August – but were terminated effective three days after the date of the letter, or July 28, 2011. [See Velodyne rep letter here…]
In an echo of the decision by Lenbrook to terminate their reps this past May and go factory direct, Velodyne is going one step further and dismantling their sales force structure and selling direct to consumers. Like Lenbrook, Velodyne was also once a darling of the independent specialty network…and like Lenbrook, Velodyne cites dramatic changes in the market – "once a millennium in magnitude" – as the reason necessitating this change.
Changes profound…
In a prepared statement released to the press this past Monday, Velodyne founder and CEO David Hall addressed the company's move saying "Velodyne Acoustics is reorganizing and adapting to profound changes that have occurred recently in the business environment."
Hall went on to identify two of these profound changes – "the movement of manufacturing to Asia" with a sharing of profits…and the "the development of the Internet and its impact on communication." The second profound change – the development of the Internet – "opens doors of opportunity for Velodyne to reinvent itself as again the most cutting edge and exciting audio company." [See Velodyne press statement here…]
As of the time of this writing, there has been no communication from the company with Velodyne distributors or dealers. It is unclear how dealers will react to the idea of one of their suppliers selling the same products to consumers in direct competition with dealers.
The sound of silence…
The silence from the company has caused some of the terminated Velodyne reps to communicate the situation to dealers themselves…as best they can under the circumstances. Bruce Davison of Santa Clarita, California-based ProMark Marketing sent an email to ProMark dealers informing them that there have been several "changes taking place at Velodyne over the last few months."
Davison went on to note that the company had terminated key executives like longtime national sales manager Doug Smith and executive VP Bruce Hall (Velodyne says Hall was not terminated but is on an extended furlough) and they have "terminated their entire national representation sales force."
New competition…
Velodyne, the email said, will "become a direct to the consumer on line e-tailer who also has local dealers." The email added that "in a sense, you dealers will be in competition with the factory as they sell at UMRP pricing to the public from their own web site."
Then, in a slightly frustrated tone, Davison said he expected that eventually "someone from Velodyne will reach out to you and explain their new process but we at ProMark are as much in the dark as you." Davison went on to thank dealers for their support and closed saying, "Ironically, our sales for the year were well ahead of the national average and we had grown the business by 20% over last year and were on our way to another award winning year with you and the brand." [See ProMark letter here, reprinted with permission…]
Unanswered invitation…
The ALERT reached out several times to Velodyne for an interview with David Hall on these dramatic changes without success. However, Velodyne, through their PR agency, offered the ALERT the opportunity to supply written questions for their review and answer, which we did. However, after several days – up to the point of this article being published, the company ultimately declined to answer our questions.
The questions we posed Velodyne were mostly requesting clarification of their public statements as well as clarification of this new process as it relates to their remaining distributors and dealers. Finally, just hours before publication of this newsletter, the ALERT was provided with a statement from Marta Hall who, we are told, is the new vice president of sales and marketing. Marta Hall is also David Hall's wife.
Creativity and brilliance…
Velodyne's statement in response to the ALERT's questions is shown below, in its entirety:
David Hall will be applying his creativity and brilliance, qualities he is famous for as an inventor, to the process of reinventing Velodyne Acoustics this year. David Hall has proven himself to be a world leader in Acoustical Invention, Robotics, and the 3D Laser System known now as Lidar. Hall's Lidar invention can now be seen on the road on top of the "Google Cars That Drive Themselves." You can be sure that whatever moves David Hall makes in the Velodyne Acoustics Business plan – it will be brilliant and innovative. Hall works passionately toward the goal of creating a premium audio experience for his customer; the audio enthusiast. He wants his customer to feel pride in ownership and enjoy years of pleasure listening to music, movies, and more – with a Velodyne.
As brilliant as Mr. Hall may be, this statement from the company unfortunately leaves many Velodyne distributors and dealers in the dark about changes to systems, process, programs, etc. in the wake of this dramatic turn in its business plan.
On sale now…
Velodyne products can be purchased now on their website. At the top of the company's home page, the words "free shipping for online orders" appears in bold letters in the graphic header. This header appears at the top of every page on the website. Free shipping is a very popular draw for online sales with consumers.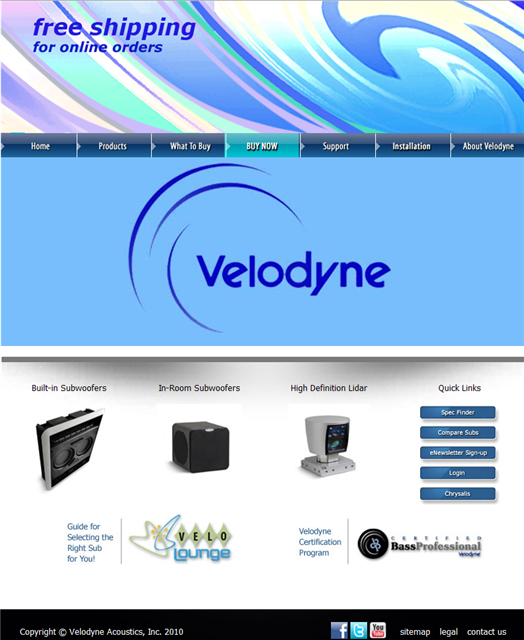 In addition to free shipping, the company's online sales policies includes a 30-day Satisfaction Guarantee offering a full refund of the purchase price (less shipping costs) if the consumer is "not completely satisfied" with their purchase for any reason. The company does not say what it will do with returned products such as whether they will be sold as "B-stock" at a reduced price or if they will be reboxed and resold as new.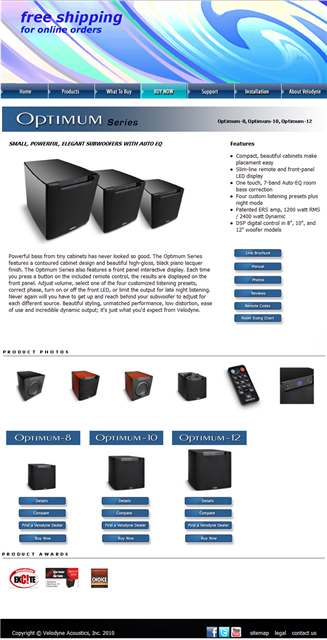 A pull line…
In a telephone interview with the ALERT, ProMark Marketing's Managing Partner Bruce Davison told us that dealers are upset with Velodyne's decision which was announced without warning.
"Velodyne's not exactly what you would call a pull line," Davison told us. "With nobody pushing it, how are they going to deliver their message and get above the noise."
Davison said the reaction from retailers was swift, with one of the larger Velodyne dealers in Southern California complaining bitterly.
"If Sony does something like that to us, maybe we have to put up with that…because they're Sony," Davison said the dealer told him. "But we don't have to put up with that from Velodyne."