Vanco has always seemed to be that reliable supplier in the background providing a steady stream of solutions like cables, connectors, and other accessories – not particularly glitzy or exciting, but steady and there. Well all that is about to change I learned when I spoke with Mark Corbin, Vanco's recently appointed President at CEDIA Expo18 earlier this month. The company has begun a big initiative to become a major player in a category near and dear to my heart…audio.
See how Vanco is attacking the audio business with gusto…
Founded in Chicago, IL back in 1951, Vanco has always been adept at transforming its business to take advantage of technological changes. Starting first with CB Radio [that's Citizens Band Radio for the youngsters reading this], the company has grown to be an important supplier of wire, cable, connectors, and an array of black box solutions products.
Vanco also has an enviable reputation for fielding products that are high quality and incredibly reliable. They then support these products with a robust customer service department. In fact, Corbin tells me that customer service is the largest single department within the company.
Distribution of Vanco Brands
Vanco sells it products through distributors. Their relationships with top industry distributors have grown over the decades, as reliable Vanco products have been embraced by more and more integrators…who rely on distributors to keep them supplied.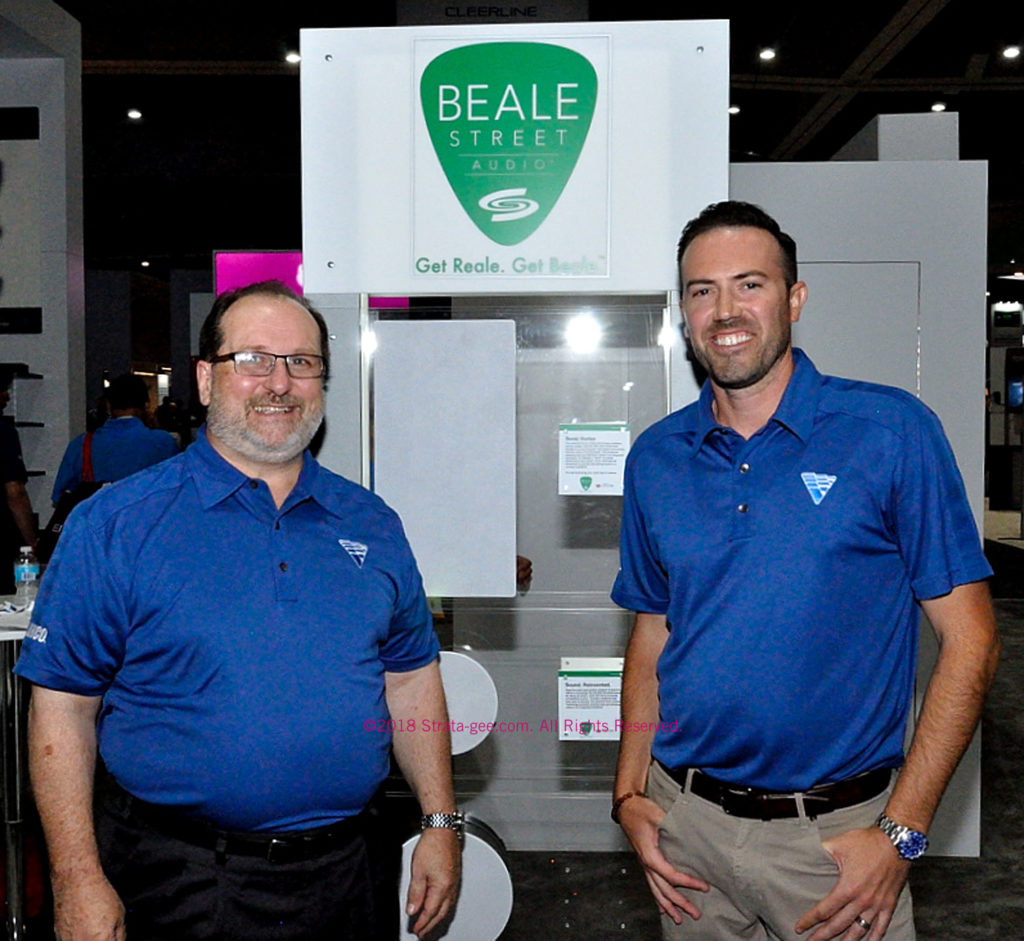 In its more recent history, Vanco grew to become a major supplier of HDMI and other cables – again solidifying its position as a valued supplier of often mission critical solutions. But as the industry began to turn again, favoring systems that are more IP- and category cable-based, the company found itself at a crossroads.
Audio is the Most Logical Choice
Enter recently appointed President Mark Corbin, taking the helm of the company that his father has controlled since 1998. Corbin knew that to continue to grow, the company had to up its game and branch into related categories that integrators rely upon.
It quickly became obvious to him that audio was the next most logical category in which the company saw lots of opportunities. But they would not enter audio just to offer a line of more "me-too" speaker. Rather, Corbin scoured the landscape seeking a differentiated, more custom-oriented solution.
Acquisition of Beale Street Audio
He found that solution late last year, when the company acquired Beale Street Audio. Beale Street products are not only better sounding than the competition, they feature a patented technology, Sonic Vortex, that is responsible for that better sound and distinguishes them other generic brands. Far from me-too, with Sonic Vortex, Vanco had something really unique that they knew that if integrators heard it they would want it.
Truth be told, Beale Street Audio, as an independent company went through some hijinx and had many internal management issues – none of which exists with Vanco now in control. Corbin saw the opportunity to quickly get past those issues to focus the brand on a new and more accelerated growth path.
Hired Leading Audio Expert
Acquiring Beale Street Audio was a bold move…but it certainly was not the only move the company made to attack the audio market. As reported here on Strata-gee.com, Vanco hired one of the industry's most knowledgable experts on audio, Randy Blanchard, to help them build their audio division. Blanchard is widely credited as the guy who helped national distributor ADI get into the audio business.
Why would Blanchard leave one of the largest distributors in the industry to go work for one of the smaller manufacturers?
"I came to Vanco for one reason," Blanchard said forcefully. "And that reason is because of the quality of the people."
Every Product is QC'd in Chicago
Just the people? we pressed. "Well, can you believe that EVERY product is QC'd in Chicago?" Blanchard added, suggesting that no other company performs quality control checks on every item. It is this dedication to quality that makes Vanco such a valued supplier…and a place he wanted to be.
Corbin and Blanchard expressed confidence that they have the right plan to grow their audio business dramatically over the next couple of years. Besides the Beale Street brand, Blanchard will also focus on the company's Pulse Audio brand – a line of black box solutions that includes power amplifiers and wireless connectivity solutions.
Training is a Key
There is much to be done, as the team looks to further expand Beale Street and Pulse Audio brands, as well as grow support through sales and marketing activities. Blanchard will even be involved in training sales rep and distributor salespeople on Vanco's growing audio assortment, Corbin told me.
Clearly, Vanco is a company to watch as they build their audio business.
See more on Beale Street Audio by visiting: www.getbeale.com.
Find all of the solutions available from Pulse Audio at: www.pulseaudio1.com.
To learn more about Vanco, visit: www.vanco1.com.