Attendees Got a Full Show, Training & a Preview of Future Technology
Last week, Crestron Electronics, a leading provider of control and automation solutions, wrapped up their two-day regional show, the Crestron Next Road Trip, at the Westin Copley Place Hotel in Boston. The well-attended two-day event saw hundreds of integrators descend on Boston to participate in an event that included whole sections of their displays from the CEDIA Expo and InfoComm trade show booths and offered full-day educational courses for both their residential and commercial dealers.
Learn more about the successful Crestron Next Road Trip
As I have previously reported, Crestron was one of the 150 or so brands that pulled out of the CEDIA Expo back in September as the COVID-19 Delta variant caused an explosion of new infections and deaths. In order to replace that lost event, the company's management almost immediately began to explore options for new ways to directly connect with integrators safely in our COVID-impacted world. The Crestron Next Road Trip is that replacement.
Sort of a mini-CEDIA Expo – or perhaps a glitzier Tech Summit – the company combined the most popular elements of the national event – product showcase and training – and brought it to integrators on a regional basis. The company has scheduled three such Road Trips: this inaugural event in Boston (November 17/18), next in Chicago (December 8/9), and a third in Long Beach California (January 12/13, 2022). More locations will be announced later. Company officials tell me that there are plans for possibly as many as 19 such events in total…but these additional shows are not yet finalized!
Life is a highway and – apparently – Crestron is going to ride it all night long…for many, many nights.
My First Business Event in Two Years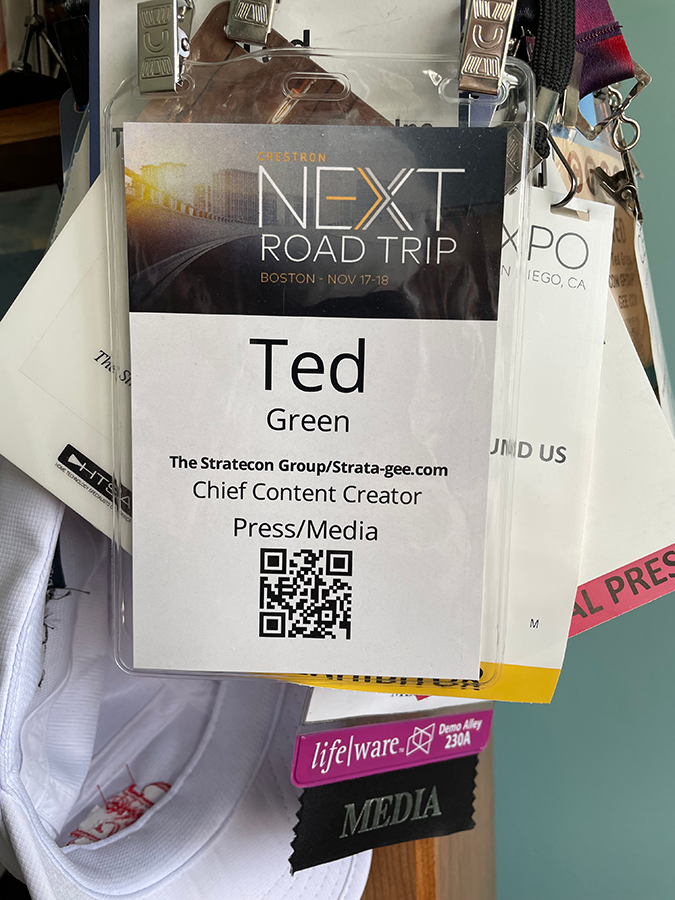 Crestron is committed to ensuring the safety of all attendees and employees, so they announced that all of their staff and other assorted personnel would be fully vaccinated. They also imposed a mask mandate in which all attendees must be masked regardless of their vaccination status – a condition of attendance to which you had to agree when registering for the event. This kind of proactive approach contrasted with the more passive approach to COVID protocols adopted by Emerald Expositions for the CEDIA Expo, and likely served to convince many more people to attend the Crestron Next Road Trip.
Including, by the way, me. This is the first business event I have attended in two years.
Now the vast majority of attendees honored the mask mandate, but I would be lying if I didn't tell you that I saw people not wearing masks. This seemed to be especially true in the training sessions. Complicating their mask policy is that Crestron served refreshments, snacks, and even breakfast and lunch at the event. You can't eat food with a mask on and so this may be where things kind of broke down. I saw no enforcement action on the mask mandate, so I guess it turned out to be more of a mask request. But again, I can confirm that the vast majority of attendees cooperated by wearing their masks continuously.
An Impressive Showing of Technological Might
The Crestron Next Road Trip is an impressive showing of Crestron's technological might! The company set up expansive sections of their residential booth in one-half of a large hotel ballroom. Then they set up an equally large section of their commercial booth in the other half of the same ballroom. In addition to that impressive presentation – each side also had a large and fully enclosed highlight section, as part of their presentation.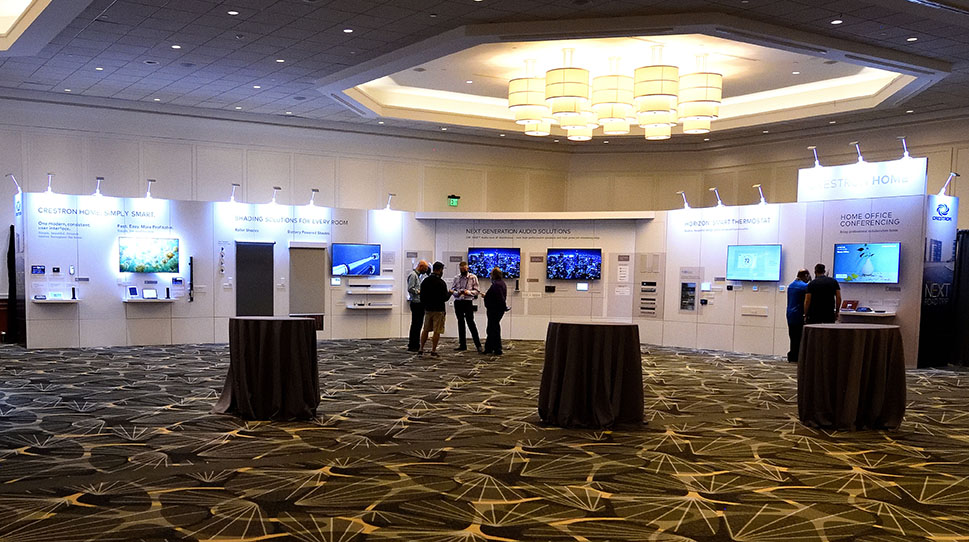 The booth sections contained mostly active displays of all of their key technologies and product lines. It was impressively up-to-date. For example, they had an active display of their new battery-powered shade line that was announced just last week.
Crestron Home's Expanding Assortment of Solutions on Display and Operable
On the residential side, the booth was designed to tell the story of the company's rapidly expanding Crestron Home system – both in display and in training. Crestron Home is really a revolutionary approach to automation system design that dramatically reduces time to design, configure, and deploy systems for the home. Crestron integrators report that Crestron Home's streamlined system processes save them so much time that they are actually able to increase the number of systems they install per month.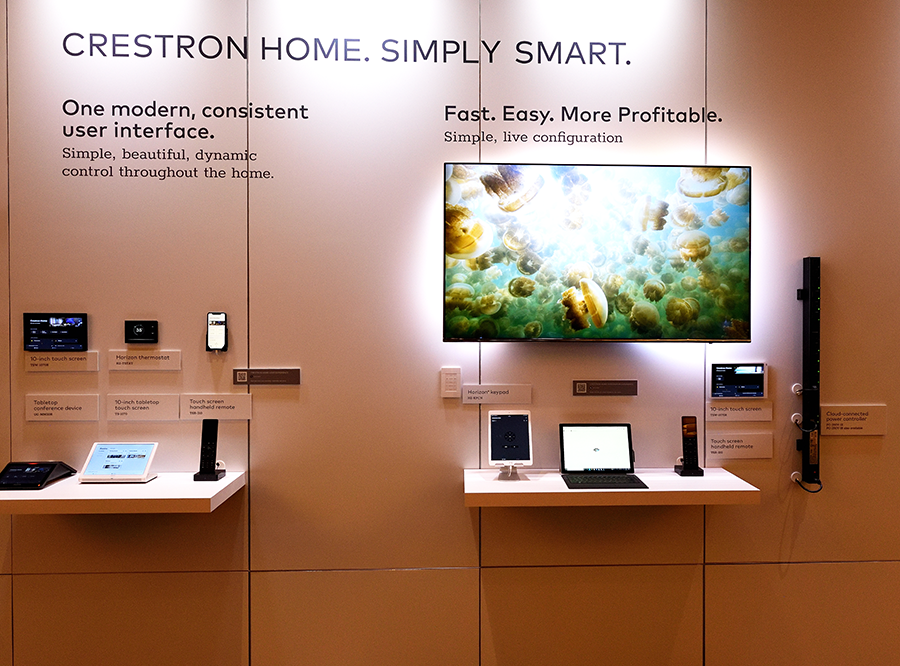 The company continues to expand the system in order to broaden its use cases and utility. And all of these new products were on display at the event. For example, recently Crestron introduced IP-controlled, rack mounted power strips. Designed to integrate natively into a Crestron Home system, integrators now have the ability to remotely cure system issues – quickly and simply.
Areas of Tech Focus on Display
Also, just last week, the company introduced a new line of battery-powered shades which were on display and fully operable at the Road Trip. With all sorts of designer options available at launch that allow these shades to fit into any style of home, this smart window covering line provides a handy solution where installation of traditional motorized shades are problematical. And in a plus, the batteries are extremely easy to change even for the client (or the integrator if they prefer) with a swing down battery pack for – dare I say it – a quick and easy replacement.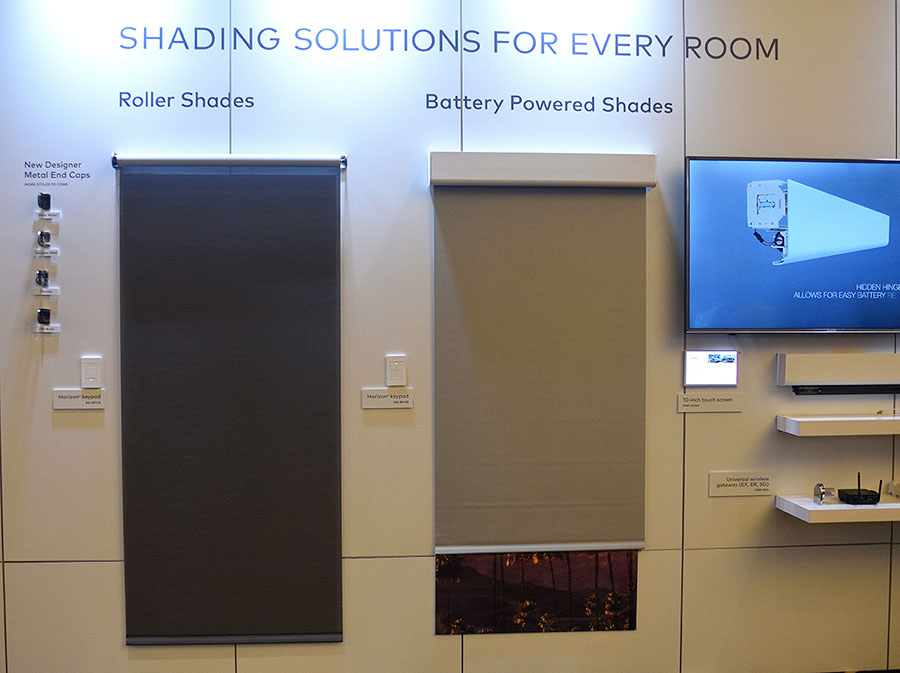 Probably the biggest focus of the folks on the residential side was a large active display showing DM-NVX and its complementary DM-NAX streaming video and audio solutions (see photo near the end of this post). An impressive display that helps to demonstrate the logic of how these systems seamlessly work together offering an expanded and client-satisfying lifestyle. Signal routing is ridiculously easier to accomplish with this system…as was clearly shown in the display…while at the same time offering increased flexibility and client options.
A Hallmark of Crestron's Strategy – Plant a Flag…Then Expand
Further displays on the residential side included details on their recently launched Horizon thermostat. Horizon upped the game as compared to previous Crestron designs, offering an attractive, multi-colored display that served to simplify and make system operation more intuitive. The company also showed an MDU (multi-dwelling unit) version perfect for apartment buildings or larger scale home installations.
In a way, this is typical of Crestron, introducing a product as though they are planting a flag in the ground, and then expanding upon it, increasing its family of products and its footprint in the marketplace. In a way, an analog of the whole concept of Crestron Home, first launched as a fairly basic solution that is now being expanded rapidly, increasing its utility in a greater variety of use case niches.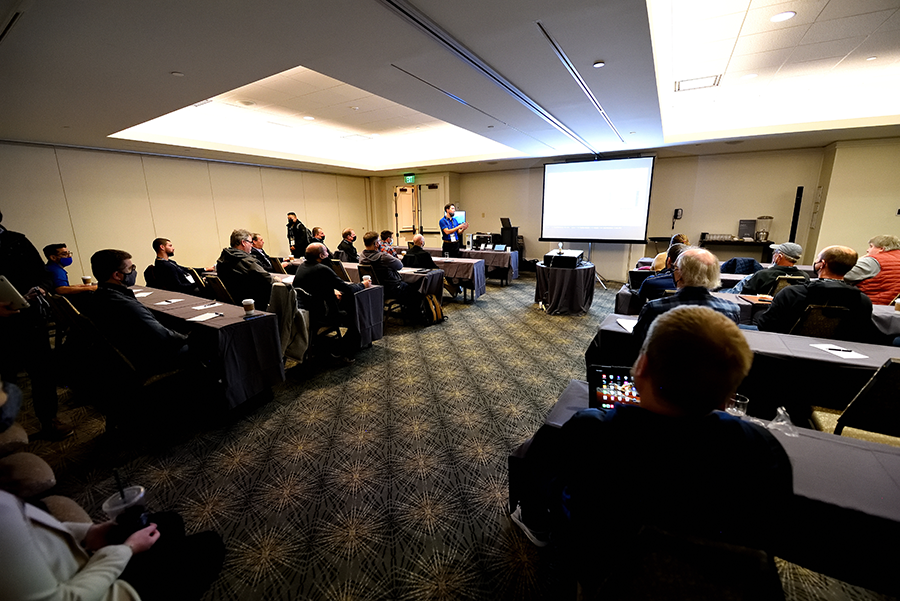 A Private Peek into the Future – What I'm Not Allowed to Tell You
OK, I have to choose my words carefully here. As part of their presentation to integrators, Crestron offered attending integrators a peek behind the curtain at a dramatic new technology that is in the future. I was allowed to see it and to learn about it – but not to photograph it or write about it.
It was pretty darn exciting. I could tell you what it is…but then I'd have to kill you.
All I'll say is this – if you are a Crestron integrator, you'd be crazy NOT to attend your local Crestron Next Road Trip. You will miss a rare opportunity to see into the future and learn more about this new major initiative. From what I saw in Boston, integrators were quite curious to learn about it…and enthusiastic about the opportunity it holds.
Stay tuned for much more on this…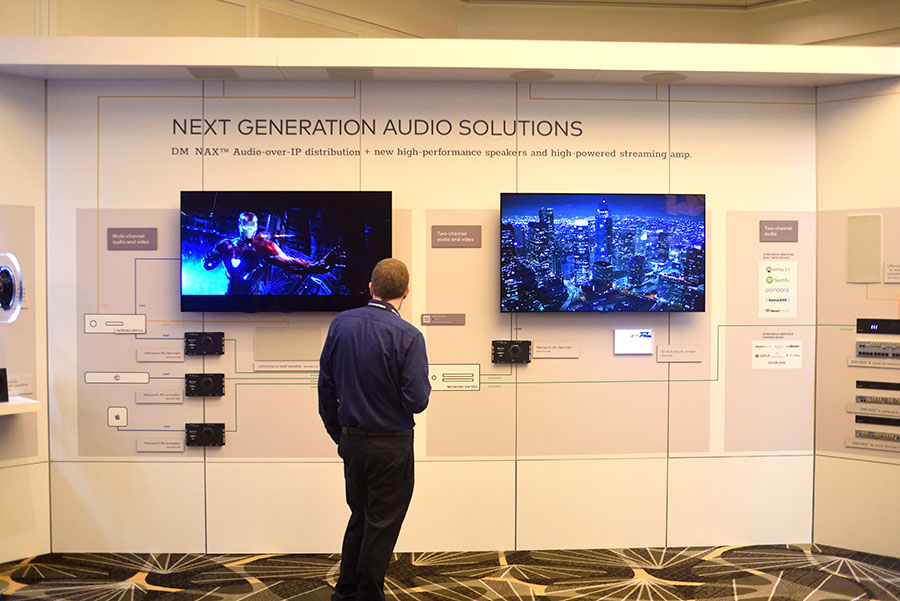 An Immersive Experience; But, Was It Strange?
The Crestron Next Road Trip looked to be quite a success. With Boston being the very first one, there is always the chance that things will go wrong, but this Road Trip went off without a hitch. Not only that, but it was quite an enjoyable way to spend a couple of days fully immersed in the company's technological prowess. I'm not sure every company could pull this off, but thanks to Crestron's breadth of product categories, coupled with their record of technological innovation in just about everything they touch, there was a lot there to take in.
At first, I thought it was going to be strange to have both their residential division and their commercial division in the same space. I mean these are two separate and completely unrelated businesses…right? But now I recognize the logic of that strategy.
Crestron Cross-Pollination
First, there are residential integrators who also engage in some commercial business – usually light commercial – and at this event, they can learn about the many solutions Crestron offers on this side of the company. Second, the same is true the other way – there are commercial integrators who address the residential space as well. Here is their opportunity to see the full, rapidly expanding Crestron Home line.
But third, a pretty quick spin through the commercial side hit me with the epiphany that there are certain technological "themes" that run through both businesses. For example, DM-NVX, their popular AV-over-IP solution, is available in both divisions and engineering development on the product benefits both markets.
Also, as COVID lockdowns birthed the age of remote working – and we face a future of hybrid work environments – Crestron's mastery of UC devices (unified communications) on their commercial side spawned a whole new line of products for the home market as well.
Brilliant…
If You Are a Crestron Integrator, You've Got to Attend This Event
If you are a Crestron integrator – or are Crestron curious – you should definitely make plans to attend the nearest Crestron Next Road Trip when it comes to a town near you. (If you are not an existing Crestron integrator, contact your regional Crestron representative to request an invitation). See more of the Crestron line and technology, learn more in deep dive education courses and…most importantly…see the future!
Register today for the currently scheduled Crestron Next Road Trips set for Chicago (December 8/9) and Long Beach (January 12/13, 2022)…,or watch for future locations to be announced all at this link: Crestron Next Road Trip…