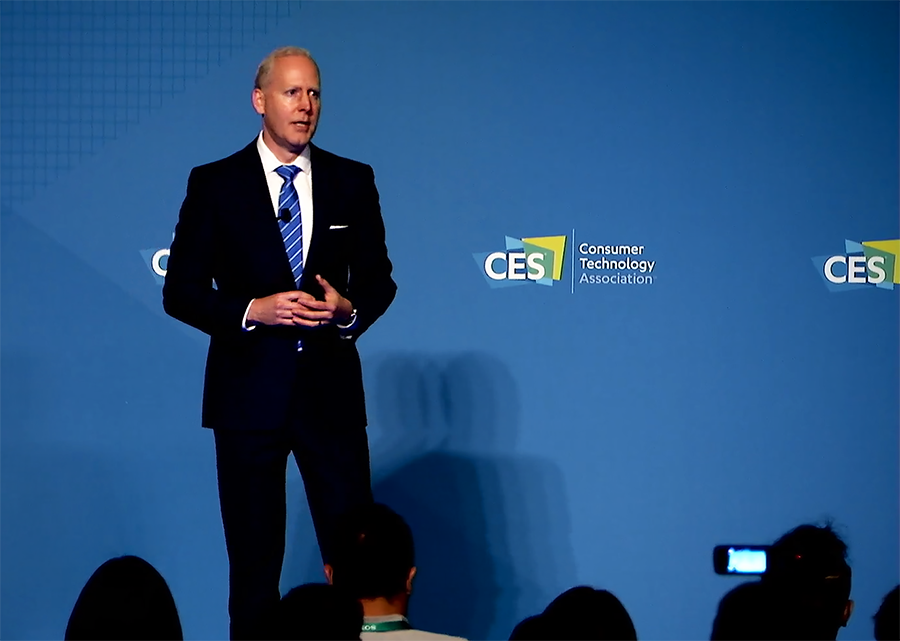 On Monday evening (January 3, 2022), as part of their festivities kicking off the 2022 edition of the Consumer Electronics Show (CES), Vice President of Research for the Consumer Technology Association (CTA) Steve Koenig shared what the association believes to be some of the top trends in Tech today. Saying, "…we've witnessed an abundance of innovation across this whole season and certainly over the past year…"
See what the CTA says are the top Tech trends at CES
"And that's really my goal tonight is to share with you our perspective, really what we see through the lens of our research at CTA…." This is how Koenig explained what content he would be sharing with both the in-person audience in Las Vegas and the online audience of virtual attendees. In the past, the CTA has been a prodigious researcher and I look forward to the opportunity to review their data whenever they choose to share it more broadly.
In a roughly 45 minute presentation, Koenig moved through several topics rather expeditiously. I'll highlight those I feel may be most important to Strata-gee readers. Keep in mind, the CTA has become a rather broad-based organization with an expansive view on technology – many of which are in areas outside the purview of many of us.
Tech Remains in Demand
Koenig started by noting the most important top tech trend, the continued strong demand for technology, both in 2020 and throughout most of 2021 (their data only went through the third quarter). The data showed that in the first/second/third quarters of 2021, total technology sales grew at rates of +30%/+22%/+5%. Note, by the way, the decline in that rate of growth throughout the year. Koenig noted that this trend was not exclusive to the U.S., his chart displayed growth rates from around the world showing strong growth numbers and often following the same quarterly trend pattern as the U.S.
According to Koenig, demand for Tech hit "…historic highs of consumer demand for technology around the world." He noted that this information comes from GfK, a European market research company, not from their own internal data. Koenig himself noted that growth is beginning to "taper a little bit." I'd say "a little bit" is quite an understatement – dropping from +30% to +5% is a pretty big drop.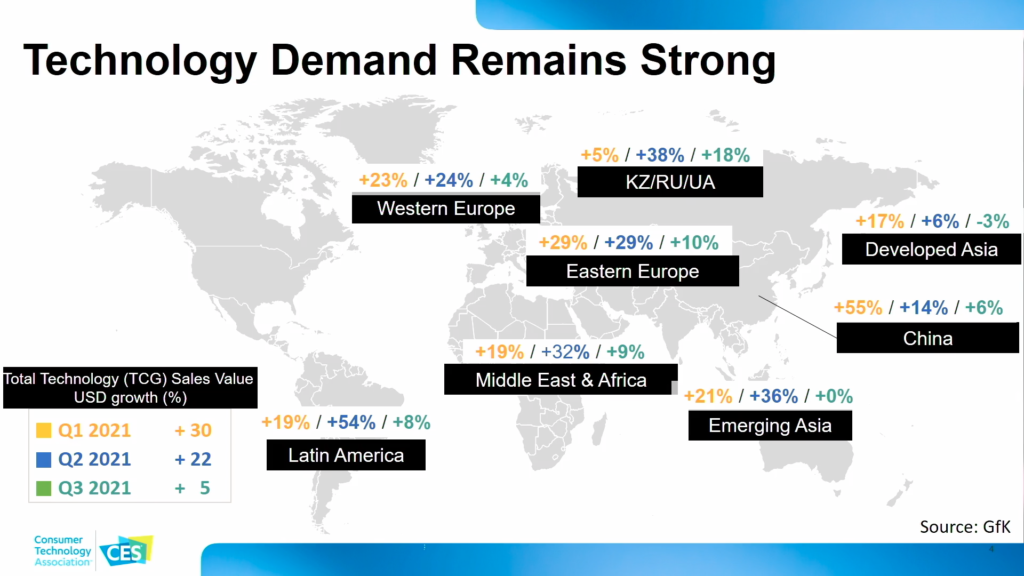 U.S. Retail Sales of Tech Forecast to Hit $505 Billion in 2022
But, according to Koenig's optimistic view as he sought to put these numbers into "context," he added: "…these key fundamentals from a consumer behavior standpoint that had helped propel the industry forward to historic highs, these are still in play. And more importantly, they're going to continue to pay dividends as we move further into 2022."
So this is what has happened with Tech sales in the recent past. But what will happen in the future? CTA's researcher put up the association's normal annual forecast slide showing that they are expecting industry-wide sales of $505 billion. Or as Koenig liked to put it, "over a half-trillion dollars."
A Tougher Forecast for Hardware Suppliers
That is pretty exciting, but to put it into perspective, 2022 is a little over 20% higher than the sales of the pre-pandemic year of 2019 for a pretty respectable (but not unreasonable) 3-year growth pattern. Keep in mind that in the case of 2021, the CTA numbers were most likely not yet final at the time this slide was produced, and the 2022 numbers are all pure forecast…a guess really.
Take a look at the call-out data on the left-hand side of this chart. Here the association breaks down anticipated growth rates based on two separate segments, software/services versus hardware. Here you can clearly see that the hardware folks are looking at pretty tough results ahead with retail revenue growth at only 1.8% for 2022, after a nice 9% growth in 2021. Meanwhile, the software/services guys saw double-digit growth in 2021, followed by a much more moderate 6% forecast for 2022 – more than twice as much growth as hardware. But when you factor in the effects of inflation, we're at risk of moving backward.
CTA Says These 'Core Fundamentals' Will Continue to Drive Tech Growth
It is unusual to have two back-to-back years with high-single-digit overall industry sales growth as we did in 2020 & 2021. And even though their forecast suggests that rate will slow to low single-digits, Koenig says there are still three "core fundamentals that are propelling us forward." So while growth may settle down to a more "normal" 2.8% as shown in the forecast…at least we're still growing.
So just what are these "fundamentals" that the CTA says will keep Tech growing?
Consumers are levelling up their Tech

– Koenig popped up a chart showing a breakdown of the hottest technology products, with the highest rate of growth in household ownership percentage from 2020-to-2021 (see chart above). Aside from the actual rate of growth, he suggested we note the specific products that are hot. Many of them incorporate the word "smart," Koenig noted. The number one category was 4K Ultra HD TVs which jumped 16% in the number of households owning them. "Smart" categories included smart appliances, smart doorbells, smart TVs, and smart lightbulbs. Koenig says this chart shows that consumers are leveling up their Tech.

Consumer demand is moving to more premium experiences (as defined by premium brands)

– The CTA VP showed a chart from GfK that shows that growth in sales of premium brands is outstripping sales of "standard" brands in the U.S. and around the world (see chart below). "This is a trend that has been simmering for the better part of ten years," Koenig noted. "So I would underscore the experience, we're [consumers are] looking for premium experiences…great experiences."

Services in the spotlight

– Services have become really important to consumers, Koenig noted as he put up a slide showing the growth in subscribers of streaming services such as Netflix, Prime video, Disney+ and Apple TV+. But its more than just consuming movies or TV shows, connected health is a part of this trend as well. He pointed to Peloton (connected excercise bike/treadmill) and Hydro (connected rowing machine), which allows you to not only work on your personal health, but to also be connected to a class of others and even some opportunites to compete. CTA says that the average consumer globally is typically subscribed to a total of eight services, both unpaid and paid. But he has heard of people with as many as 20 subscriptions.
Consumer Behavior Changes in a 'Pandemic Pivot'
On the last point, Koenig noted that many of these were what he calls "pandemic pivots," changes in consumer behavior as a response to the COVID-19 pandemic. He also showed other data that indicates that a strong majority of those consumers who have made that pivot, plan to stay with their streaming services, connected health services, and home food delivery services going forward. So in other words, these are a durable or permanent changes in consumer behavior that will benefit services and also technology, which has become so important to them.
From here Koenig pointed to data that showed venture capital funding into Tech has increased dramatically in just the last year. According to data from CB Insights, global VC investments in tech have grown 105% to over $158 billion in Q3 2021 versus Q3 2020. What technology are VCs investing in? According to the CB Insights report, VCs are investing in Healthcare, Fintech, and Retail technology.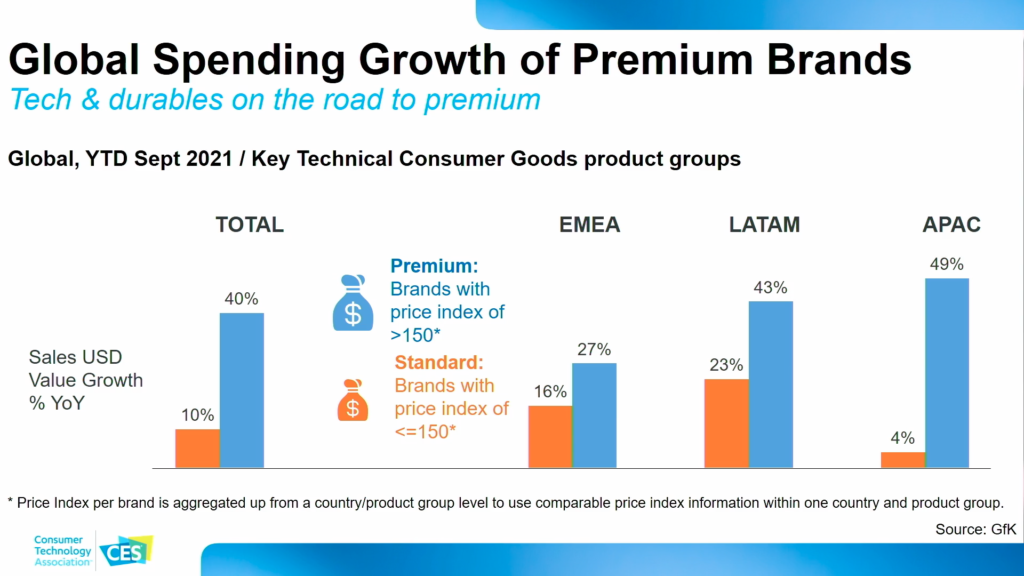 Supply Chain Challenges Continue – Both With Chips and Ships
No discussion of the top tech trends is complete without reviewing some of the challenges to success. In addressing those challenges, Koenig admitted that the supply chain continues to bedevil the industry. Showing a graph of the cost of shipping a 40-ft container in thousands of dollars, CTA's researcher noted that costs were beginning to recede. However, the level is still much higher than in the pre-pandemic times and remains a problem.
Perhaps even more vexing is the semiconductor (chip) shortage. On a slide showing an aerial photo of the Kentucky Speedway, its racetrack was lined with newly built, but incomplete vehicles – Koenig informs us these vehicles are sitting and waiting for chips to be installed before they can be shipped. It was an awe-inspiring and stomach-churning visual. Lead time for semiconductor orders is now averaging over 5½-months (LevaData, September 2021).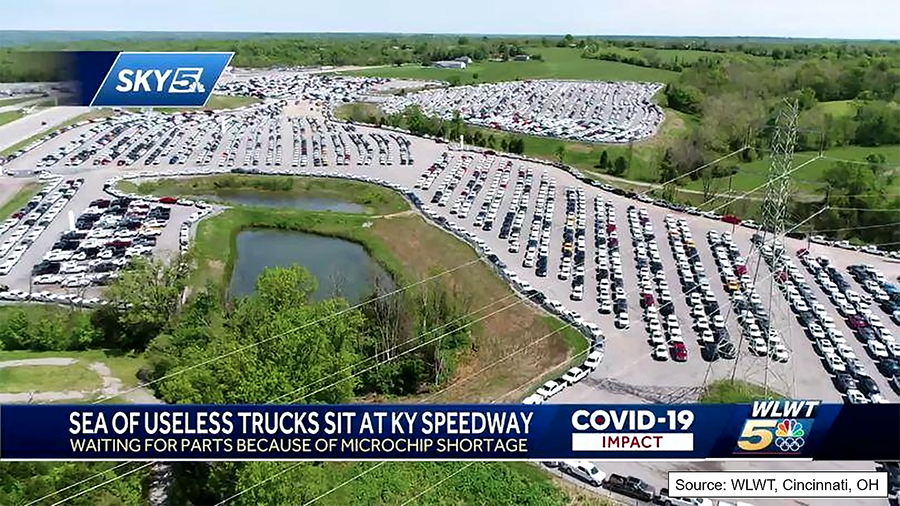 Two Solutions to the Chip Shortage
There are two solutions to the issue of the shortage of chips, Koenig said. First is a short-term solution, where we squeeze more production out of existing facilities. This is done by, say, adding a third shift and running around the clock. Alternatively, existing facilities that have additional space, could expand in existing fabs to add a production line or two.
But the long-term solution is to build new chip manufacturing facilities. As I have reported elsewhere here, the good news is that many companies have begun projects to add more chip manufacturing fabricating plants (fabs) in the U.S. and around the world. The bad news, "You've heard the expression that Rome wasn't built in a day? Well, neither are chip fabs – it takes about two to three years," Koenig told the assembled media. "And by the way, you can't just put them anywhere – the infrastructure requirements are monumental. So it's going to take time to build these facilities."
So when will the chip shortage be behind us? Says Koenig, "I think we're will exit somewhere around the middle part of the decade. I won't put a date on it, but around about the middle of the decade when a lot of these new facilities begin coming online." Hmmm, so by saying "middle of the decade," he's suggesting that means sometime around 2025.
Other Major Top Tech Trends
Here are some of the other major tech trends that Koenig highlighted in his presentation:
Enhanced Connectivity – Expect a growing contribution of 5G and increasing Cloud Infrastructure "is really going to provide the connective tissue, if you like, for a lot of innovation in this decade," Koenig said. "And 2022 is going to be a really important year." And 5G will be more of an enterprise story (industrial IoT), rather than a consumer story.
Deeper AI Innovation; Wider Applications – New and more powerful use cases will emerge for AI, Koenig suggested. And more and more applications, such as autonomous systems, will benefit from the incorporation of AI. CTA has conducted a survey that shows consumers are open to AI enabled products.
Metaverse – The CTA says that the building blocks of the metaverse are here, they just have to be put together. Applications are emerging…
Enterprise XR – The trends is AR/VR for the enterprise include: virtual meetings, simulations, remote collaboration, immersive design, and marketing & sales. While VR started in gaming, it and its lighter cousin AR are being adopted in enterprises.
Top Trends at CES 2022 – Transportation (electric vehicles, self-driving freight trucks), space tech (commercial app, communication, tourism), sustainable technology (alternate power, food tech, smart cities, and smart home), and digital health (wearables, telemedicine, mental wellness).
These Were the Key Points
Believe it or not, there was more material than I presented here. However, I think these were their most salient points. Although growth is slowing for Tech…the CTA submits that at least it is still growing. And that certainly is good news.
But what troubles me is that in my view a lot of what CTA talked about does not directly affect the business interests of most of Strata-gee's readers. Yes, the smart home was mentioned – but it was way overshadowed by EVs, autonomous vehicles, digital health, metaverse, XR, AI, and much, much more.
A Sweeping Presentation Covering Many Technologies
Still, if the association is correct that consumers are "leveling up" their technology and that there is a move to premium products then that could certainly be good news for Strata-gee readers. But I'm not entirely sure that what the CTA defines as "premium" is consistent with what those in our segment would consider premium.
All-in-all, the CTA offered a sweeping presentation covering a lot of technologies in both consumer and commercial segments. Koenig did a good job marshaling a lot of material.
But is this how YOU see the future of Tech? Let me know your thoughts in the comments below…
See more on CES by visiting ces.tech.