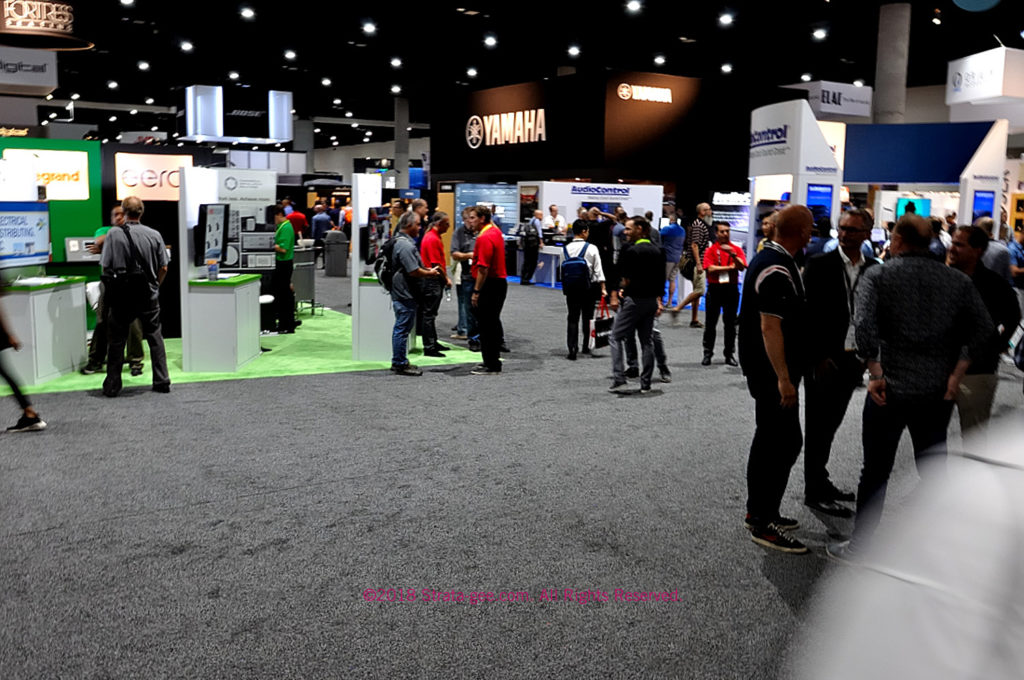 The Day After Losing 39 Exhibitors, Expo Loses Another 26
What a crazy couple of weeks it has been for exhibitors of CEDIA Expo 2021, and also for potential attendees who watched a slow-motion train wreck unfold right in front of their eyes. It was almost exactly two weeks ago – on August 10th – when Savant CEO Robert Madonna suddenly announced that Savant was pulling out of CEDIA, due to concerns over the surging infections from the Delta variant of COVID-19.
Little did we know then that this was the trickle before the flood…
See more on the saga of CEDIA Expo 2021
When Savant first announced their decision to withdraw from the Expo, they were met with a combination of confusion, sarcasm (mostly from competitors), and an at-first small, but steadily growing chorus of integrators applauding them for doing the right thing and placing the health and safety of employees, customers, and partners above all else…including commerce. It was a bold announcement that no one expected.
Most curious was that there seemed to be a vacuum develop as no other major exhibitors were coming out and publicly supporting or criticizing the Savant move. Not even Emerald Exposition came out to offer any kind of pushback or comment. There was a bit of an ominous…silence…
Then, Just 48-Hours Later, This Happened
Then, just 48-hours after Savant's announcement, Snap One stepped forward to say that they too had reached the same decision and would also be canceling their participation in the Expo. And this time, it was easy to sense that things were changing, and changing rapidly.
At that point, as I went back to speak to other exhibitors, I heard waffling, with many saying things like, "Right now, we're planning to exhibit" or "We're still in, but watching developments closely" and more comments along this line. Clearly, many other exhibitors now found themselves on the bubble – maybe exhibiting/maybe not. Only a handful took a hard line, insisting they were going to exhibit no matter what.
Only 24-Hours Later It Became Clear What Was Happening
But something had clearly changed. Just 24-hours after Snap One pulled out of Expo, Sound United stepped forward to say that they too had decided not to participate in this year's CEDIA Expo 2021. And then just hours later, on the very same day of the Sound United news, Sonos came out with a strong statement confirming that they too were out. I found the Sonos statement to be particularly forceful, saying that it had become "…clear that the risks of exhibiting at a large trade show at this time were simply too high."
Whatever the reason, the pace of announcements began to pick up. In fact, they were coming in so fast, I struggled to get them all written up. Just after the Sonos announcement, we heard in rapid succession from Samsung, Sony, Sonance, Lutron and then…the mac daddy of them all, the largest exhibitor in the show – Crestron. All had pulled out of the event, and all had pulled out for the same reason – the deteriorating public health situation in Indiana as COVID infections surged with the spread of the Delta variant.
Only Then Did We Finally Hear From Emerald

Only after this Who's Who list of massive, and massively important, brands had announced their exit from the event, did we then hear from Emerald. Emerald, in what I think was a pretty tone-deaf response, chose to try to entice exhibitors to stick with the show, offering some premiums to stay that most exhibitors thought were not only lame – but also didn't even attempt to address the factor that was motivating exhibitors to leave…the health situation.
From there, the flood gates opened, and more and more exhibitors began announcing their decision to pull out. Strata-gee began a tracking sheet to follow the announcements. This week, we saw the situation continue to escalate.
By Monday, 64 Exibitors Confirmed Their Exit; Then Tuesday, 39 More; On Wednesday…
This past Monday, I reported that a confirmed 64 exhibitors had pulled out of the event. On Tuesday, that number increased by 39 more to a total of 103 exiting exhibitors. Then yesterday (Wednesday), I reported that another 26 had joined them.
And as I am finishing this post on Thursday morning – another 4 exhibitors have joined them. Strata-gee's list is now 132 exhibitors long. This means that a strong majority of approximately 60% or more of the total number of exhibitors originally scheduled to show at Expo have pulled out.
Imagine Two Shows, Which Would You Want to Attend?
Remember, not only has a strong majority of the show's exhibitors left the Expo, but that list includes almost all of the larger exhibitors scheduled for the event. So the impact of this turn of events is huge.
Here's a thought for you, look at my list of exhibitors who have pulled out of the Expo – really read through it and take note of the brands big and small that have taken a stand. Now, look at the remaining current list of exhibitors for Expo. Imagine that these lists described two different tradeshows. Which one would you want to attend?
A 20% CEDIA Expo
CEDIA Expo, which Emerald appears committed to field no matter what happens, looks like it will have fewer than 100 exhibitors in total. A normal Expo would have – on average – 500 or more exhibitors. So this year, attendees will head into a CDC hot zone (yes, Indiana is one of the 10 states with the most rapid increase of COVID infections), potentially risking their health (if not their lives) to attend an event that is the equivalent of a 20% Expo.
Are you planning to attend CEDIA Expo 2021? Leave a comment below and share with Strata-gee readers and me why or why not you'll attend CEDIA Expo 2021.