Sonos Launches Integration Partners Program with Software, Music Service & Hardware Companies


Sonos surprised the industry this week with several announcements, some of which were directly targeted at the custom integration market just two weeks before the launch of the CEDIA 2016 show. But one announcement didn't surprise us – we first told you about it a month ago when we revealed that we had learned that after announcing they were pulling out of the show, Crestron was back…in partnership with none other than Sonos.
With so many announcements at CEDIA 2016, will this be the Sonos show?
In a press conference in New York this week, Sonos made several announcements that caused many in the custom integration industry to take notice. The company said it has partnered with Amazon and its Alexa voice control system such that owners of Sonos products that also have an Amazon Echo or Echo Dot will be able to take advantage of voice control "soon." Sonos used Alexa Voice Service SDK to build the software integration "from the ground up," giving users the ability to use their voice for play, pause, skip, control volume and more.
Simply saying, "Alexa, play Spotify," will allow users to hear their favorite Spotify channels throughout their homes on their Sonos speakers…either individually or in groups.
Alexa Integration – Amazon Customers Love Music
"Our Amazon customers love listening to music. With Echo and Alexa, we combined that love of music with the ease of hands-free voice control, and today, music is one of the most-used features on Alexa-enabled devices," said Mike George, vice president, Amazon. "We're thrilled to collaborate with Sonos to combine the magic of Alexa with an incredible way to listen to music in every room in the home."
Sonos users will gain this new capability in a software update that will work on new and previous versions of Sonos and Alexa-enabled devices, such as the Amazon Echo, Echo Dot, Amazon Tap, and Amazon Fire TV. This update will roll out to an invite-only beta group later this year, expanding to all users in 2017.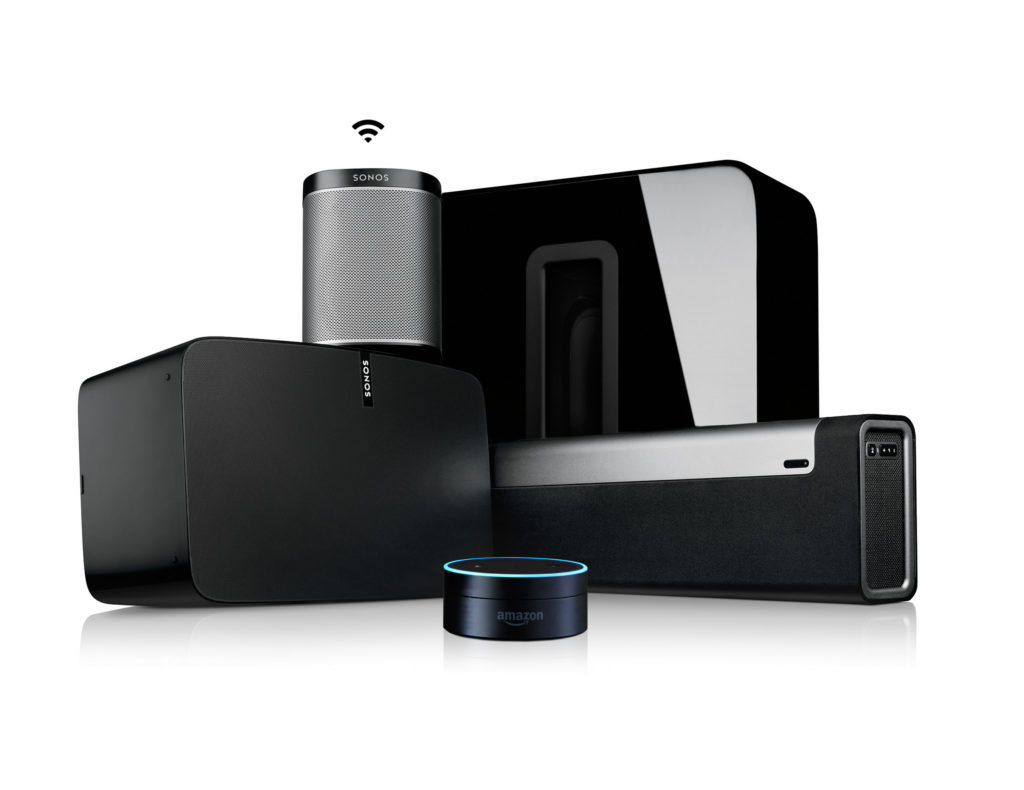 Spotify – A Deeper Integration
The company also announced a new integration with Spotify Connect which will allow a Sonos system to be controlled directly from the Spotify app, including play controls and the grouping and ungrouping of rooms. Sonos users will gain this added functionality via an October software update.
Sonos says it will pursue deeper integration with other services, similar to the one they crafted with Spotify. The company specifically mentioned Pandora, but says it will have the same capability of adding direct control "across its entire lineup of music service partners."
Custom Integrations 'Endorsed Partners' Program
But perhaps the biggest announcement that has the CI industry abuzz is the integration with a wide range of hardware companies including Crestron, Control4, Savant, Lutron, iPort, and Deutshe Telekom's QIVICON. Sonos refers to this as their "endorsed partners" program.
Many of these companies released their own announcements with more details on the depth of the Sonos system's integration into their control systems. But clearly, Sonos sought out some of the largest players in custom integration market.
This was the program we stumbled upon last month in our reporting on Crestron. It is an interesting move for these companies…and for Sonos.
Is Sonos the Rodney Dangerfield of Custom Integration?
Sonos has been kind of like the Rodney Dangerfield ("I don't get no respect.") of the custom integration business. For several years now, many in our industry didn't take Sonos seriously – looking at it as a mainstream, mass market product. But as Sonos grew, it got harder and harder to ignore.
Eventually, a few control companies essentially hacked an integration together for their dealers, as consumers needed the ability to control their Sonos through their system. Sonos has said, it needed to exercise some ability to exercise some control over the integration to ensure the interface represented a positive consumer experience. This, it said, was their main motivation to pursue these integrations.
What the Program Does Not Do
"Custom installers are at the vanguard of making the connected home a reality," said Sonos President Patrick Spence in a prepared statement. "For years they have worked tirelessly to bring disparate technologies together, and are pushing hard to make smart homes both accessible and ubiquitous. Our work together ensures our sound platform integrates well with their systems now and in the future."
What this Endorsed Partners Program does not do, presumably, is build in more profit to the sales of Sonos system. And this is the prime complaint we constantly hear from integrators about the brand.
The Sonos Show?
In a letter to dealers, Sonos said: "These joint collaborations seamlessly integrate Sonos's sound platform into the connected home, making it even easier for customers to control their home listening experience. At this year's CEDIA Expo in just a few weeks, we will demonstrate how these integrations make it possible to control Sonos from a touchscreen panel, a light switch, remote control and more with a simple push of a button."
We expect to see Sonos display systems from all of their Endorsed Partners to show off their integration. Most likely, the Endorsed Partners will reciprocate with Sonos systems set up in their booths for the same purpose. So with Sonos here…Sonos there…Sonos everywhere – is this going to be the Sonos Show?
CEDIA CEO Comments on Sonos Developments
Vin Bruno, CEO of CEDIA, the trade association of custom integrators – or as he prefers to refer to them, home technology specialists – welcomed the news.
"Technology is all around us…it's ubiquitous. And homeowners need help," Bruno said. "And so I think it's a good thing that companies like Crestron, Control4, Lutron – those are the big boys in our industry – are associated with Sonos. It's a good thing. Sonos, I might add, has been a very good member of CEDIA – one that supports the channel."
Some Integrators are Not Sonos Fans
But we asked Bruno, does he understand why some integrators are not fans of Sonos? We have heard from many skeptical integrators who feel the brand speaks more to the DIY (do it yourself) customer. Wireless speakers set around a house – perhaps now even more simple with voice commands? Who is going to call for an integrator?
Bruno pointed out that many homeowners need help installing and setting up a Sonos system. Positioning of the speakers, he tells us, is critical and a home technology specialist from CEDIA is the perfect installer for the job.
Times are Changing
But in any event, the CEDIA CEO said, integrators need to understand that the times are changing.
"So, you know, times are changing and integrators have got to change with those times. And certainly the younger group of integrators, they understand it better than the older. But those that don't adapt will suffer for it. So this is just part of the trend. Sonos is an important component to a home because homeowners want it."
Learn more about Sonos at: www.sonos.com.