BREAKING NEWS
Even Bigger Surprise: Who Crestron Has Partnered With

We have learned from multiple sources, and now confirmed with the company, that leading control systems provider Crestron will in fact have a presence at the upcoming CEDIA Expo this September in Dallas, TX. This news will come as a surprise, perhaps even a shock, to many considering that just a few months ago, the company announced its departure from the residential custom integration industry's biggest annual event.
But perhaps a bigger surprise is with whom they've chosen to partner…
The leads began pouring in almost two weeks ago that something was up with Crestron. The rumor mill ground almost ceaselessly that the company, despite its publicly announced exit just months ago, would in fact, be showing their products at the upcoming CEDIA Expo. For years, Crestron was the largest exhibitor at the show, pouring tons of money in to sponsor the event and create a massive booth to show their wares.
Then, in February, a huge shockwave swept over the industry when the company announced it would pull out of the trade show. The reason they gave was that Crestron and CEDIA were on diverging strategic paths. Crestron, gets the largest share of its revenues from the commercial business – residential is a relatively small percentage of their business. In a simple calculation, it made sense to focus their promotional efforts to the part of the business most important to them.
Showing with 'Integration Partners'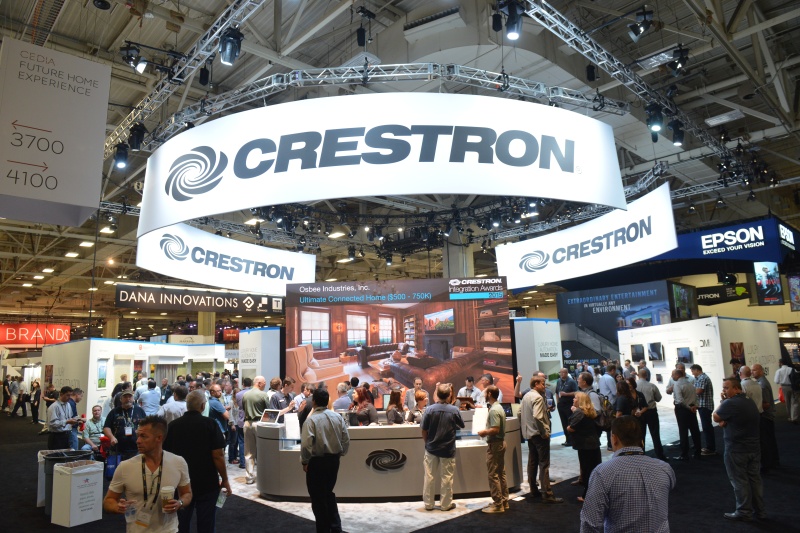 But now Crestron is back at the CEDIA Expo, not in their own booth, but in the booth of its "integration partners." And that fact adds an interesting element to the whole story.
We reached out to Crestron for comment on this story and finally heard back from Ami Wright who is Crestron's Director of Residential Programs.
"We will be there with our integration partners," Wright confirmed. "So we will have some of our solutions and products on display in our integration partners' booths. And then we will be making a big announcement with two partners in particular."
Sources: Sonos is a Big Partner with Crestron
>One of those integration partners is, according to what we've learned from multiple sources, Sonos. So we asked Wright to confirm. Here, after a short pause, she drew the line.
"Um, we are not commenting on any specific integration partners at this time," Wright said. Wright went on to suggest that if Strata-gee had more questions, we should work with Creston's public relations person.
Sonos is an Interesting Choice
Sonos is an interesting choice for Crestron, given the fact that the company largely defines itself as a premium integration brand.  Yet Sonos is clearly more downmarket – the champion of the "average Joe." In fact, and it was this element of the story that was so shocking to our sources, it motivated them to reach out to us.
Wright went on to tell us that Crestron, in fact, has multiple integration partners at Expo.
Dozens of Partners, Crestron Confirms
"We have a lot of integration partners," Wright chuckled. "We have dozens. But as far as the big announcements we're making, we're not prepared to talk about that at this time."
So it would appear that we have stumbled onto an entirely new strategy for the company relative to its approach to the residential systems integrators market. Perhaps, and until we get more clarity this is speculation, Crestron will approach marketing for the residential market through their integration partners rather than directly. This would be an interesting choice as there is less control in this marketing by extension approach.
You can learn more about Crestron at: www.crestron.com.