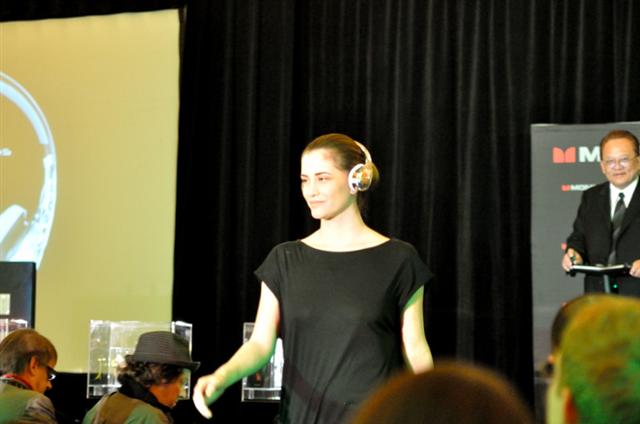 >>See a full slideshow of the Monster Press Conference here<<
<January 25, 2012> In what had to be one of the more unusual press conferences we've attended, Monster Cable – who wants us all to drop the "Cable" from their name – launched a whole roster of partnerships including the clothing brand Diesel, and put on a fashion show for both their Diesel-related products and their new Inspiration headphone line. Yes, that's right, we said a fashion show complete with models walking down a runway of sorts (a cleared center aisle) with music blaring and flashing colored lights, showing off various Monster headphones.
Monster Cable, who now wants to be known as Monster Products,  has significantly shifted their business spectrum with the successful launch of headphones, power protection products, and more and, as such, is seeking to broaden their branding by changing their name from Monster Cable, to Monster Products. The company has launched a website at www.monsterproducts.com, although the site they've been using for years, www.monstercable.com, is also still active.
Going Beats-less…
What Monster did not mention at CES, but emerged in subsequent press interviews, was the fact that their relationship with Beats by Dr. Dre – the headphone brand that many credit with putting Monster on the headphone map – was ending. This reality may explain the rash of partnerships that Monster did focus on at CES including Diesel; Nick Canon; Gene Wang (People Power); Earth, Wind, & Fire; Lance Armstrong's LiveStrong; JYP Entertainment; and probably a couple we missed.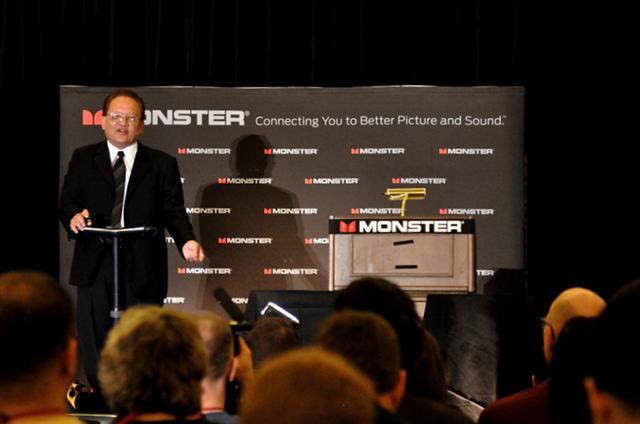 As is usual at Monster press conferences, Noel Lee – who likes to refer to himself as the "Head Monster" – served as the master of ceremony. The company likes to pack a lot of information for the press in a rapid-fire style presentation which skims quickly from category-to-category with no time for the press to catch their breath. And, in that regard, this press conference was no different.
Power control…
First category on display: power protection and control. Here Monster showed a new "Power App" that allows consumers to monitor and control their home's power usage from anywhere in the world via their smartphone. The app works in conjunction with Monster modules they call PowerCenters, PRT 100M, PRT 100MC, and PRT 300MC ($59.95, $69.95, $119.95, respectively).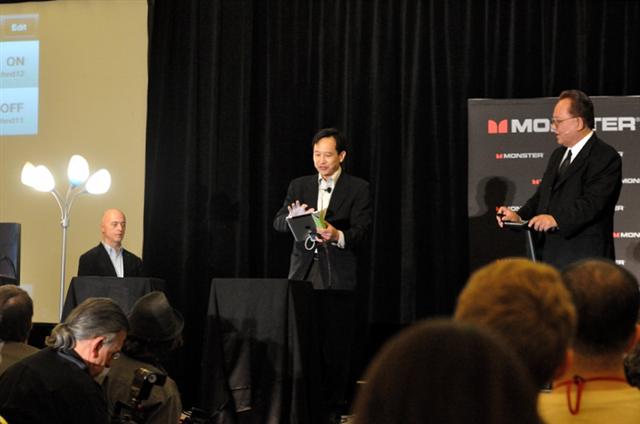 The modules are used in conjunction with the GTW 100 ($59.95) gateway which enables the wireless control of the modules. Gene Wang, CEO of People Power, explained how the system worked and actually demonstrated it with an on-stage light that he was able to turn off and on via his handheld iPad. People Power worked with Monster to create the app.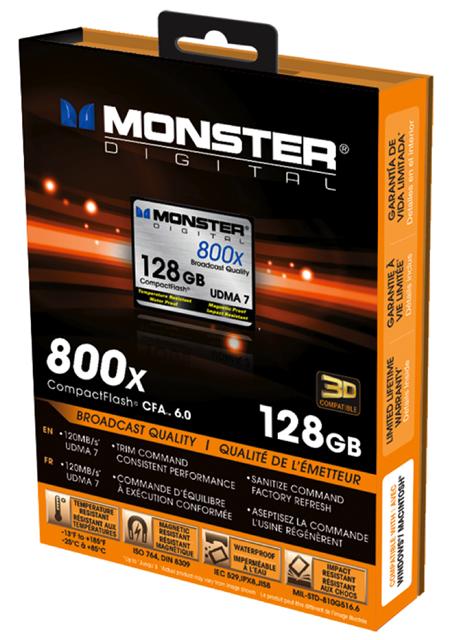 Meet the digital Monster…
Lee then announced the formation of a new company called Monster Digital. Monster Digital is a Simi Valley, CA-based company that is independent of Monster with a completely separate management team. Formed to help lead Monster into the burgeoning digital media market, Monster Digital has launched a line of high performance SD, MicroSD, Compact Flash, Solid State drives, and Hybrid drives.
Not much time was spent on Monster Digital, but we can safely say that it appears that Monster will be applying its classic marketing strength to the new company with digital media packed in large boxes with typical Monster graphics, stats, and branding. Exactly who the owners are and what their percentage of ownership is remains an open question – but other than changing the color of the "M" in the logo from red to blue, the line will remain enveloped in the Monster brand.
New Clarity, with voice…
Next up on the Monster hit parade was an extension of their Clarity line with a new small portable Bluetooth speaker called the ClarityHD Micro. Combining what the company calls "higher definition" music performance with the ability to instantly switch to a personal or conference call capability, Micro adds new functionality to music listening.
The ClarityHD Micro has a voice command feature in which the user can change the voice by downloading alternatives from Monster's website. The unit carries a suggested retail price of $219.95.
StreamCast still streaming…
Turning to their previously announced StreamCast streaming music system, Lee predicted that this business will grow dramatically for Monster this year. We've previewed StreamCast in a previous e-newsletter and you can see our report here…
Heading to headphones…
With the preliminaries out of the way, Lee turned to the main event for Monster these days – headphones. Showing market data from NPD, Lee revealed charts which indicated that the headphone market grew this past year 160% in terms of dollars…and 171% in terms of units.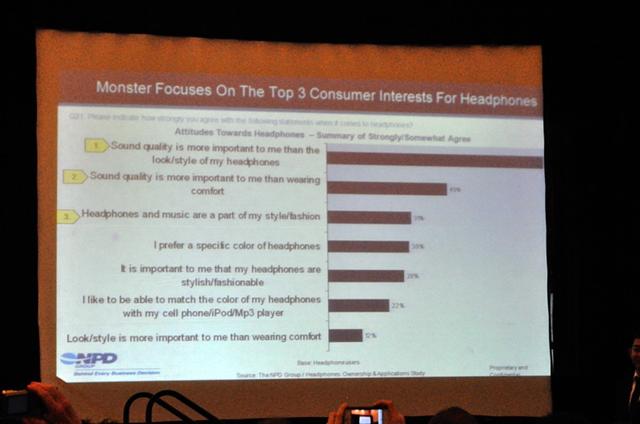 "Mobile is the new paradigm," Lee said.
Going one step further, Lee claimed that when it came to developing headphones, Monster focused on the top three "interests" that consumers identified when they shopped for headphones. Again, quoting from NPD research, Lee put up a slide which showed the following three consumer comments:
Sound quality is more important to me than the look/style of my headphones
Sound quality is more important to me than wearing comfort
Headphones and music are a part of my style/fashion
Interestingly, during the remainder of the press conference, Monster seemed to focus more on looks, style, design, and lifestyle-identity than on accuracy, quality, or specifications. This apparent conflict was never explained.
We were then subjected to a series of slides with marketing slogans: Monster Knows Audio, Because the Music Matters, We've Only Just Begun, Join the Revolution 2012, and For Customers Who Love the Sound of "Real Music." All slogans appeared to have equal significance, so it was difficult to determine which was the key rallying cry.
Show a little gratitude…
First up in the parade of headphones was Gratitude, which is a project between Monster and Earth, Wind, & Fire. Monster says that Gratitude is "engineered and tuned to faithfully reproduce the true harmonics of live music and the sonic details of each instrument…" Gratitude is priced at $229.95 MSRP.
As part of the presentation, Earth, Wind & Fire bassist Verdine White addressed the group. White talked briefly about how pleased EW&F is to work with Monster.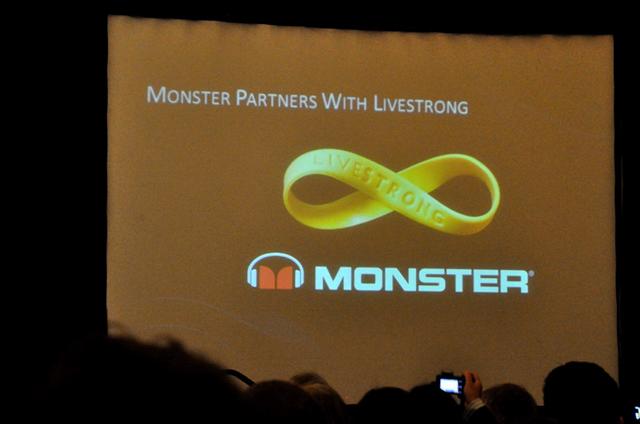 Be an iSport and LIVESTRONG…
After the Gratitude presentation, Lee turned to their iSport line of earbuds designed for athletes and others engaged in exercise or other outdoor activities. Monster will be launching an in-store initiative with iSport called the Get Fit Now Initiative.
The iSport line was expanded with a new yellow version launched in conjunction with Lance Armstrong's LIVESTRONG and Radio Shack. Renee Nicholas from LIVESTRONG spoke to the group about the initiative. Monster says a portion of the proceeds from the iSport LIVESTRONG model will be donated to the Lance Armstrong Foundation to fight cancer.
Bringing out the big canon…
Lee then announced that Monster was partnering with music star Nick Cannon in order to "drive youth empowerment." Called the "NCredible" line of products, Monster will offer ATTAIN Backpack, DRIVE Bookbag, and PREVAIL & EQUIP messenger bags.
Also, the company will launch NTune On-Ear Headphones ($129.95) and NErgy In-Ear Headphones ($69.95). A Monster product manager came up on the stage to show how the NErgy models can be magnetically snapped together and worn as a type of necklace to keep them at-hand when needed.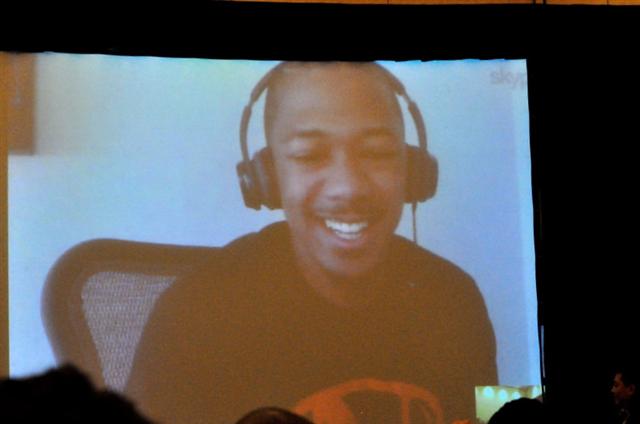 Nick Cannon who, shortly before the CES was hospitalized for an illness, joined the press conference via Skype where he told journalists that he felt fine and would be getting out of the hospital the next day. He also spoke of how  pleased he was to partner with Monster.
At this point, a slightly androgynous-looking blond male model appeared and – in a preview of coming attractions – strode down the center aisle wearing a pair of the NTune headphones and carrying one of the NCredible over-the-shoulder bags.
Unleash the fashionistas…
Lee then put up a slide that said, "Monster Brings Fashion to CES" with the image of a model wearing headphones and shown under bright lights. This was the introduction into Monster's new association with fashion brand Diesel.
Diesel, founded by Italian fashion designer Renzo Rosso in 1978, offers an wide array of relatively expensive products such as $185 blue jeans, as well as watches, fragrances, and footwear for young adults. And now Vektr headphones, built in conjunction with Monster.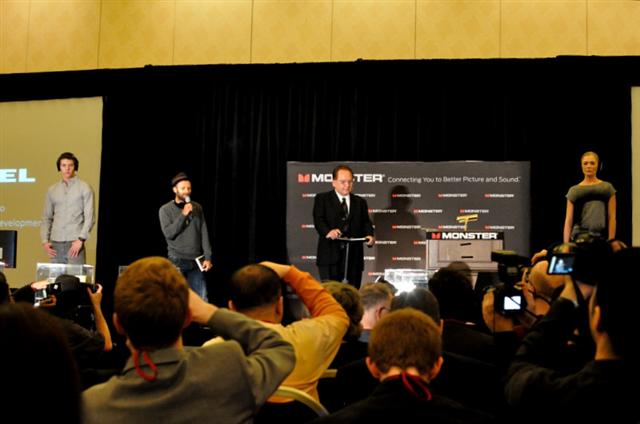 Stefano Rosso, Director of Corporate Development for Diesel spoke to the group of reporters. Rosso talked about how Diesel was a success even though many people told them it would be "stupid" for them to get into some of these businesses. All of this has convinced them to launch a campaign that they call their "Be Stupid" campaign – in other words, pursue your dreams even if others tell you you're being stupid.
We were then treated to a "fashion" show with runway models wearing the new Vektr headphones parading down the aisles and up on the stage. There is not much we can say about the performance or technical superiority of Vektr headphones other than they were pretty models wearing pretty headphones.
Crystal blue persuasion…
Next up was the product of a previously announced partnership with JYP Entertainment with a new headphone design that they called Diamond Tears over the ear headphones. A striking design, Diamond Tears feature a clear, cut crystal  styling ("Edgy Like Diamonds" Monster says) that picked up and refracted the lights in the room.
Monster says that this is the first in what will become a family of products. Here again, the press conference was treated to a fashion show with a model walking up and down the center aisle wearing a pair of the Diamond Tears which will be available sometime during the first quarter of 2012 for a SRP of $279.95.
Diamond Tears will also eventually have an in-ear design according to graphics shown to the press. There is no technical information about the headphones, it appears that Monster will emphasize a lifestyle/design concept rather than a performance concept ("Diamond Tears-Edge headphones feature a bold, jewelry like appearance with a multi-faceted design," said Monster materials).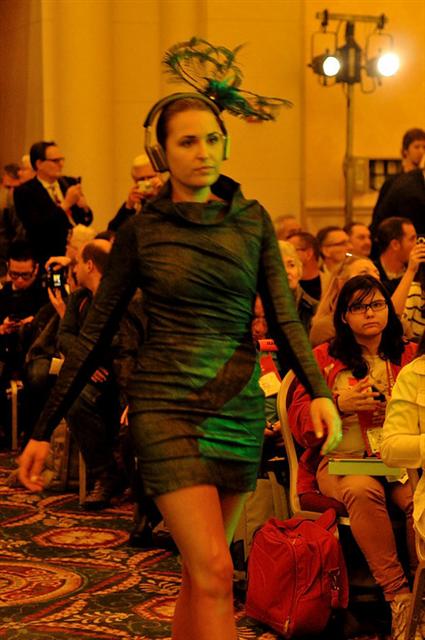 Looking for some inspiration…
Finally, it was time to unveil the star of the show, Monster's new Inspiration headphone line. Calling it a line of "fashion-forward over-ear, noise canceling" headphones, Monster believes that Inspiration will be successful in two disparate markets – the trendy, fashion-forward youth market…and the business traveler market.
Inspiration has a retail price of $279.95 and one of its biggest innovations is that it features a replaceable headband. According to company materials, while each Inspiration will come with a standard black or white headband, there will be eight different optional designs available at a price of $29.95 each.
Lee excitedly kicked off yet another fashion show with multiple models wearing different colors/styles of Inspiration headphones. Some seemed to draw from the wacky British "fascinator" styles we learned about during the recent Royal wedding with colored feathers and patterned fabric.
The models were all young and trendy…we didn't see a single business suit or other type of business traveler attire represented by the models at the press conference. And frankly, the Inspiration design is fairly large and boldly visible…we're not too sure that business travelers will embrace the stylized visual of this on their heads on the next cross-country flight.
Striking realization…
Perhaps one of the most striking realizations from the Monster press conference was that their strategy appears to be changing. It used to be that Monster was all about performance. Earlier in the press conference, they said that they were all about performance.
But then the entire press conference was all about style, design, fashion with nary a word about why these designs are better performers. Perhaps, that is what the headphone business has come to.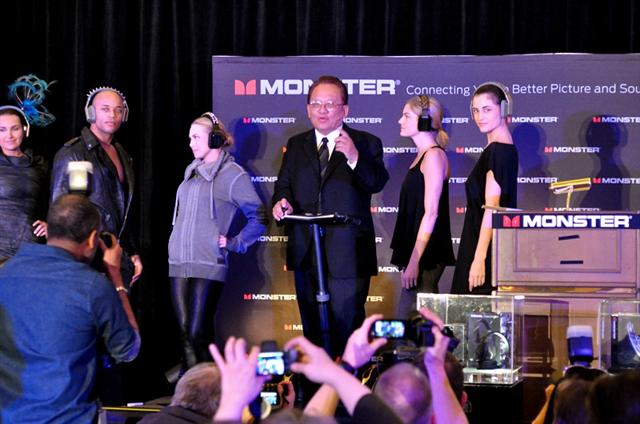 Perhaps consumers don't care about performance. Perhaps this has become a new accessory in their life…but not an audio accessory, a lifestyle accessory. Like a good watch, a nice hat (or fascinator), and black alligator belt…perhaps headphones have become more about lifestyle identity than about sound quality.
Certainly, brands such as Skullcandy (for the boarder dude), and House of Marley (for the "don't worry, be happy" dude) have certainly established a strong share of the market. And Monster with their Beats by Dr. Dre line, certainly tapped into this star's lifestyle. But now, as we've learned since the show, that is over as Monster's deal with Dr. Dre is ending this year.
No doubt, these headphones all perform well. Monster wouldn't risk their brand with poor performance. But still, it was interesting to see how they've changed the way that they present these products to the press…and presumably, the public.
Noel Lee told TWICE Magazine in a story run on the TWICE website last Friday, "We're going to be more centered around the audiophile…"
We'd like to see more of this audiophile orientation in Monster's marketing. Most audiophiles we know aren't sitting along a fashion runway.
>>See a full slideshow of the Monster Press Conference here<<