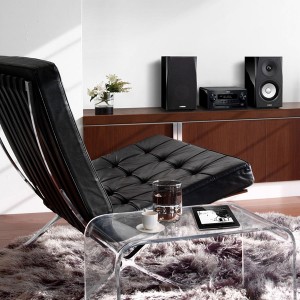 Popular as task-specific sub-room systems especially useful in offices, dens,and home offices…the executive micro-system has been used and appreciated by millions for many years now. In fact, here at Stratecon, we listen to one in our office frequently. We used to listen to it every day, but as more and more of our listening became associated with digital music via Apps like Spotify or Pandora, or any of a host of Internet radio stations…our more traditional desktop system just didn't have the right stuff.
Now, Yamaha seeks to change that, by introducing the MCR-N560 executive system that is today-tech savvy…
Yamaha says the new MCR-N560 is part of their PianoCraft series of systems – systems they say are specifically designed for music lovers. And in the case of this particular system, music lovers who want to surf the gap between listening to music from traditional sources (CD, FM radio)…and music from more modern options such as music content stored elsewhere on their home network or streamed from the Internet or their mobile devices.
Don't let its diminutive size fool you…this is serious listening gear with upgraded technology such as support for high-resolution  FLAC/WAV 192 kHz/24-bit audio files. The company has also built-in some serious enhanced construction worthy of a good quality component system, such as vibration-control speaker cabinet system.
The digital domain…
The company thought of everything, such as digital inputs – both coaxial and optical. The optical connection is for inputting the audio from a TV and the coaxial accommodates the audio from a high quality Blu-ray player. These inputs keep the audio signal in the digital domain for best quality.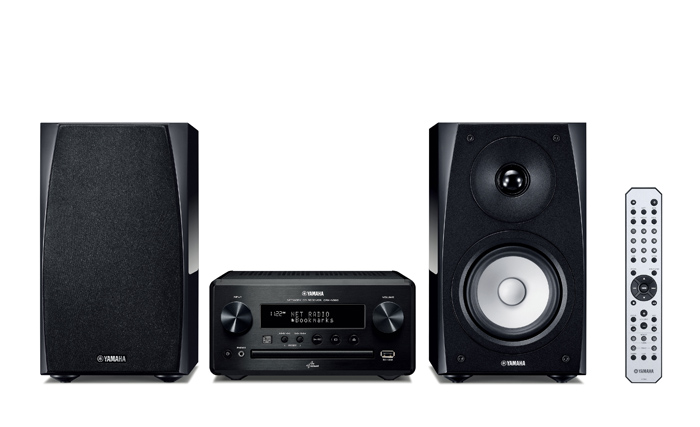 But back to the speakers for a minute, because there's a feature here that Yamaha fans will love. The speakers for the MCR-N560 are a 2-way design with a 4¾″ woofer and a 1¼″ soft dome tweeter. Professional recording studios all over the country use a very famous Yamaha speaker called the NS-10M to check their mixes. The NS-10M is easily identifiable by its bright white woofer.
Echos of a famous studio monitor…
Like the famous Yamaha studio monitor – the MCR-N560 speakers uses the renowned white woofer with a polymer-injected mica diaphragm unit. The company says that this woofer is a specially sized and tuned version of the woofer used in their Soavo speakers.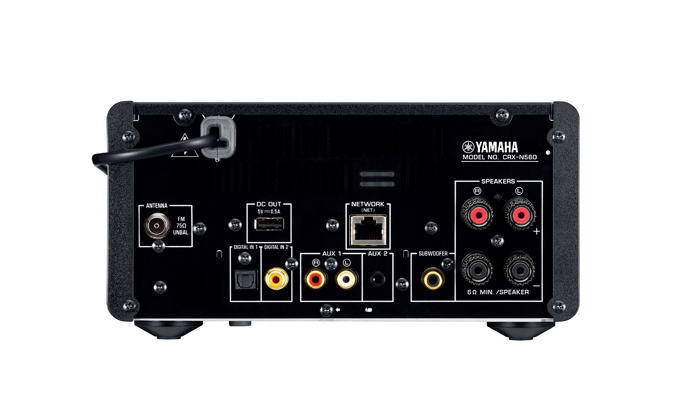 The MCR-N560 has a comfortably familiar design with a built-in CD player, an FM radio (with station presets), and large analog control knobs – again, much like a high-end audio component. But adding pizzazz is full wired and wireless compatibility with AirPlay included. Optional modules add Wi-Fi (YWA-10, $99.95 MSRP) and/or Bluetooth (YBA-11, $69.95 MSRP)  capability…turning the system into a super digital music streaming dream.
"The MCR-N560 benefits from the same craftsmanship and design approach that Yamaha utilizes in the full-size home entertainment components. Only Yamaha has this deep expertise in Audio that enables us to regularly share key technologies between our consumer audio, professional audio and musical instrument product divisions," said Bob Goedken, general manager, AV Products, Yamaha Corporation of America. "It is a sophisticated and versatile system that is equally suited for personal listening and sharing music with family and friends."
Consumers can download Yamaha's Network Player Controller App to fully operate the system from their favorite smartphone or tablet – whether iOS or Android. The system is also DLNA 1.5 compatible for further interfacing with your existing network.
The MCR-N560 sells for $649.95 MSRP and is available now from your Yamaha Authorized Dealer. By the way, the main system unit – the CRX-N560 – is available separately for use with any of your favorite speaker systems for an MSRP of $499.95.