Topping off their latest RX-A30 series of Aventage A/V receivers, Yamaha on Tuesday announced the RX-A3030, RX-A2030 and RX-A1030 models. Yamaha calls them their "most stunning" models that were "engineered by ear" for those home theater enthusiasts who want the best.
See more about these brutes from Yamaha – who says they're "the market leader in AV receivers"…
Yamaha Corp. says that it tasked its R&D team to take performance to a new level with these receivers, literally hand-picking those components that offered the best and purest sound. And this meant leaving no stone unturned to find the best components available.
The company says that the foundation for the Aventage receivers performance was the ESS Technology SABRE32 EX9016 and SABRE ES9006 digital-to-analog converters. The company says that these are best-in-class and helps these receivers deliver "spectacular audio and an unsurpassed sound stage."
Obsessive engineers…
The company couples this superlative audio performance with their Yamaha "suite of proprietary video processing technologies" offering peak video performance as well.
"Album after album, film after film, AV professionals say how much they appreciate the clean, detailed and powerful sound, and the highly convincing sense of 'being there' that embody our Aventage receivers," Bob Goedken, general manager, AV Division, Yamaha Corporation of America said in a prepared statement. "We can give all the credit to our engineers, who obsessed over every last detail, making subtle refinements and tweaks that mean the difference between good and great. Ultimately, we have one-upped ourselves achieving the purest, best-sounding audio and best video reproduction possible."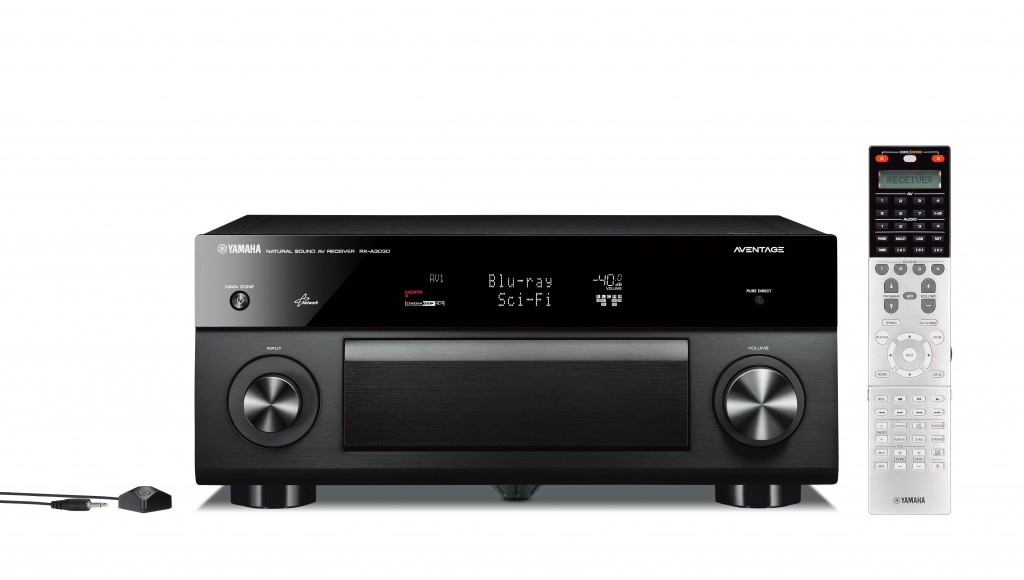 These top Aventage models are meant to be the central control center to a sophisticated but simple-to-operate home entertainment system. The receivers offer flexible whole-house entertainment control, including the ability to view two High-Def audio/video sources simultaneously in two separate rooms with Advanced HDMI Zone Switching.
Be content with your content…
And access to your content is not a problem. These Aventage models include Apple's AirPlay and access to Pandora and Rhapsody music streaming services, vTuner Internet radio, MHL and DLNA certified components. MHL gives the user the ability to stream their HD video and music files from their favorite smartphone through the system.
Yamaha also offers their AV Controller App which is available for iOS, Android, and Kindle Fire devices and offers what the company calls "comprehensive system control" from anywhere in and around your home.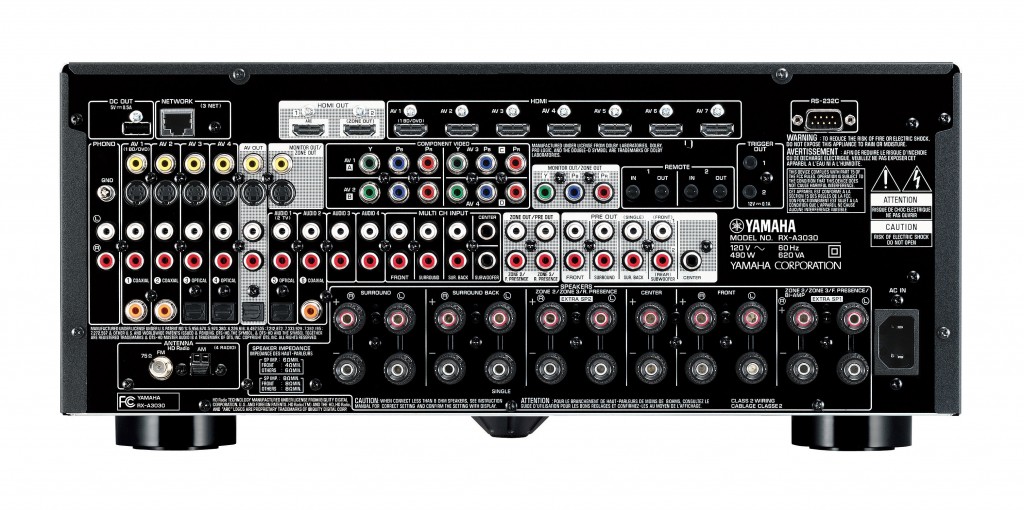 RX-A3030 – Key Features
9.2-channel (11.2-channels with added amplification)
150 W per channel (8 ohms, 20 Hz-20 kHz, 0.06% THD, 2 ch driven); discrete amplifier configuration
Cinema DSP HD3 (expands the sound field vertically)
ESS high performance d-to-a converters
Aluminum front panel (looks better and provides an electronic shielding effect)
A.R.T. anti-resonance technology (5th centered foot or wedge for added stability and vibration damping)
H-shape cross member frame and double bottom construction
MHL (mobile high-definition link) supports full HD streaming from smartphones and remote devices
AirPlay, Pandora and Rhapsody streaming
Advance HDMI zone switching
8 HDMI inputs (one on front panel); 2 HDMI outputs
4K Ultra HD pass-through and upscaling
YPAO R.S.C. (reflected sound control) for room acoustic adjustment
Available in June with a MSRP of $2,199.95.
RX-A2030 – Key Features
Similar to above
9.2-channels
140 W per channel (8 ohms, 20 Hz-20kHz, 0.06% THD, 2 ch driven)
Available in June with a MSRP of $1,699.95.
RX-A1030 – Key Features
Many of the same features as above
7.2-channel
110 W per channel (8 ohms, 20 Hz-20kHz, 0.09% THD, 2 ch driven)
Also available in June with a MSRP of $1,199.95.
For more complete details, follow this link to the Yamaha website…