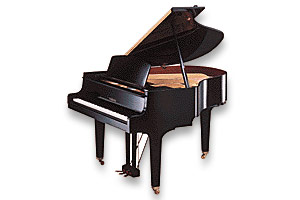 Last week, Yamaha Corporation released its financial results for Fiscal Year 2013 (the period ending March 31, 2013) giving the stock market and financial analysts a pleasant surprise as final numbers handily beat both their February 6th revised forecast and last year's results. Thanks to a strong fourth quarter, Yamaha hit sales for the year of ¥366.9 billion ($3.7 billion) or 2.9% more than last year's ¥356.6 billion. Yamaha also reported increased operating income, ordinary income, and net income.
And yet, surprisingly, the company also announced it would replace its President and Representative Director at the upcoming directors meeting to be held on June 26, 2013. Why?
See more on Yamaha's performance and the surprising reason they'll replace their President…
Though the company admits that it is still facing some challenges, there is no question that these results were even better than they envisioned with their February 6th forecast revision. Besides the sales increase, operating income increased 13.6% to ¥9.2 billion ($92.5 million)…ordinary income grew 18.3% to ¥8.6 billion…and net income swung from last year's loss of ¥29.4 billion to a profit of ¥4.1 billion.
The main reason for the better-than-expected result appears to be due to three primary factors: 1) Demand in North America was stronger in Q4 then anticipated; 2) There was an unanticipated favorable swing in the currency exchange rate in Q4; and 3) Demand in China, especially for musical instruments was strong.
Combating challenges…
In discussing their results, Yamaha management noted that the company experienced challenges in FY2013 thanks to multiple, and well-known, factors. Specifically, they noted the stagnant economic conditions due to the "delayed recovery in the U.S. economy" as well as the "adverse impact of the public-sector debt in European countries."
Not only that but, "economic growth in emerging countries, including China, was moderate." Yamaha, like a lot of companies around the world were counting on growth in China to help drive their business.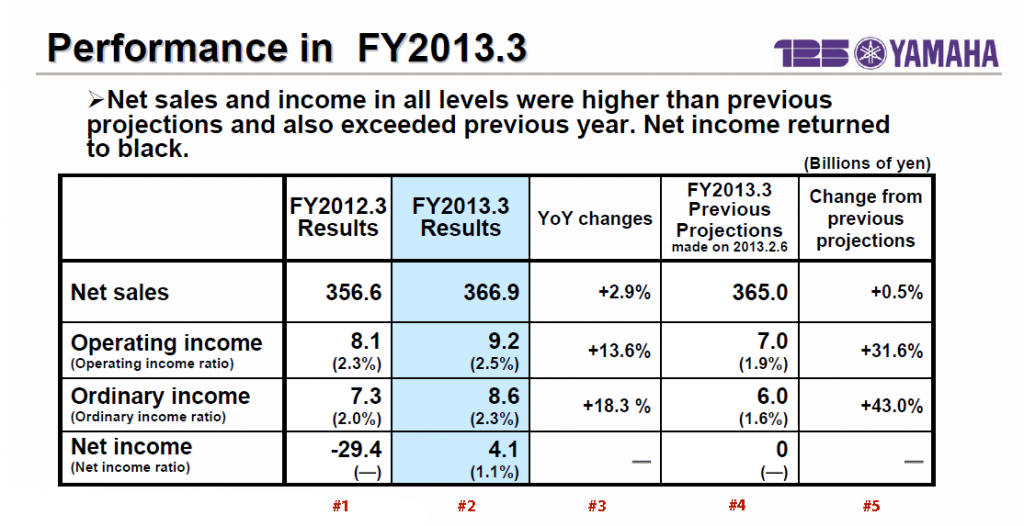 But Yamaha management successfully drove growth in China by expanding their sales network. Also, Yamaha worked to "strengthen its retail store displays" to make their products more attractive to the growing Chinese middle class. The company also expanded sales offices in other emerging markets such as Turkey and Vietnam.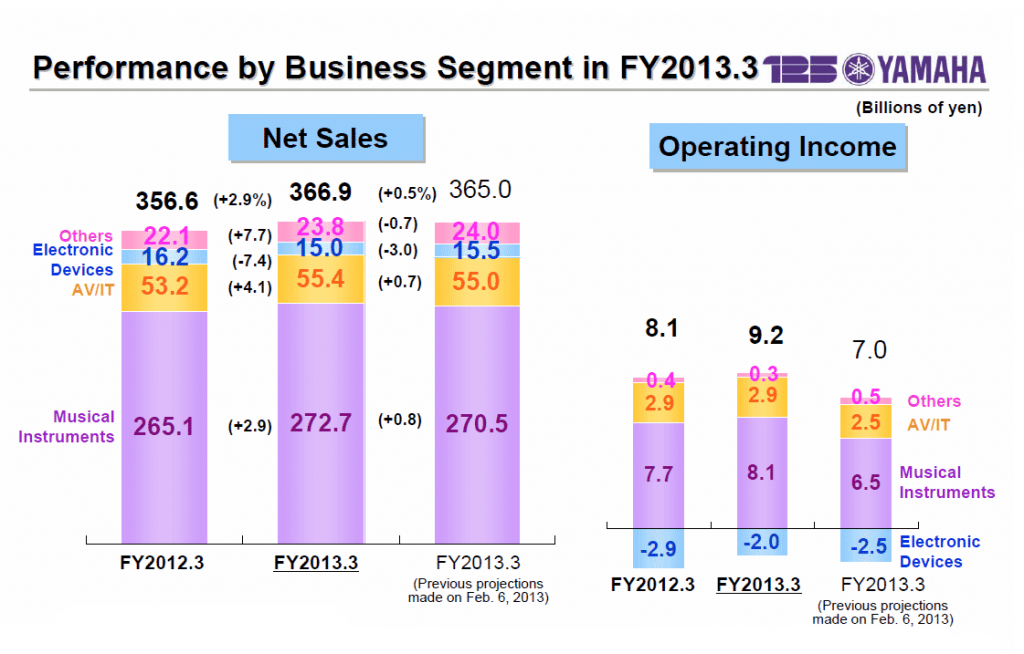 Not just cutting – but combating – a bloated cost structure…
At the same time, Yamaha has undergone significant restructuring of their production network to cut overhead and improve profitability. And the company has simultaneously made huge changes as it merged multiple offices of it's A/V and musical instrument sales divisions in the maturing Japan market. The rationalizing of staffing and management in this process should dramatically improve profitability.
Although some of these initiatives simply sound like typical business tactics – the fact is, the company had to challenge company, and cultural, norms to deal with some of these issues. For Yamaha, as it is for most Japanese companies, the domestic Japan market is a critical one. The company grew substantially over the years to serve their core customers – opening multiple sales offices for musical instruments and audio product…as well as a network of music schools. These music schools help create demand for Yamaha musical instruments.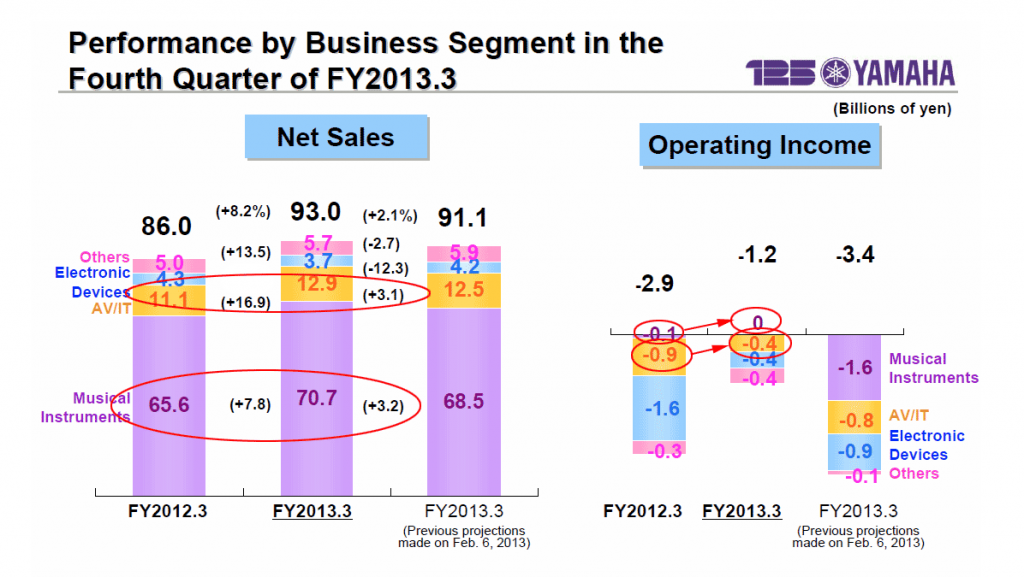 But the market has changed in Japan (and perhaps elsewhere). Yamaha recognized the change, moderated their forecasts for the market, and began a painful process of downsizing their operations in a market that is unlikely to improve for some time to come. For some companies, corporate ego would prevent these types of aggressive adjustments.
Defining data points…
All-in-all, the company heralded a couple of significant data points in its analysis. First, the North American market seems to gaining some traction in its recovery. Demand for both musical instruments and audio/video products was strong. Overall, sales growth in North America was double-digit at 10.5% higher than the previous year. Some of this is due to a more favorable currency exchange rate, but there was an impressive rate of shipment growth as well.
And the other notable data point is that the company noted that there was greater traction for Yamaha A/V products. Sales for the AV/IT segment grew 4.1% over last year…a solid result. In fact, in a presentation to financial analysts, the company called demand in North America (and Europe) for Yamaha A/V receivers "robust."
Fearless forecast…
Perhaps as a result of the roll the company finds itself on, it has issued what some might call (overly?) optimistic forecasts for fiscal 2014 – the fiscal year that ends March 31, 2014. Basically, management feels that the initiatives of the last year will continue to pay off…and at an increasing pace.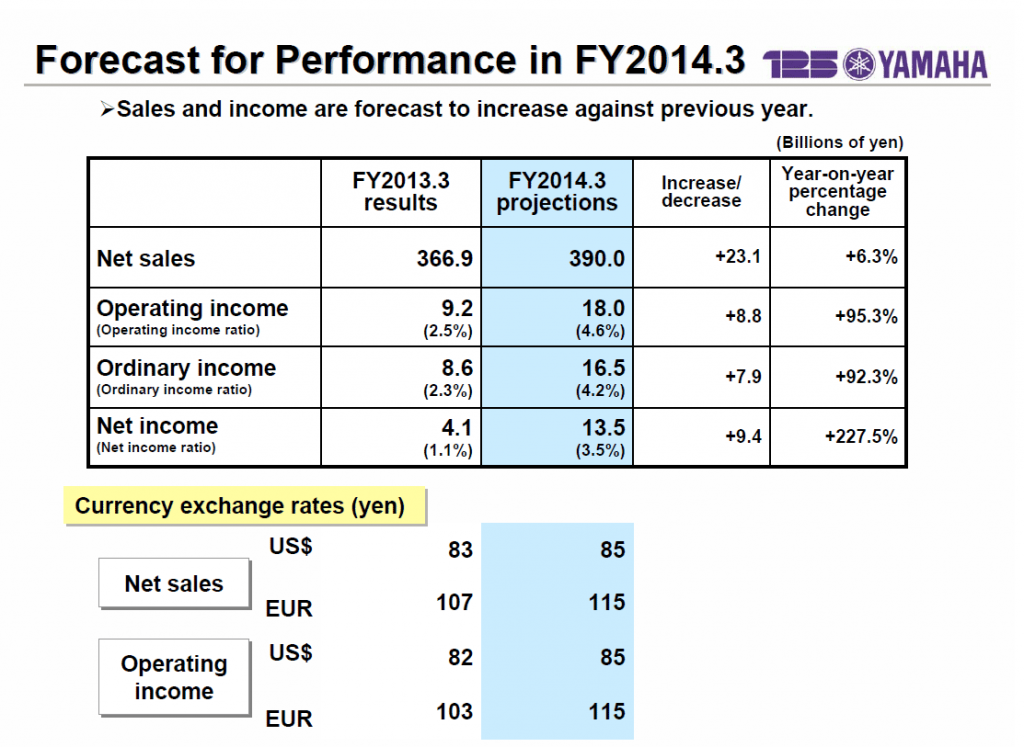 What do they attribute their optimism to? Yamaha "is expecting growth in sales by product especially in the digital musical instruments and professional audio equipment " segments as well as "growth by region particularly in North America and in China as well as other emerging country markets."
Wind in their sails…
But what may add wind to the sails of Yamaha's profits is that most currency experts expect the yen to continue to weaken versus the dollar for the foreseeable future. This will help drive Yamaha's profits as these North American profits are turned back into yen. The company has based its forecasts on an ¥85 to the dollar rate which is very conservative considering the rate today is ¥99.0400 against the dollar.
Thanks to the anticipated exchange rate in the next fiscal year, Yamaha says this factor alone will inflate sales by ¥9.6 billion and profits by ¥6.3 billion. And, like we noted above, this is likely to be a conservative estimate if today's rate holds this year.
Yamaha's management is forecasting that sales will increase this year by ¥23.1 billion to a total of ¥390 billion, or 6.3% over ¥366.9 billion last year. Every category of profit will increase with net profit forecast to increase an impressive 227.5% from ¥4.1 billion to ¥13.5 billion.
Out with the old…in with the new…

Yet in spite of this successful outcome for FY2013, Yamaha separately announced that current President and Representative Director Mitsuru Umemura will step aside at the upcoming June 26, 2013 Ordinary General Shareholders' Meeting.
Replacing him? The Board has selected Takuya Nakata as Yamaha's new President and Representative Director, effective June 26, 2013.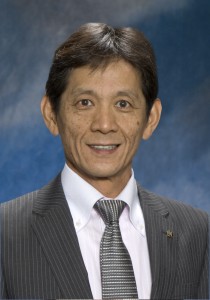 Why did the company decide to change its president after such a positive result? According to the company's announcement:
"Accompanying the start of Yamaha's new medium-term management plan, Yamaha Management Plan 2016, the Company will work to further grow and develop its business activities under a revitalized executive team led by a president from a younger generation."
Sounds suspiciously like age discrimination. However, it is difficult to say for sure as our documents are an English translation from a Japanese original. Hence, the wording may not perfectly translate to English.
For more information on Yamaha, see: usa.yamaha.com.