Think you know how the typical consumer – if there is such a thing – feels about advertising in our new digitally-enhanced world? You just might be surprised! For example, in today's increasingly digital world…marketers are devoting more dollars to digital media such as websites, email marketing, paid search marketing, social media marketing, and more.
But how does traditional print and broadcast media fit into our new digital marketing world?…
Recently, eMarketer reported that Adobe had conducted extensive surveys on all forms of marketing including both digital media and traditional print and broadcast media. They also surveyed both consumers and marketers to learn more details on their preferences. The results were interesting.
First, while marketers are enamored with digital media, traditional media is holding strong. In fact, traditional advertising powerhouse TV still takes the largest share of advertising dollars in the U.S. Not only that, but the its percentage of the total hasn't dropped at all.
Marketers prefer digital…
However, thanks to the easy measurability of online advertising, marketers tend to rate it highly. In fact, marketers rate online ads better than TV ads…with 51% saying they are more effective.
But consumers say TV ads are more effective by a much more significant margin – in fact, two-thirds of consumers say TV is most effective. This is an interesting disconnect between marketers and their targets.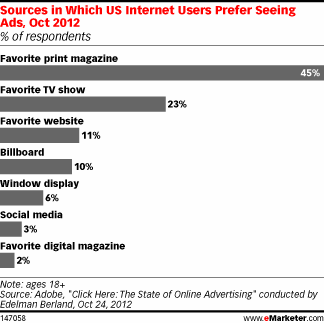 Consumers prefer traditional…
This theme of favoring traditional media by consumers carries through to the question of where they would prefer to see advertising. Surprisingly, 45% said they preferred to see advertisements in their favorite print magazine.
Not only that, but 23% said they preferred to see advertisements on their favorite TV show. For many marketers, this result is counter-intuitive with many expecting to see digital media score much higher.
Consumers are down on digital advertising…
But only 11% of consumers want to see advertising on their favorite website. More strikingly, only 3% said that they wanted to look at ads on their favorite social media sites.
And I have bad news for all of those media companies rolling out digital magazines to run on iPad and other tablets – only 2% of the consumers responding to the Adobe survey said they wanted to see advertisements in their favorite digital magazine.
The message to marketers is clear. When putting together marketing campaigns, ignore traditional media at your own risk!