That's a Good Question **STORY UPDATED**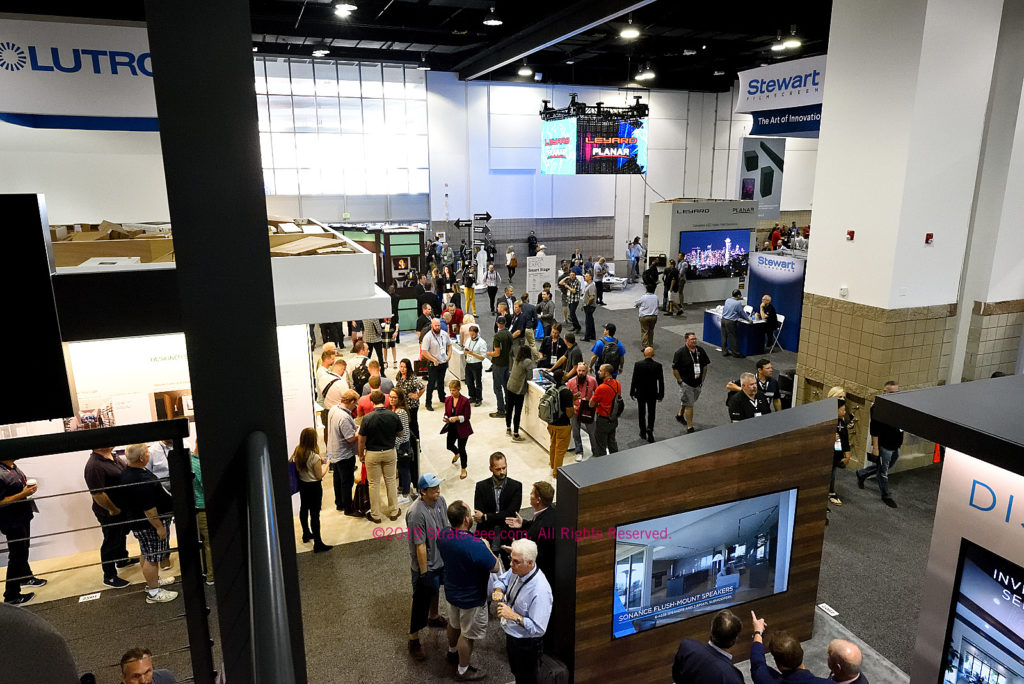 A funny thing happened this year at the 2019 CEDIA Expo…everyone I ran into kept asking me the same thing – what is the big story from the show? What's funny is that I asked them the same question. Even when I ran into other members of the media…we often queried each other. Most kind of shrugged and would mention an item or two, but nothing that represented a major theme of the event.
However, there is an answer I came up with, but I'm not sure its the best answer…
See the "big" story from Expo 2019 and an update at the * below…
To be fair, this seemingly simple question is usually not so simple to answer for the Expo. In the case of other shows, there is often a theme that emerges as the many exhibitors respond to the same market conditions from their perspective. It can be a simple matter of identifying to which trend each company is responding.
But the custom integration channel that the Expo addresses is such a highly fragmented market that this type of more universal theme generally doesn't exist. I often mention in my show overviews how difficult it is to pull out any type of unifying trend, pointing out the more likely scenario that there are a series of mini-trends…or incremental advances.
However, in the case of the 2019 Expo this year, there was a trend – a singular technology that I saw multiple companies promote. It is not one about which I am very excited, however. And when I queried integrators about that trend, many just rolled their eyes.
Just Say '8K'…Wait, Did Somebody Say 16K?
So what was that trend? All three of the major video suppliers…Sony, Samsung & LG…were all promoting 8K resolution as the next big thing in the industry. Market forecasts, they said, projected a big uptick in sales of 8K TVs over the next five years…suggesting that this fact bolsters their case. But wait…there's more…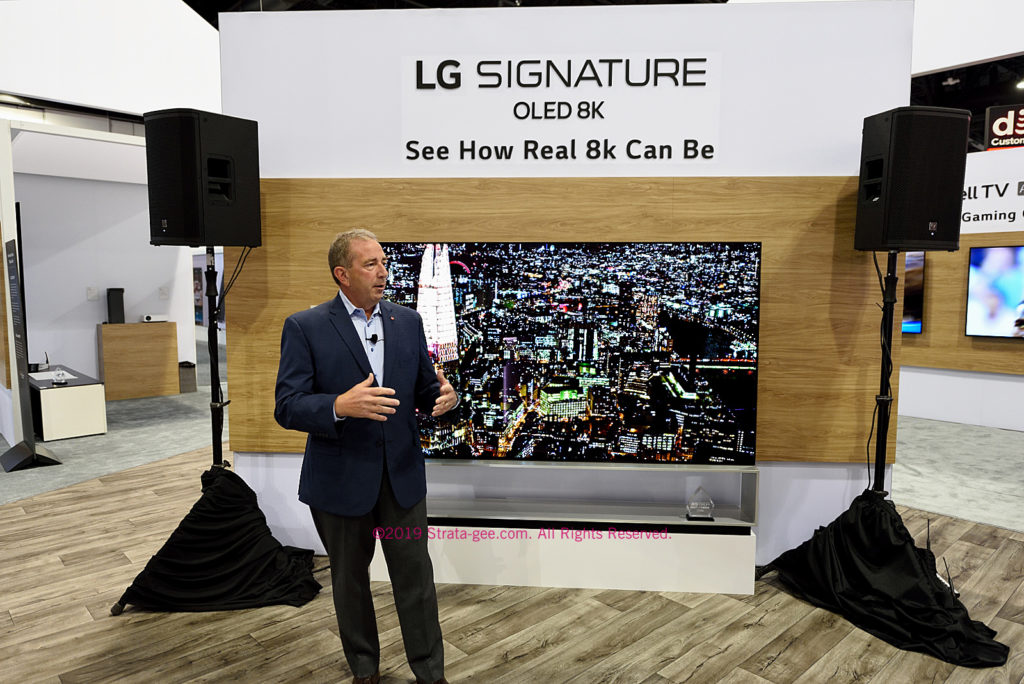 Yet another trend this "big three" of video talked about is the swing towards consumers purchasing larger panel sizes, with talk of 80″ screens on the lower end…and that of 200+" on the higher end. In fact, Sony spoke at length about their Crystal LED TV NOT in terms of inches, but rather in terms of feet!
Combine a big screen playing custom created content at 8K (or upscaled 4K) and you do get an impressive picture. But is the consumer really ready for 8K? And it was Sony who threw out another term…16K in video resolution.
What About the Content?
What did I think about these trends? Well, as longtime Strata-gee readers know, I tend to take a holistic view of tech industry advances. While I understand TV maker's desire to have some hot button to help them sell TVs – which right now that hot button is 8K – I can't get excited about it. Why? In a word…content, or more specifically the lack of any available 8K content. You demo these sets with gorgeous custom created 8K material…of which there is NONE available to the consumer. Lack of content…in my mind…is problem.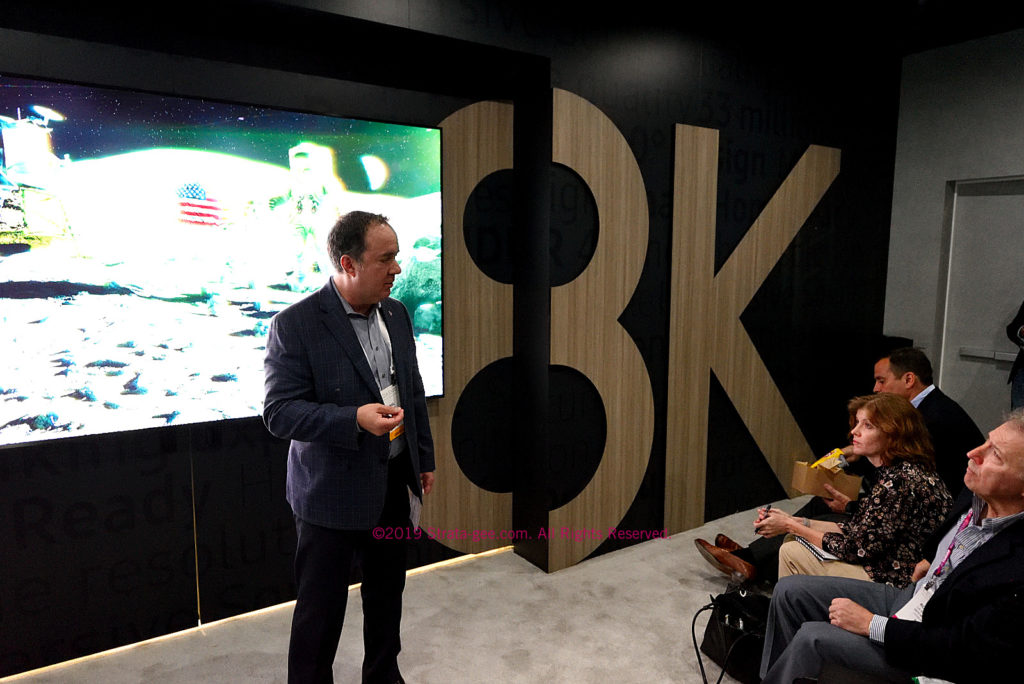 So I raised the issue of lack of content with my TV maker friends. They were ready for that objection. Each one of them replied with some version of this same response: thanks to our superior upscaling engine, ALL content looks better on an 8K set, including non-8K content. I remain troubled – research shows that most Americans are still watching HD content – even on their 4K sets. They are NOT even watching 4K content at this time…
Could Upscaled 4K Look Better Than Native 4K?
One executive with Sony told me that he saw a comparison of a 4K TV playing native 4K content – next to an 8K TV playing the same 4K content upscaled on the 8K set. There was no comparison, he told me…the 8K set looked dramatically better playing the upscaled 4K content than the 4K set looked playing the 4K content natively. I guess I'd have to see that with my own eyes – it's kind of like saying a landscape photograph looks better than the original landscape scene in nature.
As far as the trend to larger screen sizes, that is more believable. But what seems to be driving that trend is that the average selling price of the larger panel sizes seem to be declining. It is easy to find remarkable deals on large screen flat panel TVs these days.
Will that trend continue with these latest 8K sets with prices in the tens of thousands of dollars? Also, is this trend forever scalable? I mean, Sony is talking about 790-inch screens…that's 63ft x 18ft. You've got to have a pretty darn big living room to accommodate a set of that size…one that is MUCH bigger than my living room, that's for sure.
Biggest Stories at the Show Broke Before the Show
Perhaps the largest stories at the show, actually took place before the show. As Strata-gee was first to report, Sonance announced a dramatic rebranding initiative, shedding their old Dana Innovations moniker and returning to their beloved Sonance brand name.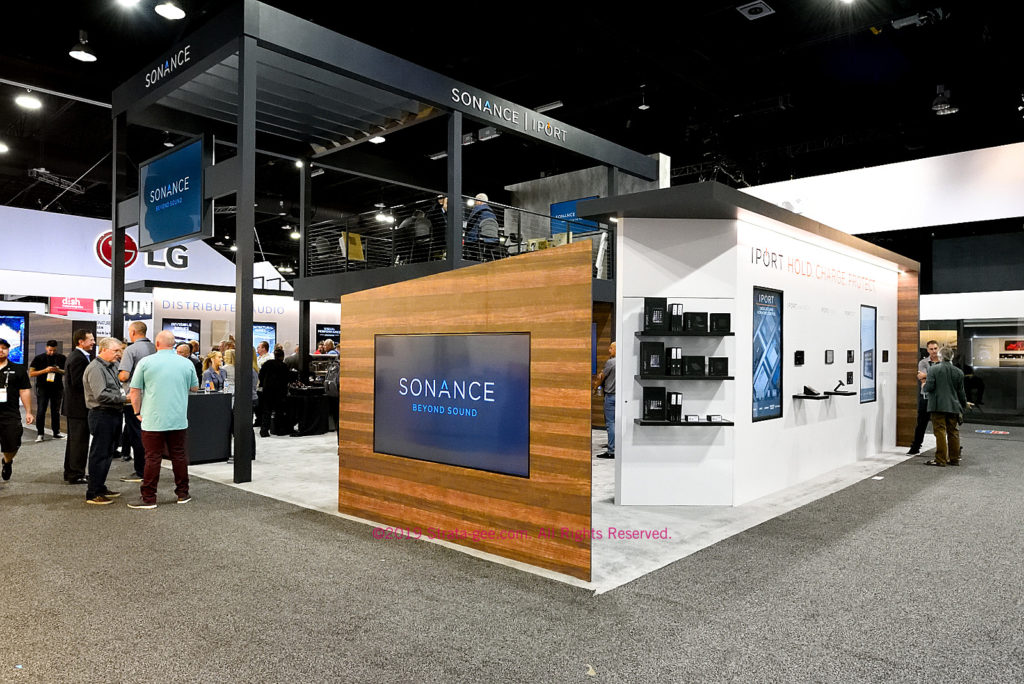 It is a big deal for a manufacturer to change their branding…including an all-new logo. Think about it…a new logo means new business cards, letterhead, packaging, boxes, manuals, advertisements, websites, and more. This is path taken that is not without significant cost. And there is a potential market risk… What if the world hates your new logo? What if this change confuses the market even more? This is all highly unlikely here, but still, the risk exists. I would say this was a dramatic initiative for the market leader in architectural audio.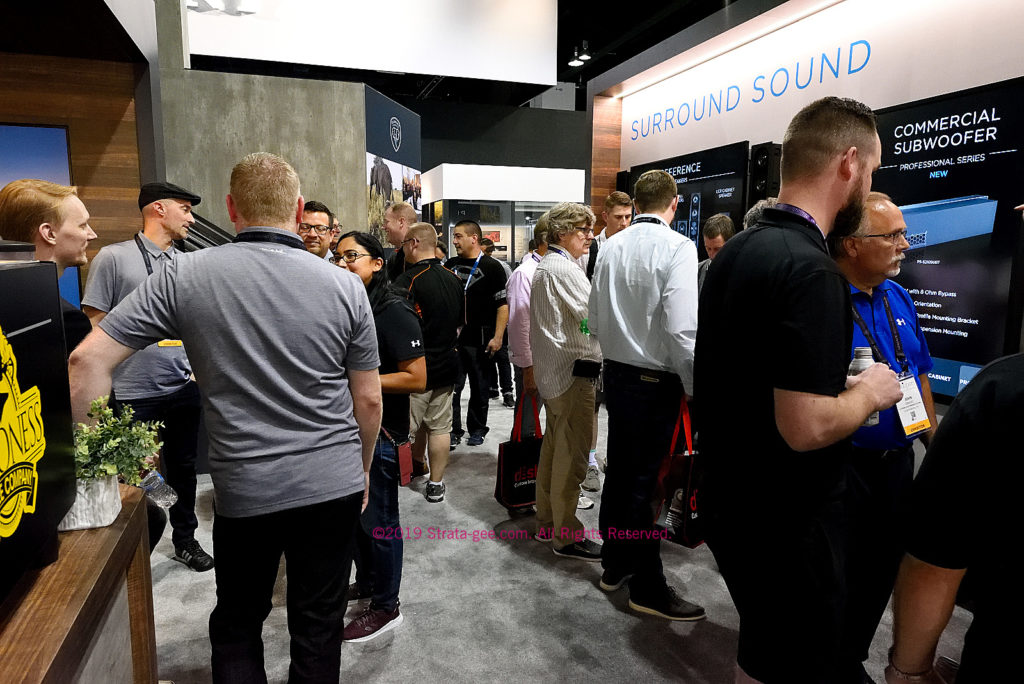 Part of this rebranding involved the launch of an all-new booth, which was a stunning affair that re-conceptualized how they displayed and sold their extensive product line. So this, in my mind, was one of the big stories at the show…even though it initially emerged prior to the show.
SnapAV Acquisition of Control4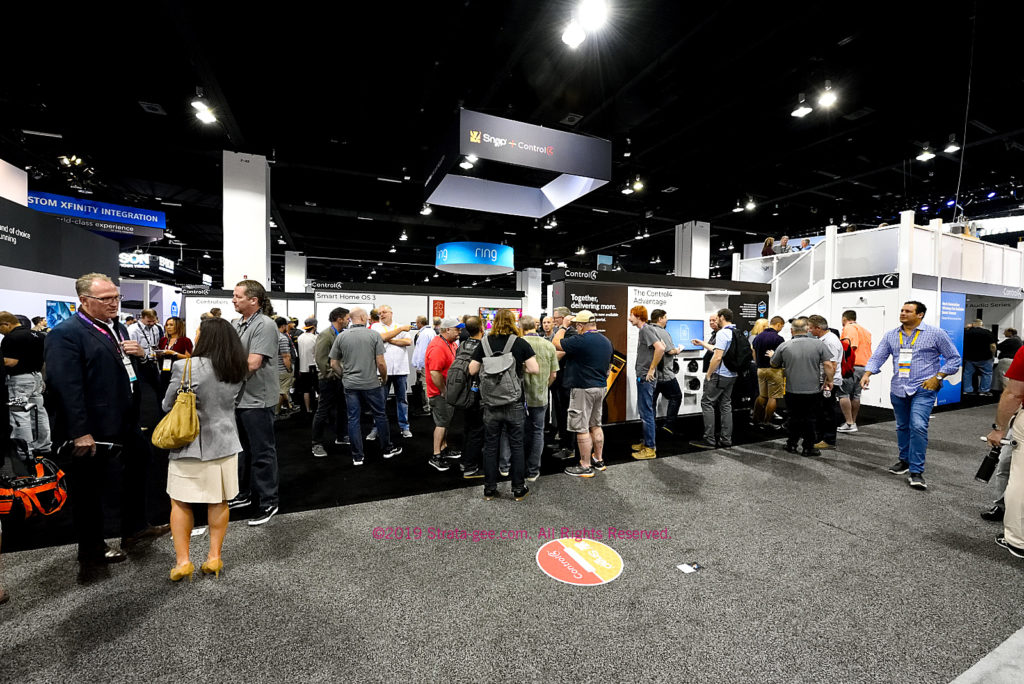 Another big story is that this CEDIA Expo was the first time that the newly merged SnapAV/Control4 would display together as one company. Actually, they were still two separate booths, but were placed next to each other on the floor.
Like the Sonance rebranding story, the SnapAV acquisition of Control4 actually took place about six weeks before the Expo…but it was nonetheless a big topic of interest and discussion at the show. There is much more to come from this camp, that's for sure.
*UPDATE*– Sonance Acquisition of James Loudspeaker
I don't know how I forgot to include this story in my initial publishing of this replay from the 2019 CEDIA Expo, as I clearly view it as a big story from the show. But, literally days before the Expo opened, Sonance announced its acquisition of James Loudspeaker – their first acquisition in fourteen years. It was a big deal that caught many by surprise…including me! Or maybe I should say especially me, as I had spent extensive time speaking to the management of Sonance for my exclusive story on their rebranding initiative.
AND I had spent extensive time speaking with the management of James Loudspeaker for my story on my tour of their new facility in Minden, NV. During my visits with each of James and Sonance, I had literally spent hours with their respective management teams, including CEOs, discussing their strategy. Neither of them gave the slightest hint about a major change…you know, like an acquisition!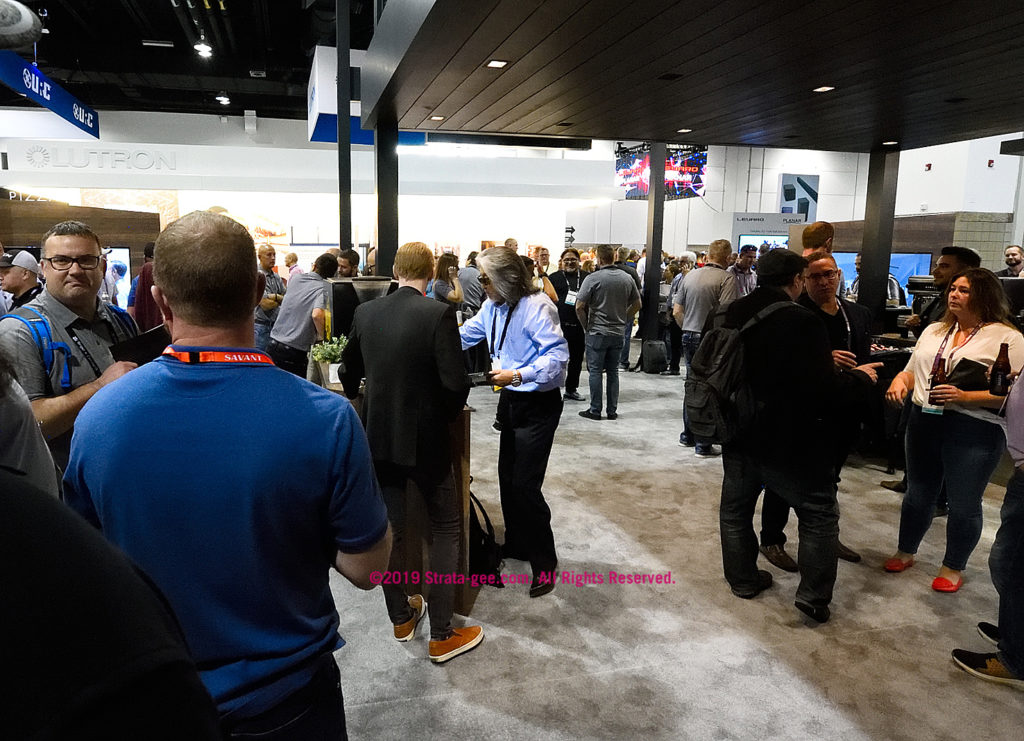 In any event, as I mentioned in my original story about the acquisition, I view this combination as a good match. Having gotten to know each company fairly well, I saw strong synergy between the companies, both business strategy-wise and culturally. Each company is committed to putting the "custom" into custom integration and I am excited to see the product of this new and exciting collaboration!
They celebrated their partnership at the 2019 CEDIA Expo with many of the James Loudspeaker management team working in the Sonance booth. This was most definitely one of the big stories from the show! My apologies to both companies for this delayed recognition.
Some other top stories from the 2019 CEDIA Expo:
Origin Acoustics launched a new line of commercial products
Vanco is now two years into their excellent (and successful) adventure in expanding their audio business via their acquisition of the Beale Street line
Savant surprised me with some user interface upgrades via the Savant Smart Home App for Apple TV
A popular Pro technology, Dante, has migrated to the resi market
High-end solution Red Carpet Cinema is finally pursuing a fuller rollout (While many in the media are just discovering the company now, Strata-gee first told you about Red Carpet back in April here)
AudioControl launches a dramatically redesigned and exciting new line of high-performance AV receivers
What do you think? Did you attend the 2019 CEDIA Expo? In your opinion, what was the big story or trend there? Leave your thoughts in the Comments section below this post.