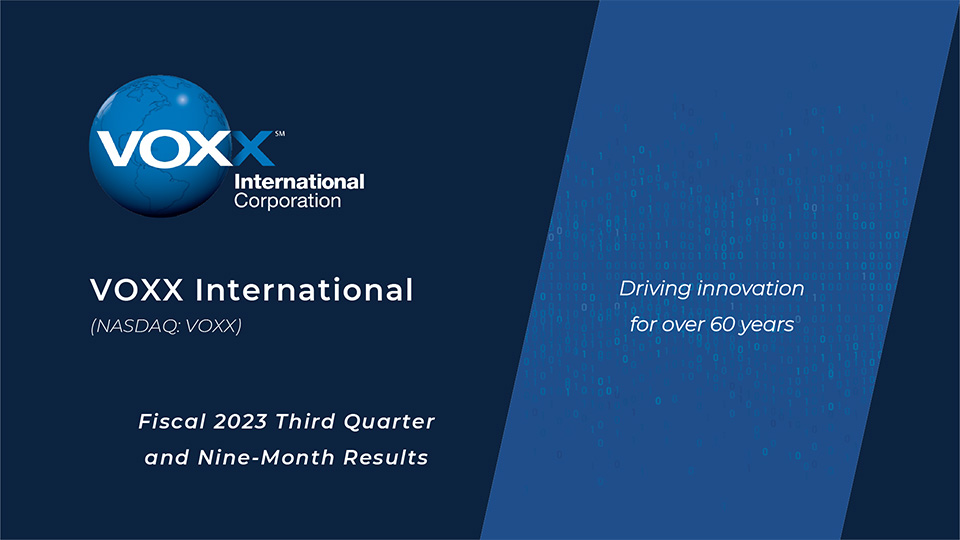 CEO Says Onkyo AVRs Offered to Costco This Year
Citing the "current state of the global economies" and "ongoing supply chain issues" Voxx International (NASDAQ: VOXX) reported the results of their fiscal 2023, third quarter this week and it was a story of more of the same, perhaps intensifying, business challenges that they identified when the company announced its second-quarter results. All of its major business segments reported sales declines – dropping double-digit percentages – with overall sales dropping 25.4% year-over-year. But the company said profits increased on aggressive cost cutting.
Learn more about Voxx Int'l fiscal 2023 third quarter performance
In reporting the financial results of its latest fiscal quarter, the third quarter of fiscal year 2023 that ended November 30, 2022, Voxx International (Voxx Int'l or Voxx) pointed to several factors negatively impacting its results. These factors, beyond the previously mentioned economy and supply chain, included the fact that while holiday sales were reported to have increased at the end of 2022, "industry-wide CE sales declined year-over-year as consumer discretionary spending is down" and "retailers are carrying high inventory [levels]" while "in-store retail traffic slowed."
As a result of this increasingly negative sales environment, the company said that "sales of our Automotive Aftermarket and Premium Audio products" were impacted the most. Adding to this newly negative retail environment, the company was further impacted by its "OEM customers shutting production lines due to chip shortages" – creating a really bad double dip of sales negativity.
Company Expects a Soft 2023
"We expect continued softness in the market and are preparing accordingly," Voxx's prepared statement said.
Interestingly, in both their prepared statements and further in their presentation to financial analysts on a conference call, Voxx President and Chief Executive Officer Pat Lavelle mentioned Onkyo and Pioneer multiple times as bright spots that helped to offset some of their lost sales. It appears that the company is relying heavily on its Onkyo acquisition to bail them out of the economic challenges it is currently facing.
We are also increasing production of Onkyo and Pioneer-related products to meet the demand from our North America customers and new distributors while preparing to open up production to serve select global markets. The expected growth from both Automotive OEM and the contributions from Onkyo and Pioneer should help offset market weakness and as economies across the globe stabilize, other areas of our business are poised for growth as well.

Pat Lavelle, VOXX Int'l President and CEO
Let's Dig Into the Data
As mentioned above, the overall sales in the quarter came in at $143.1 million, a 25.4% decline from sales of $191.9 million in the same quarter the previous year. As far as profits are concerned, net income attributable to Voxx and its subsidiaries for the quarter came in at $7.4 million, a substantial improvement over the net loss of -$28.1 million in the same quarter last year.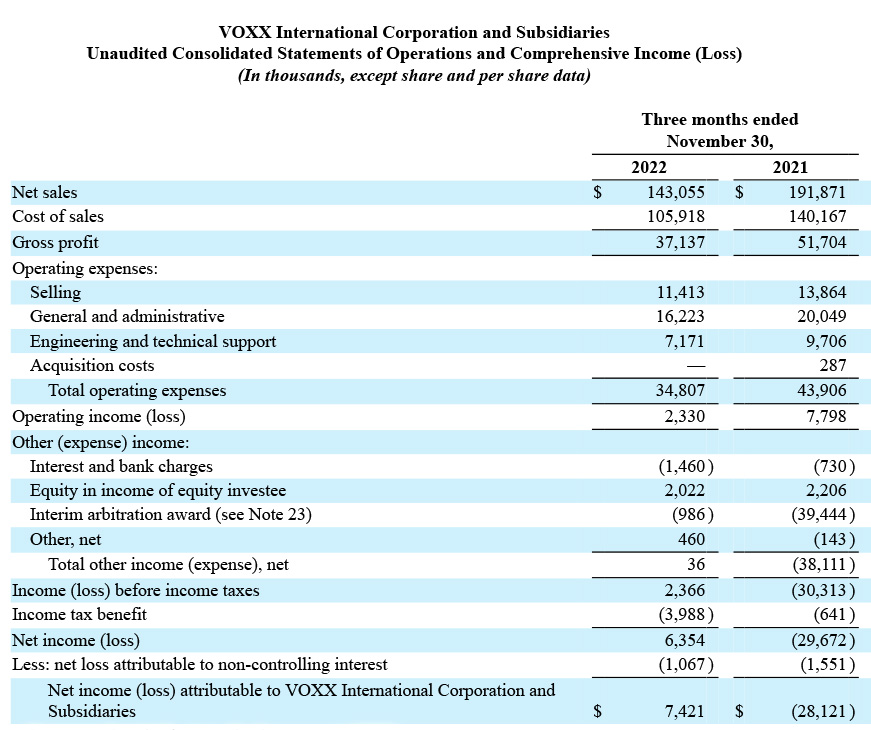 This improvement in net income was largely a result of an aggressive cost-cutting strategy implemented by the company as it saw its numbers slide and profits drop to a net loss since the beginning of its 2023 fiscal year. The company lost money in each of the first quarter (see my Q1 report here) and the second quarter (the full Q2 story here).
Strata-gee was First to Report Aggressive Cost-Cutting by Voxx
Strata-gee was the first to report the company moving to aggressive cost-cutting in this story on Premium Audio Company from this past September. In this story, Voxx had staff layoffs that, according to multiple sources, were of a significant amount. However, the company declined to specify the exact number of employees cut, with a spokesperson saying the exact number was unknown to her. Also in this story, the company revealed it would not participate in the upcoming CEDIA Expo – a key event for its newly acquired Onkyo, Integra, Pioneer, and Pioneer Elite brands.
Then, more recently, I expanded on the narrative of company cutbacks in a post from earlier in January on the news that the company's COO was leaving Premium Audio Company (presumably to pursue re-launching Mirage, a brand that PAC owns). In that second story, I noted that the company had – amongst other things – cut all executive staff's pay, including that of CEO Lavelle, by 20%, a fairly drastic move by corporate America's standards. And the company's COO, Oscar Bernardo, left the company altogether, most likely for even greater savings.
Despite some of the near-term headwinds, we remain steadfast in our belief that VOXX is well positioned for growth in the years ahead. Our brands, products, distribution and customer relationships have never been stronger and we have been awarded significant OEM business that runs several years out.

Lavelle

Digging Deeper
So let's dig a little deeper into some of the significant business unit or product segment results…
Automotive Electronics – Sales came in at $48.6 million which is down $13.0 million or -21.2% as compared to sales of $61.6 million in the quarter last year

OEM product sales came in at $19.1 million, up +$0.6 million or +3.2% higher than last year. This is the only sub-segment to show growth
Aftermarket product sales were $29.4 million, off $13.6 million or -31.6% versus the $43 million last year

Consumer Electronics – Sales for the segment came in at $94.1 million, a decline of $35.6 million or 27.5% as compared to sales of $129.7 million in the same quarter the year earlier.

Premium Audio product sales dropped to $73.5 million, down by $31.4 million or -29.9% versus sales of $104.9 million in the quarter last year. The company says this decline was primarily due to "lower domestic sales of premium home theater speakers and wireless speaker products," along with "lower European sales of premium and non-premium speaker products and accessories," and "a slowing global economy." The overall decline was partially offset by "an increase in domestic sales of Onkyo and Pioneer related products of $9.4 million."

Biometrics – Sales in this smaller segment (for products like retinal scanners for security systems), came in at $0.3 million. This is down -25% as compared to sales of $0.4 million last year.
It's pretty easy to see the company took the biggest hit in sales from its Consumer Electronics division.
Other Items of Note from the Voxx Report
Gross Margin – The company reported that overall gross margin dollars declined 28.2% from $51.7 million last year to $37.1 million this year. On a percentage basis, the decline was from 26.9% to 26% or a 90 basis points drop. On a segment analysis, Biometrics had the biggest drop in gross margin percentage from 32.1% last year to 22.7% this year. Consumer Electronics gross margin came in at 26.6%, down from the 28.3% gross margin last year. Finally, Automotive Electronics saw gross margins climb from 23.8% last year to 24.6% this quarter – largely thanks to steps taken to minimize supply chain costs and reduced sales of lower-margin satellite radio products.
Operating Income – Sometimes known as operating profits or profits from operations, Voxx reported operating income came in at $2.3 million or down a substantial 70.1% from operating income of $7.8 million the year before.
Total Operating Expenses – Really the company's big win in the quarter was the decline in their overall operating expenses which helped drive results from a net loss in the quarter last year to a profit this year. Total operating expenses were $34.8 million this year, fully -20.7% or $9.1 million lower as compared to operating expenses of $43.9 million in the quarter last year.
Cash and Cash Equivalents – At the very beginning of the start of fiscal 2023 (February 28, 2022), Voxx had $27.8 million of cash on hand. At the end of November, three-quarters of the way through the year, the company has $8.5 million in cash and cash equivalents.
Total Debt – The company says its total debt has grown to $47.2 million as of the end of Q3 in November. At the start of 2023, total debt stood at $13.2 million.
Investors React to VOXX Results
VOXX didn't have to wait long to see how investors felt about their performance. The company released its latest results after the close of the market on Monday. Tuesday would be investors' day to react and react they did.
On a day when the NASDAQ rose by more than a half point, the value of VOXX stock declined more than 1.5 points. This made them one of the rare tech-related public companies to finish the day in the red, on a day when all the major exchanges saw values increase. However, Voxx's stock value appears to have recovered in early trading the following day, another big up day for the market.
A Remarkable Conference Call with Financial Analysts
And Tuesday would also be the day when the company would hold a conference call with financial analysts to discuss its results. These calls tend to follow a similar script across all public companies – optimistic CEOs, puffing up positive results and glossing over negative ones. Then the CEO is often followed by CFOs carefully selecting financial highlights to focus on – again typically the more positive ones.
Generally, that is what occurred here as well…until we got to the question & answer period. Despite what you might think, analysts typically are very reverential in their interactions with management. There are many reasons for this, but many analysts who participate on a call like this are representing companies that are invested in the company – or have otherwise recommended their clients invest in the company.
It is rare to hear an analyst ask a truly tough question, but I heard one on this call. More on that below…
CEO Praises CES 2023
CEO Lavelle opened up his portion of the conference call extolling the virtues of the recent Consumer Electronics Show, which he says is "the biggest event of the year for the CE industry." Most of the next portion of his presentation reviewed the profit improvement as the result of their cost-cutting efforts. The sales decline was mentioned, but not dwelled upon. He did take the time to mention economic impacts as the reason for the tough sales results by the company.
Lavelle added, "We're anticipating the most recent moves by the Fed will continue to slow the economy as we look out over the next few quarters. Though again, we should have more sales of Onkyo and Pioneer products, which should help offset some pressure and lead to growth and bottom line improvements."
Major Theme – Onkyo and Pioneer Growth will Help Greatly
If I were to pick one theme from the totality of their presentation it is this – Onkyo and Pioneer sales will help greatly to counter other sales challenges. But will it? If the economy slows down, it only stands to reason that neither Onkyo/Integra nor Pioneer/Pioneer Elite will be immune from those recessionary effects.
My guess is that because the acquisition is still new for the company, any sales of Onkyo and Pioneer brands are incremental increases over last year when sales were minimal. Still, it feels like they are relying very heavily for that acquisition to work miracles for the company. In fact, he kept returning to the topic in his Q&A answers.
Voxx Doesn't Disclose Onkyo/Pioneer Elite Sales Separately; But Can We Compute It?
So how is Onkyo/Integra and Pioneer/Pioneer Elite doing for them? We don't know for sure – the company does not break out those numbers separately but rather consolidates them into overall VOXX sales numbers.
However, Voxx's 10-Q filing with the Securities and Exchange Commission for the third quarter had an interesting footnote in it.
Onkyo's results of operations are included in the consolidated financial statements of Voxx in our Consumer Electronics segment from September 8, 2021, and represents approximately 2.1% and 2.0% of the Company's net sales for the three and nine months ended November 30, 2022, respectively.

VOXX International Corporation FORM 10-Q, Footnote #2
Voxx Says I'm Taking Section of 10-Q Out of Context
This footnote suggests that through a simple computation, one could determine a figure for the sales of Onkyo brands. However, I must tell you that I contacted the company for confirmation of this and they told me that I am misreading the footnote and taking it out of context. According to the company representative, this footnote refers to a separate entity referred to as Onkyo Technology KK (OTKK) which is a joint venture created between Sharp Corporation and Premium Audio Company (PAC).
When I asked for further clarification of just what the footnote meant even in that context, I got no further response.
Voxx has Big Plans for Expanding Onkyo/Pioneer Business
But aside from this issue, Lavelle gave analysts some more insight into the company's plans for the Onkyo and Pioneer brands. He says that demand remains "very high" for Onkyo and Pioneer and that the company expects growth of these audio brands to "be more prevalent in the quarters ahead." Almost as if he suddenly realized that his comment was a little confusing, Lavelle quickly added that there had been some "supply chain and production constraints during Q3" that impacted the delivery of these brands. It is for this reason that they look to the quarters ahead for more consistent Onkyo growth as production increases.
In any event, if you are an Onkyo/Integra or Pioneer/Pioneer Elite fan, then Voxx's focus on these brands could be reassuring. Lavelle told analysts that the company has big plans for the brands.
…we are working closely with our partners Sharp and our other suppliers to ramp up production to serve not only North America, but open up production globally in India, China, Japan and the EMEA region.

I've said this before, I believe we can regrow this business to over $200 million in the next few years.

Lavelle
Last Analyst Question – But What About Costco?
Finally, an analyst with Oppenheimer took a very direct posture with a question about what he called a "channel check." His rather long-winded question hinted at some real concerns.
I went to do channel checks and go to Costco. Starting in November when I was doing my channel checks at Costco, I noticed that the Klipsch products – I couldn't even find [them]. And then when I proceeded to go [back a few] weeks later, I see the product…they're not in abundance…and I asked some salespeople there about the product. They made a comment that the product wasn't selling well and that whatever was there, if I was there to buy, I should buy it [now] because the product was going to be discontinued. So I was curious to know, at that stage going into the holiday, it just seemed…did we have the club's product available? And really what's the situation with Costco regarding the product?

Oppenheimer analyst
Lavelle responded by explaining that programs are always changing at Costco, inferring that perhaps the analyst was hitting the stores as they were nearing, or already in between, the phasing out of an old program in order to bring in a new one. He reiterated that Voxx has a strong relationship with Costco – as well as other retailers.
Voxx has Added Onkyo Receivers to Costco
Interestingly, in responding to the customer's question about Voxx's relationship with Costco, Lavelle added a point about Voxx adding Onkyo AVRs to its Costco program. This is, perhaps, another avenue of growth for Onkyo sales, beyond regional expansion.
We maintain Costco as a valued customer and you know the way the programs work with them, we present new products and different products, because it's not like they keep the same product on the shelf all year long. They do offer promotions and things like that. This year we offered Onkyo receivers that we thought met the requirements that we had for the program. Some of the other programs are selling out and we expect that we'll replace those programs and those products with newer offerings as we move into next year. But Costco remains a good strong account…

Lavelle
Lavelle says that there is a big promotion coming up with Costco on outdoor speakers that he seems to be optimistic about as well.
Learn more about Voxx by visiting voxxintl.com.