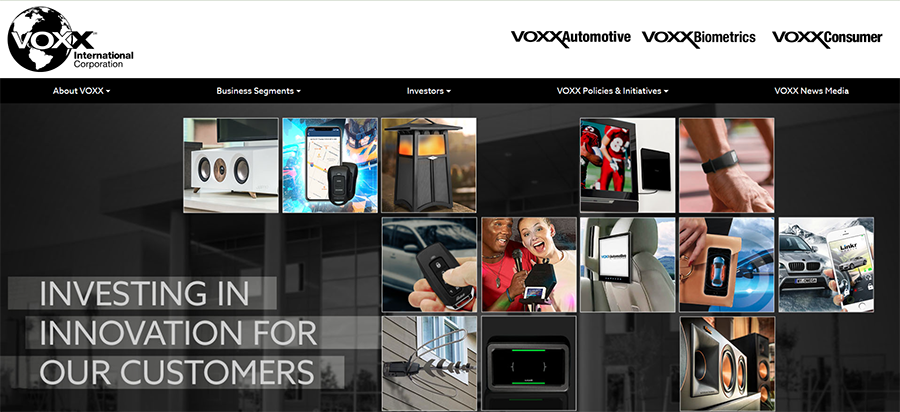 VOXX International Corp. announced its fiscal 2023, first-quarter results late Monday, reporting that it saw sales declines, deepening operating losses, and a swing to a net loss in the quarter. Shares in VOXX declined 9.44% in value in trading Monday – and after-hours trading in the early evening pointed to another nearly 3% decline in shares. By comparison, the S & P 500 saw overall shares decline 1.15% on Monday.
Learn all about the VOXX FY2023/Q1 results
VOXX International, the parent company of Premium Audio Company, 11 Trading Company, Klipsch, and more, reported deteriorating results in their first quarter of Fiscal 2023. While the company placed the blame on the chip shortage and slower retail buying, it experienced declining results across the board.
During the Fiscal 2023 first quarter, we continued to experience supply chain issues though the biggest impact was the lack of chips which directly impacted our automotive OEM and aftermarket business. Retailer buying also slowed in March given high inventory positions which impacted sales in our Consumer Electronics segment. While these challenges will persist, we are still poised for growth and expect to have a strong second half of the year based on new Automotive programs, increased production and sales of Onkyo products, along with expanding worldwide distribution, and a host of new products coming to market.

Pat Lavelle, VOXX Intl President and Chief Executive Officer
As you can see in Lavelle's statement above, the company continues to profess optimism for rebounding business in 2022 and in a presentation to financial analysts made only a passing reference to the many building economic headwinds that have many companies expressing a more subdued or moderate forecast. The formal announcement of their results made no mention of inflation, slowing consumer demand, or the possibility of recession – variables that could negatively impact the back half of 2022 and beyond.
Company Sees Sales Decline, Profits Swing to a Net Loss
Sales in the first quarter of Fiscal 2023 came in at $128.7 million, down -$8.3 million or -6.1% as compared to sales of $137.1 million in the same quarter in 2022. The business generated an operating loss of -$6.7 million, substantially down from the operating loss of -$0.4 million in the same quarter in 2022.
Finally, VOXX generated a comprehensive net loss of -$7.8 million, a nearly $9.6 million swing from a comprehensive net income of $1.8 million in the quarter a year earlier. Net loss in the quarter attributable to VOXX is -$6.5 million, as compared to a net income attributable to VOXX of $2.7 million last year.
Stock Value Drops More Than 26% in One Day
On Tuesday, investors reacted strongly to the negative VOXX performance. The value of VOXX shares dropped more than 26%. That is huge – the total market capitalization of the company dropped by more than a quarter in just one day.
Part of the reason for this reaction was due to the fact that stock analysts had expected that VOXX would earn a profit of $0.11/share in the first quarter of 2023, the same level of profit it had in the first quarter of 2022. Instead, the company announced a loss of -$0.27/share (on a GAAP basis).
Performance Breakdown by Business Segment
Automotive Electronics Segment

Overall Sales: $39.6 million, down -$3.1 million or -7.2% as compared with sales of $42.7 million last year
OEM Sales: $16.7 million, up $1.8 million or 12% as compared with sales of $14.9 million last year
Aftermarket Sales: $22.9 million, down -$4.8 million or -17.3% as compared with sales of $27.7 million last year

Consumer Electronics Segment

Overall Sales: $88.9 million, down -$5.2 million or -5.5% as compared with sales of $94.1 million last year
Premium Audio Sales: $69.9 million, down -$1.7 million or -2.4% as compared to sales of $71.6 million last year
Other CE Sales: $19.0 million, down -$3.5 million or -15.56% as compared to sales of $22.5 million last year

Biometrics Segment – Sales of $0.1 million, down from sales of $0.2 million last year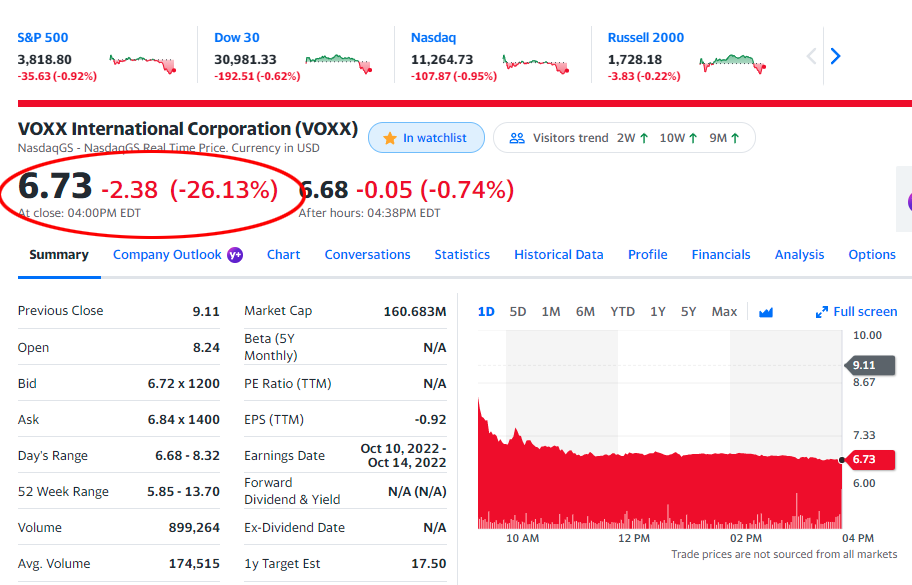 Expenses Rose in the Quarter
The company reported increased costs and expenses which also contributed to the swing to a loss in the quarter this year. Total operating expenses came in at $39.9 million, a $2.9 million or 7.8% increase over the figure of $37.1 million in the quarter last year.
Included in this overall number are these items:
Selling expenses: Increased $0.8 million
General and administrative expenses: Increased $0.5 million
Engineering and technical support expenses: Increased $2.2 million – much of this increase is directly related to the Onkyo acquisition which added to the company's engineering labor expenses, research and development expenses, and outside labor for certain projects
Acquisition costs declined $0.5 million
Yet the Company Remains Optimistic
So in the wake of this result, why does the company remain so optimistic? The answer is that the company continues to look to the future. CEO Lavelle reminded analysts that the company has "over $750 million" in new OEM awards, most of the benefit of which is in the future between now and 2026. In fact, Lavelle speculated to analysts that this could expand to beyond $1 billion with other potential awards that are, or will soon be, in negotiation.
The other key element in the company's optimism is the growth of their Premium Audio segment thanks to their acquisition of Onkyo and Integra along with the licensing of the Pioneer brand. They expect an improvement in chip availability will facilitate greater production to meet demand, which they maintain is still strong on these new brands for the company.

As we look out over the next few years, we are very encouraged with our prospects and our optimism is driven by over $750 million in new OEM awards received over the past three years, with the majority of awards ahead of us. We also see significant expansion in our Premium Audio business as we will soon be securing the chips and parts expected to meet customer demand in the second half of the year and as we expand beyond North America and Australia to service a broader worldwide customer base. We also made significant progress in our Biometrics segment this past quarter, with new opportunities with both distribution partners and companies in the fintech, healthcare and automotive markets. Despite the near-term headwinds, we believe we are well positioned to drive significant growth and strong bottom-line performance in the years ahead."
Seems Like a Mixed Message
But, I found their message a bit of a mixed one. On the one hand, they blamed "supply chain" issues in general – and the chip shortage specifically – as one of the main causes of their poor Q1 performance. But then they turn around and say they expect better chip delivery "soon" that will drive increased production of Onkyo products to fulfill dealer demand as cause for optimism for the future.
But wait a minute, they had previously warned the chip shortage will likely last into next year.
The same kind of confusing mixed message also arose over the issue of slackening dealer demand. Lavelle noted that part of the reason for the Consumer Electronics segment's sales decline was due to "big box" retailers cutting back on orders due to an over-inventory situation. This suggests that retailers are facing a drop-off in consumer demand which is causing their inventory to build up. And yet VOXX is optimistic that its orders will rebound next quarter, even though Lavelle offered no explanation of why he believes consumer demand will rebound so quickly.
Motley Fool Says VOXX Stock 'Looks to Me to Be in Trouble'
Perhaps these concerns are part of the reason why Motley Fool, a well-known investment advisory firm published a report today on VOXX that was less-than-glowing. After noting Lavelle's rosy future-looks-bright presentation, Motley Fool surmised the following.
That being said, when you get right down to it, I'm afraid this is a consumer-dependent business on the cusp of a recession — and already on track to record its fourth money-losing year out of the past five.

Analysts remain optimistic about the stock, forecasting a return to profits next year, and the shares look attractively valued at just over 9x forward earnings. But VOXX International stock looks to me to be in trouble – and probably too risky to buy.

Rich Smith, The Motley Fool article Why VOXX International Stock Crashed 24% Today
In after-hours trading late on Tuesday, VOXX stock remains in the red, trending down another three-quarter of a percent.
Learn more about VOXX International by visiting: voxxinto.com.